>
Dive Destinations
>
Egypt
>
Southern Red Sea
>
Marsa Alam
Red Sea Diving Vacations
Marsa Alam Tourist Information
Marsa Alam diving holidays offer beautiful desert scenes framed by rugged mountains where trekkers can find rare and unique wild life, while the Red Sea brings with it great diving and sports fishing opportunities.
Once a sleepy village dependent on mineral mining for survival and income, Marsa Alam has been experiencing not as much a boom as a slow blossoming of Red Sea dive tourism of late.
Ever since the construction of Marsa Alam International airport in 2001 at nearby Marsa Ghaleb, the town has steadily bloomed into a tourist resort destination, which is expected to rival Sharm el Sheikh and Hurghada in years to come.
Located about 790 km south of Cairo and 300 km to the south of Hurghada, Marsa Alam boasts a virgin coastline that is home to some of the best coral reefs and marine life in the world. Being about 4 hours away from Hurghada and otherwise fairly remote, it is the ideal getaway for a relaxed and peaceful Red Sea scuba diving holiday retreat.
• View a map of southern Red Sea
The rest of this page contains information about:
Got a question?
Have a look through our Frequently asked questions
How to Get There
There are limited ways of reaching Marsa Alam, of which the fastest and most expensive is a 1½ hour flight from Cairo via Egypt Air. From some destinations in the UK and Europe it is possible to fly direct into Marsa Alam. A viable option would be to fly direct in to Luxor and get a 2 hour taxi from there to Marsa Alam. This often saves on a connecting flight from Cairo since Luxor has an international airport. You might find the Cheapflights
website useful to search for flights at the best prices available on the internet.
Reaching Marsa Alam by bus is another viable, if somewhat adventurous, alternative. If you're in Cairo, find your way to the Turgoman Station via bus or taxi and from there take the East Delta bus to Marsa Alam. It's a 10 hour journey. Alternatively, arranging for a taxi to take you there straight from your Cairo hotel is also possible, but be sure to negotiate the rate before you set off.
Where to Stay
Our affiliated hotel reservation agents hotelscombined.com have a wide variety of diver-friendly accommodations in Marsa Alam:

Browse their website choices, use their on-line chat to ask your questions, or simply use your credit card to make your booking.
Take your pick from dozens of options, from international 5 star hotel chains to budget guesthouses, and everything in between, there's something to suit everyone's taste and pocket.
And you can be sure that whatever option you go for, it will be backed up with their 'Low Price Guarantee' to ensure you get top-dollar value for money.
Marsa Alam's Beaches
The region is blessed with picture-perfect beaches.Pristine powdery white sands flanked with palm trees and washed with crystal-clear blue waters is par for the Marsa Alam course. The main beaches include:
Abu Dabab Bay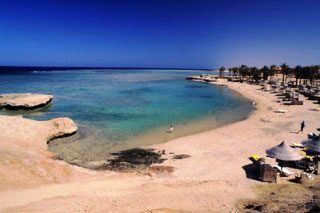 Abu Dabab Bay is one of the best beaches Marsa Alam has to offer. Excellent snorkeling opportunities lie in wait directly from the beach with 2 good coral reefs housing plenty of fish, guitar sharks, blue spotted rays, turtles and, if you're really lucky, dugongs.
Coraya Bay
Perfect for a romantic stroll down a white sandy beach lapped by azure waters, Coraya Bay is completely gorgeous. Dotted with the odd deserted spot and hidden cove, the beach is tranquility in waiting.
Kahramana Beach
The beach for palm fringed, white-sand beach post cards, Kahramana is surprisingly uncrowded. Snorkeling straight from the pier is excellent, with a surprisingly diverse array of exotic marine life to be found. For those who do not care to snorkel, the fish are visible even with just a few steps into the Red Sea shallow waters.
Sightseeing and Adventure
Why not combine your Marsa Alam dive trip with a tour to discover the historical sights and monuments of Egypt? You can take an overland tour of Cairo to visit the pyramids of Giza, the Sphinx and the museums, or a River Nile cruise through the Valley of the Kings: Egypt antiquity tours.
Port of El Quseir
A few hours overland from Marsa Alam lies the historical city of Port El Queseir where the ruins of a once bustling port, a church and a mineral factory were seemingly forgotten by time. Whilst there, visit the Queseir Fortress and, north towards the Eastern Desert, Bir Umm Fashwir, a 5th and 6th century gold mine.
The Emerald Mines
Ancient Egyptians prized emeralds highly and regarded them as symbols of eternity and power. The emerald mines of Marsa Alam are therefore of significant historical value and well worth a visit, more so in light of recently having been identified as the legendary Mons Smargdus, or Cleopatra Mines. Several interesting ruins are also to be found at the site.
Karnak Temple
This majestic Luxor temple, the Karnak Temple, is the largest place of worship ever built. Built under Amenhotep III and Ramses II, it was dedicated to the god Amun as part of the Valley of the Kings & Queens, a labyrinth of secretive tombs were the Pharoahs were mummified to live in eternity with their treasures.
Mons Claudianus
This well preserved Roman site, located in the desert between the Nile River and the Red Sea, features remains of a fortress, stables, dwellings and workshops of what once was a Roman quarry.Granite slabs from the nearby mountain were produced by this settlement to construct the buildings of Rome.
The Samadai Reef and the Dolphin House
A few hundred meters offshore lies the Dolphin House, so called because of the permanent residence of over 100 spinner dolphins in a lagoon located here. Catch a boat out to Samadai Reef to experience the exceptional coral to be found there and who knows, perhaps you'll meet the dolphins when you're diving in Marsa Alam.
Wadi Gimal National Park
The desert region is home to a surprising variety of wildlife that can be observed on walking tours. Spot wild camels, sand cats and scorpions galore. Watch out for the poisonous saw-scaled viper and the helpful sand boa that keeps the rat population in check.
Dining Out & Nightlife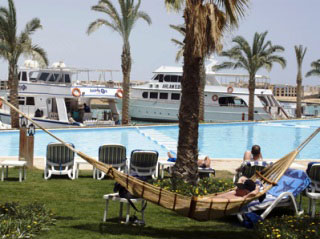 Marsa Alam is as yet devoid of international chain restaurants, which is probably a good thing as it lends to its charm.However, even though a choice of traditional restaurants are on offer, most tourists tend to choose hotels for meals, where often an offering of typical Egyptian dishes can be sampled.
Due to Marsa Alam being a relatively new player in the tourism main stream and keeping in mind its relative remoteness, it should come as no surprise that the nightlife is a bit of a low-key affair.
Hotel bars provide the bulk of social venues and some also have a disco. For something a little different, try Planet Bedouin on the beach, which offers a range of oriental drinks and water pipes to be enjoyed in authentic traditional tents. Alternatively, there's always a beach party at Abu Dabad in which you can participate.
Shopping
As with dining out and night life options, Marsa Alam's shopping opportunities are slim pickings and are certainly not its strong point. The usual array of kurios shops will satisfy your souvenir and gift requirements whilst most larger hotels will have samplings of quality merchandise on offer.
Local products are the best buys so watch out for Egyptian made jewelry, perfume, leather products and Egyptian cotton. Herbs and spices that only grow in this part of the world are also worthwhile considerations and authentic Bedouin handicrafts and clothes warrants a browse.
Cash is the currency mode of preference as travelers cheques are not widely accepted. ATMs are usually located at hotels.
History
Marsa Alam occupied an important place in the economy of ancient Egypt, thanks mostly to its rich mineral deposits. Gold, emeralds, semi-precious stones, copper and lead where all richly deposited in the soil of the surrounding coastal areas. The region was the sole supplier of emeralds to the Roman empire and it is believed to be the site of the first emerald mines in the world. Additionally, the surrounding mountains were an important granite source and helped build many of the important buildings of the Roman Empire.
Some of the gold mines and marble and granite quarries were recently reopened to provide a source of employment for the local populace, although the tourist trade is becoming an ever growing employer.
Local Transport
As the quickest and cheapest modes of transport, buses and minibuses are Marsa Alam's main form of public transport. Swarms of minibuses operate along set routes and can be stopped anywhere.
Taxis are a more private option although prices vary from driver to driver, so be sure to negotiate your rate before you set off.
Interested?
If you're keen to dive Marsa Alam in the Southern Red Sea, then click below to check your options now for:
Be sure to book in plenty of time to avoid limited choice! The best Marsa Alam diving opportunities are booked by repeat customers who book well in advance to ensure their reservation!