>
Newsletters
>
February 2018
>
What's Coming Up
Dive The World Newsletter
A Look at What's Coming Up
Planning your best ever gift? Will you choose to make unforgettable memories with your sweetheart, your best friends or closest family members? Now is the time to confirm your next scuba vacay in 2018. Here are a few destinations where you can turn your dreams into reality…
Scuba holidays with your non-diving loved ones
There is many an avid diver with partners who are just not into scuba. We can't fathom why….but there is no reason why you can't indulge in your passion while you both have a holiday of a lifetime. What are our top pics to keep all parties happy?
The Maldive Atolls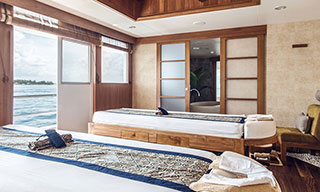 Maldivian sister liveaboards, Scubaspa Yang and Scubaspa Ying provide a truly indulgent experience. These unique dive charters combine scuba diving with luxurious spa treatments. While you get your underwater fix, your happy partner will enjoy first-class facilities and 'fine dining'. Cruise guests will be pampered by the 6 trained therapists, choosing from a selection of massages, beauty treatments, Ayurveda and aqua therapies. If they're not comfortable donning scuba gear they can also enjoy some incredible snorkelling experiences, with a high probability of manta ray and whale shark encounters.
Dive The World is offering discounts for departures 23 June - 29 Sep 2018 on Scubaspa Yang and 09 Jun - 26 Sep 2018 on Scubaspa Ying. Go on and spoil yourselves!
The Galapagos
The Galapagos needs no introduction. The destination is legendary to divers and non-divers alike. These Ecuadorian islands are included in our top picks for the incredible non-diving wildlife cruise charters, as well as trekking and diving combination tours.
If you long to dive with schools of hammerheads, dolphins, Galapagos sharks, marine iguanas and whale sharks and also experience land tours with your loved ones, then we recommend our 'Trekking and Diving' package. Non-diving natural history tours with Ecoventura is the way to go for an indelible family vacation. However, no diver can travel to Ecuador and be on the precipice of diving one of the most sought-after scuba diving locations and not have the experience. You simply have to add on a discounted liveaboard diving charter. (See our special offer combination with the Galapagos Sky liveaboard).
Diving the Galapagos is remarkable throughout the year. There are however distinct seasons that will affect your choice of exposure protection. The dry season coincides with cooler temperatures (above and below the water) however, your reward is that this is the best time for whale shark encounters!
Bali vacation with Siddhartha Resort & Spa
The picturesque, spacious property boasts stunning architecture that is complemented by the friendly staff and oceanfront location. Operated by the German group Werner Lau, Siddhartha has set a new standard for scuba resorts in Bali. While you're diving Kubu and Tulamben sites, rest assured that your partner will be well taken care of, enjoying Balinese hospitality, spa treatments and delicious cuisine.
We recommend the dry seasons, April to July and October through to November for remarkable visibility of up to 40m! For the best chances of mola mola sightings, they are around June till September at Nusa Lembongan and Nusa Penida.
Tempting 2018 Specials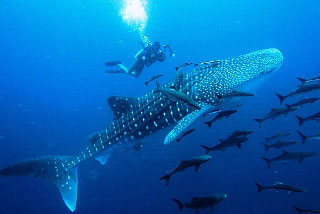 Thailand:
Haven't locked in your Easter holiday vacation? It's not too late. Look at these incredible rates with Manta Queen. Confirm your 5d/4n Similan, Richelieu Rock & Khao Lak diving safari from as little as US$ 569 with Manta Queen 6 and and US$ 391 for 3n/4d with Manta Queen 5.
These special prices are available from mid-March through to April, which coincides with the period that has the most stable weather patterns, resulting in calm seas and phenomenal visibility (from 25m up to 40m)! The Similan Islands are famous for their ginormous granite boulders, arches and swim-throughs. Towards the end of February currents increase, attracting whale sharks and manta rays to the area.
Don't have leave left to take advantage of last minute specials? We offer you the best rate guaranteed with liveaboard specials across the globe. Here is a small selection of discounted destinations to wet your appetite.
Mexico:
Gather your diving family and friends and enjoy a 20% discount on full or half boat charters. Choose your desired Mexico diving destination - from the Sea of Cortez, Soccoro or Guadalupe. Contact us for further details on applicable sailing dates with the MV Sea Escape and MV Southern Sport.
Saba Marine Park & St. Kitts:
Stunningly beautiful, off the beaten track, and an eclectic mix of dive sites makes this an intriguing location. Experience 3 countries during your liveaboard cruise with the MV Caribbean Explorer II. Dive The World is currently offering specials on selected departure dates in most months throughout 2018.
Turks & Caicos:
The Turks & Caicos Explorer II liveaboard offers year-round, laid-back diving featuring lots of walls and healthy coral. You'll have many reasons to toast your diving charter with complimentary cocktails. Whales and dolphins are most often seen from January till March, and May till July mantas are the aquatic stars. Confirm your liveaboard cruise now and make the most of our specials, available in April, August/September and November/December.
Seeking Inspiration?
Still looking for ideas? Well what is it you want to experience? Want to dive with the big stuff? Want to hunt for amazing macro critters? Want to boldly go where few have gone before?
Check out these suggestions:

---
CUSTOMER TESTIMONIALS OF DIVE THE WORLD
... My inquiries were answered promtly and thouroughly. Any subsequent questions I had were also answered quickly. The staff seems very knowledgeable. I would not change a thing! ... -- Hilerie Gellenbeck, USA. [More customer reviews]