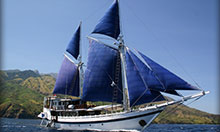 Bali liveaboard diving is something many divers are keen to do when they visit Indonesia.
There are many liveaboards that start or end their trips at Bali's Benoa Harbour so you can enjoy all the fun of island and still explore the rich waters in the best way possible – by liveaboard. Depending on itinerary you can start with a few of Bali's best dives on the east coast of the island before heading east towards Komodo National Park.
At the time of writing, the options below are an uptodate selection of liveaboard cruises that operate Bali to Komodo, Komodo to Bali, or Bali to Komodo to Bali cruises …
Indo Aggressor: Bali–Sumbawa-Komodo. 10 or 11 nights Komodo cruises which in fact begin diving at Bali's sites: USS Liberty Wreck, Seraya and Tulamben Drop Off. These unusual trips dive a little of Bali before proceeding on to Moyo island and ultimately the Komodo National Park. The ports used are Bali and Labuan Bajo.
Mermaid I: Komodo Island-Sumbawa. 9 nights, Bali to Komodo to Bali (so you don't need an internal flight). You can enjoy up to 28 dives on these Komodo tours.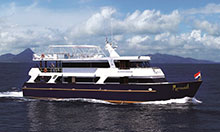 Mermaid II: Komodo Island-Sumbawa. These cruises are normally 7 nights long and are either Bali to Bali, or Bali to Maumere, depending on the departure date.
WAOW: Komodo Island-Sumbawa. 11 nights and 33 dives on Komodo safaris operating between Bali and Labuan Bajo, or Bali and Maumere.
Pindito: Komodo-Sumbawa-Bali. Occasional 11-night trips with 38 dives on Komodo cruises operating between Bali and Maumere.
So don't limit yourself to a few crowded dive sites in Bali with countless dive shops all rushing to the same spot. If you are a scuba diver you can get a taste of Bali and then hop on a beautiful boat and visit some of the finest dive sites in Indonesia. You won't forget the amazing diving of Komodo National Park.
Contact Dive The World right away on +66 (0)94 582 7973 / (0)83 505 7794 or send us an email.