After the USA, Mexico is the second most visited country in all the Americas and it is easy to see why. Beautiful coastlines washed by diverse, rich seas, ancient ruins, old colonial towns, and parks and reserves full of natural wonders. Among Mexico's best loved coastal towns are Puerto Vallarta, Cabo San Lucas, Acapulco, Cancun and Playa del Carmen. 
Cultural tourism highlights include Chichen Itza in the Yucatan Peninsula, the Coba Zona Arqueologica Coba, and the ruins of Monte Alban in Oaxaca. For scuba divers, Mexico promises the unique experience of the Cenotes, sharks, whales and rays of the Pacific coast and the Sea of Cortez, and the fun and sun of the Caribbean Coast.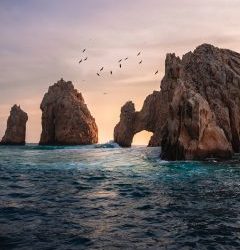 Bordering the USA to the north at the spectacular Copper Canyon and connecting with the Central American countries of Guatemala and Belize to the south, Mexico's unique geographic position lends it some remarkable diversity. The Gulf of Mexico runs along ,uch of its...
read more