This nation of over 300 volcanic and lush green limestone islands and turquoise lagoons is among the most picturesque and unique in the Pacific Ocean. While Jellyfish Lake, world-class scuba diving and World War II history may steal the show, there are also tropical rainforest tours and mysterious stone monoliths to marvel at. For a nation consisting much more of water than land, Palau is very much an ocean-lover's destination and a country that often leads the way in terms of marine conservation. 
Divers come for the sharks, wrecks and healthy reefs and to experience an island lake full of stingless jellyfish. History buffs love the sites of battle like Peleliu that were of such importance in the war in the Pacific. A trip to this tiny Pacific country has many amazing elements to make it live long in the memory.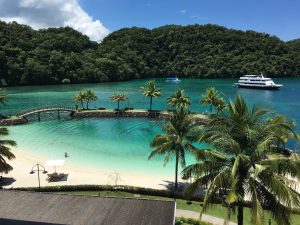 The island nation of Palau lies in the Pacific Ocean and forms part of Micronesia, with Philippines to the northwest and Indonesian Papua to the south. Their natural beauty and geographic location are the chief attractions here. Comprising more than 500 small islands,...
read more