Malaysia is a South East Asian country with rich natural and cultural attractions. and is comprised of 2 main land masses. The Malay peninsula borders Southern Thailand in the north and Singapore in the south. Here you will find the nation's capital city Kuala Lumpur, as well as several popular holiday islands such as Penang, Langkawi, Tioman and the Perhentian Islands. Several of these islands are conserved by national marine parks so the seas host coral reefs and plenty of tropical fish. Elsewhere are the Cameron Highlands, a region popular with locals and expats as a cool refuge to escape the tropical heat.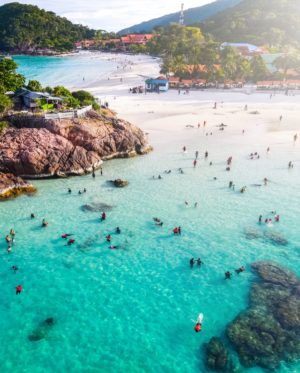 A 2 and a half hour flight east, across the South China Sea, lies Eastern Malaysian – the states of Sabah and Sarawak – in the northern section of the island of Borneo. The region has some fabulous eco-attractions, such as hot springs, white water rafting, mountain climbing, cave systems, tribal village tours, and jungle tours and river safaris to see some of the wildlife, such as orang-utans, proboscis monkeys. macaques, monkeys, crocodiles, and fireflies.
But perhaps the biggest attraction of Eastern Malaysia is the world class diving opportunities. Sipadan Island is world famous in scuba diving circles, as one of the best places to dive for big schools of trevally and barracuda, as well as tons of turtles, packs of grey reef sharks, and herds of bumphead parrotfish. To the north lies Lankayan, a small resort island with its own turtle egg-laying beach and blacktip reef shark nursery. Off the north coast lies Layang Layang, a small atoll with pristine hard coral reefs that acts like a magnet to attract schools of scalloped hammerhead sharks.
With English widely spoken and the country being a relatively affordable destination to travel, it is no surprise that over 26 million international tourists visit every year, making it the 4th most popular in Asia, and the 13th most popular in the world. Tourism normally contributes 14% to Malaysia GDP, however, tourism receipts in the country dropped by a whopping 71% in 2020 due to the arrival of the COVID-19 pandemic. The first case in the country was recorded on 25 January 2020 but remained quite isolated until March, when recorded cases quickly passed 2,000 and were observed in all states.
On 18 March, the government imposed a strict national lockdown (including the banning of international arrivals) which extended until 4 May, when falling numbers allowed the government to start to ease measures. These lower level measures remained in place until September 2020, when Sabah State elections caused another spike in cases, and the government responded by imposing the strict lockdown measures again. 2021 saw the people being subjected to various changes in severity of lockdown measures as the government tried and failed to control outbreaks. On 1 June 2021 a "total lockdown" began, as a result of healthcare systems reaching their capacity due to the spread of the Delta variant.
Malaysia's vaccination programme was rapid and popular, with 80% of the people being "fully vaccinated" by November 2021. With the recognition that the lockdown measures were destroying the economy and lives of the people, the government introduced a 4-phase National Recovery Plan. Finally on 3 January 2022, the final 2 states of Sarawak and Kelantan reached phase 4 and ended the domestic travel restrictions in Malaysia. On 1 April 2022, Malaysia opened its borders to international visitors once again. Latest entry requirements can be found here: My Safe Travel Malaysia

. These include app registration and form submission, digital vaccination record, pre- and post- arrival COVID tests, travel insurance, and quarantine for non- and partially-vaccinated travelers.
The Malaysian dive resorts in Sabah have now re-opened (with the exception of Layang Layang, which will only re-open again in 2023) and we are accepting new reservations. The one and only Sipadan liveaboard is also operating again and awaiting your return!