Known affectionately as The Land of Smiles, Thailand is one of the world's most popular travel destinations, due in large part to its varied range of attractions and value for money. There are many popular beach-based island locations such as Phuket, Koh Samui, and some with spectacular coastal scenery such as Krabi and Phi Phi Island. Many are popular with backpackers, and Koh Phangan is famous for its full moon parties, whereas Koh Tao is renowned as the scuba Mecca for young travelers to earn their diving license. 
Elsewhere, Chiang Mai in the north of the country is famed for historic temples, mountain scenery, hill tribe tours, and Thai cooking classes: Thai food is obviously one of the biggest attractions of the country too. Sukhothai and Ayutthaya are also famed for their historic temple and palace complexes. Then there is Bangkok, a busy travel hub and one of the world's most famous and popular cities, home to the Thai Royal family and many of the country's top cultural attractions. It is also famous for its adult nightlife, as is the nearby beach destination of Pattaya.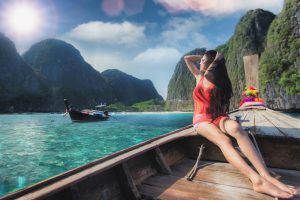 Thailand is one of the top 10 most visited destinations in the world based on international tourist arrivals. Bangkok and Phuket are its biggest drawcards, but there are a wide range of attractions all across this tropical country. In fact, 20% of its GDP is based on...
read more