Would you like to learn to dive on Australia's Great Barrier Reef and enjoy a fabulous liveaboard experience? Then jump onboard the Australian liveaboard Scubapro and get certified on the Cairns Barrier Reef!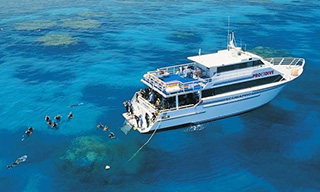 Scubapro's 5 day course package is the most popular and fun way you can learn to dive. You will spend the first 2 days completing the theory, pool training and practical skills required. There is an optional "Reef Teach" presentation on the 2nd night where you can find out more about the coral reefs and marine life you will see on your cruise.
Then you're off on a 3 day 2 night cruise into the magnificent open water around Cairns Barrier Reef. Your first 4 dives will complete your course, then you will have 5 more recreational dives to enjoy as a certified diver! Witness the underwater wonders of Flynn Reef, Thetford Reef, Pellowe Reef and Milln Reef for yourself, for the very first time.
Scubapro – Course and Cruise
Standard: Only AUD 990 (US$ 680) per person!
Package includes:
5 Day "Learn to Dive" Course for PADI Open Water Certification with Pro Dive Cairns
with the following inclusions
Return Accommodation transfers as required (refer to itinerary)
All Training – 2 Days of Theory (classroom sessions), confined water practical training in on site heated training pools, training materials, certification fees and photographs for certification card
3 Day/2 Night Live aboard trip with 9 dives to the outer barrier reef, 2 nights accommodation on board in twin share cabin
All meals from breakfast, to and including lunch on the last day at sea and bedding
Complete the 4 open water training dives out on the reef plus participate in 5 additional pleasure dives (total 9 dives)
Diver Insurance cover for the 5 Day Course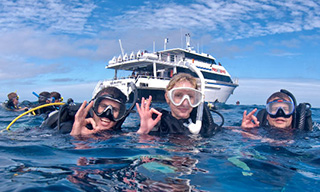 Package excludes:
Cost of A Dive Medical if required
Personal expenses on the liveaboard and meals on shore other than specified
Travel Insurance to cover for flights and non refundable portions of your pre-booked travel arrangements
Note: Price valid for trips up to 31 March 2021.
Departure days: English: Monday to Saturday / German: Tuesdays and Fridays / Japanese: Thursdays / Chinese: Wednesdays
Course and cruise includes: liveaboard accommodation with air-conditioning, breakfast, lunch, dinner, snacks, coffee, tea and water, PADI manual, log book, 9 dives, all dive equipment including dive computer, long leg wetsuits and dive torch, tanks, weights, weight belts, dive insurance, certification card, 2 passport photos, return transfers (Cairns city & northern beaches), free wireless internet, local taxes.
Course and cruise excludes: Compulsory dive medical, towels, port/admin fees AUD 85, alcoholic drinks and soft drinks.
Do you want to take the plunge and learn to dive at Australia's Great Barrier Reef onboard the Scubapro?
Contact Dive The World right away on +66 (0)94 582 7973 / (0)83 505 7794 or send us an email.
Note: All prices quoted are per diver sharing and are subject to availability and currency fluctuations. Currency rate is correct at time of publishing. Special offers apply to new bookings only.