>
Dive Destinations
>
Australia
Your Guide to Diving in Australia
Great Barrier Reef Scuba Dive Adventure
...Highlights: great white sharks, shark action, turtles, seals/sea lions, great macro life/ marine diversity, schooling fish & big pelagics, non diving activities...
...Australia's diving environment: healthy reefs, walls, drift dives, cage diving, beginner and advanced divers...
Australia is known for many things: diverse landscapes, aboriginal culture, kangaroos, bad soap operas and various forms of 'footy'. But when it comes to visiting below the ocean's surface, one particular part of its marine heritage stands out above all others. Rated as both Australia's and one of the world's top scuba diving destinations, the Great Barrier Reef should be at the top of any true dive enthusiasts' must-do list of places to visit, particularly the main attractions such as the Cod Hole, Ribbon Reefs and Osprey Reef. Some patches have suffered damage in recent years, but the reef covers an enormous area and it remains one of the truly extraordinary places on Earth.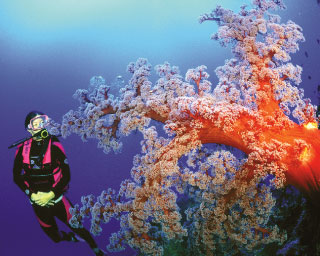 Australia has other great places to dive too, such as the Rowley Shoals in Western Australia, and South Australia where you can enjoy incredible cage diving experiences with great white sharks. Here is the best place to find your widest choice of Australia liveaboards.
Stretching over 2,000 km from Lizard Island in the north down to Great Palm Island in the south, the Great Barrier Reef is the world's largest coral reef system and the only such structure, made up of living organisms, actually visible from space. The main attraction for divers of the Great Barrier Reef is the dizzying array of marine life it supports, much of which is believed to be endemic, showcasing the best of Australia scuba diving. A more specific attraction of the reef is that it's the breeding ground for 6 species of turtle, attracted by a varied menu of seagrass. The olive ridley, hawksbill, leather back, green, flatback and loggerhead turtle are all frequently spotted at various sites on the reef.
The Great Barrier Reef is also a veritable playground for dolphins, whales and porpoises, including humpback whales, minke whales and Indo-Pacific humpback dolphins. Around 30 species have been recorded in the marine park. Dugongs are also commonly spotted. Of sharks, scuba diving in Australia and the Great Barrier Reef. has no shortage, with 125 recorded species of shark, stingray or chimera lurking about the reef or on the sandy bottoms, at home among the endless offerings of choice tidbits.
More than 400 species of soft and hard coral can be found when you dive the Great Barrier Reef. An annual mass spawning takes place when the corals of the inner reefs spawn in the week after the October full moon and the outer reefs do the same in November and December. Molluscs, giant clams, nudibranchs, cone snails, pipefish and seahorses all have multiple species hidden among the coral's nooks and crannies, providing colour and life to a reef too expansive to ever explore in its entirety in a single lifetime.
The corals of the Great Barrier Reef also harbour over 1,500 species of fish, including clownfish, red-throat emperor, red bass, several species of snapper and coral trout, lionfish, stonefish and many more. In a demonstration of marine diversity, even saltwater crocodiles have a connection to the reef. Thankfully they are restricted to marshes and mangroves on the Australian coastline and pose no threat to scuba divers.
The Highlights
Detailed information on the dive sites of Australia:
Great Barrier Reef and North Coral Sea
The Outer Barrier Reef
The Great Barrier Reef
Scuba diving on the Great Barrier Reef will undoubtedly be the highlight of your trip. Each section of the reef brings something different. The Ribbon Reefs and Osprey Reef offer the most amazing dives in quiet, pristine locations, which means your Australian diving trip will be truly unforgettable. Famous sites like Cod Hole will provide you with the opportunity to come up close and personal with giant potato cod that are virtually tame, or wet your suit while perched on the sandy bottom at North Horn in the North Coral Sea as you come to within snapping distance from a shark feeding frenzy.
Steve's Bommie is another dive site of high repute within Australia. This pinnacle tops out at 5m from the surface and drops to 30m at its base. On the pinnacle photographers with macro lenses seek out pipefish (glittering pipefish, banded messmate pipefish and Shultz's pipefish), flatworms and nudibranchs. Larger creatures include the fabulous wobbegong shark, whitetips and barracuda plus, in season, playful and gorgeous minke whales!
Show more
Temple of Doom is a bommie among the Ribbon Reefs where a lot of fish perish in nature's relentless battle between predator and prey. Circling up around this pinnacle there may be action in the blue, including schools of bluefin trevally, turtles, rays and sharks. On a smaller scale there are batfish, trumpetfish, surgeonfish, moorish idols and more. When diving in Australia, few sites will wow you with fish species diversity as much as Temple of Doom.

Osprey and Holmes Reef can justifiably lay claim to the title of the best diving destination in Australia when it comes to shark action and pristine reefs. This remote oceanic reef system in the north of the Coral Sea boasts amazing visibility and a lot of big fish action. Possible encounters here include loggerhead and green turtles, dolphins, manta rays and eagle rays and of course, sharks. You might encounter a great variety here: grey reef sharks, silkies, even silvertips and hammerheads. Rarely seen but known visitors to Osprey Reef are other exciting marine creatures such as whale sharks, marlin, beaked whales, sperm whales and sailfish.

Beginners, students, or those who simply don't have the time for a longer trip, can join a liveaboard trip that visits the Outer Barrier Reef, which is in fact the closest cruise destination to Cairns. This section of the Great Barrier Reef offers many dive sites suitable for even beginner divers and which are within relatively easy reach of Cairns. Although not the best diving in Australia, there is plenty to see around these little bommies, patches of staghorn coral and sandy channels. Look out for anemonefish, parrotfish, sweetlips, goatfish, turtles, octopus, white tip reef sharks and moray eels. Schools can include fusiliers, snappers, trevally, juvenile barracuda, damselfish and glassfish and small reef squid. Larger creatures which may appear, but are not very likely, include dolphins, grey reef sharks and bullrays.

We strongly advise experienced scuba divers not to limit their time to the Outer Barrier Reef. The sites further to the north such as the Ribbon Reefs, Cod Hole and Osprey Reef are really the only ones that will impress in terms of marine life, topography and action!
Elsewhere in Australia
Other highlights include destinations like the much sought after Rowley Shoals in Western Australia. Located 300 km offshore, the shoals are a chain of coral atolls that rise nearly vertically from the depths of over 400m. The dramatic tides here have created unearthly coral landscapes, with over 200 species of coral and 650 species of fish.Expect crystal clear lagoons, sheer vertical walls and drift diving through deep canyons. Then there is great white shark cage diving in South Australia. The beautiful Neptune Islands form a Conservation Park that is home to large breeding colonies of New Zealand fur seals, the reason for the visiting great white sharks. You can also dive with the weird and wonderful leafy seadragons here. You will find liveaboard departures in these 2 destinations, as well as to the Great Barrier Reef, by using our liveaboard departure calendar.
How to Dive Australia
Great Barrier Reef liveaboards are the most popular way to make the most of your diving holiday to Australia. For more information on all the cruise routes, duration options, and all the other travel information you might need to visit, see our Australia liveaboard section.
Due to the distance to the Ribbon Reefs and Osprey Reef, they are accessible through liveaboard cruises only and are your key to the splendour that can only be found on these distant parts of the Great Barrier Reef. This is where the world-class diving is. However, due to the low number and popularity of these trips, we recommend you booking well in advance: Coral Sea.
Dive The World also offers you access to the better Cairns barrier reefs with day-trips, or more often short liveaboard trips to maximise your number of dives: Cairns.
Rowley Shoals and South Australia shark cage diving trips are also very limited in number, so the same recommendation of booking well in advance applies there.
The Australian Diving Season
Australia as a whole is a year round dive destination but, for most part, late August to early December yields the best Great Barrier Reef diving conditions. Other seasonal aspects to consider for the Great Barrier Reef are as follows:
The waters are warm in North Queensland, ranging from a low of around 23°C during the winter months of June to August, to 29°C in the summer period of December to February.
The most popular time for Australia liveaboard diving is July to November, although in the Coral Sea at Osprey Reef and North Horn, visibility peaks during June and September. The calmest sea conditions tend to be between September and February.
June to November is the driest period, where rainfall is rare. The summer months of December, January and February experience the most rainfall, usually at night.
Minke whale season is usually from June to August and is the ideal time to spot and interact with these gentle giants. Humpback whales are most likely to be in the vicinity between August and October with November being the best month to observe coral spawning events. The giant Potato cod that will happily pose for photos to impress your friends are present all year round.
The jellyfish season in North Queensland is from November to April, although they rarely cause problems for scuba divers and do not include box jellyfish which are coastal dwellers and not present on the reef.
October is the month for liveaboard trips to the Rowley Shoals in Western Australia.
In South Australia, the season for diving with great white sharks runs from May to February. Generally speaking May to October sees the most predator action since this is the time when young seals venture out in search of food. November until February is considered summer time and often sees plenty of action for great whites since thousands of seals gather at this time to give birth. This is also the best time for bronze whalers and mako sharks. May, June and July are the best months for seeing large female great white sharks. So no matter what time of year you visit, there is always something awesome going on (except for March and April). Giant cuttlefish mating season is May to June.
For more information on the climate and sea conditions of Australia, visit the Bureau of Meteorology

website.

Where is Australia and How Do I Get There?
Review our maps below of Australia and its location in the world. Here, you will find information on how to get to Australia.
Reef Summary
Depth: 5 - >40m
Visibility: 10 - 40m
Currents: Gentle to moderate
Surface conditions: Usually calm but can be choppy
Water temperature: 24 - 29°C
Experience level: Beginner - advanced
Number of dive sites: >300
Recommended length of stay: 1 - 2 weeks
Useful References

---
CUSTOMER TESTIMONIALS OF DIVE THE WORLD
... At first the reaction was almost instantaneous, which was a delight! Confirmation of the booking etc was quick and efficient. Your request for feedback and your website providing all that information are some of your excellent strengths. Although I hadn't booked or heard of Dive-The-World before, it all looked trustworthy and you have proven that you are! The information you provide on your website is accurate and not a word is not true ... -- Michel Engering, Netherlands. [More customer reviews]