>
Dive Resorts
>
Fiji
>
Taveuni Island
Taveuni Diving Packages
Best Dive Resort and Travel Information
In the north of Fiji, Taveuni is where you will find the Somosomo Strait, with world-famous spots such as The Great White Wall and Rainbow Reef. Named the 'Garden Island' due to the colourful profusion of tropical plants and flowers, Taveuni is surrounded by waters as rich as its topside flora, making it Fiji's unofficial resort diving capital.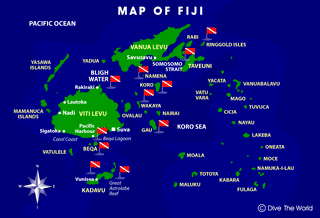 This is an island of lush rainforest, free from population centres or tourist 'hot-spots', making it a choice location to sample all the wonders of Fiji. Although it retains an off-the-beaten track atmosphere, this is the country's third largest island, lying to the east of Viti Levu across the astonishing waters of the world-famous Somosomo Strait.
It is one of Fiji's most popular outer islands and more developed than many, although that doesn't mean high rise buildings and shopping malls. Taveuni has a lot of things to do yet it maintains its island charm and natural appearance. The rugged coastlines rise up to vaulting volcanic peaks that make the soil as fertile as anywhere in Fiji.
While scuba diving packages are the number one activity on Taveuni, many tourists come to trek to distant lakes and waterfalls, to enjoy the variety of birdlife on the island, to ride horses from one secluded bay to the next, or to partake of the many watersports on offer. For those seeking an active vacation, there are lots of options and the island is easy to get around.
Where to Stay in Taveuni
Much of the best diving around the island is in the channel that runs between Vanua Levu and the north west coast of Taveuni, known as the Somosomo Strait. It's along this lush coastline, and across the strait on the nearby peninsula of Vanua Levu, that you will find a variety of places to stay. Check out your resort options for staying at this scuba and nature island paradise:
Some properties are very close to the Somosomo Strait, offering easy access to the best known dive sites. Packages vary from the affordable and popular, to the more quiet and luxurious. Alternatively, you can stay further south where the sites are less populated by divers but equally appreciated by those who visit there from their high quality accommodation. Scuba diving activities are conducted by daily speedboat trips and these are the main focus of guests staying on the island. Unguided shore dives are also an option when staying at several of the dive resorts. [More information on these dive sites: Taveuni].
Taveuni suits those who want to dive and partake in other land-based activities, and for families and couples where not everyone wants to dive all day-every day. However, it can also represent a tropical island escape with some of the resorts, particularly the more expensive ones, enjoying a very secluded, away-from-it-all atmosphere.
There are plenty of different sites along this long stretch of coastline so stays of 1 week are ideal. Taveuni dive packages are normally inclusive of full board accommodation and diving. Airport transfers from Matei are also usually included.
Click to view product.
Special discounted trips highlighted in yellow
Choose Your Own Accommodation
If you are planning to stay in Fiji before or after your Taveuni resort diving vacation, you can find a range of accommodation choices at hotelscombined.com, our affiliated hotel reservation specialists:
All bookings made with hotelscombined.com carry a 'Low Price Guarantee' to ensure you get great value for money. They also have a "book now and pay later" policy, to allow you to secure your reservation now and only pay on your arrival.

The Climate and Best Time to Visit
Taveuni's warmest but wettest months are during its summer months of December to March, when daytime temperatures average 30°C. The winter months of July to September are dryer and a little cooler, with temperatures around the 27°C mark. There is also plenty of sunshine throughout the whole year.
The dive resorts are open in Taveuni all the year round but the main diving season is April to October. This coincides with the end of the rainy season and offers the best visibility. The summer does however, have the warmest sea temperatures at 28-30°C. In winter the water temperature drops to 26°C.
How to Get There
Taveuni is easy to get to, with several daily flights from Nadi, although its distance makes it expensive to visit for a short stay. The flight itself however, can be beautiful, peering down over the splendour of the crystal Fijian seas.
Fiji Airways

, Northern Air

and Island Hoppers

have daily flights from Nadi (1½ hours) or Suva (1 hour) to Matei Airport on Taveuni.
A popular alternative route for those with at least a week to spare is to take the ferry from Suva to the island. It is also possible to take a ferry from here to Savusavu or a smaller boat across Buca Bay to the east tip of Vanua Levu.
Unexpected events can sometimes cause travel plans to change. For this reason we recommend you consider diving package, travel and trip cancellation insurance. Visit our insurance programme section for a competitive quote:
Sightseeing and Things to Do in Taveuni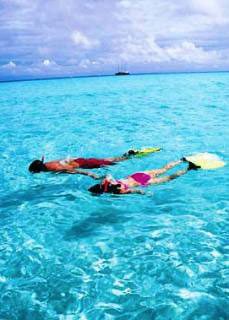 As well as the fabulous diving packages, Taveuni offers plenty for the nature lover. There are treks and hikes galore for those with the energy. 2 of these not to be missed are the Lavena Coastal Walk, with its bizarre rock formations, pools and falls, and Tavoro Falls in Bouma National Heritage Park. Des Voeux Peak, the second highest point on the island, is also a rewarding experience, especially for bird watchers.
A rough, sometimes muddy trail just inland from Waiyevo takes you to Lake Tagimaucia. Here between October and December you can find in abundance the rare and beautiful Tagimaucia flower. Beyond Waiyevo, the road becomes rough and passes several impressive waterfalls. The Matamaiqi blowholes and coastal pandanus forests are the main attractions in the very south of Taveuni.
For the ornithologist inside you, the island is a great place to spot rare and beautiful birds such as parrots and fantails. The king of the birds here however, has to be the orange or flame dove, a rare and wonderfully coloured specimen.
If action is more your thing then check out the thrills, spills and occasional gashes of the Waitavala water slide, outside Waiyevo. Participants hurtle down these naturally occurring rock chutes with a delight only slightly lessened by high speed bone-on-rock collisions. If you see several people emerging unscathed it may be worth a go.
You can go horse-riding in the south of the island or try your hand at game fishing from Matei, if you wish to spend the afternoon slaughtering the wonderful creatures you spent the morning marveling at.
The Beaches
There are some beautiful white sand beaches on the little islands surrounding main island, whereas Taveuni's volcanic history has left it with fine black sand beaches. Although perhaps not as photogenic, the black beaches are great for swimming and snorkelling. Deserving of particular mention are those of Matei and Lavena. Boat trips can be arranged to the nearby islands.
There are 3 beautiful islets situated off the north east coast of Taveuni: Qamea, Laucala and Matagi islands. The islets have fabulous white sand beaches and a low flight over this area is superb. They are privately owned islands and only Qamea will consider visitors as it has a camping ground. Qamea is the site of an annual migration of land crabs where, some time in November/December, vast numbers of crabs make their annual scuttle down to the sea. Great snorkelling and bird watching also add to this island's attractions.
Restaurants and Entertainment
Dance clubs, pubs, go-go bars, foam parties and the like have yet to make it to Taveuni. There is a cinema in Wairiki screening Bollywood movies at weekends, if you like that sort of thing.
Instead you can have a few beers or whisky & cokes in almost every restaurant. If you are lucky (some would say unlucky) you can spend an evening with the locals gathered round a big bowl of kava. The liquid extracted from the root is said to have hallucinogenic qualities. Despite Dive The World's determined efforts to establish the validity of this claim, the best we can confirm is a tingling of the mouth and a sense of well-being. Then again that may just be the company of the Fijian people.
Waiyevo and Naqara are probably the best dining option in the south of the island. Apart from the resorts where the food can be excellent, there are other options although the fare may be rather basic, consisting of western, Indian and local dishes.
Matei in the north of Taveuni is home to some of the best restaurants on the island where you can eat on beach decks or verandahs, watching the planes coming in to land at the airport over the islets a little offshore. The choices in Matei include pizzas, curries and 3 courses of fresh seafood.
Tourist shopping is limited to food and drink and handicrafts. There are supermarkets in Wairiki, Naqara and Matei selling fresh produce, as well as market stalls in Naqara which make for an interesting browse. Handicrafts for sale in dive resort gift shops and in Waiyevo are of the traditional wooden and woven variety.
Local Transport Options
Local buses trundle around the island (very slowly uphill) and are a great place to get chatting to the locals. The bus schedule is about as strictly adhered to as you would expect from Fijian folk, and buses are sometimes cancelled so you need to be as sure as you can that you will get to and from your destination.
4WD vehicles can be rented in Naqara although, for a days sightseeing, it may be better to book a cab in Matei or Waiyevo and haggle for a good price - certainly below that of a hire car. Most taxi drivers fancy themselves as tour guides, and a good one can be a real bonus.
Useful References for Taveuni Island Dive Packages


---
CUSTOMER TESTIMONIALS OF DIVE THE WORLD
... I really appreciated your quick and comprehensive information, it was an outstanding experience. I am sure that in future (with a bit better planning on our side) we will ask for your services again! ... -- Michael, Nepal. [More customer reviews]