>
Scuba Day Trips
>
Thailand
Thailand Diving Packages
Best Dive Resort and Travel Information
Thailand is considered by many to provide the ideal Asian vacation - beautiful beaches, excellent resorts and the warm welcome of the people who live in the 'Land of Smiles'. As a diver, you too can enjoy a Thai diving holiday with some wonderful underwater encounters awaiting you. Whether you want a full-on scuba fest in the Similans or to sip a coconut shake by the pool with your sweetheart, you will find all you need to travel here.
Unlike some other destinations, the resort diving in Thailand is suitable for all levels, satisfying both beginners and experienced scuba divers alike. Many people choose to learn to dive here due to its pleasant, easy sites and fun après-dive activities, making it the perfect combination.
Thailand is the most popular tourist destination in South East Asia and as the 'Gateway to Asia' it has easy access to many locations. It is perhaps most famous for its fabulous beaches and seas but has many other natural attractions so there is always plenty of things to do when taking days off from diving. This might include trekking through beautiful parks and visiting waterfalls, kayaking around fascinating coastlines, or learning about jungle habitats and the creatures that dwell in them.
The kingdom also has a rich cultural and heritage with fascinating temples, palaces, ancient ruins, festivals, and hill-tribes living traditional lives in remote mountainous regions. Thailand will also delight you with its wonderfully inventive and spicy cuisine and its renowned lively nightlife; indeed learning some of the finer points of Thai cookery is a popular pursuit for many visitors. All these factors make Thailand a great vacation destination for both divers and non-divers alike.
The south of Thailand is a strip of land running down the Malaysian peninsula. This is where you will find most of Thailand's spectacular diving packages. The Andaman Sea to the west and the Gulf of Thailand to the east are both sprinkled with islands and national marine parks that have wonderful diving. If it is a diving holiday that you want then the Andaman Sea, and in particular the Similan Islands, are the jewel in the crown.
Where to Stay in Thailand
For scuba divers who prefer to stay on land and conduct daily dive trips, we recommend that you combine a Thai resort or hotel stay with a number of diving day trip options, selected to suit your needs, in one of the following Andaman Sea locations:
The 'Pearl of the South' is Thailand's most popular travel destination. Daytrip boats take resort and hotel guests from Phuket to the numerous excellent dive sites of the area. People staying here can dive almost anywhere in the region without having to travel far overland, including the premiere sites at the Similan Islands. [More information on these dive sites: Phuket].
The island is home to many different localities offering something for everyone, from throbbing nightlife for the young and single, to peaceful solitude and family-oriented activities.
A favourite choice among travellers to Thailand, Phi Phi's beaches and islands are so beautiful they were the set for the movie 'The Beach'. It is a popular place, but with a more laid-back feel than the busiest parts of neighbouring Phuket.
The local dive sites are so good they are visited by divers from neighbouring provinces. They are all close to the main island so you can dive in the morning and fill your afternoon with other watersports, hiking or soaking up the sun and relaxed vibe. [More information on these dive sites: Phi Phi].
Blessed with some of the most stunning scenery imaginable, Krabi is a gorgeous place to stay on your Thailand dive holiday. Beautiful beaches such as Railay are flanked by specactular, tall limestone cliffs which typify the coastline, and boast beautiful beaches with some great rock climbing and sea kayaking opportunities.
Everything here is less crowded than the better-known tourist areas, and staying at Ao Nang Beach means you can take a dive package to some local dive sites, plus the neighbouring sites of Phi Phi and Phuket Shark Point. [More information on these dive sites: Krabi].
Not far from Phuket, Khao Lak is best suited to those who prefer more peace and quiet of a natural retreat than the action of places like Patong. There are long stretches of tranquil beaches, fringed by coconut and casuarina trees leading up to a hilly interior.
Khao Lak, in Phang Nga Province, is the closest resort location to the Similan Islands, which represents the best diving in the whole region. As such day trips from here, which run from November to April, focus on the Khao Lak and Similan region. [More information on these dive sites: Khao Lak].
We also offer day trip options in the Gulf of Thailand. When its low season on the west coast, May to October, the gulf represents the best option for some good diving in Thailand, with a strong chance of encountering whale sharks:
The Gulf of Thailand's most popular tourist island, Koh Samui is a great choice for visitors who simply want to include some diving in their holiday rather than for hardcore divers. Samui promises action and adventure yet maintains some of the island charm that first drew people here. You can explore jungles, dive into waterfalls and enjoy miles of golden beaches.
Dive sites visited on day trips out of Samui include Sail Rock, widely regarded as the best site and the main drawcard in terms of diving in the area (where you could get lucky and see a whale shark), and the sites of Koh Tao. [More information on these dive sites: Koh Samui].
Thailand's dive Mecca for backpackers and young travellers who come here for the convenience of the dive sites and the famously low prices. Life on the island is pretty much entirely geared towards divers, and you will find both the day trip diving and accommodation to be very affordable.
There are more than 25 local Koh Tao dive sites, which include many beginner sites dotted around the coastline and some advanced sites such as Chumphon Pinnacle, where you can encounter bigger fish as well as diving with whale sharks, and the wrecks of HMS Sattakut and MY Trident. There are also frequent trips to the more distant Sail Rock [More information on these dive sites: Koh Tao].
Choose Your Own Accommodation
All these destinations have an incredible choice of accommodation, with everything from 5-star resorts to bamboo beach huts. If you plan on staying in Thailand either before or after your resort diving vacation, you can find a wide range of options at hotelscombined, our affiliated hotel reservation specialists:
Every booking is backed up by their 'Low Price Guarantee' to ensure you get top-dollar value for money from your holiday.

Key Travel Facts
The Climate and Best Time to Go
Thailand has a tropical climate. It is hot throughout the year and the rains are dictated by the monsoon winds. The exact dates the winds change vary from year to year but usually the dry season runs from November to April. The period from March to April can be very hot. The wet season runs from May to October and the wettest month is usually October.
Thailand is an all year round diving destination, but the best diving is from mid November to early May. Some dive sites in the Andaman Sea are closed during the rainy season due to rough seas. Check our dive site descriptions for more details on the diving season. Visit the resort page of a Thai destination for details on the best time to go there.
How to Get There
Thailand, and Bangkok in particular, is one of the major hubs for travel in South East Asia. There are flights from most countries in Asia, Europe and the Middle East, as well as Australia. There are also a few airlines that fly into the smaller provincial international airports of Thailand, such as Phuket, Koh Samui and Krabi. Other convenient flight options to consider include the frequent and reliable connections into Thailand from Malaysia, Singapore and Bali.
As with all vacations, it is highly advisable that you take out insurance to cover diving trips and travel activities, including trip cancellation. See our insurance programme for a competitive price:
Tourist Visas
Visitors from most Asian and western countries including Europe, North America, Australia, New Zealand and South Africa are granted a visa waiver on arrival. This is a 30-day permit to stay when arriving by air, or a 15 day permit-to-stay when arriving by land or sea. It can be extended by another 7-days at an immigration office for a fee. Some other nationals are required to obtain a tourist visa before arrival and you should contact a local Thai embassy or consulate for details.
Visit the Thailand Immigration Bureau's website

for more details.
Thailand Visitor Health
Many remoter areas of Thailand are malarial but most urban and tourist areas are malaria-free. If you are planning to travel to more remote areas or hike into the jungle you should consult with your doctor as to whether it is worth taking malaria precautions before you go.
Dengue fever is more prevalent. It is also a mosquito borne disease. Dengue fever will give you a stunning headache and fever that will have you in bed for a week. Dengue is not that common but unfortunately there are currently no inoculations. The best defence is a good mosquito repellent.
Rabies is also not common but it is present in Thailand. You just cannot take a risk with any animal bite. If you are bitten you need to get rabies jabs. Rabies can be treated if you get the jabs soon after you are bitten. If you wait until the symptoms show, it is too late and at that stage rabies is always fatal.
More common health concerns are contaminated food, water and ice that can lead to diarrhoea, dehydration and hepatitis A or E. Make sure you drink only bottled drinking water. Fungal infections are also very common. Wear loose clothes, wash frequently, and dry yourself carefully.
Self-diagnosis and treatment of any medical problem can be risky, so you should always seek medical help.
Tourist Security and Safety
Thailand welcomes millions of visitors every year and most have a fantastic and safe visit. That is not to say that bad things never happen but Thailand has established itself a reputation as a safe dive holiday destination. Tourism is a major contributor to the Thai economy and the authorities are keen to maintain that reputation.
Thailand has an established tourist industry infrastructure and a reputation for safe travel, even for single females. It is one of the most popular backpacking destinations in the world. There is a national network of tourist police whose job it is to protect tourists from crime. They speak English and are trained to assist foreigners who run into problems during their stay.
The Thai government is seen as one of the most pro-active in the prevention of terrorism and most visitors encounter no problems whatsoever. Furthermore, their intelligence network has ensnared operatives from illegal organisations who had wrongly considered the country to be a safe place from which to conduct their affairs.
There is a national network of tourist police whose job it is to prevent any potential problems by ridding areas of known troublemakers as well as being your first port of call should anything go wrong. This and the heightened level of security in recent times means that it has never been safer to travel here.
Crimes of violence against tourists are rare but Thailand certainly does have a reputation for scams. Thais are more likely to try to part you from your money with a smile than a threat. There may be times when you need to be a little smart. Do not trust strangers who approach you with fantastic sounding deals. Do not believe that you can buy jewellery for bargain prices or whatever other great deal they may have conjured up.
The Thai government has been pro-active in the prevention of terrorism. There is an independence movement in the 3 southern provinces of the country and there have been many bombs and shootings in recent years in that area. However, the troubles have never spread to the rest of country and the rest of Thailand has remained free from terrorist activities. We advise you to stay away from the 3 troubled provinces of Pattani, Yala and Narathiwat. There have not as yet been any cases of tourists being directly targeted but bombs are indiscriminate weapons.
Dive the World has extensively travelled all the dive resort areas of Thailand described in this section and has never experienced any threats or security concerns. The usual travel advice should be heeded however, but as long as you avoid entering into any bogus jewellery deals, purchasing time shares or falling in love with a seemingly lovely local that you barely know, you should be fine. The general sense that tourists get from visiting the country is one of warmth and hospitality.
We must also strongly advise you to avoid any dealings with drugs. The penalties in Thailand for selling drugs are very harsh and even getting arrested for possession of drugs is not going to be a pleasant experience. Involve yourself in drugs at your peril!
Useful Tips for Thailand Tourists
Sightseeing, Activities and Adventure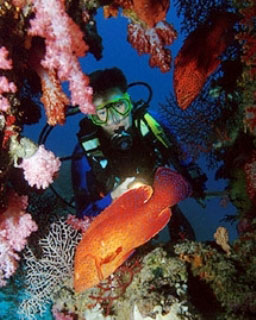 The reason Thailand is such a popular holiday destination is that there is something for everyone. Beautiful beaches with innumerable watersports and lively nightlife are for many people the ideal components of a holiday in the sun. For others the cultural wonders of Bangkok, with museums full of history, and ornate temples throughout the country make a fascinating destination.
Still others will point to the highlands in the north of Thailand, with incredible trekking and encounters with remote hilltribes, as part of Thailand's uniqueness. Add to this the warmth of the people and the natural wonders of its natural parks, and it becomes clear why so many people rate Thailand as their favourite tourism destination.
For more on things to do and where to go in Thailand, visit: The Tourist Authority of Thailand

website.
Time Zones
There is only 1 time zone in Thailand: +7 hrs GMT, or +12 hrs EST.
Business Hours in Thailand
Banking hours are 08:30 am until 3:30 pm, Monday to Friday. Many shop stores are open 12 hours a day, every day.
Electricity
The mains electricity in Thailand is 220 volts AC at 50 cycles. The standard plugs and sockets are 2-pin flat or round. Most international plug adaptors should work or adaptors can be bought locally. There are occasional blackouts and power variations, especially during rainy season.
Communications
WiFi hotspots are common in tourist locations in Thailand particularly in restaurants, bars and hotels.
The international direct dialling code from Thailand is 001 + country code + area code + phone number. The country code for Thailand is +66. Mobile roaming services are available and it is also easy and inexpensive to buy a prepaid sim card in Thailand.
Post offices are open from 09:00 until 15:30 hrs. Thai postal services are unreliable and any valuable or important item should be sent by registered mail. Private air couriers like UPS and DHL are also available in Thailand.
Codes of Behaviour
Thais are a generally tolerant bunch and they know that many foreigners do not know their code of behaviour. Mostly they are too polite to complain about transgressions. You can still make a good impression by understanding and respecting some of the values of their culture. It is very important to show respect for the monarchy. Thai people love and are very loyal to their king and queen and the whole royal family.
Most Thais are Buddhist and their religion should be respected as well. You should act with respect at temples and Buddha statues. Monks are figures of respect and it is not allowed for a woman to touch a monk. Buddhist and Chinese shrines are open to foreigners but you should dress appropriately when visiting. Shorts and sleeveless shirts are discouraged. A non-Muslim should not enter a mosque during prayer time.
Thais regard the feet to be the lowest part of the body, literally and spiritually. It is rude to point your feet at people or objects of respect. You should not step over people or point the soles of your feet towards people. You should sit cross-legged or with the soles of your feet down. Remove your shoes before entering a Thai temple or house. Similarly, the head is the highest spiritual part of the body and you should not touch people on the head.
Tipping and bargaining
Tipping is not a normal Thai tradition but it has become more prevalent in recent years. It is a nice gesture to leave a small amount if you receive good service, particularly as salaries are low.
You cannot haggle prices at the main supermarkets, department stores, restaurants, bars, large hotels, pharmacies, public transport, etc. On the other hand, nearly any independent small business is willing, and indeed many expect to bargain for prices.
You should always bargain in a light-hearted non-confrontational manner, preferably with a smile. Bargaining is part of the shopping experience in Thailand and Thais will normally drop their original asking price to a lower price very quickly but will not drop below their minimum price. If you feel that you are not getting a good deal, walk away and they may call you back with a better offer.
As in other countries, knowing the rudiments of negotiation ("How much?", "Too expensive", "Can you come down?" and numbers) in the Thai language will certainly afford you a better price.
Clothing
Thailand is a hot country so light, loose cotton clothing is recommended. You can wear tight dresses, short shorts or miniskirts when you go out. If you are not at the beach or a pool you should always wear a shirt. Naked sunbathing in public is illegal.
Criminality in Thailand
Thailand is one of the friendliest and safest travel destinations in the world. Your personal safety is well taken care of in the main tourist destinations and the tourist police demonstrate a polite and competent attitude all round.
However, like anywhere, there is crime. If you are aware and show the proper caution, you should enjoy a safe stay. Crimes of violence against tourists are rare but there are occasional bag snatchings, so try to carry your bag securely and keep your valuables in a safe place. Pickpockets may operate in crowded areas such as markets and public transport.
If you do experience any crime it is more likely to be petty pilfering. Keep your valuables in a safe place, hotel staff have been known to steal from guests rooms, though it is fairly unusual and staff are likely to be unexpectedly honest.
Officials
You should always be calm and polite when dealing with Thai officials. They will not respond well to insults, loud or aggressive speech. If you are involved in an incident then respect for the police is a must. They will usually try to be fair but any expression of anger and you will very quickly lose their cooperation.
Thai police officers have much greater powers of action than their European counterparts and will not accept disrespectful behaviour. Traffic offences such as not having a driving license or not wearing a helmet will get you a small on the spot fine. Parking on the wrong side of the road will get your bike or car chained up and another fine. The trick is to know which side of the road to park on. Just look to see where everyone else has parked and park on that side of the road.
The Thai Police are not well paid and corruption is widespread. Many consider receiving bribes to be a perk of the job and buying off offences is common. You may find this convenient if you find yourself in trouble but if you are in a dispute remember that the other party may be willing to pay more. Don't expect justice to take place naturally. If you feel that you're being treated unfairly then stand your ground, remain cool at all times, make a show of recording the officer's registration number, and insist on seeing a superior officer.
Useful References for Thai Dive Packages


---
CUSTOMER TESTIMONIALS OF DIVE THE WORLD
... Quick response to all emails and queries, great that you give people a list of diving options for the holiday ... -- Sheryl Cowe, Australia. [More customer reviews]