>
Dive Resorts
>
Fiji
Fiji Diving Packages
Best Dive Resort and Travel Information
The picture-postcard Fijian islands are considered among the finest holiday destinations in the world, with fabulous beaches and tranquil lagoons; nature is ever-present. Imagine lush mountainous islands where lush green hillsides meet aquamarine bays teeming with life. And the people of Fiji are welcoming and friendly in a way that few other places can match. It is considered by many to be the pinnacle of South Pacific charm and its underwater realm can be just as colourful and charming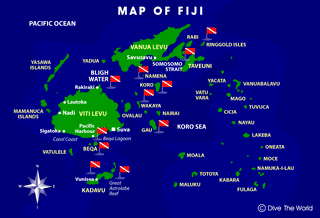 For the resort diving enthusiast there is not only the abundance of fabulous dive sites in Fiji, including the world's second largest barrier reef, and the colour schemes that earn the country the title of "The World's Soft Coral Capital", but also arguably the world's best shark dive! The quality of the diving does vary greatly from island to island so we have carefully selected only those places we believe will delight you.
Not only are there excellent and varied scuba diving packages, but there is plenty to do in Fiji above the surface too. From beaches that attract surfers from across the globe, to waterfalls and local villages, there are activities to suit all lifestyles and it is easy to see how so many families and young adventurous travellers fall in love with this place and why it is a popular honeymoon vacation of choice. While some islands in the Pacific have become overdeveloped and others remain too remote, Fiji is both easy to get to and manages to enjoy the conveniences of a modern country while retaining its essential island charm.
If movies are the stuff of dreams then it is clear why Brooke Shields frolicked in her birthday suit here in 'Blue Lagoon', why Tom Hanks was a castaway on a Fijian island, and even why Jodie Foster, when she went to heaven in 'Contact', met her re-born father on a Fijian beach. Whether old or young, active or in need of relaxation, Fiji has that magic allure that many destinations claim but few can really deliver.
Where to Stay in Fiji
Fiji has professionally-run dive resorts located at many of its finest diving locations. The best islands are just a short hop on a daily flight from the main tourist hub of Viti Levu. We offer fantastic resort stays at the islands that provide many of the best scuba diving experiences:
Conveniently located just an hour's boat ride south of Viti Levu, Beqa Island is home to a resort option ideal for divers who prefer to avoid the hassle of domestic flights. Diving centres on the 250 km² protected lagoon, which boasts soft coral bommies, pinnacles and a barrier reef. It is also possible to attend the amazing shark feed dive on Viti Levu if you wish. [More information on these dive sites: Beqa Lagoon, Shark Reef].
The award-winning diving resort is reasonably priced and well-organised. It has a swimming pool and runs a weekly activity programme for guests. Travel connection concerns are all but eliminated as the resort includes transfers from the international airport.
If you are enquiring about Kadavu, you may be seeking a getaway to the real Fiji. Here you will be far away from the big resorts, where life moves at the pace you want, and where the scuba diving feels like the last frontier. There are no real roads on Kadavu, nature is king, and the sea is the best arena for transport. Kadavu may not be 5 star polish, but it remains one of Fiji's best dive package destinations with a combination of eco-friendly resorts, local culture and plenty of breathtaking sites in and around the well-known Great Astrolabe Reef. [More information on these dive sites: Kadavu].
Kadavu is for those seeking to get away from it all and do little more than live the simple life of diving and relaxing. The sites here are characterised by excellent hard coral coverage, steep walls, a manta ray cleaning station, and soft coral pinnacles where a variety of pelagics cruise by.
You may have heard of 'The Garden Island', past which runs the Somosomo Strait, since it is one of the top dive destinations in the country. It is Taveuni's soft coral splendour that allows Fiji to lay claim to being 'The soft coral capital of the world'. The waters around the island are rich and nutrient-filled, supporting large marine ecosystems which means lots of great dive sites. This includes world-famous ones such as The Great White Wall and Rainbow Reef. [More information on these dive sites: Taveuni].
Resorts here are often dedicated to scuba diving and are located close to the best sites. Taveuni is a more developed island than Kadavu and so it has more general activities to enjoy. It also has a greater choice of places to stay, with a corresponding range of package prices - from small simple no-frills lodges, to intimate boutique resorts, and larger family-friendly accommodation.
If you would prefer not to take an internal flight to some of Fiji's outer islands, there are some worthwhile dive sites on the main island of Viti Levu, particularly around RakiRaki, Pacific Harbour and Beqa Lagoon. You can expect pinnacles, plenty of soft corals and even some wrecks. This is also the area where the famous shark-feeding dives with bull sharks, tiger sharks and silvertips take place at Pacific Harbour, an experience not to be missed if you are in the area. [More information on these dive sites: Viti Levu, Shark Reef, RakiRaki].
Choose Your Own Accommodation
For those that prefer to find their own accommodation, we also offer day trips from Pacific Harbour, Rakiraki and Nadi.
If you plan on staying in Fiji either before or after your resort diving vacation, you can get the best value rooms at www.hotelscombined.com, our affiliated resort reservation specialists:
Some guests choose to add-on the shark feeding to their main vacation spent on the more remote islands, whereas others prefer the convenience of basing themselves on this, the main island of Fiji. There is a large choice of accommodations here, from fun activity-based beach resorts to more sophisticated, high-end properties aimed at those who prefer a more sedate stay.
All bookings made with hotelscombined.com have a 'Low Price Guarantee' to ensure you always get the best value for money.
Add-On Package:
Shark Feed Dive - No matter where you stay in Fiji, if this is your only planned visit to the country then we strongly recommend that you consider a 2 night add-on package at Pacific Harbour on Viti Levu to experience the not-to-be-missed shark feed diving. This is possibly the best shark feed dive in the world, with 8 types of shark to see! [More information on these dive sites: Shark Reef].
This convenient day trip diving option is located close to both the international airports in Fiji - in the Viti Levu small cities of Nadi and Suva.

Key Travel Facts
The Climate and Best Time to Go
The Fijian islands have a relatively stable, tropical climate throughout the year. Due to the mountainous interiors of many of the larger islands, the windward sides of these slopes tend to see more rain than the leeward sides. This characteristic has seen the dive resorts built in areas of plentiful sunshine and, where possible, cooling breezes.
December to April is summer and sees the wet season and cyclone season; these are the warmest months at 22-33°. May to November is winter and the dry season; this is the coolest period at 19-29°C. Prevailing southeasterlies can whip up along the islands' south-east coasts at times.
Although Fiji is a year round diving destination, the best conditions are generally considered to be from March to December as there is generally less wind then. Water temperatures range from 26-29°C and the seas are warmest in the wet summertime. Check out our detailed dive site descriptions for seasonal information on each destination.
How to Get There
Fiji lies directly above New Zealand, 3 degrees or so above the Tropic of Capricorn. The starting point for most guests is a flight in to Nadi on Viti Levu, although some international flights do arrive to Suva, also on the main island. If you are staying in Viti Levu or nearby you are most likely to be picked up by a dive resort representative, so it will be easier to cope with the throngs of people welcoming you with guitars, flowery shirts and offers of taxi rides.
Most flights arrive early in the day, which allows for local flight connections to be made on the day of arrival but please check carefully as, for example, flights from Nadi to Taveuni run only until early afternoon.
There are flights from Brisbane, Gold Coast, Sydney, Melbourne, Auckland, Christchurch and Wellington, as well as several other Pacific destinations. North American flights are from Los Angeles and Honolulu. Hong Kong, Singapore, Osaka and Tokyo provide other excellent gateways to Fiji, making the South Pacific more accessible than ever before. The main airlines flying into Fiji include Fiji Airways

, Qantas

, Air New Zealand

, Japan Air

and Korean Air

.
Travellers sometimes need to cancel tour plans for unexpected reasons so we recommend you consider insurance to cover diving packages and travel activities, as well as trip cancellation. Visit our insurance programme section for a competitive price:
Tourist Visas
A free of charge tourist visa valid for 4 months is granted on arrival to citizens of over 100 countries, including most developed and developing countries. You should check to see if you need to apply for a visa prior to arrival. All visitors need is an onward ticket and a passport valid for at least 3 months longer than your stay.
For all the latest regulations, visit the Department of Immigration

website.
Fiji Visitor Health
Fiji is malaria free so no worries there. It can be hot and humid however, so all the obvious rules about light clothing and keeping one's moist parts dry and free from fungal attack apply. There are mosquitoes of course and it has been known for them to spread dengue fever and filariasis. Hepatitis A and B are also known to occur.
You should obtain your own medical advice prior to your departure and obtain any immunisations you feel you need. That said most people do not have their little slice of heaven on Earth disturbed by anything other than common ailments.
Ciguatera is a type of food poisoning that you would do well to bear in mind when perusing any menu. This is a bowel-twisting condition resulting from eating big reef predators like barracuda, grouper and snapper. This may not seem like too great a sacrifice, particularly to scuba divers, when the alternative may consist of the following ingredients: nausea, chills, tingling mouth, weak muscles and joints, cramps, vomiting, diarrhoea, hot and cold flushes, and for dessert, aching extremities for weeks or even months! Doesn't the mushroom pizza look good?
Current at 22 Mach 2019: Fiji's only hyperbaric chamber, located in the Colonial War Memorial Hospital in Suva, is currently out of operation. Any divers that require chamber treatment would need to be evacuated to New Zealand or Australia. We highly recommend that all scuba divers have dive insurance that includes emergency evacuation.
Tourist Security and Safety
Fiji has earned its reputation as one of the world's greatest tourist destinations, based in part on the friendliness of its people. Here your greatest concern, in the countryside and on the smaller islands, is more likely to be how to thank the locals for their kindness than how to avoid trouble with them.
Having said that, Fijians do suffer from high rates of poverty and unemployment. In the urban areas, such as Suva and Nadi on Viti Levu, the local disaffected youth is garnering a reputation for tourist muggings and even the odd robbery-related murder. We do not consider Suva safe to walk around at night but, in any case, we don't recommend you spending any time in that smog polluted town anyway. Get out into the wonderful countryside and Fiji is a very safe place to travel.
The security most tourists feel here is evidenced by the numbers of older couples, families, honeymooners and young independent travellers who come here every year to enjoy Fijian diving packages at some of the most beautiful islands in the South Pacific.
The much publicised coup back in 2000 caused great unrest and international disapproval since its ultimately successful objective was to remove Indo-Fijians from political and economic power. Racial tensions continue to simmer in politics although the coup was relatively bloodless. Tourism has returned to normal following the Asian market crashes and the political upheaval of recent times, and it is unlikely politics will come to the fore in conversation during your diving trip.
Useful Tips for Fiji Tourists
Sightseeing, Activities and Adventure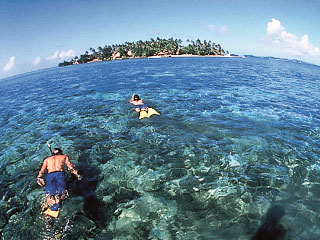 Many resort tourists come to Fiji to do as little as possible. It is a gorgeous Pacific island chain with beautiful beaches and a relaxed pace of life, so where better to come and unwind? Honeymooners also often concentrate on relaxing, dining and spending romantic moments together, and Fiji is the perfect place for that too.
The good news is there is also plenty to do for those seeking activities. Pacific Harbour on the main island is a good base from which to partake in things like white-water rafting, kayaking, trekking and golfing, besides the shark diving. There is also a zip line, which sends you flying over the tropical jungle and seems to be a must-do for kids.
If you are in Taveuni then a visit to the Tavoro waterfalls is a must, and there are always plenty of watersports activities. Bird-watching is also a popular activity in Taveuni where you can spot over 100 species. Trekking the Lavena Coastal Walk is always pleasant and, for serious hikers, you can take the Vidawa Forest Walk, the trek to Lake Tagimaucia, or the Des Voeux ascent.
Cultural activities include visiting the Fiji museum in Suva, enjoying Fijian song and dance, handicrafts, and of course, a display of impressive fire-walking as locals slowly step over hot coals without flinching.
For more information on things to do, visit the Tourism Fiji

website.
Time Zones
"Fijian Time" is a term often used as an excuse for slow service, as things (including internet speed) and people can move at snail's pace here. Fiji is +12 hrs GMT (or +17 hrs EST), in other words it is as far away from Britain as possible (hooray!). It lies just to the west of the International Date Line (in fact, it actually runs through Taveuni) so Americans lose a day getting there and gain one on the way back.
Business Hours in Fiji
Most businesses are open from 8:00 am to 5:00 pm, depending on how the proprietors feel that day and most close between 1:00 and 2:00 pm. Sunday is a day to unwind after a stressful week.
Electricity
Electricity is supplied at 240V, 50 Hz AC. Many resorts, particularly the best ones, will have outlets for 240V and 110V and many have adaptors but, as ever, it's best to bring your own to avoid trouble. Sockets are 3-pin Australian-style.
Communications
All but the bottom-end hotel rooms have phones and are often free to use locally but crippling for long-distance calls. IDD phone cards can help ease the pain but there is nothing quite as painless as calling collect. Vodafone is the only mobile operator here and has roaming agreements with Australian, New Zealand and UK providers so it is best to check the details with your local provider. Fiji's international dialling country code is +679.
Fiji is quickly falling in love with the 'net, and internet outlets are popping up all over the place at a cost of up to 25 cents per minute. In some resorts however, it can be a different story and you will need to exercise time-limiting caution if you don't want to run up spine-chilling costs.
The postal service is more reliable and inexpensive than you might think. There is also an international express mail service. Post offices are plentiful and all major ones offer a free Poste Restante service. Fax services are also available.
Codes of Behaviour
There are certain standards of behaviour which one would do better to avoid breaking but, as is always the case, the locals will know you to be a foreigner and will forgive your ignorant blunders with good grace. Fijians will welcome you like nowhere else however, so it is worth according them the respect of being familiar with a few matters of etiquette.
Always bring a gift if invited to someone's home or village. Yaqona (pounded kava) should be brought for presentation to the village chief as well as a separate gift for your host. Never walk around the village or people's bures uninvited as this will be seen as an invasion of privacy. On any visit you will probably end up sitting cross-legged in a ring drinking ditch-water brown kava from coconut shells, clapping and grinning like a native. Trousers or sulu and long sleeves will see you avoid any trouble in these circumstances.
Try to avoid touching the head of a Fijian as it is considered sacred, and avoid wearing a hat and sunglasses as they are considered rude, particularly when meeting someone. What you might consider rude, being asked to part with your shoes or bracelets, is simply part of the tradition of shared property in Fiji. So if you want to get local, leave your bling at home.
Also, public displays of affection will be tolerated to a certain degree but tongues and beyond may cause offence.
Tipping and bargaining
Tipping is not expected or encouraged - like we say it is paradise. However if you feel the need, you will doubtless receive a warm, genuine smile in return. When you add the 12.5% VAT that is seldom included in quoted prices, you may feel you have had your daily quota of toothy smiles. Bargaining is done mostly with the Indo-Fijians, especially taxi-drivers who love a long, protracted negotiation.
Clothing
Before the missionaries arrived, everyone ran around the islands naked. While this may still occur occasionally at some of the rowdier resorts frequented by young Scandinavians, Fijians will expect you to dress modestly. Even when swimming, Fijians will often wear a shirt and sulu. Thongs and toplessness are not at all welcomed, unless at the most exclusive resorts, and when out and about, a degree of coverage is expected.
Criminality in Fiji
The centres of population - Nadi and Suva - are the most likely spots for trouble on the street. Avoiding flashing your expensive accessories, not walking alone at night in dimly lit streets, and being circumspect about your socialising partners will help you to avoid trouble. Beware of touts at airports. If you have transport just ignore them, as you should those guys who start carving your name into a sword as they chat to you. Leave before they get past the first letter or introduce yourself as Lord Persimus Brampton Nicholas Tarrigon Eckilthwaite III, otherwise they may expect you to buy it.
Marijuana is commonplace although illegal. The risk is higher than the effect and you may find yourself in a psychiatric hospital if you are caught. Drink driving is equally commonplace and also illegal.
Officials
Where possible, bring a receipt for expensive items that you bring in to the country otherwise you may experience problems at customs on the way out. As responsible divers visiting Fiji, we hope you wouldn't dream of taking away banned items such as coral, turtle shells or clam shells. Copies of all your vital documents are a good idea as officials often like to see things in black and white.
The police may not be the most corrupt force but their efficiency and inclination to help may be found wanting. Using safety deposit boxes and otherwise exercising due caution should see you join the overwhelming majority who leave here with memories of an exclusively positive nature.
Useful References for Fijian Islands Dive Packages

---
CUSTOMER TESTIMONIALS OF DIVE THE WORLD
... I found Dive The World on the internet when I was looking for a holiday. The service I received was very informative and prompt ... -- Brenda Palfreman, UK. [More customer reviews]