PADI Diving Courses
Scuba Lessons with Dive The World
Thinking about learning to dive? Then you're close to opening up the doors to a whole new world of fun and adventure. Dive The World can be your passport to a lifetime of amazing underwater experiences. Take your steps up the scuba qualification ladder with the No. 1 authority in the world of diving.
You'll get a clear idea of which class to take by reading the details on the full range of PADI recreational dive and snorkelling courses below. Dive The World is not affiliated with PADI, or SSI, or CMAS or any other training agency; we simply want to find the right course provider for you. Most people know the PADI name and we can help you locate the best PADI-affiliated dive center. If you prefer to get certified with another scuba training agency, let us know.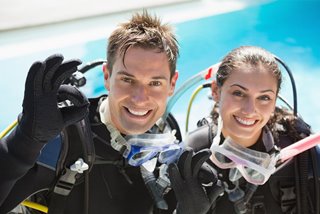 We offer instruction courses and programmes at a 5 Star Dive Centre in Phuket - Thailand, as well as throughout Thailand, Malaysia, Australia, Indonesia, Egypt/Red Sea, Fiji, Belize and the Maldives.
If you would like to try diving before committing yourself to a full course, you could sign up for the Discover Scuba Diving programme which will introduce you to the fascinating marine world. Or take the plunge and earn your diving license. In only a few short, fun-filled days you could add another string to your bow and obtain that PADI certification you always dreamt about.
Or perhaps you already have a dive certification and want to take that next step up the ladder. Experience new adventures with the advanced course, or become a much more assured diver with the rescue programme. One thing is sure, the more you learn, the more you can relax and enjoy yourself underwater! Next time you go on a dive vacation you, like thousands of Dive The World students, can produce your new card with pride.
On your voyage of discovery, let us guide you to safe waters ...
PADI Dive Classes!
For details on PADI scuba diving courses and prices click on:
• Discover Scuba Diving    Introduction lesson - non-license
• Scuba Diver    Pre-entry level - intermediate license
• Open Water Diver    Full diving certification
• Adventure Diver    Stepping stone to Advanced
• Advanced Open Water Diver    Licensed to dive to 30 metres
• Emergency First Response    Medical training programme
• Rescue Diver    Learn how to help your dive buddy
• Divemaster    Change your life...Go Pro!
PADI specialty courses on which to hone your scuba skills:
Diving Certification Specifics
Prices normally INCLUDE PADI instructor, study manual, use of scuba equipment, classroom and the latest training materials, certification costs, pool use and entrance fees to parks etc. However, exact details of inclusions vary from destination to destination, so we will send you full details of what's included when you make your inquiry.
Dive The World can arrange lessons in several exciting destinations:
•  Phuket, Phi Phi Islands, Krabi, Koh Tao and Koh Samui in Thailand
• Hurghada, Sharm El Sheikh and Marsa Alam in Egypt
•  Mabul, Semporna and Kota Kinabalu in Malaysia
• Cairns Great Barrier Reef in Australia
•  Bali, Manado and Raja Ampat in Indonesia
•  Taveuni and Viti Levu in Fiji
• Ambergris Caye in Belize
• North Male and Raa Atoll in the Maldives
We recommend that you take out insurance to cover diving and travel activities, including trip cancellation. See our insurance programme for a competitive quote:
If you require hotel accommodation you can get the best value rooms with hotelscombined.com, our affiliated hotel reservation specialists:
Need to know more about your destination? How to get there? What to bring? Have a look through our frequently asked questions section.
Contact us for your free shortlist of course options:


---
CUSTOMER TESTIMONIALS OF DIVE THE WORLD
... Responsiveness in providing feedback. Patience in dealing with the barrage of questions I have (which I normally ask all the dive shops) ... -- Yong Hui See, Malaysia. [More customer reviews]