>
Dive Resorts
>
Malaysia
Malaysia Diving Packages
Best Dive Resort and Travel Information
Malaysia has plenty to offer tourists, both divers and non-divers alike; and its key attractions are affordability, ease of travel, wildlife adventures, as well as some phenomenal diving opportunities at the likes of Sipadan Island, Layang Layang and Lankayan Island. At all of these destinations the dive sites are very close to land so Malaysia tends to be a destination that favours resort-based diving packages.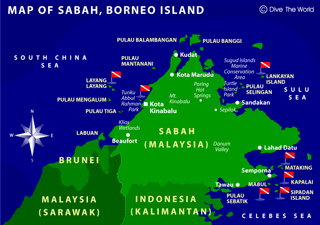 An equatorial paradise, Malaysia is blessed with an amazing underwater kingdom for diving and snorkelling, and offers pristine rainforests for wildlife safari tours, mountain ranges for trekking, wetlands for bird watching, and unspoiled islands for some sun and surf or simple relaxation. Sabah is one of the 2 Malaysian states in Borneo and is a land full of adventure and natural wonder. It is home to Mt. Kinabalu, orangutans, proboscis monkeys, and the world famous scuba diving mecca of Sipadan.
Malaysia is a country that is developing quickly and you may be surprised by its modern infrastructure, how widely English is spoken and generally how easy it is to get by as a tourist. Kuala Lumpur is one of the best connected cities with flights coming in from all over the world. You can easily hop from here to a great number of other destinations using one of Asia's low cost airlines.
Where to Stay in Malaysia
The Malay Peninsula has several islands that are very popular with tourists who enjoy diving, including Tioman, Perhentian, Langkawi and Redang islands. However, our focus is on offering you the very best scuba packages in the country and these dive resorts are all located across in Sabah on the legendary Malaysian island of Borneo:
Sipadan Island is famous among scuba divers the world over and its walls are considered by many to be among the top ten dive destinations in the whole world. Here you'll find enormous schools of barracuda and trevally, reef sharks, huge schools of marauding bumphead parrotfish, and more sea turtles than you can count. [More information on these dive sites: Sipadan].
There is a good selection of all-inclusive accommodations serving Sipadan, located on the shores of the nearby islands of Mabul and Kapalai. Diving package choices cover most budgets, from backpacker style rooms to luxurious stilted resorts located atop the Celebes Sea!
Layang Layang].
Your options for a stay on Layang Layang are limited to a single but comfortable and well run dive resort, the only accommodation available to the public on the island.
Lankayan Island offers divers a wide range of underwater attractions, including healthy and vibrant reefs, interesting wrecks and seasonal whale sharks. [More information on these dive sites: Lankayan].
There is only one accommodation option here too, a very pleasant and well managed dive resort that balances well with nature. Their dedicated conservation efforts include an in-house turtle centre, which allows guests to witness the incredible spectacle of breeding, egg-laying, hatching and release of baby turtles.
Choose Your Own Accommodation
We also offer day trips in Kota Kinabalu, and from Semporna to Sipadan, Mabul and Kapalai.
If you plan on staying in Malaysia either before or after your resort diving vacation, you can find a wide range of accommodation choices at hotelscombined.com, our affiliated hotel reservation specialists:
All bookings will be backed up by their 'Low Price Guarantee' to ensure you get the best value for money.
Add-On Package:
Orang-Utan Sanctuary - If this is your only planned visit to Borneo then we strongly recommend that you consider a stay at the homely Sepilok Nature Resort to allow you to witness the once-in-a-lifetime jungle encounter with endangered orang-utans.
Stays of 2 or 3 nights are ideal and this package can be added on to any of our Malaysian dive resort options in Sabah, although Sepilok is most conveniently located near Sandakan (for Lankayan).

Key Travel Facts
The Climate and Best Time to Go
Malaysia has an equatorial climate. The average temperature is about 26°C but highland temperatures can drop down to 18°C. The annual rainfall is about 250 cm and on rainy days thunder and lightning often accompany the downpour. The humidity level is high - about 80%.
Generally, the east coast of the Malay Peninsula and the north eastern coast of Sabah and western Sarawak will receive more rain from November to February. The west coast of the peninsula will have more rain from May to October. Having said this, the diving season in Malaysia runs all year round in most locations. Review the dive resort page of each specific destination for details on the best time to go to each destination.
How to Get There
Malaysia is one of the major travel gateways in South East Asia. You can fly directly into Kuala Lumpur International Airport (KLIA) from most countries in Asia, Europe and the Middle East, as well as Australia and New Zealand. There are also a few international airlines that fly into the smaller provincial airports of Malaysia, such as Kota Kinabalu.
Other convenient flight options to consider include the frequent and reliable connections into Malaysia from its neighbours, such as Singapore and Thailand. We recommend you consider insurance to cover diving and travel activities, including trip cancellation. See our insurance programme for a competitive price.
Tourist Visas
For citizens of all countries (with a few exceptions), you are allowed to enter Malaysia without a pre-arranged visa (you get a visa on arrival) for a stay not exceeding 1 month. For many countries including most EU members you are allowed to stay for up to 3 months. Israeli nationals require a visa and must be granted permission from the Ministry of Home Affairs. You should contact a local Malaysian embassy/consulate or the Immigration Department of Malaysia

for details.
Malaysia Visitor Health
Malaysia generally has a good standard of health and cleanliness - it's better than most other destinations in South East Asia. Having said that, the usual rules for ensuring good health in an equatorial climate do apply.
Wear loose clothes, wash frequently and dry yourself carefully to avoid fungal infections. Drink lots of fluids to ensure you don't become dehydrated. Avoid prolonged exposure to the sun and wear cool, lightweight clothes.
On the off chance that you do experience health problems here, the quality of hospitals and clinics are high. Hospitals and clinics are available in almost all cities and towns, with the only real exception to this rule being the smaller islands off the Malaysian coast. Most doctors and nurses speak English. Pharmacies/chemists are also of high quality, with most medications not needing a prescription.
Citizens coming from yellow fever infected countries on the African and South American continents have to produce their yellow fever vaccination certificates for entry into the country. Travellers are advised to buy travel and health insurance before visiting. International SOS, the world's largest emergency assistance company, provides 24-hour emergency assistance services in Malaysia.
Tourist Security and Safety
Naturally, Dive The World has a vested interest in encouraging visitors to Malaysia. Having said that, while we do encourage visitors, we do not recklessly advise you to head to dangerous locations.
Malaysia is a very safe country to travel in, regardless of race, colour, creed and gender. Its multi-ethnic and multi-religious society has ensured generations of in-bred tolerance and respect for people from a multitude of cultures and background. Whether you're black or white, male or female, Catholic or agnostic, sport 10 tattoos and 20 different body piercings, Malaysians will generally be friendly and as accommodating to you as to any other person.
There have been some unfortunate incidents in Sabah over the years that have made the news. Very seldom do they involve tourists and there has been not a single attack in recent years involving any scuba divers staying at resorts in any of the Malaysian destinations we recommend. The government views any form of terrorist activities as a serious threat to national security and unity and are doing all they can to prevent any such incidents. The Malaysian Navy has stepped up its security and does round-the-clock patrols of all islands in the vicinity. There is a marine base on the main dive-tourism island of Mabul.
Dive The World has travelled to all the tourist areas described in our website and has never experienced threats of any kind and indeed have never had any customers report safety or security concerns. The general sense that tourists get from visiting the country is one of warmth, hospitality and cultural richness. Blindly following all warnings issued by authorities these days, we sometimes wonder how people ever leave their homes!
Having said that, as with any destination, your visit to Sabah is at your own risk. We encourage you to read your country's travel advisory, for example UK travel advisory

and the USA travel advisory

.
When you book and make payment for your Malaysian diving package you are confirming to us that you have been fully informed and are agreeing to our cancellation terms. If you later change your mind because of security reasons, that will not entitle you to cancel your reservation. You will be subject to our cancellation terms. If in doubt, ask us for an alternative destination. However if you base the risk on incidents involving divers, then you are much more likely to go and have an amazing time. Thousands of divers do just that, as evidenced by the resorts being almost entirely full, all year round.
Useful Tips for Malaysia Tourists
Sightseeing, Activities and Adventure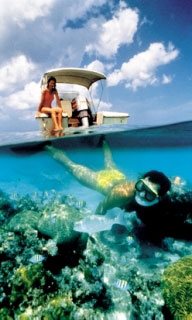 Malaysia is a country of diversity ... in culture, religion, cuisine, nature and landscapes. Whether you enjoy exploring offshore islands with beautiful beaches, climbing tall rugged mountains bursting through forests, trekking through jungles on the search for orang-utans and other endangered wildlife, touring remote tribal villages, relaxing at spas in the cooling highlands, or living the city highlife, there is something for you.
For more detailed information take a look at our article: Things to Do in Sabah.
For some other great ideas on what you can see and do in Malaysia, other than scuba diving, visit: Tourism Malaysia

.
Time Zones
There is only one national time zone: +8 hrs GMT, or +13 hrs EST.
Business Hours in Malaysia
Banking hours are 09:30 till 15:00, Monday to Friday. On Saturday, banking hours are from 09:30 till 11:30. Banks are closed on the first and third Saturday of each month. Shop stores are usually open from 11:00 till 22:00, every day. Government offices are open from 08:15 till 16:45 from Monday to Friday. On Saturday, they are open from 08:00 till 13:15; they are closed on the first and third Saturday of each month.
3 states on the Malay Peninsula practise slightly different office hours (welcome to Asia!). Offices in Kelantan, Terengganu and Kedah open from Saturday to Wednesday, with a half-day on Thursday and a rest day on Friday.
Electricity
Voltage is 220 - 240 volts AC at 50 cycles per second. Most major hotels provide 110 - 120 volt adaptors.
Communications
Malaysia has an efficient postal system with good poste restante at the major post offices. Post offices are open from 08:30 till 17:00 from Monday to Saturday. They are closed on Sundays and public holidays. Parcels can be sent from any post office although the rates are fairly high. Other than the ordinary delivery services, there is also a national courier service known as Poslaju or Expedited Mail Service (EMS). Private air couriers such as DHL and UPS also have representatives in most urban locations.
International direct dial calls and operator assisted calls can be made from any private phone. The access code for making most international calls is 00. For information on international calls, dial 103. For operator assisted calls, dial 108. International direct dialling phone cards, which offer cheaper rates than local telephone operators, are also available for sale in most urban centres - the usual outlets which stock these are 7-11, news stands and shops. Public pay phones throughout the country are offered by Uniphone, Citiphone and Telekom. Therefore, the phone cards are different for the differing pay phones and are not interchangeable.
There are many internet cafes in urban and tourist locations. Connection speeds vary - some can still be slow in the more remote locations. Most of the dive resorts in Malaysia provide a free wi-fi service.
Codes of Behaviour
Malaysians are generally a tolerant lot, a result of its multi-racial and multi-religious society. However, as in all countries, Malaysia has its own peculiar set of do's and don'ts which tourists need to practise when visiting the country. Remember to remove your shoes when visiting local homes and places of worship. Dress modestly when visiting rural areas and places of worship.
Shaking hands is acceptable but kissing the hand or cheek is generally not. Many Muslim women, particularly those who wear the tudung (head scarf) prefer not to shake hands with members of the opposite sex. In these circumstances, a polite nod of the head and a smile will do.
Kissing and fondling each other in public is a no-no, particularly in rural areas. Use your right hand when eating with your hands or when giving or receiving something; the left hand is considered unclean and rude. To indicate a direction or when pointing at a person or place, don't point with the forefinger as it is considered rude. Instead use the thumb with the 4 fingers folded under.
Tipping and bargaining
Tipping is not necessary, although it is certainly appreciated. All hotels and restaurants have already added a 10% service charge and 5% government tax.
Clothing
Due to the humid equatorial climate, lightweight clothing, especially cotton, is advisable. Generally, T-shirts and shorts are acceptable.
However, do dress appropriately when dining out in restaurants or going for a night out, especially in the cities. It is also important to dress decently (i.e. no shorts) when visiting villages and any place of worship.
Criminality in Malaysia
It is a criminal offence to carry drugs into Malaysia. The penalty is death by hanging and many foreigners visiting the country have already fallen prey to this.
As it is in the rest of the world, travellers should be aware of pickpockets and con artists. These are more likely to be found in crowded areas so keep a watchful eye on all your valuables in these places.
Useful References for Malaysian Dive Packages


---
CUSTOMER TESTIMONIALS OF DIVE THE WORLD
... Excellent dive outfit ... Excellent internet site ... You guys did a great job ... Very quick and helpful service. Thanks ... -- Michael Beach, USA. [More customer reviews]