>
Dive Destinations
>
The Caymans
Your Guide to Diving in Cayman Islands
Sensational Walls and Reefs in the Caribbean Sea
...Highlights: dolphins, turtles, great macro life/marine diversity, schooling fish & big pelagics...
...Cayman's diving environment: healthy reefs, wrecks, walls, caverns, beginner and advanced divers...
The Cayman Islands are a British Overseas Territory south of Cuba and north-east of Honduras. It is believed that Columbus discovered these islands in 1503 on his final journey to the Americas, although they are now best known for their tax haven status (and the excellent scuba diving!). Named after the caimans that live here, the Cayman Islands have a storied history of ship-wrecked sailors, pirates and adventurers.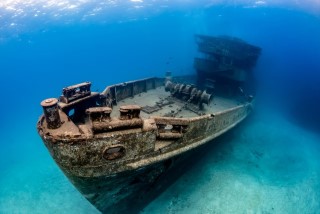 Scuba diving cruises in the Cayman Islands promise a greater variety than many other Caribbean destinations: wrecks, steep walls, healthy coral gardens and plenty to offer lovers of macro. And with a total of 365 dive sites, the Caymans are a year-round destination in more ways than one.
Of the 3 islands, Grand Cayman sees the greatest number of visitors and offers a combination of wall diving with pelagics in the blue and easy, current-free coral gardens to explore as shore dives, and turtles galore. The laid-back Little Cayman normally sees more action underwater than on land with vibrant, dramatic walls and swimthroughs. To many this is where the Caymans best diving can be found. The 3rd island, Cayman Brac offers wreck diving plus walls and coral reefs on a range of sites that makes it suitable for divers of all experience levels.
Typical of the Cayman islands, diving is in endlessly clear and warm water combined with encounters with Caribbean reef sharks, nurse sharks, stingrays, spotted eagle rays, turtles, lobsters, tarpon, grouper, French angelfish, barracuda, parrotfish and vast schools of silversides. If you prefer poking around looking for smaller lifeforms on the reefs then you will enjoy sighting creatures such as Caribbean reef squid, yellow-head jawfish, juvenile spotted drums (Equetus punctatus), juvenile smooth trunkfish (Rhinesomus triqueter), and a variety of crustaceans.
Dive Site Descriptions
Grand Cayman
Gran Cayman is the main island in terms of population, economic activity and number of dive sites. There are sites all around the coast of this island making up the majority of the Cayman Islands dive sites and they include fascinating wrecks, shallow reefs, dramatic precipitous walls, impressive canyons and more...
Show more
The North Shore provides a combination of shallow reefs in North Sound plus vertical drop-offs along North Wall. Among the best known of all the dives sites is Stingray City, an unforgettable 12m deep site ideal for divers and snorkellers alike. Southern stingrays, habituated to being fed squid over the years, flock to this site and swarm gently all over anyone in sight.

The North Wall runs parallel to The North Shore and drops vertically from 40 ft (13m) into the abyss. There are many wall dives in this area which end in shallow coral gardens atop the wall. Overhangs and swim-throughs are decorated with plenty of hard and soft corals. In the blue you may see larger creatures passing by including eagle rays and Caribbean reef sharks. One notable site here is Tarpon Alley a large sandy channel through 2 large coral fingers where schools of the eponymous tarpon can be seen alongside other visitors such as barracuda, turtles, eagle rays and the occasional shark, maybe even a hammerhead!

The West Side is home to an incredible number of dive sites and is the most frequently dived area since it is geographically sheltered and therefore can be dived throughout the year. This is where you will find some of the best known wreck dives in the Cayman Islands. The wreck of the Oro Verde is a disintegrating mass sheltering a vast array of marine life including various species of moray eel, jacks, snapper and midnight blue parrotfish. The jewel in the crown is likely the USS Kittiwake a former Navy submarine rescue ship that was scuttled to form an artificial reef in 2011. It now lies between 15-64 ft (4.5-19m) so is shallow enough to be snorkelled. There is plenty to explore on this wreck including the smoke stack that goes right down to the bottom of the hull and the engine rooms. Other notable wrecks in this area include Doc Poulson, The Gamma, The Cali and The Balboa.

There are many excellent reef and wall dives on the West Side too including Devils Grotto and Eden Rock - considered to be among the best dive sites in the Cayman Islands and responsible for putting it on the map. Both have vast schools of silversides lurking in sheltered caves attracting tarpon and grouper who swoop in on lightning raids to snack on them, particularly during April to September.

Grand Cayman's most popular area for scuba divers is off Seven Mile Beach. Many of the sites here, including Orange Canyon, Trinity Caves, Eagle Ray Rock and Aquarium, are in no more than 60 ft (18m) of bath-warm, clear blue water. Trinity Caves is an interesting array of canyons and swim-throughs running perpendicular to the shore and leading you out to an exposed vertical wall.

The South Side is among the more exposed areas of the Gran Cayman coastline. Only during winter months can these waters be reliably calm. Outside of this time winds can hammer the coast and create significant swell. The harsh conditions have, over time, created caverns and overhangs and archways with strong corals capable of withstanding the pressure.

Noteworthy South Side dive sites include the descriptively-named Kent's Caves, Pedro's Pinnacle in the west, and Breaker's Cutback and Grouper Grotto in the east. Channels, overhangs and caverns are what make this area stand out but there are also deep walls that top out at around 70 ft (21m) and drop down from there into the deep.

Other sites of repute include Japanese Gardens with topography including a jumbled maze of archways tunnels, chimneys and coral heads which make it seem like you never dive this site the same way twice. Bullwinkle is renowned for its impressive floor or staghorn and elk coral with channels housing lobster and lionfish. Given the spines of the creatures and the tips of the corals, it is definitely a site for employing good buoyancy control. At Pallas East & West the wreckage of The Pallas breaks the water's surface and has done since it crashed into the reef during Hurricane Cuba in 1910. The reef nearby has a fantastic swim through, 30 ft (9m) vertical walls, and is home to eagle rays and nurse sharks.

The East End is home to dive sites such as Snapper Hole, a maze of snapper-filled caves and tunnels, and Babylon which has a magnificent pinnacle and wall in the same dive. This is a much quieter part of the island than the West Side and the dive sites are equally less visited.
Little Cayman
Little Cayman gives you an opportunity to get away from the (relative) bustle of Grand Cayman Island and do some spectacular diving around impressive boulder formations, pristine coral gardens, and along sheer walls which drop down to the sea floor over 1,000 ft (304m), although the exact depth is a source of some dispute. Colorful corals and sponges decorate the reef. There are plentiful barracuda, grouper and jacks, while turtles and parrotfish play in the sunlight. After nighfall octopus scuttle around the reef while squid dash this way and that...
Show more
Most of the diving you will do here will be at Bloody Bay Wall, a huge vertical drop off the island's north shore. Considered one of the finest drop-offs in all of the Caribbean, this wall is the location for over 15 different and distinct dive sites.

Randy's Gazebo is usually the first name on anyone's lips when mention is made of diving at Little Cayman. This site is home to some enormous barrel sponges and likely marine life can include eagle rays and turtles. You will enjoy some awesome swim-throughs here and immortalize your visit with an Instagram moment as you pose in the 'gazebo'. There is also a reverse Santa moment as you go up a chimney from the entrance at 80 ft (24m) and out at 30 ft (9m).

Lea Lea's Look is another well known and dramatic site here. You start this dive by finning along a narrow channel where crabs and lobster lurk to where a pinnacle signals the entrance to the channel. If you turn right you will end up in 'The Great Room' where you may spot seahorses, lettuce leaf slugs, various shrimp species, corals and fans, lots of juvenile fish species and even nurse sharks.

Great Wall (sometimes divided into East and West) is a section of the wall festooned with gorgonian fans, hard and soft corals and rope sponges. Turtles are a key feature of this site, as are juveniles including juvenile spotted drums and juvenile smooth trunkfish.

Another area worth visiting is Jackson's Bight to the northwest of Little Cayman, which is all about exploring the cracks, crevices, tunnels and chutes that the topography offers. There are both shallow reef sections and deeper walls here, as well as sand flats where eagle rays and sting rays are commonly seen. The popular site called Mixing Bowl (or 3 Fathom Wall) joins the areas of Bloody Bay Wall and Jackson's Bight. There are some exceptionally huge schools of fish here swarming over a magnificent reef structure.
Cayman Brac
Cayman Brac, or "The Brac" to the locals is the easternmost of the 3 Cayman islands and only slightly lager than Little Cayman. This is an area included in the liveaboard itineraries, is less dived by those on a daytrip, and is home to 60+ dive sites, many of which are excellent...
Show more
Among the most lauded of its dive sites is The MV Captain Keith Tibbetts, a Russian anti-submarine frigate that was purposefully sunk in 1996 to create an artificial reef. This 330 ft (100m) wreck is the only diveable Soviet warship in the Western Hemisphere and was renamed after a local dive operator. Although badly damaged in Hurricane Ivan in 2004, plenty remains in place including gun turrets.

The wreck can be penetrated by the suitably experienced in various areas. You are likely to bump into one or both of the 2 resident goliath groupers affectionately named Natasha and Boris. Other marine life often sighted here includes moray eels, scorpionfish, turtles and eagle rays.

You may also get the chance to dive other sites here such as Buccaneer Reef or the fantastic wall dive at Wilderness Wall. Tarpon Reef on the southern tip of the island is another interesting dive with large silvery tarpons schooling around the crevices and channel of the reef. As with many Cayman Brac sites the marine life here may include horse-eye jacks, nurse sharks, triggerfish and tiger groupers. Strawberry Sponge Wall is a delicious sounding site on the island's north side which boasts, among various sponges, the strawberry vase sponges that give the site its sweet name.
How to Dive the Cayman Islands
Since the 3 islands are qute far apart, the only way to experience them all without the inconvenience of relocating several times is by liveaboard cruise.
The Caymans are a popular spot with a very low number of liveaboard operators, so availability can be an issue. We recommend you book 12 months in advance to avoid being disappointed.
The Cayman Diving Season
The islands are very much a year round diving destination. Sea temperature varies little, from a high of 86F/30°C in August/September to a low of 80F/26.5°C in February. You will need little more (and some prefer less) than a 3 mm full length wetsuit. Due to the very deep surrounding trenches, the visibility is usually excellent and averages 100 ft/30m; it is often even better, especially at Little Cayman and Cayman Brac. Currents are very mild and surface conditions are usually calm.
In the summer months of June to September the air temperature is 86F/30°C; while it hits a low of 79F/26°C in January/February. The rainy season starts in May and peaks in October. Rains are usually short but intense. Humidity is lower from December through March. Hurricane season runs from August to October and there is a 1 in 5 chance of one hitting the islands. For more details on the climate in George Town, Grand Cayman, visit the Weather Atlas

website.
For marine life, April through June is the time for prolific fish activity on the reefs, especially juvenile reef fish. The summer months are known for silversides on the shallow sites, and in the early summer you will see more green turtles than at other times of year. September is the month for coral spawning.

Where are the Caymans and How Do I Get There?
Review our map below showing the Cayman Islands' location in the world.
The Cayman Islands are British Crown Colony located in the northwest of the Caribbean Sea, 300 km (180 miles) directly south of Cuba and about 800 km (500 miles) south of Miami. Other than passengers on cruise liners, most visitors fly into Owen Roberts International Airport (GCM) on Grand Cayman, the largest of the 3 islands. Our liveaboard diving trips depart from George Town on Grand Cayman. Little Cayman and Cayman Brac lie 130 km (80 miles) to the northeast of the main island and they themselves are 90 km apart.
Direct flights to Grand Cayman are operated from the USA, the UK, Canada (Toronto), and several Caribbean nations. There are many airports to choose from in the USA but the shortest distance is from Miami, which is a 1½ flight. Airlines include Delta Air, American Airlines, Cayman Airways, Air Canada, Westjet, British Airways, and Jet Blue.
No visa is required for stays of up to 6 months for visitors from most countries. You will need a passport that is valid for at least 6 months after entry, have a return/onward ticket, and proof of sufficient funds. You can check all the latest entry requirements on the Cayman Islands Immigration

website.
Reef Summary
Depth: 16 - >130ft (5 - >40m)
Visibility: 70 - 130ft (20 - 40m)
Currents: Gentle
Surface conditions: Generally calm
Water temperature: 80 - 86°F (26.5 - 30°C)
Experience level: Beginners to intermediate
Number of dive sites: 365
Recommended length of stay: 8 days
Useful References


---
CUSTOMER TESTIMONIALS OF DIVE THE WORLD
... i felt like I got exactly what I've been looking for super quickly it was great. Thank you! You were so much help. ... -- Myleka Bevans, USA. [More customer reviews]