>
Liveaboards
>
Australia
Australian Liveaboards - Great Barrier Reef and More
Best Dive Tour Options and Travel Information
At over 2,600 km long, the Great Barrier Reef is the world's largest single structure made by living organisms. It is visible from outer space and is the single biggest attraction for liveaboard divers that visit Australia. This huge expanse that runs along the northeast coastline of the country includes over 2,900 individual reefs and 900 islands in an area that covers more than 334,000 km².
The diversity of marine life which relies on the Great Barrier Reef simply boggles the mind. More than 1,500 species of fish, 400 species of coral, 6 species of turtles and multiple species of shark, dolphin, whale, sea snake and even saltwater crocodiles, although we can't guarantee you will see them all! With more reef and associated sea creatures for one diver to explore in a lifetime, it's little wonder that Great Barrier Reef liveaboard tours are world famous and attract divers from all over the world for the holiday of a lifetime.
Damage to sections of the reef has been widely reported, but the Great Barrier Reef is vast and is still a vibrant, exciting playground for divers. Just imagine yourself pictured next to one of those enormous potato cod!
With the fun and lively dive town of Cairns providing boat tour access to the barrier reef, you can have a great time on land as well as at sea. Australia, unlike many other top liveaboard destinations, does not have any of the inconveniences of visiting a developing country, since Cairns is a modern city with all the efficiency and amenities that you would expect in the first world.
And Australia's liveaboard diving attractions do not simply start and end with the Great Barrier Reef. You can also visit Rowley Shoals in Western Australia or join one of the fabulous Great White shark cage diving tours in South Australia.
One of the biggest attractions for tourists visiting Australia is the amazing natural beauty that it offers, from the sunbaked desert with the awe inspiring Uluru (formerly known as Ayers Rock) to the tropical forests of Queensland. Australia also has no shortage of non-diving activities, featuring action packed adventure activities such as white water rafting, jet boating, kite surfing, abseiling, horse riding, jungle treks and bungy jumps, ensuring that your holiday on land is as exciting as it is in the water.
Liveaboard Diving Cruise Options in Australia
We recommend liveaboards that operate along Queenland's Great Barrier Reef, where the country's best diving is located.
But Australia has other superb liveaboard diving opportunities too. One of the most remote and least explored tropical scuba regions on Earth is the Rowley Shoals. It's a world class dive destination waiting to be discovered. And for the ultimate adrenaline thrill you can join a cage diving trip in the south of Australia to see the awesome great white shark in its natural habitat.
Check out our liveaboard adventure holidays for Australia here:

The Ribbon Reefs include famous dive sites such as Cod Hole and Steve's Bommie. Beyond the continental shelf lies Osprey and Holmes Reefs and Bougainville in the Coral Sea, which offer a different kind of underwater environment with sheer walls, excellent visibility and pelagic marine life. These are the world class cruise diving destinations of the Great Barrier Reef. When you hear people talking enthusiastically about their fabulous tour experience of the Great Barrier Reef, this is the area that they are talking about. We strongly recommend these safaris since the diving is excellent, particularly at Osprey Reef and in the Coral Sea, and the level of client service is very high. [More details on these dive sites: Bougainville, Holmes Reef, Osprey Reef, Ribbon Reefs].
Liveaboards cruising here are suitable for all except for beginner divers or those taking a course. The prices are higher than those tours that only visit Cairns' Outer Barrier Reef because these safaris are of a longer duration, cover a much larger area, and are on vastly superior boats.
The Cairns Barrier Reef are the sites nearer to Cairns and include Flynn, Milln, Pellows, Michaelmas, Hastings and Normal reefs. This area has mostly entry level dive sites but it will give you a taste of the Great Barrier Reef. The boats don't tend to move around a great deal and you will probably dive some of the sites more than once. [More details on these dive sites: Cairns' Outer Barrier Reef].
If you are a short on time, a student taking a course, or a relatively inexperienced diver, these liveaboard tours will be good for you. They are also very competitively priced and entirely date-flexible - you can join any day of the year. However, we recommend that scuba divers with experience will be better suited to the charters that visit the Osprey and Ribbon Reefs areas.
Located 300 km from the nearest land, the Rowley Shoals off Western Australia, are a chain of coral atolls that rise almost vertically from about 440m deep on the edge of one of the widest continental shelves in the world. The dramatic 5m tides pour massive volumes of water in and out of the coral framework and have created unearthly and enchanting coral landscapes.
These shoals are home to an amazing 233 species of coral and 688 species of fish, including many that are not found on near-shore coral reefs. Less than 200 people a year are privileged to experience the swimming pool like conditions of the Rowley Shoals Marine Park on 6 night liveaboard safaris. If you are one of the fortunate few, you can enjoy the unspoilt beauty of the Rowley Shoals as you dive crystal clear lagoons, shear vertical walls and drift dive through deep, clear canyons amongst turtles, sharks and the many other marine life species that inhabit this unique and remote area.
Cruises are of 6 nights' duration. There are very few trips running here each year so if you are in or planning to visit Western Australia, this is a great way to experience excellent diving without the crowds.
The beautiful Neptune Islands are a Conservation Park consisting of 2 island groups (North and South) and are located at the mouth of the Spencer Gulf, near Adelaide, in South Australia. Here you can enjoy incredible cage diving experiences with great white sharks. The Neptune Islands are home to large breeding colonies of protected New Zealand fur seals (Arctocephalus forsteri) which is why the great white sharks visit. Divers come here to experience the world's only ocean floor great white shark cage diving.
If you have a fascination for these awesome creatures, join a liveaboard charter to the Neptune Islands. 2 night trips focus on surface cage diving, 3 or 4 night trips include ocean floor cage dives. Swimming with seals is also usually part of each itinerary. 8 night safaris involve great white shark diving plus they coincide with the cuttlefish mating season and involve leafy and weedy seadragons and sea lions!
If you wish to participate in surface cage diving only, no scuba certification is needed. Ocean floor cage diving is, however, only available to certified divers.
Note: Unlike other parts of the world, diving in Australia is not necessarily guided. Often guides will be on hand and on request, especially on the higher budget cruises. However, you will often be diving with a buddy but unguided. Detailed briefings and safety equipment (safety sausage, compass and whistle) are, however, always provided.

Key Australian Travel Facts
The Climate and Best Time to Visit
Australia has a relatively temperate climate with an average temperature throughout the year, ranging between a minimum 8°C in winter to a maximum 32°C in summer. Around the coast ocean temperatures vary from 6°C to 30°C, although the Great Barrier Reef's water rarely dips below the 24°C mark.
Monsoons are prevalent from January to March, during which time cyclones may occur, while in April to June heavy trade winds are rife. Strong winds can persist through August.
The Rowley Shoals diving season is very short, with most liveaboard departures in October only. Water temperatures vary between 27-30°C at this time of year. You can expect visibility at over 20m, but sometimes as much as a jaw-dropping 60m. Mornings and evenings can be cool so warm clothes are recommended.
In South Australia, the shark cage diving season runs all year round, except for March/April. May to October sees a lot of great white action since this is the time of year when young seals first venture off land in search of food. November to February sees plenty of predator action too as thousands of seals gather here then to give birth. This period is also the best time to spot bronze whalers and mako sharks. So there is something pretty awesome happening at most times through the year. If you're keen to see the giant cuttlefish then May to June is their mating season. The surface temperature of the sea around the islands ranges from 14-22°C and visibility is often over 20m.
You can find more details on the seasons on our Australia diving destinations page.
Liveaboard Ports of Departure in Australia and How to Get There
Australia is vast, over 2 times the size of Europe. As such there is always a certain amount of planning involved in getting about. Most visitors arrive by air with the main airports being Sydney, Perth, Darwin, Brisbane, Melbourne and Cairns. These are well serviced from both Europe and the US although the routes can get busy so it is important to book in advance.
With the country being so large, by far the most convenient way of travel within its interior is by air. Australian domestic flights can be quite economical as there is fierce competition for passengers. The net result is excellent prices on most of the main routes.
Rowley Shoals Marine Park is just under 300 km west of Broome and south of the Timor Sea. There are direct flights to Broome from several of the main cities in Australia (Brisbane, Darwin, Sydney, Melbourne, Perth) with Virgin Australia Airlines

, Qantas

and Airnorth

.
For Neptune Island, South Australia, passengers must board in Port Lincoln. You can get there by flying to Adelaide and then on to Port Lincoln. Many airlines offer direct international flights to Adelaide from Asia and New Zealand. There are also flights to Adelaide from all major Australian cities. Qantas

and Regional Express Airlines

have daily flights (45 minutes) from Adelaide to Port Lincoln. The alternative is a 7 hour drive or a 10 hour bus ride.
In addition we highly recommend that you take out insurance to cover diving and travel activities, including trip cancellation. See our insurance programme for a competitive price. Indeed some liveaboards in Australia will not allow you onboard without proof of evacuation cover, due to the huge distances and costs involved:
Tourist Visas
Many tourists visiting Australia are eligible for an Electronic Travel Authority, or ETA. The ETA allows visitors from eligible countries

the authority to enter Australia at the time that they make their travel arrangements. Alternatively, can apply through the airline they book their flight trip with. There is normally no need for you to have to visit an Australian embassy.
The ETA is usually issued almost instantaneously online and allows you to stay in the country for up to 3 months at a time. Once issued, the ETA is valid for a period of 1 year and can be used for multiple entries during that period.
It is always advisable to check with the authorities as to what specific requirements may apply to you. For more information, visit the Australian Department of Immigration

.
Places to Stay
If you plan on staying in Australia before or after your liveaboard diving safari, you can get the best value rooms with hotelscombined.com, our affiliated resort reservation specialists:
Take your pick from dozens of options, from international 5 star hotel chains to budget guesthouses, and everything in between, there's something to suit everyone's taste and pocket. Browse their website to find options, use their on-line chat to ask questions, and use your credit card to book. All bookings are backed up by a 'Low Price Guarantee' to ensure you get maximum value for money.
Visitor Health
Tourists face no problems with serious disease in Australia. Sun related injuries account for most of the health problems that are encountered by holiday makers, especially on liveaboards or near the coast where the cooling breezes tend to mask the fierceness of the sun.
Cover up, wear a hat and sunscreen, and remember to drink lots of water (especially when diving) and you should have no problems. The term "Slip, slop, slap, wrap" was invented here, referring respectively to clothing cover, sunscreen, hat and shades, and is definitely worth heeding. The Australian liveaboards all either have water-makers onboard or carry adequate supplies for the trip plus, of course, bottled water and other beverages.
Many of the upscale resorts have their own doctors on call and there tend to be local surgeries in all but the smallest towns. These, especially in the outback, rely on the famous 'Flying Doctor' service if there is a major problem.
As for vaccinations and other health precautions, we recommend you consult your local doctor when planning your trip.
Tourist Security and Safety
We consider Australia a safe place for liveaboard tourists to travel. It is an exceptionally popular holiday destination with top grade infrastructure and a reputation for safe travel, even for single females. It enjoys popularity with travelers of all ages, from the legions of gap year backpackers to the super rich staying in fabulously luxurious resorts.
The Australian authorities take a harsh view on drug related offenses and visitors should be advised that what may be acceptable in their own countries may incur heavy penalties here.
Useful Tips for Tourists
Sightseeing, Activities and Adventure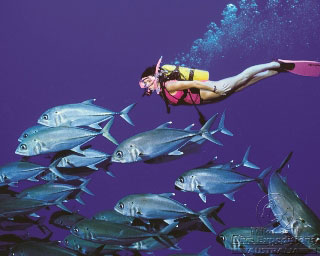 Cairns is a fun town with plenty of bars, restaurants and cafes to enjoy. Many tourists choose the Kuranda Train and Skyrail tour for a fun day out. The scenic Kuranda railway dates back to the 1800s and takes you through the beautiful Barron Gorge National Park. You can make the journey back via the Skyrail which is a cable car, giving you a very different viewpoint.
To learn more about Aboriginal culture and history you should visit Tjapukai Cultural Park, or for nature lovers a tour in the Daintree Rainforest (Australia's largest natural rainforest) is a must. The more adventurous can choose from bungy jumping, sky diving, hot air ballooning and white water rafting.
Looking further afield, Queensland is a state packed with tourism opportunities. The Atherton Tableland is a mountainous getaway only an hour west of Cairns which features magnificent lush scenery. Brisbane is a lively city with excellent botanic gardens and myriad shopping, dining and sporting options. Queensland has hundreds of great golf courses including the famous Paradise Palms course which is considered one of Australia's best. Other places which feature on the tourist trail include Fraser island, Hervey Bay, the Lone Pine Koala Sanctuary and Moreton Island National Park.
If you're visiting the barrier reef, you might like to spend some of your holiday exploring the state of Queensland (where it's located) or the city of Cairns (the main depature port for diving trips to the Great Barrier Reef). For more fun ideas of things to do, visit our Queensland tourist activities and Cairns tourist activities pages.
For more ideas about activities and highlights in Australia, visit: Tourism Australia

.
Australian Time Zones
There are 3 time zones covering the 6 states of Australia.
Eastern Standard Time (EST) covers New South Wales, ACT, Victoria, Tasmania and Queensland.
Western Standard Time (WST) covers only Western Australia.
Central Standard Time (CST) covers South Australia and the Northern Territories.
Australia has also implemented daylight saving and as such the times in the various zones are between 8 and 11 hours ahead of GMT.
Electricity
The electricity in Australia is 220 to 240 volts AC at 50 cycles and utilises an angled 3 flat pin plug (not the UK type); the liveaboard boats use the same type. Most hotels will have adaptors available and many stores carry these in stock if you need to purchase one.
Communications
The Australian postal service is excellent both for domestic and international packages and letters. In general post offices are open from 9 am until 4 pm, Monday to Friday, although in many shopping centres they are open for extended hours.
The telecommunications infrastructure is superb with both international and national prices being very reasonable. Phone cards as well a public pay phones are common, but what an increasing large number of tourists are doing, simply for convenience, is buying a prepaid mobile phone card upon arrival. These, as well as phone cards, are available at many retail outlets and most newsagents will sell both.
Internet access is widely available both in internet cafés, hotels, shops and even restaurants these days with the expansion of WiFi networks. For those that simply have to stay connected, there are not that many towns and cities where you are more than a few minutes away from a connection. Due to the remote nature of the Great Barrier Reef, Coral Sea, and other diving destinations, the liveaboard cruises in Australia do not provide wi-fi service, except for one or two that visit Cairns' Outer Barrier Reef.
Codes of Behaviour
Tipping and bargaining in Australia
Tips are generally not expected, although tipping for outstanding service is certainly appreciated. Where larger groups are concerned a higher expectation of a tip may exist and 10% is usually suggested. The same applies to bars, taxi and restaurants.
Useful References for Liveaboard Charters in Australia


---
CUSTOMER TESTIMONIALS OF DIVE THE WORLD
... Quick and friendly response to my queries, and a very helpful and insightful "on the ground" attitude ... -- Veronica Smith, Australia. [More customer reviews]