>
Dive Resorts
>
Indonesia
>
Raja Ampat
Raja Ampat Diving Packages
Best Dive Resort and Travel Information
West Papua Province is home to the islands of Raja Ampat, the world's most biodiverse marine region with more recorded fish, coral and mollusc species than anywhere else on Earth. It used to be an inaccessible and largely unknown region.
However, in recent years it has become known as one of the world's top places for scuba divers seeking to treat themselves to incredible diving and a remote and fascinating location.
Raja Ampat, or the Four Kings, are the East Indonesian main islands of Waigeo in the north, Salawati just to west of Sorong, Batanta just to north of Salawati, and Misool in the south. Dotted around these main islands are hundreds of beautiful smaller islets, with untouched beaches and limestone cliffs. Tourists visiting Raja Ampat must first choose between dive resorts and liveaboards.
Not only do these visually stunning islands harbour the greatest number of fish and coral species in the world, but they are reportedly the best place to see the outrageously beautiful birds of paradise in their natural habitat.
Where to Stay in Raja Ampat
There is an increasing number of Raja Ampat dive resorts for those who prefer to stay on land and make daily trips to the local dive sites. [More information on these dive sites: Raja Ampat]. Go on, spoil yourself:
In the northern central region is the Dampier Strait through which Pacific currents flow past Cape Kri. These nutrient-dense currents bring schools and pelagics and mean the walls and sea bed are often home to many large sea fans and sponges. Some of the dive sites here are not for the faint-hearted.
Here you can have a choice of places to stay, from no-frills simplicity to comfort and style, with dive package prices that reflect that difference. The 2 resorts here share the same jetty and are essentially the same business with one accommodation for adventurous young people and the other for those who prefer a little more luxury.
All the guests will intermingle on the jetty and will be diving every day at the exciting range of sites in the Dampier Strait and elsewhere in northern Raja Ampat. There are over 10 dive sites in the strait itself and some 20 more within 10 km from Kri island. One does not need to wander far to find stunning scuba diving since the Cape Kri house reef was where Dr Gerald Allen identified a record-breaking 374 different species in 2012.
Misool Island, in the south of Raja Ampat, is a little more sedate and, although schools of fish are not uncommon, conditions mean you can concentrate more on the small stuff. Photographers are more likely to get the shots they want in the this region since subjects abound, visibility remains good and, in the absence of current, the opportunities for macro photography are magnificent. Experienced divers come to seek out something other than adrenalin-filled dives as the reefs here are simply magnificent. There are also caves to explore and locations where manta rays abound. The house reef is also spectacular and often visited by guests on numerous occasions.
At the higher end of the price scale, the beautiful Misool Eco Resort is nestled around a quiet bay and tends to be favoured by couples and older divers who are happy to spend a little more for as luxurious a dive package as is possible in such a remote location. Many stilted bungalows sit around the shallows where baby sharks patrol the waters.
Conveniently located in Waisai on the island of Waigeo in central Raja Ampat, Meridian Adventure Dive Resort is a short ferry ride away and the easiest to get to from Sorong Airport. For this reason it does not have fixed start and end dates for its resort stay packages, nor a minimum stay period for guests. What's more, the resort uses fast customized dive boats so that diver guests can comfortably access more than 100 dive sites throughout the entire marine park - northern, central and southern regions. The property is modern and has wi-fi throughout, and is a great choice for non-divers too, since it offers many non-diver activities and experiences for guests.
For any of these locations, stays of one week are ideal. However, combining them will give you a wonderful overview of this unique region. Raja Ampat dive packages normally include full board accommodation, diving and airport transfers.
It's also possible to dive these sites on a liveaboard cruise, if you prefer.
Choose Your Own Accommodation
If you plan on staying in Indonesian Papua either before or after your Raja Ampat resort diving vacation, you can find a range of accommodations, even in this far flung corner of the world, at hotelscombined.com - our affiliated hotel reservation specialists:
Whatever option you select, your booking will be covered by a 'Low Price Guarantee' to ensure you get the best value for money.

The Climate and Best Time to Visit
It is possible to dive in Raja Ampat all year round and some of the resorts are open for business in all seasons. However, if at all possible, we recommend you avoid visiting from early-June to mid-September as most rain falls in the Sorong and Raja Ampat region during this time and some of the dive resorts are closed.
Mean lowland temperature is around 27°C all year round. As a general rule expect hot and muggy climates on the coasts and cool to cold weather in the mountain highlands.
In the rest of Indonesian Papua, heavy rains fall on the north coast during the northwest monsoon from November to April, with the highlands experiencing downpours from December to March. The southwest monsoon from May to October dumps rain on the mountains and leaves the coast relatively dry.
How to Get There
The Indonesian provinces of West Papua (formerly Irian Jaya) and Papua are the western portion of the huge island of New Guinea, to the east of The Moluccas and Halmahera, and to the north of Australia. If you are resort diving in Raja Ampat then Sorong is the main gateway to the rest of Indonesia and the world, even though Jayapura is the provincial capital. You can fly directly to Sorong from Jakarta, Ujung Pandang (Makassar) and Manado. From Bali there are convenient connections via Ujung Pandang (Makassar) and Manado.
Jakarta International Airport is well connected with most of Asia and Europe. Domestic airlines with direct flights from Jakarta to Sorong include Sriwijaya Air

and Express Air

. You should be able to book flights with them online and pay with your debit/credit card. If you experience problems, please ask us for help. Alternatively, here is more information on how to get to: Bali and Manado.
Once in Sorong, you will be greeted and transferred by speedboat to your resort; the transfer takes between 2-4 hours, depending on which place you will stay at. Note that all the resorts have fixed weekly days of arrival when transfers will be scheduled free of charge. Most can accommodate your arrival on other days of the week but there will be an extra charge for this.
We recommend you consider taking out insurance cover for scuba diving package and travel, including trip cancellation. See our insurance programme for a competitive price:
Sightseeing and Things to Do in Indonesian Papua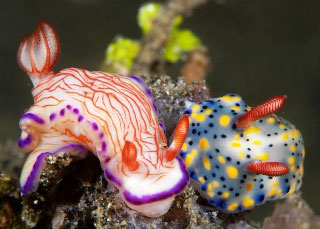 New Guinea offers unparalleled opportunity to witness peoples only recently emerging from the Stone Age with traditions of cannibalism, which some suspect may even still be practised in the remotest areas today. Besides the obvious attraction of being eaten alive, Indonesian Papua has plenty of interesting things to do and see for those vacationers that manage to survive the headhunters' cooking pots.
The island of New Guinea is the world's second largest, and the West Papua and Papua provinces makes up a staggering 22% of Indonesia's total land area. Nowhere else on Earth are so many radically different ecological zones packed into such a delimited space - mossy montane and submontane forests give way to alpine grasslands, impenetrable foothill jungles give rise to towering, jagged peaks capped with glaciers and snow fields. Eucalyptus savannah, peat swamps and brackish mangroves compete for dominance of the lowlands.
Possessing such a wide range of ecological zones, it comes as no surprise that Indonesian Papua has such strange and diverse flora and fauna, and this is one of its main attractions. The largest animal here is the saltwater crocodile, thought to be equally likely as the cannibal headhunters to have been the killers of Michael Rockefeller in 1961. Most of the indigenous mammals are marsupials (having pouches for rearing young), with the curious hedgehog-like echidna that actually lays eggs! The province also has one of the 3 richest concentrations of plant life on Earth.
Wildlife enthusiasts will marvel at West Papua's magnificent natural diversity. There are some 1,500 bird species including the large, flightless and intimidating ostrich-like cassowary, and David Attenborough's original source of fascination, the beautiful birds of paradise. There are mangrove swamps and alpine heaths, and jungles and wooded highlands harbouring orchids, ferns and carnivorous pitcher plants.
The northern and western coasts of West Papua Province are the easiest parts of the province to visit with well developed infrastructure. The oil town of Sorong at the western tip of West Papua is the main airport for the Raja Ampat Islands to the west. Biak Island also has its own airport and has a number of attractions including war relics, coral-filled waters, and fine sand beaches. Jayapura is the provincial capital, and nearby is Yotefa Bay with its spectacle of half sunken WWII ships, beached tanks and landing craft.
Coursing down the centre of Papua Province's cordillera of sharp mountain peaks is the Baliem Valley, home to the Dani, the gentle warrior tribes of the highlands. To discover this beautiful area and its tribal life, there are some good treks around Wamena, the administrational hub of the region, and a 4 day hike from Karubaga.
The southern coastal region is home to the Asmat tribe is one of the least accessible areas of Papua Province.
Restaurants and Entertainment
Most of the larger conurbations such as Sorong, Biak, Jayapura and Manokwari do have a decent selection of restaurants dotted around town at very reasonable prices. Nightlife is restrictive unless you enjoy the company of 'hostesses' from Manado.
Papua is not a "shop-'til-you-drop" kind of place, with big shopping malls. Purchasing options are quite minimal and restricted to souvenir penis gourds, bows and arrows and stone axes, though you may have difficulty getting these through Customs in your hand luggage.
Local Transport Options
The Raja Ampat dive resort options offered in this section are on very small and isolated islands where the transport is by boat. Most places in Papua Province do not have road access so the only option are the regular internal flight services. In the towns there are minibus taxis, which you can join or hire as a private charter.
Useful References for Raja Ampat Dive Packages

---
CUSTOMER TESTIMONIALS OF DIVE THE WORLD
... Dive The World always made prompt responses to all of our queries, particularly with regards to our various requests to the resort to arrange hotel transfers ... -- Theobald Tio, Singapore. [More customer reviews]