>
Liveaboards
>
Indonesia
Indonesia Liveaboards
Best Dive Tour Options and Travel Information
Indonesia is an enormous country with the 2nd longest coastline of any country in the world. It spans a huge part of the 'Coral Triangle' - the world's most bio-diverse marine environment. Over 17,500 islands are scattered over this equatorial archipelago making it an incredibly beautiful place to navigate by sea. Indonesia's crystalline waters are a scuba diver's paradise and an ideal wonderland for liveaboards.
There are over 3,000 species of fish in Indonesia (with new discoveries being made all the time) and some 600 species of coral, vertical walls, deep water trenches, submerged volcanoes, World War II wrecks, and a seemingly endless variety of macro sealife.
There is huge variety and difference between one Indonesian dive destination and the next. The country boasts dream liveaboard tour destinations such as Komodo National Park and Raja Ampat, and is home to the world-famous macro destination of Lembeh and the whale shark aggregations of Cenderawasih Bay. There are also a wealth of World War II wrecks in various regions, and cruises taking in the historically significant Spice islands that were once exchanged between the British and Dutch for Manhatten island in New York.
In addition to its underwater marvels, Indonesia can boast a range of other attractions that will transform your liveaboard trip into the vacation of a lifetime. Many scuba divers pass through Bali for its wealth of tourism offerings. Here you can visit temples, trek along volcanic slopes, enjoy all manner of watersports including some great surf, and potter around the artisanal markets to find quality arts and crafts. Other popular Indonesian tourist destinations include Java, Lombok and Sulawesi.
Liveaboard Diving Cruise Options in Indonesia
Indonesia has an amazing range of liveaboard options. No other destination on earth can boast such scuba diving riches. We recommended trips in the world famous diving venues of Raja Ampat, Komodo and the Banda Sea.
Check out your Indonesian liveaboard options here for:
Indonesia has more marine diversity than anywhere on earth with over 3,000 different species of fish and 600 coral species. Raja Ampat is at the heart of this bio-diversity and is responsible for many of the amazing statistics Indonesia can boast. For this reason, Raja Ampat is the discerning diver's liveaboard destination of choice who want nothing but the best. So to book a trip here, you are really treating yourself. It is also a very remote and largely untouched area with stunning topside scenery - turquoise seas peppered with small vaulting verdant islands.
Below the waves can be nothing short of incredible. Amazing macro opportunities abound in Raja Ampat as well as stunning reefscapes and huge schools of fish in varieties that mean, regardless of your experience, you will almost certainly enjoy first-time encounters. Schools of manta rays, wobbegongs and pygmy seahorses are just some of the main characters that you can see. [More details on these dive sites: Raja Ampat].
The Komodo National Park is firmly established as one of the world's top diving regions. Enjoying nutrient-rich water, brightly-coloured reefs, critters galore and currents which bring in big pelagics, scuba diving in Komodo is consistently excellent. With such a variety of sites plus the added bonus of island visits and encounters with the famed dragons of Komodo, it's the perfect location for liveaboard diving tours. Where else can you experience such vibrant colourful reefs, encounters with manta rays and sharks, amazing macro sites and shore visits to remote islands, some of which are home to dragons?!
Some divers wish to maximise their time in the park itself, but several routes include the dive sites at Moyo, Sangeang and Satonda islands, along the north coast of Sumbawa, or Flores and Alor. These destinations add variety to an already superb trip itinerary. [More details on these dive sites: Komodo, Sumbawa].
This is one of the newest destinations to have opened up in Indonesia and has become something of a sensation for its whale shark activity. Unlike other destinations where the occasional whale shark may cause a stir, in Cenderawasih it is common to see 3, 4 or 5 whale sharks at any one time. They gather close to the surface to feed from the by-catch of local fishermen, as they have been doing for generations. Your photographs will be amazing! [More details on these dive sites: Cenderawasih].
The Cenderawasih region also witnessed a lot of action during the second world war and it is home to range of fascinating wrecks that now inhabit a watery grave. There are also a number of interesting macro opportunities with more dive sites being discovered all the time. What really sets this destination apart is the unknown and liveaboards are the only viable way to see much of this region of West Papua. Just a few boats visit Cenderawasih Bay and they have only been doing so for a relatively short time so the area is still revealing its secrets to those pioneering divers who seek to boldly go ...
In most other countries, places like Triton Bay would be the pinnacle of scuba diving. It is testament to Indonesia's wealth of quality dive spots that Triton Bay can be dwarfed by its more celebrated neighbours like Raja Ampat and the Banda Sea. However, Triton Bay is a magnificent region in its own right. Its topside scenery is striking, with huge sheer cliffs rising from the water and topped by lush foliage. You may even be shown ancient cave paintings from the dive boat. Underwater, it boasts fabulous coral coverage, including soft corals and black coral forests, plus vast schools of fish and sharks including epaulette and whale sharks. If you are lucky you might even see pilot whales. [More details on these dive sites: Triton].
Triton Bay is often part of a cruise that includes the Banda Sea or Raja Ampat. Such a tour makes for an unforgettable experience and indeed a liveaboard is the only way to easily dive Triton Bay.
Banda is a region of the country with many unique characteristics. It is now becoming recognised as a world-class liveaboard diving destination, emerging from the shadows of Komodo and Raja Ampat, its better-known neighbours. Including the critter haven of Ambon, Banda represents huge variety both in terms of the type of diving and the volume of myriad creatures you will encounter. If you visit here, you will be not only diving in an underwater paradise but also touring a region of historical significance given that the Spice Islands once played a starring role in world trade.
The region's small population keeps the waters pristine and the marine life, both large and small, thriving. [More details on these dive sites: Ambon, Banda].
The remote Wakatobi archipelago in south Sulawesi is one of the most exciting destinations in Indonesia, pure diving pleasure in a far-flung paradise island setting. These pristine reefs have won extraordinary praise for their abundant fish life and healthy corals. Their national park status also means there are restrictions on fishing which is good news for the marine life. [More details on these dive sites: Wakatobi].
Unlike at Komodo Island or Raja Ampat, you won't see many other liveaboard boats in the area so you will get the feeling that the coral reefs here are exclusively for you!
A little visited region, Alor and Flores liveaboard safaris promise some top quality Indonesian diving without the competition for space that can be seen elsewhere. Not many dive boats visit here so you can be more confident of having the sites to yourself. Varied dive sites, superb macro-life, a low human population, and excellent visibility make this a relatively undiscovered gem of a destination. [More details on these dive sites: Alor, Flores].
Most of the liveaboards visit here on a wider trip including Komodo, or Banda or even Raja Ampat. Shore visits are often a key feature of these expeditions. You might experience a visit to a whaling village or a weaving village, as well as a local market, or an excursion to Komba volcano or Kelimutu lakes.
Once or twice per year, most of the liveaboards in Indonesia will complete their scheduled diving cruises in one destination and move on to a new region, usually due to changes in climate and sea conditions. To achieve this they must often cross vast stretches of relatively unexplored water such as the Banda Sea, the Flores Sea, and throughout The Moluccas. During these crossings, the crew take the opportunity to alter course to dive at islands that mark the way, often visiting areas that may have never been dived before.
Typical tour routes are from Komodo to Alor; Alor to Triton Bay or Raja Ampat, Raja Ampat to Ambon; Ambon back to Flores or Alor. These charters are known as Transit Trips and are often the favourites of very experienced divers and of the dive guides themselves. This is due to the exciting adventure of diving in unchartered waters and to the unpredictable nature of the cruise - you just never know what you might encounter on these cruises.

Key Indonesian Travel Facts
The Climate and Best Time to Visit
Straddling the equator, Indonesia has a very even temperature throughout the year. High rainfall, tropical heat and high humidity mean that much of the country is covered in tropical rainforest. The dry season runs from May to September. The wet season is from October to April, with rain falling in sudden, short downpours interrupted with bursts of sunshine. Coastal areas experience an average air temperature of 28°C.
However, the country is so vast in area that superb diving can be found all year round in one destination or another since each region has its own distinct micro-climate. We suggest you check out our dive site descriptions of each Indonesian destination for more details on the best season for a diving trip to each region.
Liveaboard Ports of Departure in Indonesia and How to Get There
Visitors to Indonesia arrive in Jakarta (Java), Denpasar (Bali) or Manado (Sulawesi). Jakarta is well connected with direct flights from most of Asia and Europe. Bali has direct flights from Singapore, Hong Kong, Hawaii and Guam, Kuala Lumpur, Bangkok and Phuket, Tokyo and Taiwan. Manado also has direct flights from Singapore.
You can view which ports the various boats use on their trips in the 'Departures & Prices' section of each boat's webpage. You will also receive full departure details from us during the booking process. There are several domestic airlines that enable you to fly to destinations within the country from the main international airport hubs. You can search domestic flights on Traveloka

(select 'Flights' from the menu). Visa and Mastercard are both accepted on the Traveloka website. Domestic airlines include: Lion Air/Wings Air

, Garuda

, Air Asia

, Xpress Air

and Sriwijaya Air

. You can also make flight reservations directly with these airlines and pay with your debit/credit card. If you experience problems, please ask us to assist.
Whichever ports your boat uses, it is common practice for boat operators to provide a transfer to the boat from the local airport or hotels (if you overnight beforehand) for your convenience. We recommend you take out insurance to cover diving and travel activities, including trip cancellation. See our insurance programme for a competitive quotation:
Tourist Visas
Changes were made Indonesia's visa regulations in February 2004. We have summarised them below but you should check the latest situation prior to your trip as the regulations are prone to change. You must have a passport valid for at least 6 months from the date of arrival.
There are 11 nations whose citizens are eligible for a 30 day stay permit issued on arrival. They are Malaysia, Singapore, Thailand, Brunei Darussalam, Philippines, Hong Kong SAR, Macau SAR, Chile, Morocco, Peru and Vietnam.
There is a 7 or 30 day visa on arrival available for a small fee for the following nationalities: Argentina, Australia, Austria, Belgium, Brazil, Canada, China, Denmark, Egypt, Finland, France, Germany, Hungary, India, Ireland, Italy, Japan, Kuwait, Luxembourg, Maldives, New Zealand, Norway, Oman, Poland, Portugal, Qatar, Russian, Saudi Arabia, South Africa, South Korea, Spain, Switzerland, Taiwan, United Kingdom, United Arab Emirates and United States of America. Proof of a return ticket is required.
This visa on arrival is available at all international airports and major borders. It is not extendable and cannot be converted into other types of visas. You will need to obtain a visa in advance if you are crossing at an unrecognised entry post.
If you do not come from one of the countries listed above, or you wish to stay for more than 30 days, then you must obtain your visa overseas before entering the country. For Portuguese and Israeli nationals there are other specific requirements.
Visit the Ministry of Tourism website

for current details.
Places to Stay
If you plan on staying in Indonesia before or after your liveaboard diving safari, you can find a large range of accommodation options at hotelscombined.com, our affiliated hotel reservation specialists. Browse their website, use their on-line chat to ask questions, then simply use your credit card to make your booking:
All bookings carry a 'Low Price Guarantee' to ensure you get top-dollar value for money.
It's also possible to dive in Bali, Bunaken, Lembeh and Raja Ampat by staying at a resort, if you prefer: Bali resorts, Sulawesi resorts, Raja Ampat resorts.
Visitor Health
The most common health concerns while on vacation here are stomach complaints from contaminated food, water and ice. These can lead to diarrhoea, dehydration and hepatitis A or E. You should only drink bottled water. Fungal infections are common so you should wear loose clothes, wash frequently, and dry yourself carefully.
Indonesia is malarial but some areas such as Bali are mainly malaria-free. There are not too many mosquitoes at sea so at least you can rest well while you are on your Indonesia liveaboard diving cruise.
You should always seek medical help if you have any health problems while on vacation. It's recommended that you seek medical advice about immunisations at least 6 weeks before travel.
Tourist Security and Safety
While travel anywhere has its risks, we consider Indonesia to be a safe place for liveaboard tourists to travel. You will know from your scuba training that the best way to deal with a potentially risky situation is to make an informed and rational evaluation before taking action. We think that, as long as you are an aware traveller, it poses no greater concerns than most places.
Indonesia is a massive and diverse country. It does have some major internal social problems and conflicts. There are therefore high risk areas. Places like Aceh Province on the northern tip of Sumatra or downtown Jakarta at night, are worth avoiding. But beyond the normal concern of avoiding high risk locations, we feel there is little cause for extra concern.
We have travelled to all the tourist areas described in this section and we have never experienced any threats. We have never had any customers report safety or security concerns. The bombings in 2002, 2003 and 2005 were the actions of a minority and the increased security since then means it has never been safer to visit here. The general feeling you get from a diving trip to Indonesia is one of warmth, hospitality and cultural richness.
Useful Tips for Tourists
Sightseeing, Activities and Adventure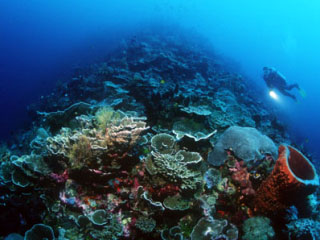 Travellers visiting Indonesia to take a liveaboard cruise will have a number of opportunities to drink in local culture both during the trip and before or after it. There are also a multitude of national parks, volcanoes, and other sites of natural interest which will enrich your vacation here.
Those staying in Bali can visit the thousand year old "Mother temple of Bali", built high on Mount Agung. Bali also boasts chances to surf, visit art & craft markets, enjoy Balinese dance, cycle around paddy fields, go white-water rafting, climb Mount Batur and visit Lake Bratan.
Tana Toraja in Sulawesi is a very popular stop on the tourist trail. Here you can immerse yourself in the incredible local funeral customs. You will see how the people here celebrate life and treat the bodies of the dead in such a different way from your own culture. Their amazing approach includes cave graves, hanging graves and baby tree graves. In North Sulawesi is the Tangkoko National Park, set in a lush forested region. Here you can see crested black macaques, cuscus bears and hornbills. The major drawcard is the presence of the iconic tarsiers which are tiny ancient primates.
Another iconic Indonesian creature is the Komodo dragon. This, the largest lizard on earth is found only on the islands of Komodo and Rinca, which you will visit during any Komodo liveaboard trip. It is fascinating to see and learn all about these fabled dragons that struck fear in the hearts of sea farers in days gone by.
For some more ideas on what to do and see, visit: Indonesia Travel

.
Indonesian Time Zones
There are 3 time zones in Indonesia: +7 hrs GMT (+12 hrs EST) for Java, Sumatra and west and central Kalimantan, +8 hrs GMT (+13 hrs EST) for Bali, Sulawesi and Wakatobi, Nusa Tenggara and south and east Kalimantan, and +9 hrs GMT (+14 hrs EST) for Maluku and Indonesian Papua.
Electricity
Power is 220V / 50 Hz AC. Electrical sockets usually take 2 round prongs, as in most European countries. Electricity is usually reliable but there can be blackouts occasionally. Liveaboard dive boats will have either 2-pin flat or round sockets. It's advisable to bring your an adaptor kit for your own plugs if required.
Communications
There are plenty of internet cafes in the main cities and tourist areas although speeds can still be slow in some areas. Due to the remote nature of the liveaboard cruises in Indonesia, most of the boats do not provide wi-fi service.
The government-run telecommunications company Kantor Telkom has offices in most cities and towns. They are usually open 24 hours and they are the cheapest places to make international and long distance calls. The international dialling code is 001, and the country code for Indonesia is 62.
Post offices are open 08:00 to 15:00 Monday to Friday, and 08:00 to 13:00 on Saturday. Main post offices in the cities may have extended opening hours. The postal services are unreliable and all important items should be sent by registered express mail service (EMS) instead.
Codes of Behaviour
Indonesians know westerners are not always aware of local codes of behaviour so they are tolerant of transgressions. Still there are a few things to keep in mind to help you make a good impression. You should not hand over or receive things with the left hand. It is considered unclean as it is used to wash after visiting the bathroom. Always shake hands right handed when introduced to anyone.
You should not touch somebody on their head. The head is regarded as the seat of the soul and is therefore sacred. It is considered rude to point with your fingers so you should beckon with your palm down. It is considered a sign of contempt, anger or aggression to talk to someone with your hands on your hips.
If you are eating with Indonesians you should wait until you are asked to begin before you start eating. It is also considered impolite to refuse a drink.
Tipping and bargaining in Indonesia
It is not normal practice to tip but if you have received a special service or someone has gone to extra trouble then giving a tip is welcome.
Bargaining is normal at markets, stalls and independent shops. The price is usually fixed at chain stores, restaurants, transport and hotels. When bargaining, it helps if you have an idea of the going price. Ask around and don't be afraid to ask different vendors their asking price. They may well be willing to negotiate to less than half their opening price. Keep the bargaining friendly and don't show too much interest. Always be prepared to walk away if you are not getting the price you want and you will often be called back.
Best Clothing to Wear
Indonesia has a hot and humid climate so light, loose cotton clothing is a must. When out in the evenings, tight dresses, shorts, and miniskirts are not a problem. However, going topless in public places (men or women) is considered offensive. You should always wear conservative clothes when in temples or mosques.
Criminality
It seems that every tourist area in the world attracts pickpockets and thieves and Indonesia is no different. So to ensure an enjoyable stay, use some common sense, keep your valuables secure and don't leave them unattended.
Officialdom
You must always show respect for the police and officials. Taking an aggressive approach will only ever make situations worse. Police corruption is widespread but it is most likely that you will not need to deal with them unless you are stopped for a traffic offence. In that case you have 2 options - either pay the fine on the spot and let it go straight into the policeman's back pocket, or stand your ground and run the risk of a prolonged session at the local station. Often the amounts involved are not worth fighting over.
Useful References for Liveaboard Charters in Indonesia


---
CUSTOMER TESTIMONIALS OF DIVE THE WORLD
... The website is very helpful and informative. The booking process was very good, as usual. The best thing is the ease of researching dive locations, as well as the follow ups from staff as the trip approaches. The ability to pay via paypal is also very important. ... -- Randall Wacker, Canada. [More customer reviews]