>
Dive Destinations
>
Indonesia
>
Sumbawa
Your Guide to Diving in Sumbawa
The Islands of Moyo, Sangeang and Satonda
...Highlights: great macro life/ marine diversity...
...Sumbawa's diving environment: wall dives, drift diving, beginner and advanced divers...
The rugged, sprawling land mass of Sumbawa, with its many jutting and twisted peninsulas, forms plenty of protected bays for its islands dotted along the north coast such as Moyo, Sangeang and Satonda. These sheltered and varied havens offer crystal-clear waters, deep and vibrant walls, steaming underwater volcanic vents, fertile breeding grounds and conditions that are perfect for some fantastic muck diving opportunities.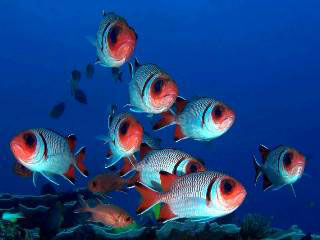 Lying between the islands of Lombok to the west and Komodo to the east, Sumbawa Island is consequently visited as part of the itineraries of the Indonesia liveaboard diving cruises that run between Bali and Komodo Island.
Often mistakenly overlooked as just a convenient port of call onto the better dive destinations that are further on to the east, Sumbawa scuba diving has its own vast schools of countless triggerfish and butterflyfish, macro sightings of blue-ringed octopus, clown frogfish and nudibranchs, numerous reef sharks and tunas in the deep walled sections.
Allied to the scuba diving are the topside visual attractions of volcanoes and enormous bat colonies, and you'll soon have enough reasons to plunge deep and explore the spectacular underwater tapestry that surounds the island of Sumbawa.
Dive Site Descriptions
Angel Reef
Located just south of Panjang Reef, Angel Reef boasts healthy hard corals in its protected, shoreward shallows, and an abrupt vertical wall, plunging to well over 40 metres in depth. Scuba divers make their way down the steep bank to the top of the wall where they'll encounter large and impressive schools of redtooth triggerfish, long-fin bannerfish and rounded batfish.
Show more
The striking wall is laden with colourful soft tree corals and a few hardy sheet corals. There has been dynamite fishing here, as evidenced by the fractured, barren blast zones dotting the wall.

Yellowtail tuna often streak past, hunting in the deep channels, and black-tip reef sharks are common predators on this large dive site on the west coast of Moyo, 15 km north of Sumbawa Island.
Panjang Reef
The submerged reef of Panjang lies directly in front of the small coastal fishing village of Moyo and 1 km off the north west corner of the island. Colourful common residents of this banked, rainbow reef are bi-colour angelfish, 6-banded angelfish, yellow-bellied damsels and harlequin sweetlips.
Show more
But one of the most prized scuba diving sightings is possible at this reef, if you are particularly observant and your luck is in. The amazing bright yellow blue-ringed octopus is present here. Amazing because all the fish guide books you will ever read, will not do justice to just how tiny this deadly creature is! Fully grown adults reach the size of half of your thumb, and carry one of the most toxic poisons to be found in the sea. This is one cute creature that lends truth to the saying that if it's brightly coloured then don't touch it!

Moyo Island is unfortunately also home to the less savoury sides of diving in South East Asia - dynamite fishing and extortion. The local village chief readily sends out boats to collect 'fees' from the Bali liveaboard boat operators here, for the very credible reason of protecting the reef and replacing lost fishing revenues. However, he is biting the hand that feeds, as dynamite fishing is very prevalent, making his conservation 'efforts' a complete sham.
Sangeang Island
Located 45 km north east of Bima in the north east of Sumbawa, Sangeang is a quite spectacular small and active volcanic island. You can easily make out the lava ridges running down its rather steep green sides.
Show more
The dive site of Bubble Reef is rather typical for this area, with good visibility, warm waters, and a mixture of soft, hard and black corals. Black featherstars, white stinging hydroids, anemones, leather corals and plate corals are all found in healthy numbers here.

Fish common to the area are red-cheeked fairy basslets, pink anthias and yellow-bellied damsels. Basslets, or anthias, are seen in large congregations in shades of purple, violet, blue, orange, yellow, pink and green, hovering above hard corals. They are small, gregarious fish with forked tails. At the slightest hint of danger they quickly dart to refuge in the coral folds and branches.

At 18m the reef breaks up over dark brown volcanic ash, sandy patches. Look carefully and you'll see volcanic bubbles escaping from the sea bed through air vents. The black sand and fresh water creeks that sometimes overflow into the sea provide ideal muck diving conditions. Pipefish, ornate ghostpipefish, nudibranchs of every conceivable colour, pygmy seahorses and sea moths are resident here and usually found by sharp-eyed dive guides. Sometimes the visibility can be washed out as larger air exchanges disturbed the sediment on the sea floor.
Satonda Island
A small island with a large fresh water lake at its centre, Satonda, off the north coast of central Sumbawa, is home to a large colony of fruit bats. Every evening at sunset these bats awake from their daylight slumber and leave the island in search of food. The sight of thousands of large bats departing on their forage in the darkening skies across the sea, revives memories of old vampire movies.
Show more
The small sheltered bay on the island makes for an ideal night dive and Bali liveaboard stop-over on the way to Komodo. The sandy bottom is a great opportunity for some muck diving and the sparse coral patches are home to a large array of critter creatures - ideal for macro enthusiasts.

With a keen pair of eyes, you may be luck to spot the extremely rare clown frogfish. About an inch in size, these rather odd-shaped creatures are bright yellow with dark red patches, and are rarely seen to move. Heavily disguised, they are often overlooked or falsely identified as sponges.

Other common creatures here are black, red and yellow crinoids, polyclad flatworms, arrow crabs and banded boxer shrimp. The soft corals have an ultraviolet glow under torch light, lending the scenery an alien ambience.
Tanjung Bautputih
This site is often a stop-off point on the journey to or from Komodo on Bali liveaboard cruises. Located on the north coast of Sumbawa Island, 5 kilometres east of the port entrance to Bima, the dive site has shallow fringing reef to a depth of 20 metres, then a wall drop-off to 40 metres.
Show more
There are emporer angelfish, blue and gold bi-colour angelfish and Lamarck's angelfish. These latter 2 fish are endemic to this region, and the small bi-colour angelfish is particularly colourful with a blue lower-body half and eye patch, and yellow upper-body half; as they make their way across the reef in small groups searching for algae.

On the edge of the drop-off there's a good chance to see the spectacular 2 metre eagle rays or white tip sharks. Look down into the depths and divers may be rewarded by passing schools of tail-fin batfish. These fish are very curious and will often make a second pass of you to take a closer look!

There are many longnose butterflyfish at home on the wall, and the quite rare but vividly coloured mirror basslet. This fish is only seen in shallow waters in Indonesia and Sumbawa and is recognisable by its bright violet blotch behind its pectoral fins and on both ends of its split tail.
How to Dive Sumbawa
As there are no dive resorts on the island, you're only options are a liveaboard safari running from Bali to Komodo, or one that departs from Bima in Sumbawa, or Lombok to Komodo. The dive sites are handily placed along the northern coastline of Sumbawa for these trips to visit them all.
And any cruise that includes Komodo in its itinerary is going to be a memorable experience. The diversity there is incredible, with the national park holding reefs that are full of life, from giant-sized manta rays, tuna and dolphins, to tiny seahorses, frogfish and blue-ringed octopus.
For more information on the tour routes and durations, and all the other travel information you might need to visit Indonesia, check out our Sumbawa liveaboard section.
The Sumbawa Diving Season
The season for scuba diving in Sumbawa runs all year round but overall the best conditions are from April to November.
Liveaboards run all year round from Bali so Sumbawa is very much a year round destination. It is not really a destination for pelagic creatures so there is little variation from month to month in terms of underwater encounters.
With water temperatures ranging between 24 and 28°C, it is often a little warmer in Sangeang than in Komodo National Park, where you will also likely be diving. The visibility is normally very good here and also superior to many of Komodo's dive sites.
Visit the Meteoblue

website for more information on the climate of Sumbawa.

Where is Sumbawa Island and How Do I Get There?
Review our maps below of Komodo, showing the location of Sumbawa, and its host country Indonesia. Here, you will find information on how to get to the various ports of departure in Indonesia, from where you will cruise to Sumbawa.
Reef Summary
Depth: 5 - >40m
Visibility: 10 - 35m
Currents: Can be strong
Surface conditions: Calm
Water temperature: 24 - 28°C
Experience level: Beginner - intermediate
Number of dive sites: 8
Distance: ~150 km east of Bali (8 hours) and 30 km west of Komodo (2 hours)
Recommended length of stay: 2 - 3 days
Useful References


---
CUSTOMER TESTIMONIALS OF DIVE THE WORLD
... Fast e-mail response to our questions and inquiries. We had 2 trips booked to 2 different operators and you planned the best one for the end and not for the beginning and that was clever ... -- P. Leibzig, Switzerland. [More customer reviews]