>
Scuba Day Trips
>
Egypt
>
Sharm El Sheikh
Sharm El Sheikh Diving Packages
Best Dive Daytrips, Resort and Travel Information
Sharm El Sheikh, or 'Sharm' as it's known for short, is a well-known dive resort town and port lying at the southern tip of the Sinai Peninsula. It is the most important tourist destination in the Red Sea and one of the biggest and most developed areas in the Sinai.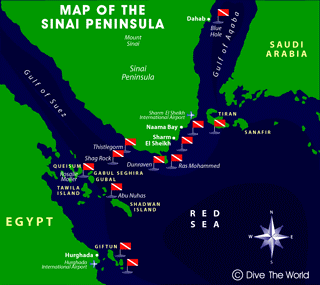 As a dive tourism hotspot, Sharm El Sheikh is home to a menagerie of holiday resorts. The centre of the tourism excitement is based around the scenic Sharm El Maya and Na'ama bays. The bays were specifically developed with tourism in mind and feature a range of accommodation from small, intimate hotels with modern designs, through to international chain hotels. Together they provide just about all the amenities one could hope for from a bustling tourist destination, including nightclubs, golf courses, health facilities and casinos. [More information on these dive sites: Sharm El Sheikh, Ras Mohammed, SS Thistlegorm].
Dubbed as the "City of Peace", one can never be short of things to do in the area as it is a place rich in historical sights and natural beauty, as well as having many tourist activities for non-divers.
Sharm El Sheikh Day Trip Diving Options
We recommend that you book a Sharm El Sheikh day trip diving package with us. There are over 40 dive sites to explore by daytrip. Discover them for yourself:

Where to Stay in Sharm El Sheikh
There's a range of diver-friendly resort accommodation in Sharm to suit all tastes and budgets at hotelscombined.com, our affiliated hotel reservation specialists. Take your pick from dozens of options, from international 5 star hotel chains to budget guesthouses, and everything in between.
Browse their full range of website choices

, use their on-line chat to ask your questions, or simply use your credit card to make your booking. And you can be sure that whatever option you go for, it will be backed up by their 'Low Price Guarantee' to ensure you get the top dollar value for money.
Whichever option you choose, stays of 1 week to 10 days are ideal. These Sinai dive packages normally include scuba diving and boat-hotel transfers.
It's also possible to visit these dive sites on a liveaboard safari, if you prefer.
The Climate and Best Time to Visit
The hot summer months run from May to October when the average temperature range is 31-38°C. The mild winter runs from November to April, with average tempetaures at 22-30°C. The weather is sunny throughout the year and it very seldom rains here. Nights can be surprisingly cool.
Conditions are good to dive in Sharm El Sheikh all year round. Water temperatures peak during July to September at 27-28°C, then they gradually decrease to 22°C by February; this might dictate when you plan to visit this part of the Red Sea. October and November are the busiest times for scuba diving in the Sinai Peninsula with December and January being the quietest.
How to Get There
Sharm El Sheikh is a mere 1 hour flight away from Cairo. The easiest and fastest way to reach it is with a direct flight from Cairo on Egypt Air

. From Europe, it's also accessible on a 5 hour direct flight.
Taxis and buses service the route between Cairo and Sharm El Sheikh too. From the Al Torgoman Station in Cairo you can take the Superjet bus to Sharm, but prepare yourself to settle down for a 7 hour journey. A taxi can be arranged to depart from your hotel but remember to negotiate the rate before you set off.
We suggest you consider taking out insurance for your diving package and travel activities, including trip cancellation. See our insurance programme for a competitive quote:
Sightseeing and Things to Do in Sharm El Sheikh
Why not combine your Sharm El Sheikh diving vacation with a tour to discover the historical sights of Egypt? You can take an overland tour of Cairo to visit the pyramids, Sphinx and the national museums, or a Nile cruise through the Valley of the Kings:
Go-Kart Racing
A fun-filled activity away from the water is go-kart racing. Its claim to fame is that it was once visited by Michael Schumacher during a promotional tour. It's located near the airport and consists of a 4-circuit raceway, including a children's track. Night driving is also offered and gives you a chance to avoid the blazing desert sun.
Scenic Boat Cruises
Sharm El Sheikh's incredible marine life is not just for divers. An unexpected amount of underwater life can be observed from boat trips to the beautiful reefs housed by Sharm's renowned marine parks.
Ras Mohammed National Park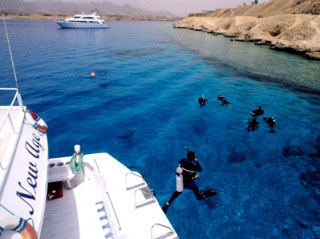 Ras Mohammed is one of the highlights of a Sinai Peninsula diving trip and is a marine park worthy of a full day visit because of the beautiful scenery alone. In Ras Mohammed you will encounter unspoilt beaches, idyllic waters inviting you in for a swim and unforgettable snorkelling.
Tiran Island
The smaller island of Tiran is a good alternative option, especially if you have snorkeling in mind. Don't go there for the island itself though, as you won't find much more than sand. But the shallow waters with a superb reef hold untold treasures for you to explore.
Local Cultures & Customs
A Bedouin Feast is a cultural outing of note and if you are interested in experiencing local customs, this is a worthwhile activity. At sunset, you will be taken into the desert for a traditional Egyptian feast, prepared for you by Bedouin men and women. The spread is elaborate and will set the mood for when you are told about life in the desert, friends and family, and the traditional way of living.
Mt. Sinai & St. Catherine's Monastery
To complete your visit to the Sinai Peninsula, a trip to Mt. Sinai and St. Catherine's Monastery is a must. Also known as Holy Mountain, it is the location where Moses is said to have received the 10 Commandments and where God spoke to Moses via a burning bush.
The Monastery on the other hand, is the oldest and longest continually lived-in monastery in the world. Its huge collections of icons and scriptures are said to be second only to the library in the Vatican.
The Beaches
Sharm is blessed with both long stretches of both white sand and pebble beaches fringed by some awe-inspiring scenes of dramatic natural landscapes. Clear ocean waters, which are calm for most of the year, wash ashore on these beaches.
Lying at the heart of Sharm El Sheikh, Na'ama Bay is the site of the first hotel that appeared around the early 80's. Naama is alive and buzzing with the bulk of restaurants, bars and shops concentrated here, making it ideal if you enjoy exploring on foot during the evenings. The beach fronting the bay is not ideal for snorkelling, but is a veritable temple for sun worshippers.
Shark's Bay is a shining example of sustainable, heavy tourism with a picturesque setting and a beautiful coral reef that is well preserved. Even though Shark's Bay is a little more overrun by tourists, the waters are filled with colourful fish that seemingly don't mind people and love swimming right under you. It's a favourite amongst families and a good location for your hotel accommodation. Shark's Bay is only a short taxi ride from Na'ama Bay.
Terrazina is a charming, lively beach with music audible from every one of the comfortable seats to be found on the beach, or from one of the restaurants located on the fringes of the beach. Located in one of the older areas of Sharm, Sharm el Maya, Terrazina Beach is about a 15 minute taxi ride from Na'ama Bay.
Restaurants and Entertainment
The variety of food and restaurants in Sharm El Sheikh boggles the mind. Egyptian cuisine from street vendors blends with anything from around the world you may fancy, dotted by the ever present fast food outlets of McDonalds and Pizza Hut.
The sheer variety of menus caters to everybody and anybody. Failing that, chefs will often whip up something special on demand, giving vegetarians or those with specific diets peace of mind and fullness of stomach.
As with food options, after dark entertainment offers a seemingly endless array of choice. In places where the clubs and bars stay open till dawn, you can literally party till the sun rises. For all night parties, Na'ama Bay is the main area with The Pacha being the most popular.
Na'ama Bay is home to several western-style shopping complexes, but the bustling Sharm Old Market should not be shunned. Its authentic Egyptian shopping experience is certainly something not to be missed.
Although gold, silver and jewelry made from semi-precious stones are always popular, the vibrant colours and detail of Bedouin handicraft attracts large amounts of tourist interest too. Egyptian cotton products are perpetual best sellers, but the market is alive with offerings as wide ranging as slippers, spices, leather bags, Bedouin embroidery, glass perfume bottles and Turkish delights.
Local Transport Options
A swarm of blue and white tuk-tuks ferry locals from point A to B, and to hail one simply raise your hand as one approaches. Fares are fairly cheap and are pretty much set within anywhere in Sharm.
Local taxis are a slightly more expensive option and as prices vary between drivers, negotiate your rate before you set off.
Useful References for Sharm El Sheikh Dive Packages


---
CUSTOMER TESTIMONIALS OF DIVE THE WORLD
... Vic was excellent, really flexible and made several changes at our request, all done cheerfully and very professionally. We had a great time, and it was hassle free booking with you guys! Keep it up ... -- Michael Low, Singapore. [More customer reviews]