>
Dive Destinations
>
Egypt
>
Sinai Peninsula
>
Ras Mohamed
Ras Mohammed National Park
The Best Diving in the Sinai Peninsula
...Highlights: schooling fish & big pelagics...
...Ras Mohamed's diving environment: wall diving, drift diving, beginner and advanced divers, very popular...
About 20 km south of Sharm El Sheikh, on a slim peninsula towards the most southern tip of Sinai, lies Ras Mohammed, the first and best kept national park in Egypt. The area can be accessed from both resorts and liveaboard diving cruises. It is said that the name is from a wind-carved cliff in the area, which resembles the features of Prophet Mohammed, believed to have visited here in the 7th century.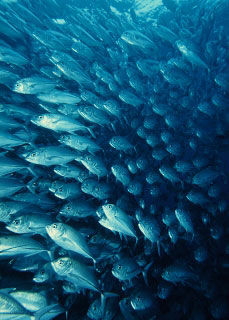 Surrounded by fringing coral reefs that emerged after a change in the coastline 70,000 years ago, the park is characterised by vertical overhangs at least 100m deep. Due to its location on the Sinai Peninsula at the juncture of the Gulf of Suez and the Gulf of Aqaba, the combining waters of differing salinity from each gulf has resulted in a spectacular array of reef and pelagic fish, diverse coral reef and luxuriant sea walls; ideal for some unforgettable Red Sea scuba diving on the Sinai Peninsula.
Because of its exceptional beauty and scientific significance, the Egyptian government declared Ras Mohammed a protected area in 1983. The national park is now 480 km² but at the time it had an area of only 97 km² and it is a success today because of local awareness and the rangers who patrol the grounds and surrounding seas. Diving is allowed in designated areas only and visitors must leave the park by sunset. It is believed to be one of only a few popular tourist areas in the world that has no effluent discharge in to its waters.
If Ras Mohamed is the most spectacular diving area near Sharm El Sheikh, then Shark Reef and Yolanda Reef are the prized scuba spots of Ras Mohammed. These reefs offers an opportunity to spy every single species of fish of the Red Sea, right here in the Sinai Peninsula. Show more

Reef Summary: Wall diving, drift dives and a wreck
Depth: 5 - >40m
Visibility: 10 - 40m
Currents: Moderate - strong
Surface conditions: Generally calm
Water temperature: 20 - 28°C
Experience level: Beginner - advanced
Number of dive sites: >12
Diving season: All year round; warmest water: June to Aug.; colder waters: around Feb.
Distance: 16 km (1 hr) southwest of Sharm El Sheikh, 65 km (4½ hrs) northeast of Hurghada
Access: Resort daytrips and liveaboards

Useful References