>
Reefs & Parks
>
Egypt: Red Sea Marine Parks & Protectorates
The Red Sea's Marine Parks and Protectorates
An overview for Scuba Diving in Egypt
Although we often hear terms such as "Egypt's marine parks", there is no official national marine park that covers all or even large swathes of the Red Sea. Rather, in addition to the Ras Mohamed National Park which includes a marine reserve, there are a number of other islands which attract marine protectorate status. Many of these are not fee-collecting.
The ones we know most about are those visited on Egypt liveaboards or by Red Sea daytrip dive boats and which attract a per person visitation fee. They are: Ras Mohammed, the Giftun islands, The Brother Islands, Daedalus Reef, Zabargad and Rocky islands and the St. John's reef system.
Establishment and Management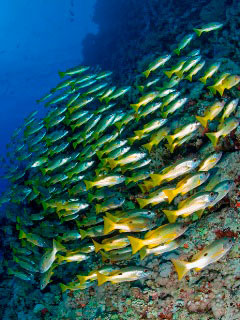 Marine protectorates in Egypt are the preserve of the Egyptian Environmental Affairs Agency under whose authority act the rangers who manage these areas. Their authority derives mostly from legislation dating back to 1983 when many of the protectorates were established.
The rangers are in charge of:
management of the protected areas of the Red Sea;
public awareness and education;
application of the regulations.
The regulations seek to prevent any activities which could lead to the destruction of, or damage to the natural environment of any of the wildlife within the protectorate, or which would detract from its aesthetic appeal. The rangers have authority to intervene in any circumstances where activities could be harmful to the environment and nature of a protected area.
Ranger patrols are intended to guard against any of the following activities:
hunting and killing or disturbing wildlife (including fishing and spear-fishing);
disturbing or transporting of any wildlife;
damaging or removing any living organisms or natural features and resources such as shells, corals, rocks or soil for any purpose;
polluting the soil, water or air;
damaging or removing plants;
construction of buildings and establishments, paved roads, driving of vehicles or carrying out any such activity without the permission of the relevant administrative body;
spoiling or destroying the geological features.
Guidelines issued by the national parks of Egypt, in relation to the behaviour of individuals and businesses in the marine protectorates, aim to restrict any intentional or unintentional damage to the environment. The guidelines include the following advice:
Mooring buoys are installed to protect corals, which would otherwise be damaged by the use of anchors.
Divers can contribute by not touching or breaking corals.
Fish feeding and bottom fishing upset the equilibrium of the reef. Please do not feed or fish on the coastline.
Improve your buoyancy and look but don't touch! PADI specialty courses such as Peak Performance Buoyancy and Underwater Naturalist are available to improve your awareness of the environment and help you interact with it in a mutually beneficial way.
Resting, standing or walking on a coral surface damages the fragile tissue surface of the coral animal. Exposed to bacterial attack and disease, it will often not recover from this impact. Please avoid walking on the reef. Use the floating jetties or marked reef access points to enter the water.
Protected Islands
Ras Mohammed: As part of the Ras Mohammed National Park (established 1983) this marine protectorate is of particular significance since it is home to the world's most northerly mangrove system: Ras Mohamed is also an important landmark for migratory soaring birds, especially the white stork. Most of the world's white stork population passes through this region of the Sinai Peninsula. The park boasts a range of interesting geological features, both on land and underwater, including uplifted coral reefs, soft sand dunes, alluvial plains, wadis, granite and sandstone mountains. It is the Red Sea's most regularly visited proctectorate.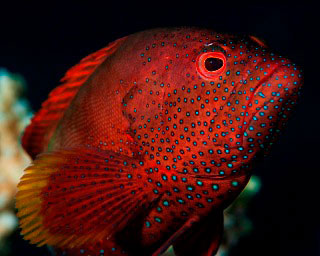 Giftun Island: This marine protectorate in Hurghada was established in 1986 and is a popular spot for daytrip and liveaboard divers. In 2000, the government started to collect fees for the Giftun Islands from divers and snorkelers through the boat operators. To prevent excess pressure on the ecosystem here the number of boats is restricted. Shockingly, even after being afforded protected status, the island was nearly sold to be developed into an Italian tourist resort. The brouhaha that ensued forced a governmental u-turn.
The Brothers Islands, aka Al Akhawein: The Brothers are 2 remote, low lying volcanic islands that were each awarded marine protectorate status in 1986. Recognisable in pictures due to the iconic lighthouse, the islands were closed to scuba divers in 1995 for environmental reasons. Opened again in 1998 they now form an important part of many Red Sea liveaboard itineraries.
Daedalus Reef: Consisting of a long causeway with a lighthouse for shipping safety, Daedalus, which is around 180 km south of The Brothers, has been protected since 1986. Such isolation and its protected status mean divers on the smaller number of liveaboard trips that visit here enjoy its healthy reefs that are in excellent condition.
Zabargad Island: Also protected since 1986, this uninhabited island has an interesting past. Its precious green olivine mineral was mined by ancient Pharaohs, then the Romans and more recently the Egyptians themselves. Now the island is valued more as a nesting site for green turtles. Liveaboard vessels often benefit from the sheltered conditions to overnight here.
Rocky Island: This is another remote southerly spot, exposed to rough weather conditions meaning healthy corals abound mainly on its protected east side. Currents bring pelagics including hammerheads to this island which has been protected since 1986.
St. John's: This southerly area is part of Elba National Park, established in 1985. It features pristine beaches and underwater topography characterised by strange caverns and tunnels which divers love to explore. Twitchers sometimes visit to sight the sooty falcon that soars overhead.
Other non fee-collecting protected areas include Nabq Protected Area (the largest coastal protectorate in the Gulf of Aqaba), Small Siyoul Islands, Um Gammar Island, Qeisum Island and Abu Ramada Island.
Park Revenue
The money that tourists pay in the form of 'park fees' is collected by the Red Sea Governate to be shared with the Egyptian national parks authority who will spend it on conservation initiatives. It is apparently equally divided between national parks and protectorates in need.
One such initiative is the building of pontoons over sections of the reef to prevent snorkellers standing on corals and to allow them to enter and exit easily beyond sensitive areas. Daytrip operators are encouraged to brief their snorkellers and divers on good practices to avoid contact with the reef.
Benefits of the Marine Parks
The Red Sea is an oasis of sea-life, home to vast number of marine species, many of which are endemic to the region. These need protection now and they needed it even more in the early 1980s when marine resources were considerably depleted due to over-fishing. The UK National Facility for Marine Biology Fieldwork (who were instrumental in the establishment of the Ras Mohammed National Park), stresses that, tourism aside, fisheries would have destroyed the reef completely by now if it were not for park regulations.
The impact of tourism, however, cannot be discounted. The Red Sea sees a huge number of tourists every year, whether serious divers with respect for the marine world or daytrip snorkelers who behave like it is a big salty swimming pool. Mass tourism has certainly arrived in Egypt and if that is not to come at huge expense to the environment then protective measures needed to be adopted.
Above reef pontoons, restricting numbers of boats and encouraging sensitive scuba diving and snorkelling practices are among those efforts which seem to be paying dividends. Curbing the deleterious effect of the twin activities of fishing and tourism are essential to the long term well-being of the myriad ecosystems of the Red Sea.
Over a quarter of all marine species are directly dependent on coral reefs for their survival. Many more are indirectly dependent on them. If the coral reefs are allowed to deteriorate further, the complex balance of the reef could be permanently altered, resulting in loss of productivity and biodiversity. A tragedy in itself, the knock-on effects of this could be disastrous for all life-forms on the planet.
Divers that visit the Red Sea of Egypt know that low levels of pollution can mean spectacular visibility. They appreciate that fishing controls allow for larger schools and healthy fish populations. They understand that maintaining coastal environments free of floating rubbish is not something that happens automatically.
All of these things involve a balance between human activity and respect for the marine environment. Getting the balance right creates a win-win situation.
Useful References


---
CUSTOMER TESTIMONIALS OF DIVE THE WORLD
... I like your website - informative and very easy to find the helpful information, and plenty of trip choices. Your fast response, patient and helpful answers to all kinds of my detailed requirements came into mind from visa, transportation, gear rent, insurance etc. The new payment pathway and online chat function made this booking much easier than last time ... -- Katherine Hu, China. [More customer reviews]