>
Liveaboards
>
Red Sea
>
Sinai and Northern Wrecks
Northern Red Sea Liveaboards
Top Dive Trip Options and Travel Information
With fascinating natural seascapes and underwater environments, surrounded by towering red mountains and vast expanses of arid desert, the Red Sea is one of the most popular liveaboard diving destinations on our planet. As interesting as it is unique, the Red Sea is a body of water in the form of a cul-de-sac, resulting in an array of unusual marine life indigenous to the region.
In the north, Egypt's Sinai Peninsula provides the opportunity to discover sun, sand and sea. With Sharm El Sheikh as your base, Red Sea liveaboard diving cruises to the well-known Ras Mohammed National Park are quick and convenient. Unparalleled diversity with an abundance of coral growth and prolific marine life is the park's hallmark.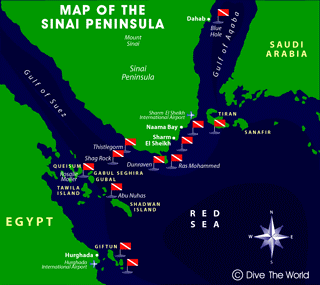 The peninsula stretches from Ras Mohammed all the way to the Straits of Tiran. Within this area the reefs are healthy and vibrant, with an abundance of coral reef fish and invertebrates, the likes of octopus, cuttlefish and squid. Wrecks are the main attraction including the Dunraven and the spectacular and world-renowned SS Thistlegorm. The dive sites are full of life with the headlines being stolen by hawksbill turtles, sharks and even dolphin sightings.
The Thistlegorm is the best known and most popular wreck in the Red Sea and with good reason. She sank with a large inventory of wartime supplies many of which can still be seen today in their watery home: jeeps, motorbikes, rifles and more! [More details on these dive sites: Thistlegorm].
Ras Mohammed National Park is some 20 km south of Sharm El Sheikh and it is the most popular national park in Egypt, consisting of numerous different dive sites. Including sites such as Yolanda Reef and Anemone City, Ras Mohamed is characterised by a spectacular array of reef and pelagic fish, diverse coral reefs and luxuriant sea walls. [More details on these dive sites: Ras Mohammed].
The Northern Wrecks are a wreck diver's dream come to life with all the choices laid before you. Choose from the wrecks of the Thistlegorm, Giannis D, Chrisoula K, Carnatic, Kingston, Rosalie Moller and the Dunraven, or simply take your time and do them all on one great cruise. [More details on these dive sites: Abu Nuhas].
Liveaboard Diving Safari Options in Red Sea North
The Northern Red Sea of Egypt encompasses the dive sites around the Sinai Peninsula, as well as the multitude of wrecks and reefs that lie between Hurghada and Sinai. The Red Sea North & Wrecks liveaboard trips allow you to visit many of these excellent sites. Highlights include the Thistlegorm, the best known and most popular wreck in the Red Sea, Ras Mohammed National Park, and numerous fantastic wrecks. Trips tend to feature 4 dives a day.
Other cruise options such as Red Sea North, Wrecks & Brothers will allow you to visit both the Red Sea North and also sites further south, including the world-famous Brother Islands as well as sites local to Hurghada. Note also that many of the boats from our 'Southern Red Sea' section also make liveaboard tripss of the North and Wrecks.
Add-on Pacakge:
For the ultimate adventure of a lifetime, you can combine your Red Sea diving safari with a tour to discover the historical sights of Egypt. Join an overland tour of Cairo to visit the pyramids of Giza, the Sphinx and the national museums, or board a Nile River cruise from Luxor through the Valley of the Kings: Egypt antiquity tours.

The Climate, Diving Season and Best Time to Visit
Egypt's Northern Red Sea regions favour the diver all year round, with the warmest water in the European summertime (June to August). However, it should be noted that winds can blow here any time of year, especially during the winter months of October to April.
Hammerhead sharks and schools of barracuda are more frequently seen by the northern Red Sea liveaboards in the Straits of Tiran between July and September.
Liveaboard Ports of Departure for Red Sea North and How to Get There
Red Sea North & Wrecks liveaboard cruises depart either from Sharm El Sheikh on the Sinai Peninsula or Hurghada. Red Sea North, Wrecks & Brothers trips which visit both northern and southern Red Sea sites depart from Hurghada, and sometimes Safaga.
You can view which ports the various boats use on their trips in the 'Departures & Prices' section of each boat's webpage. Whichever ports your boat uses, normally the boat operator provides a transfer to the boat from the local airport or hotels (if you overnight beforehand). We will send you full departure details during the booking process. In some cases the boats are moored at port and depart the day after the trip begins. This means you can arrive quite late on the first day of the tour and still board the boat before it sets sail the following morning.
Most people fly into Cairo. It is well serviced by over 70 international airlines from Europe, the US, Africa and Asia. Sharm El Sheikh and Hurghada are accessible on domestic flights or direct from a few international airports. Read more information on: How to get to Egypt.
We recommend you take out insurance to cover diving and travel activities, including trip cancellation. See our insurance programme for a competitive quotation:
Places to Stay
If you plan on staying in Egypt before or after your Red Sea liveaboard diving safari, you can find a large range of accommodations at hotelscombined.com, our affiliated hotel booking specialists. Browse their website, use their on-line chat to ask questions, then use your bank card to make your reservation:
All bookings carry a 'Low Price Guarantee' to ensure you get top-dollar value for money.
If you prefer, it's also possible to visit the dive sites in the North & Wrecks area on day trips from a hotel or resort based in Hurghada, rather than from a liveaboard.
Useful References for Liveaboard Cruises in the Northern Red Sea


---
CUSTOMER TESTIMONIALS OF DIVE THE WORLD
... All good - Vic was very responsive to emails and got us everything we needed for the trip. The best part about Dive The World is the range of liveaboards you have listed, from budget to luxury. The trip reviews and photos and boat information makes it easy to decide which boat would be suitable for us to book. ... -- Jo Nhan, UK. [More customer reviews]