>
Dive Trip Reports
>
Emperor Superior
Liveaboards in Egypt: Emperor Superior
Northern Wrecks and Brothers Trip Report
Click on an image to enlarge

Ever since I first dived the Red Sea's Thistlegorm back in 1997, I have always enjoyed wreck diving. I have been fascinated exploring these underwater structures and seeing how the corals, sponges and algae had colonised sunken chunks of metal and made them part of the marine world; platforms for life.
Diving the Salem Express, which sank so recently at great human cost, was unlike anything I had done before, and left a lasting impression. There is an undeniable eeriness felt diving a wreck where the human tragedy is quite so evident. I finned around the sea floor spotting items such as a handbag, a briefcase, an amplifier and poignantly, a child's tricycle. You almost have the sense that you have arrived just after this event, an Egyptian tragedy which claimed so many lives.
Innumerable pipefish now call the site home and schools of brightly coloured reef fish such as parrotfish graze off the doomed ship's port side, where windows into cabins gaze silently towards to surface. What an awesome and humbling atmosphere!
The Salem Express was an unforgettable experience that formed part of a great Wrecks and Brothers trip I joined on the Red Sea liveaboard MY Emperor Superior. It turned out to be an itinerary full of contrasts, the grim chills of the Salem Express and to a lesser extent the Thistlegorm, sitting alongside the vibrancy and health of the reefs in places like The Brothers and Ras Mohammed ...
Diving the Red Sea's Famous Five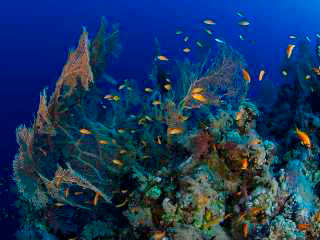 Leaving Hurghada, we headed north towards The Thistlegorm with a check-out dive en route at Poseidon Reef. There has been a lot written about The Thistlegorm and for many familiar with the Red Sea it needs no introduction. Few dive destinations in the world can boast such a well presented slice of history. To see the motorcycles, jeeps and other WWII supplies in their watery home is always a source of fascination.
However there is much more to the wreck than a few bits of machinery. It is covered in life. At one point I peered over the port side facing down toward the invisible sea floor. The flat surface is so covered in corals and sponges that I had the disorientating feeling of lying on the sea bed looking horizontally along the floor. We did 3 dives here. For some on board we could have done 3 times that and they would have still found fascination on every dive.
• Watch our Red Sea wrecks dive video

The next astonishing site to greet my eyes was the lavatorial humour of Shark and Yolanda Reef at Ras Mohamed with its wrecked cargo of toilets and bathtubs. The current was a little too strong for us to pose for comedic shots; this was a suitable site for some intense passing water. The currents were enough to make you shift yourself ... into a more sheltered spot.
Big and Little Brother were the focus for the middle of our trip. It was great to see such clean, healthy reefs rising from the depths and continuing to display their robust vigour even into the shallows. In a world where shallow reefs are in quite a bad state of repair this was a heartening sight. So too were the myriad colourful little reef fish. We were entertained by swarms of anthias, damselfish and fairy basslets to larger species such as the Napoleon wrasse, blackfin barracuda, Malabar grouper, bluefin trevally and grey reef sharks.
From our most southerly point of The Brothers we then headed in a north-westerly direction towards Safaga, diving at Hyndman Reefs, the Salem Express and Panorama Reef in the southern Red Sea. Hyndman Reef was a night dive where some emerged from the water distinctly underwhelmed, while others chatted excitedly about all the creatures they had spotted, agreeing that it was their most enjoyable dive of the trip up to that point. It shows that diving is a 'broad church' with many different viewpoints, styles and objectives. It was interesting to observe such a disparity of opinion.
Our final few dives before we returned to Hurghada were at Small Gifton and Gota Abu Ramada, pleasant if unspectacular sites to bring the curtain down on a varied few days diving, roundly praised by all on board.
• Watch our Red Sea diving video

MY Emperor Superior
The Emperor fleet has downsized in recent years and now has only 2 boats operating full time as liveaboards, this boat and the Emperor Elite. Superior tends to stay in the north while Elite does more southern routes.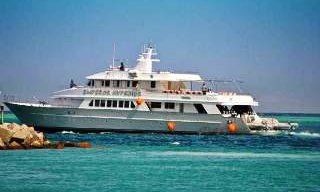 The Emperor Superior is one of the largest boats you will see in The Red Sea and is very generous in terms of relaxation space. In addition to the indoor saloon and separate dining area, there is a huge cushioned, semi-shaded space on the upper deck toward the stern. There is always somewhere to sit, put your feet up and spend some quality time sunbathing, reading, chatting, playing cards or admiring the ever-changing view, idly twirling your hair.
There is also a jacuzzi here if you fancy a group colonic. This huge comfortable area is the best feature of Superior. Few, if any, of the other liveaboards in Egypt have a space to match this one.
There is also an uncovered sundeck above the upper deck, a great place for soaking up the rays or tying off your wet clothes to dry in the Egyptian sun. This sun deck is in its own right quite spacious yet is dwarfed by the upper deck relaxation space.
• Watch our Emperor Superior liveaboard video

The Cabins
Cabins are all twin share (1 has a double bed) with AC and ensuite. 2 new cabins on the upperdeck were added in the 2012 refurbishment. The rest are on the lower deck. The cabins and their ensuite bathrooms are adequate without being sumptuous. You would be advised to try to keep your cabins dry and well-ventilated, but that is not always easy on a liveaboard. Beds are quite generous in length although most end with a wooden panel so if you are very tall you won't be able to let your feet dangle.
The Diving Procedure
Briefings are made in the saloon with the aid of the flatscreen TV, showing dive site maps and photographs. The briefings are comprehensive. Since on many dives we had a guide leading a small group, with the majority of guests diving unguided, it is important that the briefings are so detailed. The Red Sea attracts many regulars so not all divers will need such detailed briefings. In our group there were a bunch of English guys for whom an Egypt liveaboard trip in the Red Sea is an annual jolly, so they know the sites well and were happy to go off and do their own thing.
The dive deck is large enough to accommodate the maximum of 24 divers and leads down onto a very generous platform from which you will either giant stride or enter 1 of the 2 zodiacs. The crew are always on hand to help you zip up, get your BCD on and clip your fins. Not all boat crews do this and it is an excellent service feature. Egress on a zodiac is by hoisting yourself up onto the zodiacs, having passed your belt and BCD to the boatman. There isn't a ladder on board so the boatman will either pull you in or pull you in hard. Surely a ladder could be used for older or physically challenged.
When diving from the main boat you will return by climbing up 1 of 2 access ladders on to the dive platform. As always the boat crew are on hand to lighten your load, unclip your fins and generally make the procedure as simple as possible.
When you are back on deck, the liveaboard crew help you reposition your equipment in its spot. Tanks are filled in situ so it will stay in the same place throughout the trip. Nitrox is free of charge and there is occasionally a glass of orange juice handed to you on the dive deck. There are a couple of fresh water handheld showers on the dive platform and 2 deck toilets. So Superior has all the post-dive comforts.
The Food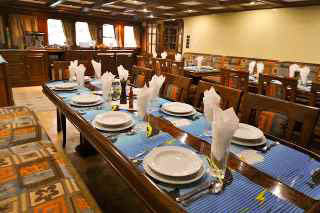 All meals are served buffet style in the dining area. Straight after the first dive of the day, your eggs (or other) breakfast order is taken. There are usually a few fresh vegetable platters, 1 or 2 cooked ones, pasta, rice or potatoes and a meat or fish dish.
Dinner often includes a soup starter and some fresh fruit or pudding for dessert. There are hot drinks, water and little nibbles available throughout the day. I found the food to be quite satisfactory.
Towards the end of the trip it did appear that the dishes were re-presentations of the same ingredients and I heard some of the guests expressing their desire for a little more variety. However, everyone recognises there are limitations to what can be done on a boat at sea for a week and I have encountered worse liveaboard food than the grub we had on this trip.
The Crew
Liveaboard boat crews in Egypt might seem a little more reserved than in other countries, but the crew of the Superior cannot be faulted on their professionalism. The dive crew are exceptionally helpful and attentive. The dining staff friendly and accommodating.
Our tour leader Sonia (ably assisted by Lily) was authoritative without being distant and managed to keep a smile on her face while solving all the little problems that inevitably arise on these types of trip. The repeat customers were delighted to see that Sonia was in charge of them again, which indicates the high regard they have for her. The crew, from boat boys, to dining staff to tour leader, were excellent throughout.
Getting There and Away
Our group boarded from 5 pm to late at night on a Friday evening. The first night we stayed in the harbour at the Hilton Plaza Hotel, Hurghada. The first evening was spent being briefed on the boat, investigating our new surroundings, meeting fellow divers, and for some, modelling our favourite speedos in the saloon.
It was an eclectic mix of people on board and one that worked very well, adding considerably to the experience. Among the nations represented were: Mexico, The Netherlands, Norway, Germany, Romania, Belgium, England, Ireland and the USA. Liveaboards can bring a very interesting mix of people drawn together in pursuit of their common pastime. We had goat farmers, a surgeon, a submariner, a guy who sells stairlifts, a chef, a hairdresser and someone who knows a lot about toothbrushes.
Before setting off on the Saturday morning we gathered all equipment rentals from the Emperor Divers shop at the hotel and then motored off to the north. Upon our return we all dined on board and then went out to the Hurghada marina for ice cream and/or drinks and reverse bungee activity, not simultaneously. We had a fun night to end the trip with lots of laughter and unconfirmed suggestions of a little romance here or there.
Saying Goodbye to the Red Sea
After a final night on the Emperor Superior boat, we all went our separate ways. Some to continue their Egypt experience with a Nile cruise and other land tours, others to spend some nights in Hurghada or Safaga, but most to fly home and back to routine life. What a great way to spend a week off work, meeting interesting people, swimming with the fishes and exploring the wrecks and reefs of the Red Sea!
Written by Gavin Macaulay, October 2012


---
CUSTOMER TESTIMONIALS OF DIVE THE WORLD
... Detailed information about the various tours are most helpful as well as the availability of multiples schedules. All this makes Dive The World a one stop on-line shopping site. And thanks for improving the payment process! ... -- Pierre Paquette, Canada. [More customer reviews]