>
Dive Destinations
>
Malaysia
Your Guide to Diving in Malaysia
Sipadan and Borneo Dive Adventures
...Highlights: hammerhead sharks, shark action, turtles, schooling fish & big pelagics, great macro life/ marine diversity, non diving activities...
...Malaysia's diving environment: healthy reefs, wall diving, beginner and advanced divers, off the beaten track...
Blessed with some of the richest waters in the world in Borneo, Malaysia scuba diving offers a variety of experiences depending on where you are: being surrounded by hammerheads at the pristine coral atoll of Layang Layang, cavorting with turtles and swirling tornadoes of barracudas in Sipadan Island, or discovering the weird and wonderful world of Malaysia's incredible macro dive sites at the island of Mabul and Kapalai.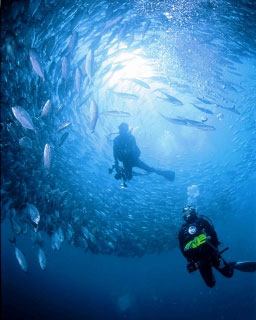 The state of Sabah (on Malaysian Borneo) is the basis of Malaysia's claim as a home to world class diving. The best dive resorts are located on the beautiful and small islands of Sabah, which are often fringed with white sand beaches, palms and coconut trees - a beautiful tropical setting to complement the excellent diving. Here you can relax in tranquility and enjoy all the sites of the area.
If you want to maximise your underwater time on the reefs and you don't mind sleeping out at sea, there is also one liveaboard boat operating in the area. It runs cruises out of the port of Tawau to the islands of Sipadan, Mabul and Kapalai.
If you're looking for a memorable diving holiday on the equatorial islands of Sipadan, Layang Layang or Lankayan, where English is very widely spoken and with white sand beaches coupled with outstanding underwater marine beauty and diversity, then Malaysia is bound to have something for you. Just budget plenty of spare time - there are so many outstanding opportunities on offer for scuba diving in Borneo!
The Highlights
For more details have a look at your Borneo dive destination of choice:
The little island off the east coast of Borneo is the number one reason why divers come to Malaysia. Formed over thousands of years by living coral growing on top of an extinct volcano, it lies in one of the richest marine habitats in the world.
Show more
Deep water currents well up against the walls of this world famous oceanic island bringing in the nutrients which support an incredible ecosystem where the sheer abundance of sea life can be astounding. Its high numbers of turtles, grey and whitetip reef sharks, and large schools of bumphead parrotfish, barracuda and jacks are famous to divers the world over. There are a number of very well known Sipadan dives sites. First among them is Barracuda Point, a site that lies just beside the famous steep drop off. While this is a site where the likes of a mega school of jacks, turtles and sharks are commonly sighted, it is the likelihood of a swirling tornado of barracuda that gives this site its name and makes it the centrepiece of Sipadan diving and the best known site in all of Malaysia diving. South Point is another favourite site and can be where some of the more rare shark species are seen. As this site allows you to go deeper to where the wall levels out, you might spot a hammerhead or even a thresher shark here. South Point also promises big schools of fish, including the famed bumphead wrasses who come marauding past, crunching the coral to fine sand.

One of the less touted wonders of Sipadan is that divers can enjoy fantastic shallow coral gardens. Here sunlight dances over delicate acropora corals while innumerable little brightly coloured damsels and fairy basslets dance this way and that. A site such as Turtle Patch is a great place to witness these shallows. Although the name of the site references the large numbers of turtles that are seen here resting on sandy passages or feeding on sponges, the later part of the dive is spent in the shallows. Look out for anemonefish protecting the swaying fingers of their hosts, delicate leaffish sitting motionless of the reef as well as coral crabs, cuttlefish, lionfish and more. The more days of diving you spend at Sipadan, the more you will discover some of the less-visited dive sites. While some of the sites see daily action from guests of various dive operators, others are seldom visited. Less frequently dived sites include Hanging Gardens, Midreef and Staghorn Crest.
A diving vacation to Sipadan often means also diving the nearby Mabul island and the sandbar resort of Kapalai. The marine life there could not be more of a contrast to the larger creatures living around Sipadan. Diving over the shallows reefs and sandy flats your eye will be drawn to an array of crazy critters from ribbon eels to frogfish, seahorses to mandarinfish…
Show more
What a great combination it is to add the macro wonders of Mabul and Kapalai to the big stuff of Sipadan! Malaysia diving at its best. A site typical of the diving in Mabul is Froggy Lair where potential encounters include frogfish, innumerable nudibranchs, ghost pipefish and even the elusive flamboyant cuttlefish. Lobster Wall is a gently sloping reef where you can spot peacock mantis shrimps, cuttlefish, clownfish and turtles, plus lobsters lurking in the main wall of the reef. Also worthy of special mention is the dive below the Seaventures Dive Rig. You can explore the rubble and junk that lies beneath this converted oil rig just off the coast of Mabul... a most unlikely critter wonderland!
Sipadan Island is the first word on everyone's lips when discussing diving in Malaysia and it truly is one of the finest dive spots on the planet, but there is much more, such as Layang Layang, a little speck of an atoll off the north coast of Sabah which is fringed by some of the best coral fields you are likely to see. However, it is for the huge schools of scalloped hammerhead sharks that patrol around the island that Laying Layang has developed the reputation as a 'must see' diving destination of Malaysia.
Show more
The season for Layang Layang is short, namely March to October. Outside of this time the sea conditions are not conducive to diving. Also it is worth noting that there is only 1 dive resort here, so these sites are visited by only a small number of lucky divers each year. While the hammerheads are the main attraction, special mention must go to the extraordinary coral gardens that surround this remote little island. Being a little speck of land in the vastness of the South China Sea, pollution is minimal and there is no river run off reducing visibility. As a result there is an excellent diversity of coral and variety of fish.

Dogtooth Lair and D'Wall are among the best dives sites where the hammerhead sharks may appear. However, both of these sites also offer many other attractions: speckled butterflyfish, blue anthias, bluefin trevally, pickhandle barracuda, emperor angelfish and many colours of parrotfish. Benthic life includes gorgonian fans, huge barrel sponges and black coral bushes.
Lankayan Island is a frontier diving destination in the Sulu Sea. It is rich in biodiversity and boasts a wide range of marine life. Large healthy corals dominate the pristine reefs and an abundance of colourful schooling fish can be seen on every dive. There are also several interesting wrecks. The macro highlights include frogfish and ghostpipefish as well as numerous nudibranchs. Larger species such as blacktip reef sharks, marble rays, bamboo sharks and leopard sharks are not uncommon sights. At the right time of year you might even spot a migrating whale shark cruising past.
Show more
Lankayan is a very popular choice for divers who are also visiting the land attractions of Borneo including Sepilok Orangutan Nature Resort and the Kinabatangan River. Among the best loved sites of Lankayan is Jawfish Lair named after one of Lankayan's most iconic creatures. Here you can spot jawfish in their sandy burrows, sometimes with their mouths crammed with eggs... an amazing photographic subject. There are also a few different, and easy wrecks to dive here. These include Mosquito Wreck, Jetty Wreck and Lankayan Wreck. On sites like these creatures you might spot can include, frogfish, batfish, stingrays, and cardinals plus maybe even manta rays and barracuda.
Pulau Tioman
Tioman Island and the nearby wrecks are among the best sites of Peninsular Malaysia. Diving here can be done via short liveaboards that depart from Singapore. The reefs here are healthy, and are well populated by tropical reef fish.
Show more
You can expect to encounter creatures like barracuda, cuttlefish, stingrays, Napoleon wrasses, moray eels and lionfish. Among the preferred sites are the reefs of Renggis Island and the gorgonian fantastic Chebeh. Also worthy of note is The Kuantan Wreck where larger inhabitants lurk including marble rays, barracuda and blacktip reef sharks.
How to Dive Malaysia
Although there are some decent sites in Peninsular Malaysia, we try to recommend the best to our customers and if you are coming here for diving then you simply must come to dive in Borneo, for that is where it all happens. For more information on your diving options, and all the other travel information you might need to visit Malaysia and the state of Sabah, view our Malaysia dive resorts section.
Borneo is surrounded by lots of tiny little islands which are home to dive resorts right in the heart of all the best Malaysian dive destinations: Sipadan Island, Mabul, Kapalai, Layang Layang and Lankayan. Special local rates apply in many of the destinations for Malaysians, Singaporeans and expatriates living in those countries with work permits.
Nearby resorts are the most popular way to dive Sipadan and Mabul and they offer the space and facilities that liveaboards cannot match: Sipadan. Resort availability and permit limitations mean that for those with only a day or 2 to spare, daytrips from Semporna may be the best bet. This way you can get a taste of the diving at Sipadan, Mabul, Kapalai and other sites in Tun Sakaran Marine Park. For those staying in Sabah's capital city of Kota Kinabalu, we also offer day trips to the Tunku Abdul Rahman Marine Park.
But there are also a couple of liveaboards operating in the area. One suitable for those who wish to maximise their dive time at Pulau Sipadan and are happy to sacrifice the comfort of a beach resort. Othere srun short trips out of Singapore, up the Malay peninsula coastline to Pulau Tioman: Sipadan, Peninsular Malaysia.

The Malay Diving Season
Scuba diving in Malaysia is good all the year round but seasons do vary from location to location. Sipadan is a year round destination with the optimum overall conditions being from April to December. July and August are often described as the best months with visibility sometimes exceeding 40m around the island. Mabul never experiences such good visibility but, as a macro destination, it doesn't need to.
January and February in particular can see unsettled weather. These months are the start of the rainy season in Sabah and although Sipadan and Mabul might not experience much rain, the air and water temperature can be a little cooler and visibility can be low during this period. There are fewer divers here at this time and it is still possible to enjoy excellent conditions, depending on your luck. The normally calm seas can also be a little unsettled at this time.
Advanced booking is recommended for the resorts in the Sipadan area. If you wish to travel during March to August, Christmas, New Year and Chinese New Year, please let us know as soon as possible.
Lankayan island, also being on the east coast of Sabah largely enjoys the same weather patterns as the Sipadan area, so it is reasonable to follow Sipadan's seasonal recommendations.
The picture is different in Layang Layang, off Sabah's west coast, where the diving season runs from March to August. March to May is considered the best time to see the marquee creature of this destination, scalloped hammerheads. Constant currents waft over the island's reefs all year round which bring in the marine life. The seas can be rough, even during peak season, beyond the calm lagoon where the resort sits. Visibility is generally very good, averaging 30m+ with the normal range considered to be from 10 to 40m. The resort closes between September and February.
The liveaboard season for Tioman island is generally from mid May to mid September so this is the time we recommend for liveaboard lovers with limited time for whom a departure from Singapore is convenient.
For more on the normal weather patterns of Malaysia, visit the Climates To Travel

website.

Where is Malaysia and How Do I Get There?
Review our map below of Sabah, Peninsular Malaysia, and their location in the world. Here, you will find information on how to get to Malaysia.
Reef Summary
Depth: 5 - >40m
Visibility: 5 - 40m
Currents: Gentle
Surface conditions: Calm
Water temperature: 25 - 30°C
Experience level: Beginner - advanced
Number of dive sites: >135
Recommended length of stay: 1 - 3 weeks
Useful References


---
CUSTOMER TESTIMONIALS OF DIVE THE WORLD
... Your communication was good, keeping me updated on the progress. The bookings went through smoothly in that everything that we agreed would happen did (in Malaysia this is not always the case!!) ... -- Samantha Fanshawe, UK. [More customer reviews]