>
Dive Destinations
>
Malaysia
Borneo Diving in Malaysia
Sipadan and Borneo Dive Adventures
...Highlights: hammerhead sharks, shark action, turtles, schooling fish & big pelagics, great macro life/ marine diversity, non diving activities...
...Malaysia's diving environment: healthy reefs, wall diving, beginner and advanced divers, off the beaten track...
Blessed with some of the richest waters in the world in Borneo, Malaysia scuba diving offers a variety of experiences depending on where you are: being surrounded by hammerheads at the pristine coral atoll of Layang Layang, cavorting with turtles and swirling tornadoes of barracudas in Sipadan Island, or discovering the weird and wonderful world of Malaysia's incredible macro dive sites at the island of Mabul and Kapalai.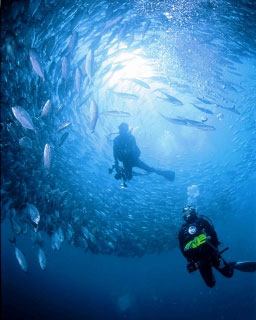 The state of Sabah (on Malaysian Borneo) is the basis of Malaysia's claim as a home to world class diving. The best dive resorts are located on the beautiful and small islands of Sabah, which are often fringed with white sand beaches, palms and coconut trees - a beautiful tropical setting to complement the excellent diving. Here you can relax in tranquility and enjoy all the sites of the area.
If you want to maximise your underwater time on the reefs and you don't mind sleeping out at sea, there is also one liveaboard boat operating in the area. It runs cruises out of the port of Tawau to the islands of Sipadan, Mabul and Kapalai.
If you're looking for a memorable diving holiday on the equatorial islands of Sipadan, Layang Layang or Lankayan, where English is very widely spoken and with white sand beaches coupled with outstanding underwater marine beauty and diversity, then Malaysia is bound to have something for you. Just budget plenty of spare time - there are so many outstanding opportunities on offer for scuba diving in Borneo!

Malay Highlights
For more details have a look at your Borneo dive destination of choice:
Sipadan, the little island off the east coast of Borneo is the number one reason why divers come to Malaysia. Formed over thousands of years by living coral growing on top of an extinct volcano, it lies in one of the richest marine habitats in the world.
Deep water currents well up against the walls of this world famous oceanic island bringing in the nutrients which support an incredible ecosystem where the sheer abundance of sea life can be astounding. Its high numbers of turtles, grey and whitetip reef sharks, and large schools of bumphead parrotfish, barracuda and trevally are famous the world over.
Sipadan Island is the first word on everyone's lips when discussing diving in Borneo and it truly is one of the finest dive spots on the planet but there is much more, such as Layang Layang - a little speck of an atoll off the north coast of Sabah which is fringed by some of the best coral fields you are likely to see. However it is for the huge schools of scalloped hammerhead sharks that patrol around the island that Laying Layang has developed the reputation as a 'must see' diving destination of Malaysia.
Lankayan Island is a frontier diving destination in the Sulu Sea, it is rich in biodiversity and boasts a wide range of marine life. Large healthy corals dominate the pristine reefs and an abundance of colourful schooling fish can be seen on every dive. There are also several interesting wrecks. The macro highlights include frogfish and ghostpipefish as well as numerous nudibranchs. Larger species such as blacktip reef sharks, marble rays, bamboo sharks and leopard sharks are not uncommon sights. At the right time of year you might even spot a migrating whale shark cruise past.

How to Dive Malaysia
Although there are some decent sites in Peninsular Malaysia, we try to recommend the best to our customers and if you are coming here for diving then you simply must come to dive in Borneo, for that is where it all happens. For more information on your diving options, and all the other travel information you might need to visit Malaysia and the state of Sabah, view our Malaysia dive resorts section.
Borneo is surrounded by lots of tiny little islands which are home to dive resorts right in the heart of all the best Malaysian dive destinations: Sipadan Island, Mabul, Kapalai, Layang Layang and Lankayan. Special local rates apply in many of the destinations for Malaysians, Singaporeans and expatriates living in those countries with work permits.
Nearby resorts are the most popular way to dive Sipadan and Mabul and they offer the space and facilities that liveaboards cannot match: Sipadan. Resort availability and permit limitations mean that for those with only a day or 2 to spare, daytrips from Semporna may be the best bet. This way you can get a taste of the diving at Sipadan, Mabul, Kapalai and other sites in Tun Sakaran Marine Park. For those staying in Sabah's capital city of Kota Kinabalu, we also offer day trips to the Tunku Abdul Rahman Marine Park.
But there is also one liveaboard operating in the area. This is suitable for those who wish to maximise their dive time at Pulau Sipadan and are happy to sacrifice the comfort of a beach resort. .


Malaysia Diving Season
Scuba diving in Malaysia is good all the year round but seasons do vary from location to location. Sipadan is a year-round destination with the optimum overall conditions being from April to December. July and August are often described as the best months with visibility sometimes exceeding 40m around the island. Mabul never experiences such good visibility but, as a macro destination, it doesn't need to.
January and February in particular can see unsettled weather. These months are the start of the rainy season in Sabah and although Sipadan and Mabul might not experience much rain, the air and water temperature can be a little cooler and visibility can be low during this period. There are fewer divers here at this time and it is still possible to enjoy excellent conditions, depending on your luck. The normally calm seas can also be a little unsettled at this time.
Advanced booking is recommended for the resorts in the Sipadan area. If you wish to travel during March to August, Christmas, New Year and Chinese New Year, please let us know as soon as possible.
The picture is different in Layang Layang, off Sabah's west coast, where the diving season runs from March to August. March to May is considered the best time to see the marquee creature of this destination, scalloped hammerheads. Constant currents waft over the island's reefs all year round which bring in the marine life. The seas can be rough, even during peak season, beyond the calm lagoon where the resort sits. Visibility is generally very good, averaging 30m+ with the normal range considered to be from 10 to 40m. The resort closes between September and February.

Where is Malaysia and How Do I Get There?
Review our map below of Sabah, Peninsular Malaysia, and their location in the world. Here, you will find information on how to get to Malaysia.

Malaysia Reef Summary
Depth: 5 - >40m
Visibility: 5 - 40m
Currents: Gentle
Surface conditions: Calm
Water temperature: 25 - 30°C
Experience level: Beginner - advanced
Number of dive sites: >135
Recommended length of stay: 1 - 3 weeks

Useful References for Malaysia Dive Trips