>
Dive Destinations
>
Thailand
Diving in Thailand
Dive in the Land of Smiles
...Highlights: whale sharks, manta rays, turtles, great macro life/ marine diversity, non diving activities...
...Thailand's diving environment: beginner divers, very popular...
For many years Thailand has been a firm favourite, both with hard-core divers who come to dive some of Asia's best sites and also with holiday-makers, and backpackers who know that a few days of diving here will add hugely to their experience of the country.
A dive vacation in Thailand, affectionately known by many as The Land of Smiles, means enjoying the gorgeous warm weather, the great hospitality of the local people, the beauty of the land and the rich bounty of the warm Andaman Sea that laps against its shores.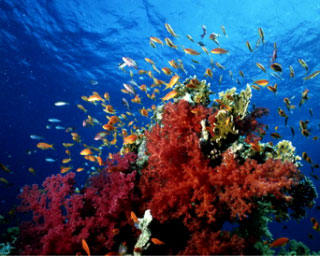 Scuba diving in Thailand is not limited to one particular area but most of the top spots are on the west coast, which runs down from Myanmar to Malaysia, with dive sites of world-renown such as those of the Similan Islands, as well as Richelieu Rock, Hin Daeng and Hin Muang, most of which now enjoy national marine park status.
You can cruise the seas on fantastic well-run liveaboards or stay in one of the fantastic beach resorts in the top tourist coastal regions, such as Phuket, Khao Lak, the Phi Phi Islands, Krabi or Koh Samui, enjoying some great day trip diving without compromising on comfort or quality.
The Andaman Sea is crammed with colourful coral and tropical marine life, set around some stunning tropical islands, and is characterised by sites such as the huge submerged boulders of the Similans and the chance to swim with whale sharks, leopard sharks and manta rays. However, the diving is so diverse in Thailand that there is really something for everyone and a trip to suit every budget.

Thai Highlights
So where do you want to dive in Thailand? Read more on all these great spots:
Similan Islands - Ask anyone who knows about the region and the first place they will mention is the Similan Islands. This small collection of islands set in the beautiful Andaman Sea are the jewel in the Thailand diving crown. Topography ranges from stunning rock formations and beautiful age-old gorgonian sea fans to colourful corals brimming with exotic marine life. World class dive sites pepper the area such as West of Six and Elephant Head Rock which are among the finest in the country and as good as anywhere in Asia. One of the best features of diving in the Similan Islands is its 2 distinct types of dive site - deep water boulder formations and pretty coral gardens.
Hin Daeng / Hin Muang - These 2 pinnacles away from the Thai mainland are perhaps the best dive sites outside of the Similans. Manta rays, whale sharks and a variety of other sharks make frequent visits to these 2 spots where the diversity and sheer numbers of fish can be breathtaking. Shorter liveaboards trips that go here can give you a glimpse into some of Thailand's finest underwater treasures.
Richelieu Rock is one of Thailand's premier and most popular dive sites and attracts scuba divers from all around the world. This large pinnacle rises steeply from a depth of 35m and is visited by liveaboards from Phuket and Khao Lak that usually dive it several times per trip. Here you can expect to see schools of trevally, grouper and snappers as well as barracuda. If you are in luck you may even spot a manta ray or whale shark. The colourful soft corals, sea fans, small caves and vast array of fish and macro critters all add to the attraction that.

How to Dive Thailand
To see the liveaboards and daytrip options, please take a look at our website's Thailand liveaboards or day trips sections.
The best diving that Thailand has to offer is found in the Similan Islands, which are accessed by a large number of liveaboards. We promote the highest quality boat options across the price spectrum - boats that we know provide good service and value for money: Hin Daeng-Hin Muang, Similan Islands.
If liveaboards are not what you are looking for, you can take daily dive trips to the best of the west coast and beyond from the comfort of your resort in one of the popular southern resort areas, such as: Krabi, Khao Lak, Koh Phi Phi, Phuket, Koh Samui - Koh Tao.


Thailand Diving Season
Although November through to April is the best time for optimum site conditions, the Thailand scuba diving season runs all year round. This is reflected in the period when liveaboards run to the Similan Islands (late-October to mid-May). The best time to see whale sharks is between February and May when there is a higher concentration of plankton. This time of year is also the best for manta ray sightings although the number of sightings varies from year to year.
The last few months of high season on the west coast, from February to May enjoy the warmest water temperatures with June to October being the coldest. However, the variation is not great and generally speaking water temperatures range throughout the season from 26 to 31°C. Visibility varies during the year but can often exceed 30m in peak season. Plankton blooms may reduce visibility but also bring in the biggest creatures.
May to October is off season on the west coast of Thailand. Visibility is down. Surface conditions are more variable and there is a greater chance of rain. Few liveaboard trips operate and many of those that do are cancelled due to lack of numbers. The more remote dive sites like Hin Daeng and Richelieu Rock are sometimes inaccessible during this period. At this time of the year the Gulf of Thailand has its own high season for diving, making it a good alternative.

Where is Thailand and How Do I Get There?
Review our map below of Thailand and its location in the world. Here, you will find information on how to get to Thailand.

Thailand Reef Summary
Depth: 5 - >40m
Visibility: 5 - 30m
Currents: Can be strong
Surface conditions: Can be rough
Water temperature: 26 - 31°C
Experience level: Beginner - advanced
Number of dive sites: >250
Recommended length of stay: 1 - 3 weeks

Useful References for Thailand Dive Trips