>
Dive Destinations
>
Thailand
>
Koh Surin
Your Guide to Diving in Surin Islands
Thailand's Best Hard Coral Reefs?
...Highlights: turtles, great macro life/ marine diversity, schooling fish/big pelagics...
...Surin's diving environment: wall diving, beginner divers, off the beaten track...
The extensive reefs of the Surin Islands have the greatest hard coral diversity in Thailand. Though the soft corals and fish diversity are not quite as good as some of the other Andaman Sea destinations in Thailand, you will find fish species here that you won't see in the Similan Islands, such as Napoleon wrasse, yellow-masked angelfish, bumphead parrotfish, tomato anemonefish and barramundi, as well as lots of turtles.
Not many liveaboard boats visit these islands, not because the diving is less attractive than at other Thai destinations, but rather due to their remoteness; the short 4 night schedules of the more popular Thailand dive safaris do not allow enough time to take in both the Surin and Similan Islands. So when you do visit here, you'll find that there's still a beautiful corner of Thailand that you are able enjoy without sharing it with the tourist hordes.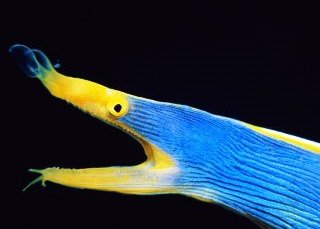 The island group was designated as Mu Koh Surin National Marine Park in 1981 and it is located just 7 km south of the Myanmar border and 68 km north of the Similan Islands. There are 2 main islands of Surin - Nua ('North') and Tai ('South') - plus 3 smaller islets - Koh Pachumba (Dragon Island), Koh Chi/Satork (Nun Island) and Koh Torinla - and 2 exposed rocky outcrops called Hin Gong and Hin Rap. The islands are uninhabited except for the park camp and a Mokken sea gypsy village. Thailand's world famous Richelieu Rock dive site lies 15 km to the east and lies within the park's boundaries.
One of the Surin Islands' major attractions is snorkelling. This is because many of the reefs here grow right up to just below the water's surface, bringing the marine life closer to the snorkeller. This is so at Koh Torinla in the south and Koh Chi in the north, where the reefs are very healthy and black-tip reef sharks, absent at the Similan Islands, are regular visitors. This means that liveaboard trips to Surin are ideal for non-divers and divers alike.
Turtles still follow their age-old calling to come ashore and lay their eggs at the islands. The hatchlings enter the Andaman Sea and those lucky to survive the many perils, swim as far as the Nicobar Islands and the east coast of the Malay Peninsula.
Many visitors claim that the fantastic topside scenery of Koh Surin, with its verdant evergreen forests, laced with mangroves and small beaches, surpasses even that of the picturesque Similan Islands. If you take a walk through the forests you might find crab-eating macaques, deer and flying foxes. The islands also appeal to birders, who can enjoy sightings of hornbills, Nicobar pigeons, drongos, collared kingfishers and babblers, as well as birds of prey such as sea-eagles and Brahminy kites.
Dive Site Descriptions
Koh Chi
This is the smallest and furthest north of the islands of Surin. The site consists of a gentle slope and granite boulders off the western side down to a depth of 22m. The marine life is excellent here and a variety of hard corals carpet the sea floor. You can see several turtle species and many pelagic fish such as trevally, barracuda and tuna. The north end of the islet features granite boulders and caverns, which are favoured as refuge by soldierfish, angelfish and reef sharks. Currents can be strong at Koh Chi.
Hin Rap
This place, located offshore to the north of Surin Nua, is renowned as one of Surin's deeper dive sites. On the east side the boulders drop off deeper to 25m and larger pelagics can be found here. The shallow reef areas on the west side are excellent for snorkelling and spotting turtles.
South East Point
At the Southeast point of Koh Surin Tai, 2 parallel jumbles of boulders run out perpendicular from the shallow reef into deeper water, where strong currents can attract reef sharks. Harlequin ghostpipefish and robust ghost pipefish shelter in the refuges provided by these rocks on the soft corals and fans. Cowrie shells and ribbon eels also inhabit the rubble floor and crevices.
Back on the reef slope you can regain your breath and tick off sightings of Andaman rabbitfish, Indian sailfin tang and the Andaman sweetlips. If you've been scuba diving in Thailand before you'll know that it has some particularly attentive titan triggerfish, acting like over-zealous guardians of their unborn young. The Surin Islands are no different in this respect.
Koh Torinla
On the east coast of Koh Torinla, a large coral plateau of staghorn corals and massive porites corals breaks the water's surface at low tide. This is home to a large proliferation of cardinalfish, humpnose bigeye bream, twin-spot and 5-lined snappers.
Show more
Just off the coast lies a long rocky ridge that draws in Surin's fish life. Batfish and pickhandle barracuda are common in the depths of 30 metres, and Spanish mackerel and grey reef sharks often pay fleeting visits. White tip reef sharks can be spotted cruising the ridge top at 7 to 25 metres or resting on the surrounding sands.

To get back to the reef slope from this ridge you'll need to swim over an expanse of sand, where eagle and shovelnose rays occasionally pass. This area hosts mantis shrimps and the endemic blue-spotted Andaman jawfish. This most colourful jawfish family member often hovers above its rubble burrow. Or if it is parenting, it peers broodily out of its burrow, replete with a mouthful of finely balanced eggs.
How to Dive Koh Surin
There are not many liveaboard dive boats that visit the Surin Islands but as for ones that do, you will find them in our Similan liveaboards section here.
Typically these cruises include diving at the Similan Islands, Richelieu Rock, Koh Bon and Koh Tachai islands, and usually last 5 nights, although occasionally there are slightly shorter trips on offer too. One attraction of these trips is that you generally have the dive sites to yourselves at Koh Surin.
The Surin Islands Diving Season
The Surin liveaboard diving season runs from mid October to early May, though the best time for a visit is from December to April. Outside of these months it can be wet and windy and there are, therefore, no scheduled trips to the area. The Traveler website

has more information on the climate in nearby Koh Similan.
The water temperature never goes below 27-28°C (during the rainy season May-October) and can go up to 30-31°C during dry season (November-April). Dry season also brings the best sea conditions, with calm waters and visibility that reaches 30m on most days.
The dive sites in the Surin area are often known for the presence of large pelagics (usually eagle and manta rays, but also whale sharks), usually from February to April. Earlier in the season (November to January), the currents can sometimes be strong - ideal conditions for spotting huge schools of trevallies, fusiliers and barracudas.

Where is Surin and How Do I Get There?
Review our maps below of Koh Surin and its host country Thailand. Here, you will find information on how to get to Phuket or Khao Lak, and then on to the Surin Islands.
Reef Summary
Depth: 5 - >30m
Visibility: 5 - 20m
Currents: Can be strong
Surface conditions: Calm
Water temperature: 26 - 29°C
Experience level: Beginner - advanced
Number of dive sites: >10
Distance: ~205 km north northwest of Phuket (10 hours)
Recommended length of stay: 5 - 6 days as part of a Thailand liveaboard charter
Useful References


---
CUSTOMER TESTIMONIALS OF DIVE THE WORLD
... Quick communication, helpful information, assistance in determining what liveaboard would suit my budget and timeframe ... -- Marsha McDaniel, USA. [More customer reviews]