>
FAQs
>
Thailand
Thailand Scuba Diving
Frequently Asked Questions
General Diving FAQs
Liveaboard Diving FAQs
Diving in Thailand FAQs
What time of year is Thailand's diving season?
November to April marks the tourist high season and the best time to come is from February to April regardless of whether you are diving or not. The weather is at its best with calm seas and, as there are fewer tourists, accommodation can be cheaper. The Similan Island dive sites are not so crowded, and it is the season when you are more likely to encounter a whale shark or manta ray on your Phuket liveaboard diving trip.
For visiting Phuket, Krabi, Phi Phi Islands and Khao Lak, November to April is the best time. However March to September is the best time of year to dive the island of Koh Samui in the Gulf of Thailand. So it is always a good time of year to scuba dive in Thailand.
Can you arrange accommodation for me in Thailand?
hotelscombined.com our affiliated hotel reservation agent has over 1,200 different choices of accommodation in Thailand

, covering all the popular tourist destinations. There are more than 175 hotels just in Phuket. You can have a look through the different options on their website and when you've made a decision book your hotel reservation using your credit card. They also have a live chat service to answer any questions.
Whatever your preference and budget there are plenty of options ranging from 5-star international beach resorts to low-cost guesthouses and bungalows. With their 'Low Price Guarantee', you can be sure that whatever you choose you will be getting the best value-for-money possible.
If you are staying in a guesthouse or hotel in Thailand as a single traveller, and making diving daytrips or a dive course, then you will be paying for the room yourself and there is no option to share with another guest.
Are there strong currents at sea?
Some of the dive sites in Thailand do have strong currents but this can depend on the time of year, time of day and the dive site itself. You will be advised by your dive guide in the pre-dive briefings but you will rarely have to swim against a strong current.
Do people speak English there?
In Thailand's main tourist destinations English is widely spoken and understood and it is possible to have a fantastic holiday without worrying about communicating.
However if you speak even just a few words it can go a long way to better understanding the Thai culture and is really appreciated by the locals. Get yourself a phrase book and learn a few basic words and sentences - it could save you some money on your purchases too!
Is the scuba diving in Phuket good or do I need to go further afield?
Although there are couple of nice dive spots not far off Phuket's shores, the best dive sites are to be found just an hour or two's boat ride away. Most people take a scuba diving day trip to such sites as Kingcruiser Wreck, the Racha Islands, Shark Point and the Phi Phi Islands.
There is plenty of great local diving to keep you busy for a week or so but if you want to experience the best diving Thailand has to offer then you really should join a liveaboard cruise to the Similan Islands or beyond into Burma/Myanmar.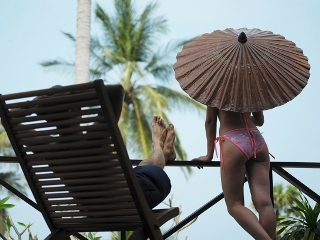 Phuket Island is located in the Andaman Sea in the south of Thailand, on the Thai - Myanmar - Malay peninsula. There are daily direct flights to Phuket International Airport from Bangkok in Thailand, Singapore, Hong Kong and Kuala Lumpur in Malaysia. There are frequent flights to/from Bangkok with Air Asia

, Thai Airways

and Bangkok Airways

. The journey takes just over 1 hour. Return flight prices are very reasonable. You can also take a bus from Bangkok all the way to Phuket, or a train and a bus which can be cheaper but takes at least 12 hours of travel time.
Are there taxis at the airport?
There are taxis at the airport, the cheapest option being the metered taxis located outside the airport building. Phuket International Airport is 40 km from Patong Beach, and takes 45 minutes.
You can easily reach the Phi Phi Islands and Khao Lak from Phuket and there are more frequent flights to here than from nearby Krabi.
Are there other things to do in Phuket apart from diving?
There are numerous activities and attractions on offer for non-divers and for those taking a rest from diving. Have a look at our Phuket tourist information section for more details.
What about diving in Koh Samui?
The Gulf of Thailand's popular Koh Samui is the largest island and boasts plenty of good quality resort hotels. The diving is not as spectacular as Phuket or the Similan Islands, but there are several good and well-known dive sites. This is a good place for a diving day trip during Phuket's diving low season. For more details about getting there and what to do, see our Koh Samui tourist section.
Is there much evidence of the 2004 Tsunami?
The devastating tsunami affected different areas and some corals were damaged but there is very little evidence of it remaining now. Patong Beach and the other main resorts have been completed restored. Tourists can come and enjoy diving in Phuket and admire the beauty of the natural surroundings.
Is Phuket affected by the troubles in the south of Thailand?
No - the incidences of unrest that have occurred in southern Thailand are confined to the very 'deep south' which is a long way from the provinces of Phuket and Krabi. The provinces involved border Malaysia where very few tourists visit and there is no evidence that foreigners are targeted by those fighting for independence from the Kingdom of Thailand. If you take a look at a map of Thailand

you can see just how far away this area is.

Thailand Liveaboard FAQs
A Thailand Liveaboard cruise is a diving vacation where you eat and sleep on the boat as it takes you to the different dive sites. All the diving facilities and living accommodation are housed on the boat. As the vessel stays at sea for the duration of the trip, remote dive sites can be explored and there is a greater opportunity to dive excellent sites that are not within reach on a normal daytrip boat. Thai liveaboard destinations are the Similan Islands, the Surin Islands, Hin Daeng - Hin Muang, as well as the Mergui Archipelago (Burma).
How many dives can I do each day?
Most boats offer up to 4 dives a day with about 3 hours between dives to relax. The first dive is often early in the morning around 7 am and the last at sunset or slightly later for a night dive.
Can I dive on my own on a Thailand liveaboard?
You will be expected to dive with a buddy on your Phuket Liveaboard as the boats are recreational diving cruise charters, so follow the recreational scuba diving guidelines. You can dive without a guide if you prefer as long as you dive to a maximum depth of 40m, observe safe diving limits and have all the necessary equipment to dive unassisted, i.e. dive computer or timing device, submersible marker buoy and compass.
Can I recharge my batteries and strobes?
Generally speaking there is no problem to re-charge on a Thailand liveaboard. You can see details of the power sources that are provided on each boat by going to the 'Specs' information tab.
What type of tanks and valves are on the boats?
Most Thailand liveaboard boats provide 12 litre aluminium tanks with yoke or A-clamp international valves. If you have a DIN regulator you can either bring an adaptor with you or rent or buy one on arrival. It is possible to rent 10 and 15 litre tanks by booking in advance. Some boats have enriched air nitrox on board too. You can see the details of each boat on the 'Facilities' information.
Is it possible to rent an underwater camera?
It is no problem for you to rent a digital underwater camera on your Phuket liveaboard cruise. Please let us know at the time of booking to ensure availability.
The food selection and standard is usually excellent on Thailand scuba diving cruises. Have a look at 'Food' information of your boat for details of the type of food served on your trip.
Yes of course. Please let us know your requirements when you make your booking.
Yes, you can take along whatever you'd like on your Similan dive cruise. Be aware however that you cannot drink alcohol before you've completed your day's diving.
Where will I be picked up from?
We can arrange transfers to your liveaboard from your hotel in Phuket or from our diving centre in Patong. It is also possible to request transfers from the airport if you arrive just before the boat departs. Please let us know which departure point you would prefer before you arrive.
What do I need to bring on board?
You need to bring all your personal diving gear except tanks, weights and your weight belts, a bathing suit, towel and toiletries. Warm weather clothes are fine such as shorts and T-shirts but you may want something a little warmer for breezy evenings. Sun protection is also a good idea.
If you suffer from sea sickness then it's a good idea to take your liveaboard cruise from February to April when the sea is at its calmest. All the charter boats stock anti sea sickness medication for your use too.
At night the boats tie up to mooring points at the islands visited on the trip. These mooring points are found in the islands' bays, sheltered from the open seas.
Does the cruise price include dive insurance?
Not all the boats provide insurance but some do. Check the 'Safety' information for your boat to find out. For your own peace of mind we recommend you purchase your own dive insurance. Phuket now has 2 very expensive recompression chambers.
There is no Malaria at any of the Thailand liveaboard destinations.
Can a non-diver go on a liveaboard?
Yes, non-divers and snorkelers can enjoy a liveaboard cruise although they are really designed for divers. Many of the dive sites are suitable for snorkelling especially in the Similans.
The price for a non-diver is often 10% less which sounds like a small discount but you are taking a place that would otherwise be available to a diver. Please ask us for the exact non-diver price for your cruise.
I'm a single traveller, will I need to share a cabin?
Generally you are expected to share on a Similan liveaboard boat as sleeping space is at a premium. Occasionally if the boat is not full and there are an odd number of passengers you might be able to have your own cabin. If you insist on staying alone in a cabin then you will need to pay a single supplement. These vary from one liveaboard to the next from 50% to 90% of the published price. Always check with us for the best deal if you are travelling alone.
Can I explore the beaches at the islands?
You have several hours of surface interval time between dives when you are free to do what you want. If the boat is not moving to another dive site you can explore the island. Please advise the boat's tour leader before disembarking.
It is entirely up to you if you want to tip or not in Thailand. If you have had a fabulous time and the service exceeded your expectations then it is nice to leave a tip to show your appreciation.
Yes definitely! The most common sharks in the Similan Islands are leopard sharks and whitetip reef sharks. Silvertip reef sharks and nurse sharks are more commonly seen on Burma liveaboard cruises. Whale sharks have been sighted fairly often some years so you may be lucky!
Manta rays encounters have been quite common in recent years, and you are practically guaranteed of seeing blue-spotted sting rays, marble rays and fantail rays.
If your question still hasn't been answered or you'd like more info then have a look at our Thailand tourist section.


---
CUSTOMER TESTIMONIALS OF DIVE THE WORLD
... Amnah was very patient with me and allowed me to chose the experience I wanted - when I asked for extra or for more information, it was always forthcoming in a friendly and clear manner ... -- Norman Lucas, UK. [More customer reviews]
Operator website: Thai Wreck Diver