>
Liveaboards
>
Mexico
Mexico Liveaboards
Best Dive Tour Options and Travel Information
Mexico is a dive destination blessed with some of the most thrilling underwater encounters imaginable. For liveaboard divers it is all about the Pacific coast of Mexico, home to places such as Socorro Island, Guadalupe and the Sea of Cortez. Simply mentioning these locations conjures images of schools of sharks, enormous whales, huge manta rays and other stunning marine megafauna. Few other places can boast such vast marine riches.
Socorro in particular has become something of a rite of passage among serious scuba divers with 2 groups forming: those that have already been and those who want to go. Its stunning array of megafauna has earned it the title of 'Mexico's Galapagos'. Guadalupe is considered by many to be finest location in the world for cage diving with great white sharks. Both locations are far out to sea, making liveaboard cruises the best choice and lending diving safaris out here a real sense of adventure.
Above the waves, Mexico is a country that fires the imagination: images of old-style bandidos, sleepy sun-drenched towns, lively fiestas and its own distinct and world-famous cuisine. It is renowned for being the ultimate blend of sunshine, entertainment, culture and natural splendor. Lie back on the golden sands or sip a tequila in a beach bar. Indulge in the archaeological wonders of the Mayan culture. Revel in the carnival atmosphere and shake your booty to vibrant Hispanic music. All this and more packed into one exceptional country. Go now before word gets out and everyone has Mexico in their diving log books.
Liveaboard Diving Cruise Options in Mexico
We recommend liveaboards that operate on the Pacific Ocean west coast where the country's best diving is located. Being on the doorstep of the United States, it is obviously popular among US based divers, but it is quickly gaining a worldwide following and is easier to get to than you might think. Check out your Mexico liveaboard options:
The 'Revillagigedos' comprise an archipelago some 250 miles (400 km) from Cabo San Lucas, at the tip of the Baja peninsula. Socorro is famed for encounters with huge manta rays, sharks and humpback whales. Experienced divers who think they have seen it all over the years still step off a Socorro liveaboard with all the wide-eyed enthusiasm of a beginner. With such breathtaking encounters with big animals in impressive numbers, it is understandable why it has been elevated to the ranks of one of the best places on earth to dive with the big stuff. Socorro is often mentioned in the same breath as places like Galapagos and Cocos Island. [More details on these dive sites: Socorro].
Given the non-stop action and occasional surge and current, Socorro is not for divers still struggling with their buoyancy. You will need to have some experience to dive here and be comfortable in open water and with a variety of advanced diving conditions.
Availability can be a problem here in Mexico as liveaboards are very popular and are often fully booked early, so plan and make your reservation well in advance of your travel.
This is a thin stretch of water lying between the Baja California peninsula to the west and Mexico to the east, and it is bursting with biological riches. Vast schools of hammerhead sharks, colonies of sea lions and even gray whales are common here in this aquarium-like marine haven. [More details on these dive sites: Sea of Cortez].
When you are in the Sea of Cortez you are never far from land. As such these safaris are appropriate for less experienced scuba divers who want the thrill of Mexican liveaboard diving but without the swirling currents and swells of the open Pacific Ocean. There are very few liveaboard options here so you may only see one or two daytrip boats during your cruise.
This is a volcanic island 150 miles (240 km) west of Baja California and is a mecca for great white shark cage diving. Guadalupe's shark population is said to be one of the most prolific on earth. It is also reputed to enjoy superior visibility than any other place where cage diving with great white sharks takes place. Liveaboard charters to Guadalupe are single purpose trips. That purpose is to see as many of these apex predators as you can; up close and personal. [More details on these dive sites: Guadalupe].
You need only to feel comfortable in the water and have a thirst for sharing space at close quarters with these magnificent creatures.
There are also occassional 7 night specialty cruises to Magdalena Bay. This part of Baja California is the best spot to witness the incredible Sardine Run that attracts the attention of some of the Pacific's biggest predators, such as striped marlins, sharks, dolphins and orcas. It is also a bay that is a famed home for migratory gray whales.

Key Mexican Travel Facts
The Climate and Best Time to Visit
There are 2 main seasons in Mexico: the rainy season and the dry season. May through October roughly corresponds to the rainy season where there is an increased chance of hurricanes. November through June is the dry season. During this time northerly winds can blow down from the USA, meaning windier weather and choppier waters.
Altitude also plays a part. Generally the coastal regions maintain a balmy warmth all year round, despite the variations between dry and wet seasons. At altitude however, the temperatures can vary much more and can at times be positively chilly.
Mexico is a year round scuba destination although different seasons apply to the locations within the country. You can find more details on our Mexico diving destinations page.
Liveaboard Ports of Departure in Mexico and How to Get There
Your first port of entry into Mexico may be close to your diving cruise port of departure. Los Cabos International Airport (a.k.a San Jose del Cabo International airport) is where Socorro customers fly into. Ensenada Internal Airport (or San Diego) services Guadalupe customers. Sea of Cortez customers often fly into Phoenix and take a land transfer to Puerto Penasco.
Otherwise the main international airport is Benito Juarez International Airport in Mexico City. Direct flights arrive here from all over the world, particularly from the Americas. There are also direct flights from European cities like London, Madrid, Paris, Frankfurt and Amsterdam and even from Tokyo. Other international airports include Tijuana, Cancun, Guadalajara and Monterrey.
Domestic flights can be booked with AeroMexico

.
We recommend you consider taking out insurance to cover diving and travel activities, including trip cancellation. See our insurance program for a competitive price:
Tourist Visas
You need a passport valid for at least 6 months beyond your intended stay as well as a return ticket.
US Citizens and citizens of the following countries do not require a visa to visit Mexico: Andorra, Argentina, Australia, Austria, Belgium, Canada, Chile, Costa Rica, Cyprus, Czech Republic, Denmark, Estonia, Finland, France, Germany, Greece, Hong Kong, Hungary, Ireland, Island, Israel, Italy, Japan, Latvia, Liechtenstein, Lithuania, Luxembourg, Malta, Monaco, Netherlands, New Zealand, Norway, Poland, Portugal, San Marino, Singapore, Slovakia, Slovenia, South Korea, Spain, Sweden, Switzerland, United Kingdom, Uruguay, Venezuela.
Visitors are permitted to stay for up to 30 days and extensions may be granted when in the country. You may, although it is unlikely, be asked to prove that you have sufficient funds for your visit (US$ 50 per person per day).
You will be asked to complete the Tourist Card, this will be handed to you by the airlines or you can obtain one from the Mexican Immigration upon arrival. This is a 'two part' document. It must be returned to the immigration department upon your departure. Make sure you keep it safe or even make a copy of it. You can apply for an extension on your card for up to 180 days.
You should always check with the appropriate consular authorities and check that you satisfy the relevant visa requirements. Visit the Ministry of Foreign Affairs' website

for current details.
Places to Stay
If you plan on staying in Mexico before or after your liveaboard diving safari, then see our affiliated hotel reservation agents hotelscombined.com. Browse their website to find options, use their on-line chat to ask questions, and use your credit card to book:
Every booking made with hotelscombined.com includes a 'Low Price Guarantee' to ensure you always get value for money.
Visitor Health
Taking care with your food and drinks in Mexico is normally the key to maintaining good health. Avoiding untreated tap water and fruits that do not require peeling makes sense. You should consult your local doctor before planning a trip to discuss any vaccinations or malaria medication that may be advised. Malaria is present in some rural areas.
The worst that most travelers experience is the dreaded Montezuma's Revenge (diarrhea), named after Moctezuma II (1466-1520 BCE), the Aztec ruler defeated by the Spanish conquistador Hernan Cortes. His revenge upon future foreign invaders being a bad dose of the runs.
There are several hyperbaric chambers throughout Mexico; at least one in each of Cabo San Lucas, Cancun, Playa del Carmen, Cozumel, Tulum and Merida. The tourist spots all have clinics and medical centers and are used to treating foreigners for whom the costs for minor treatments are generally quite inexpensive.
Tourist Security and Safety
There is no doubt that Mexico has security problems, with battles between drug cartels and the governments, between cartels themselves and organized crime. This violence very rarely filters down to tourists who are not involved in the drug trade and we consider Mexico a safe place for liveaboard divers to travel. The most dangerous places include Nuevo Laredo, Reynosa and Ciudad Juarez, all of which are close to the US border and very far from anywhere that scuba divers would normally visit.
Of course nowhere is immune to trouble and Acapulco, a tourist destination, (also nowhere near where we recommend diving) has had its share of bad press too. The Mexican government makes considerable efforts to protect tourists, and major holiday destinations such as Cancun, Playa del Carmen, Cozumel, Cabo San Lucas have historically not seen anything like the levels of drug-related violence, as the northern border regions. Being educated about where the risks lie in your travels should quell any apprehension about visiting Mexico and experiencing the country's world-class cuisine, rich culture and majestic nature.
ATMs are best avoided unless inside a bank. It's safest to always carry some cash on you for times when you won't be able to use a credit card, and you should exchange your currency before you go. Unless you're vacationing at the beach or hanging out at a resort, wear pants and sensible shoes so you don't stick out as a 'foreigner'. Don't carry your camera around your neck. Also, avoid wearing or traveling with expensive-looking jewelry or watches and don't flash your smart phone around too much.
The usual advice applies to visiting Mexico, including avoiding badly lit areas and walking alone. If you are going to be taking tours off the beaten track then you should be sure to do so with a qualified guide.
Useful Tips for Tourists
Sightseeing, Activities and Adventure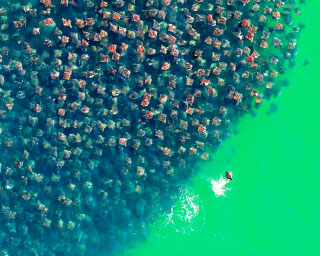 Geographically, Mexico is located in North America, bordered by the United States to the north, Belize and Guatemala to its south, the Gulf of Mexico to its east and the North Pacific Ocean to its west. As such it is a blend of old world and new, a bridge between continents and a nation rich in its own cultural heritage.
It is a large and diverse country with an enormous array of tourism activities. Many visitors flock here for the beaches, the watersports and the spring break style party atmosphere which exists in many of the coastal towns. However, there is much more to Mexico as a tourist destination.
The country is peppered with ruins from the ancient Mayan civilization such as Chichen Itza and the town of Tulum. Others come for the natural wonders such as the world-famous Cenotes or the underground caves of the Rio Secreto. From fun seaside frolics in places like Cancun and Acapulco, to the architectural wonders of the many Mayan ruins, Mexico has something for travelers of every age, budget and interest.
If you are in the country primarily for the purposes of joining a Mexican liveaboard, then it is likely your sightseeing will take place on the Baja Peninsula. The Cabo area is one of those where watersports and nightlife are among the attractions. However, you can also venture into the desert, even on an ATV tour. You can go hiking and climbing at Land's End or mountain biking into the East Cape back country. More sedate activities include pottering around the historic village of Santiago and visiting its hot and cold springs. Other nearby towns worth visiting include Todos Santos, with its market, art shops and artisanal crafts.
If you pass through Ensenada you can visit La Bufadora, the only marine geyser in North America, and travel the wine route where 90% of Mexico's wine comes from. If you are joining a liveaboard dive cruise that operates out of the port of Puerto Penasco you may have time to visit the volcanic crater of El Pinacate. If you have an interest in engines, you might be excited to know that outside the town is a bit of a mecca for 4WD vehicles and ATV tours.
For more ideas visit: The Mexico Tourism Board

.
Mexican Time Zone
Mexico is the same as United States Central Time (-6 GMT).
Electricity
Power is 120/240 volts AC, 60 Hz - the same voltage as in the USA. Most electrical plugs in Mexico, including the liveaboard boats, have 2 flat prongs (US style). Some have a third, circular prong and these require adapters for most sockets.
Communications
High speed internet is now widely available in Mexico, except in the more rural areas. You are likely to find plenty of bars and cafes with WiFi services, often free of charge. A number of stand-alone WiFi services are available, which may be especially useful if you are traveling or don't have access to a land-based high speed internet connection. Due to the remote nature of the liveaboard safaris in Mexico, very few of the boats provide a wi-fi service.
Mexico's postal service can be used for letters, postcards, greetings cards. A letter or postcard will take about a week to get to the US/Canada, and between 1 and 2 weeks to make its way back to Europe or Australia. There are 'Oficinas de Correos' in most towns and every city.
The international dialing code for Mexico is +52. To make an international call, dial 00, then the international dialing code for the country you wish to call, followed by the area code and local number.
Codes of Behavior
Tipping and bargaining in Mexico
It is customary in Mexico to tip in return for good service. Look out for signs telling you that service charge is included in the price of hotels and certain tours. In such cases no further tipping is expected. However, it is worth keeping small denominations of pesos to hand for small favors like hotel porter assistance.
Best Clothing to Wear
Formal clothes are not really necessary for people on vacation in Mexico. Choose lightweight, cool airy clothing such as breathable dri-fit sports shirts. Short skirts are a no-no for most travelers (except spring-break college girls when they want to cover up). Most tourists keep bathing suits for the beach and pool only (except spring breakers who consider it a must-wear all-day uniform). Protection from the strong sun is highly advisable: Slip (t-shirt), slop (sun cream), slap (hat), and wrap (polarized sunglasses).
Criminality
Adhering to the usual good practices when on vacation should be enough to allow you to avoid any unfortunate experiences with crime. Do not flash you wallet, phone or bling around and you will not alert any watching malfeasants that you are a good target. If you can manage to avoid drug dealers and prostitutes during your time in Mexico, you are less likely to run into trouble.
Useful References for Liveaboard Charters in Mexico


---
CUSTOMER TESTIMONIALS OF DIVE THE WORLD
... Help deciding on the dive operator with plenty of information, very comfortable for us since we just submitted our details and dates and the rest was booked for us. :) Your strength: definitely organisation ... -- Paulina Mydlowska, Germany. [More customer reviews]