>
Dive Destinations
>
Mexico
>
Magdalena Bay
Your Guide to Diving in Magdalena Bay
Gray Whales and the Mexican Sardine Run
...Highlights: shark action, whales, dlophins, turtles, schooling fish & big pelagics...
...Magdalena Bay's diving environment: bait balls, wrecks, advanced divers...
Magdalena Bay is a 31 mile (50 km) long bay along the Pacific-facing west coast of Baja California. It is protected from the ocean by Magdalena and Santa Margarita islands, giving it a calm environment that is ideal for California gray whales. These whales, which can grow to 35 tons and over 50 feet (16m) long, migrate south from Alaska to spend the winter in the bay, giving birth and rearing their young, and mating.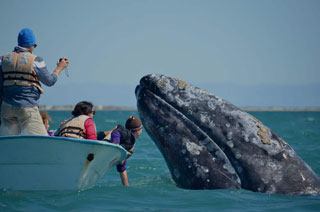 Gray whales used to be hunted by whaling ships, especially from the USA, and during the peak decade from 1855 over 1,200 whales were caught and killed in the bay. They were hunted almost to extinction but since the 1949 International Whaling Commission ban on hunting of these animals, the population has rebounded and the gray whales have now become one of the chief attractions of liveaboards visiting Magdalena Bay. They have become partially accustomed to humans, interacting with tourist boats in ways such as spyhopping and bring their calves alongside boats.
Another of Magdalena Bay's drawcards for scuba divers and snorkellers is the annual Sardine Run, thought to be the second largest in the world (after that along the Wild Coast of South Africa). This seasonal event takes place along the nearby shoreline every October to early December and attracts a whole host of thrilling marine creatures. Perhaps the most awe-inspiring is the opportunity to dive or swim with the very rare striped marlin, one of the fastest fish in the ocean, which are attracted by the gigantic bait balls of sardines, mackerel and anchovies. Striped marlin are found only in the temperate and tropical regions of the Indo-Pacific. They can grow up over 13.5 feet (4m) long and weigh over 440 lb (200 kg). They are easily distinguishable by their spear-like upper jaw and tall dorsal fin. Their upper bodies are dark blue-black on the top and silvery white on the lower part. They have rows of blue colored stripes made up of round spots or narrow bands. More than 30 marlins can be seen at any time by scuba divers, taking it in turns to burst in to a bait ball to pick off the sardines. Sometimes their hunting antics will see them leap clear out of the water.
But that is far from being all of the action! There is a huge a huge amount of pelagic action to witness here. Humpback whales, and the huge fin and rare sei whales visit to gorge themselves on the food bonanza. Orcas, wahoo, yellowfin tuna, mako sharks, bottlenose dolphins, and sea lions, all hunt and feed in the bait balls. Many marine birds, such frigates, cormorants, pelicans, albatross, and shearwaters dive bomb from the surface. There is really something quite special about being able to dive or snorkel with some of the top predators of the sea in action and in their element.
As for diving elsewhere at Magdalena Bay, there is a seamount with massive schools of fish, and at Santa Margarita there are various wrecks including the SS Westbank Park, a World War II merchant ship, and a 150 foot (45m) USS H1 Seawolf - a World War I submarine. After transiting the Panama Canal the submarine was moving up the west coast of Mexico, where she ran aground on a shoal off Magdalena Bay on 12 March 1920. 4 men died trying to reach shore. A rescue operation pulled the vessel off the rocks 12 days later, but the sub sank 45 minutes later in 50 ft (15m) of water. Also just off Santa Margarita lies the wreck of the passenger steam ship SS Independence. On 16 February 1853, with 359 passengers and 56 crew onboard, the Independence was on a voyage from San Juan del Sur to San Francisco when she struck a rock off the south point of the island. She began to fill with water immediately and set on flames when the boilers set it on fire. 117 passengers and 15 crew drowned or burned to death,. The survivors were taken off the island by whalers that were stationed in Magdalena Bay.
There is very little in the way of human development here and there only a couple of modest fishing villages to the north and a few smaller settlements. Freshwater is scarce. The bay is the largest wetland in Baja California and provides important habitat for some of most pristine and biologically important mangroves in the world. Here you can see heron, ibis, egret, osprey, frigate birds, and many other coastal birds. Magdalena Island has bald eagles, coyotes and some rare endemic plants. Santa Margarita holds the seasonal hatching of brown pelican chicks in springtime. In the middle of the bay itself, there is a sand bank called the Bird Island where hundreds of cormorants, ducks and pelicans rest. Caracara and turkey vultures are also a very common sight around the bay, perched on top of cardon cacti. The bay also has a very healthy population of sea turtles which are the target of an active local conservation group that aim to prevent poaching.
How to Dive Magdalena Bay
To dive here during the incredible Sardine Run, we offer 7 night cruises up the Pacific coastline of Mexico to Magdalena Bay. These specialist trips offer a mix of nature and wildlife, swimming and snorkeling, a few dives, and above all, exciting marine adventure!
It's also possible to dive at Magdalena Bay as a transit location on the Guadalupe Island - Socorro combo expeditions that operate at the start and end of the Guadalupe/Socorro diving seasons. These cruises are a magnificent experience but also at least 15 nights in duration.
The Magdalena Bay Diving Season
It's possible to visit this haven of nature and tranquility by land tour all year round. You will see plenty of turtles and schooling fish, and thousands of sea birds that live among the cacti and mangroves. But to dive here during the Mexican Sardine Run you will need to visit during October and November on one of the specialty expeditions that operate here. It's also possible to dive Magdalena Bay as a transit stop on the Guadalupe-Socorro combo cruises that operate in June and November. January through April is the peak time to see gray whales here.
The warmest month in terms of water temperature in the bay is September at 79F/26.5°C; the coldest months are March to May at 65F/18.5°C. Visibity is usually good and surface conditions are calm inside the bay but can be chopping on the open ocean during windy or storm periods.
There is always plenty of sunshine throughout the year at Magdalena Bay. The air temperature is warmest during the summer months of July to September at 90F/32°C. These months also represent the rainy season, with September being the wettest month. January is the coolest moth at 72F/22°C. For more details on the climate of Magdalena Bay visit the World Weather Online website

.

Where is Magdalena Bay and How Do I Get There?
The bay is 285 km north west of San Jose del Cabo, along the Baja California coastline. Review our map below of Mexico, showing the location of Baja California. Here, you will find information on how to get to San Jose del Cabo, rom where the liveaboard cruises depart to Magdalena Bay.
Reef Summary
Depth: 16 - 100 ft (5 - 30m)
Visibility: 50- 100 ft (15 - 30m)
Currents: Gentle in bay, can be strong in ocean
Surface conditions: Calm in bay but can be swells in open ocean
Water temperature: 66 - 84°F (19 - 29°C)
Experience level: Beginner ()snorkelling - advanced (scuba diving)
Number of dive sites: wherever bait balls form
Recommended length of stay: 1 week
Useful References