>
Dive Resorts
>
Malaysia
>
Sipadan Island
Sipadan Diving Packages
Best Dive Resort and Travel Information
Walls crammed with colourful life and activity, sharks, turtles and vast schools of fish such as barracuda and jacks, and all the while the possibility of seeing something really exciting such as hammerheads or thresher sharks; this is what scuba divers from across the world flock to Pulau Sipadan to see. What makes the island special is the density and variety of marine creatures in such a small location. [More information on these dive sites: Sipadan].
With dive sites so near to shore and a large choice of land-based accommodation on nearby Mabul Island, Sipadan is really a destination that favours diving from a resort. Many resorts offer unlimited house reef dives and there are always more fun non-diving activities too, so they are popular among couples and mixed groups of divers and non-divers. Some of the properties are beautiful stilted wooden structures built over the shallows, others are styled more like beach resorts. What they all have in common is that they offer good value-for-money diving packages and are close to Sipadan's amazing sites in one of the most bio-diverse regions on earth.
Sipadan is located on the island of Borneo in the Malaysia's eastern state of Sabah. Within Borneo's rainforests and beaches lie a host of exciting eco-tourist activities. You can climb Mount Kinabalu, the highest mountain in the region, visit the largest orang utan sanctuary in the world, as well dive some of the world's best wall, reef and macro-life locations.
Where to Stay at Sipadan
You can join other lucky divers at the unique destination of Sipadan and stay at a dive resort on a nearby island:
At the end of 2004, for conservation purposes, Sipadan Island was closed to tourist stays and the dive resorts based there had to find new homes. Nowadays in order to visit this tiny island, tourists stay on either of the nearby islands of Mabul or Kapalai, or on the more distant mainland of Sabah in the port town of Semporna. From Mabul Island and Kapalai, guests are taken the 25 to 30 minutes to dive at Sipadan. Both of these islands offer some exciting macro dives themselves with many unusual critters to discover, and they complement the spectacular main attraction of Sipadan very well. [More information on these dive sites: Mabul, Kapalai].
Since the island of Mabul is considerably larger and Pulau Sipadan is off limits for overnight stays, dive resort owners have been able to construct a much higher standard of accommodation, albeit within the constraints of a remote getaway. There is now a range of accommodation options available offering Sipadan dive packages, from backpacker rooms and simple, inexpensive beach chalets, to the more expensive and luxurious stilted water bungalows built out over clear, shallow waters in a style reminiscent of the Maldives. The resorts here allow you more space to explore the island; options that are absent if you visited here by liveaboard boat.
This is a gorgeous secluded property, built on stilts over water. It is an exclusive, one of a kind accommodation option. Only a thin strip of sand rises above the water at low tide. From Kapalai island, Pulau Sipadan is at 10 o'clock and Mabul at 2 o'clock, and this isolated sandbar enjoys a serene peace and calming tranquillity that can sometimes be missing from its better known neighbouring islands.
There are over 40 dive sites to explore so, whichever option you choose, diving packages of 1 week are ideal. However, if you are short of time then you can still have a great time with as little as just 3 nights stay. Packages normally include full board accommodation, diving (including unlimited unguided shore dives) and airport transfers. As of 1 October 2022, diving at Sipadan is restricted to advanced divers only.
It's also possible to visit these dive sites by liveaboard cruise, if you prefer.
Choose Your Own Accommodation
If you don't have time to stay at one of these resorts then diving day trips could be the only way to sample some of these awesome dive sites. Day tours operate from Semporna to Sipadan, Mabul, Kapalai and other sites in Tun Sakaran Marine Park.
If you plan on staying in Sabah either before or after your Sipadan resort diving vacation, you can find a wide range of accommodation choices at hotelscombined.com, our affiliated hotel reservation specialists:
All bookings will be backed up by their 'Low Price Guarantee' to ensure you get the best value for money.

The Climate and Best Time to Visit
The islands enjoy an equatorial climate, so the temperature generally varies between 28-34°C during the day and drops to about 22°C during the warm evenings. The region is generally unaffected by the monsoon seasons which affect other places in this part of South East Asia, although sporadic heavy rains can come down during the rainy season from December to March.
Being islands, Sipadan and Mabul have cooling sea breezes that make even the high humidity level of 85-95% quite pleasant.
The dive season is year round but the best conditions for diving at Sipadan are thought to be from April to December when surface conditions are normally calm. Any time is a good time here, but if you have the freedom to choose then April to December is the best time to plan a visit.
How to Get There
Kota Kinabalu is the main gateway to all of Sabah's diving destinations, including Sipadan. It has an international airport which has direct flights to and from Kuala Lumpur, Bangkok, Brisbane, Hong Kong, Tokyo, Seoul, Taipeh, Kaoshiung, Singapore, Philippines and Brunei.
Flights - Boat Transfer
The recommended flight from Kota Kinabalu to Tawau leaves at 7 am and arrives at 7:50 am, with Malaysia Airlines

. This is the flight most Sipadan dive resorts favour and guests will be collected here and driven for about 1 hour to Semporna, where a boat will transfer you the 45 minutes to your resort on Mabul Island or Kapalai. Your diving activities will start in the afternoon. Later flights are available but can cause problems with transfers and will almost certainly mean no diving on the first day.
There are direct flights from Kuala Lumpur to Tawau with Malaysian Airlines, Air Asia

and MYAirline

but these may mean a long wait for a pick up, or an overnight in Semporna and pick up from your hotel next day at 8 am. Check the airport transfer times on the resort's page on our website. You can stay at the Seafest Hotel or Dragon Inn in Semporna. Air Asia is free-seating and Malaysia Airlines is not. Both have emergency exit seats with acres of leg-room. For Air Asia you need to be at the front of the queue to secure one of these, although many are pre-book only.
Guests who will be flying within 24 hours after resort departure may be subject to diving restrictions at the end of their stay.
Flights back from Tawau are with Malaysia Airlines and Air Asia to Kota Kinabalu. If you do not wish to stay overnight in Kota Kinabalu, you can fly direct to Kuala Lumpur with Air Asia, Malaysian Airlines, or MYAirline.
Note - flight times are subject to change. Please refer to the airline web sites to check for changes and for booking information. We recommend that you consider taking out insurance to cover scuba packages and travel activities, including trip cancellation. See our insurance programme for a competitive quote:
Sightseeing and Things to Do at Sipadan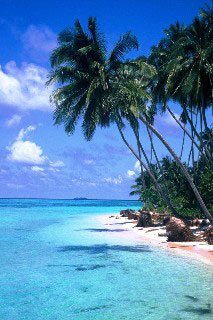 Sipadan Island is only 30 acres (12 hectares) in area and is covered by untouched rainforest. As it is not possible to stay on the island, the best sightseeing option is to enjoy the other attractions that nearby Borneo has to offer. As Pulau Sipadan is a protected area and a site of outstanding natural beauty, we urge you to behave responsibly when you visit, and make sure to control your buoyancy when diving.
Activities on Mabul Island often depend on which resort you choose to stay in. These can include snorkelling, sea kayaking, beach volleyball, as well as relaxing in the pool or Jacuzzi. The island is covered in palm trees and fringed with fine beaches. Villagers live next door to the resorts and guests are free to stroll around the island, mingling with the locals.
At Kapalai snorkelling around the shallows is a popular pastime but mostly guests concentrate on diving, eating, sunbathing, or just relaxing with a good book.
Additionally, an extraordinary number of exciting sightseeing options are available for you when visiting the province of Sabah in Borneo. Since these activities are either energy expending or of great natural interest (or both), the tourists here are normally environmentally aware and generally more interesting than you might meet in a place where 'foam parties' are the norm. Here's a comprehensive list of things to do in Sabah.
Restaurants and Entertainment
Being in fairly remote locations, Pulau Sipadan, Mabul and Kapalai do not offer anything in terms of nightlife and the diving resorts are fully inclusive in terms of catering arrangements. However, it is quite common for guests staying on Mabul Island to visit the other resorts and have a drink or two at their bars and chat to other holiday-makers. Some of the bars can get quite lively! When you get back on the mainland of Sabah will you be able to find pubs, clubs and restaurants.
Shopping experiences are very limited in the region so you'll just have to wait until you get back to Kota Kinabalu or Kuala Lumpur for this. However, the local village on Mabul has some small stalls selling simple toiletries, confectionery and a lot of items from the sea like shells, pieces of coral and other things that would be better left in the ocean.
Local Transport Options
All transport between the mainland, the dive resorts and Sipadan is provided in the dive packages. The islands of Mabul and Kapalai are both small enough to walk around.
On the mainland, you'll find that Sabah has a good road system (good for Borneo that is), especially between major hubs like Kota Kinabalu, Sandakan and Tawau.
Useful References for Pulau Sipadan Dive Packages

---
CUSTOMER TESTIMONIALS OF DIVE THE WORLD
... Just a quick note to thank for arranging the dive trip to Sipadan ... We had a great time and everything worked out well. No hitches, no glitches etc!!!! ... -- Ranthi Dev, India. [More customer reviews]