>
Dive Destinations
>
Saint Kitts
Your Guide to Scuba Diving in St Kitts
Dive the Caribbean Wrecks and Reefs
...Highlights: turtles, schooling fish & big pelagics...
...St Kitts' diving environment: healthy reefs, wrecks, beginner and advanced divers...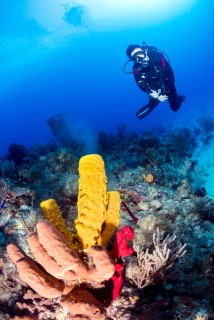 St Kitts is a small island in the West Indies, to the southeast of the Virgin Islands, which is often dived by Caribbean liveaboard in combination with the smaller, less populous island of Saba to its north. It has a population of over 40,000 with most Kittitians being of African descent. St Kitts combines with the nearby island of Nevis to form one country - the Federation of Saint Kitts and Nevis.
Like many of the islands in the region, St Kitts is volcanic with its highest peak being around 3,815 ft (1,156m). Its capital is the town of Basseterre which caters to the frequent arrival of cruise ships. Previouslly under British and French control, Saint Kitts is now affiliated with the Untied Kingdom.
The dive sites are a mix of wreck diving, walls, caves and pinnacles. Some days will see you dive several distinct types of site. What they would likely all have in common is excellent visibility. calm seas, little to no current, and very comfortable water temperatures. The sites are all relatively close to shore so there wont be long boat rides necessary. The reefs comprise many species of coral and hundreds of different species of reef fish. Turtles, sharks, rays and even dolphins and whales are found in the waters. These factors make St Kitts (and the nearby Saba) a great destination for divers of all experience levels. Even beginner divers can enjoy this little slice of Caribbean scuba diving heaven.
Dive Site Descriptions
All the diving you are likely to do will be on the leeward side of the island, not the west coast which is exposed to the Atlantic. Most dive sites are in the shelter of South Friar's Bay and off the coast from Basseterre, and further north in the shadow of Mt Liamuiga. More than 400 ships have sunk off the coast of St Kitts so you expect some easy and fascinating wreck dives. The marine life benefits from the St. Kitts and Nevis marine protected zone that extends out 2 miles from the coast. From the liveaboard departure point of Port Zante Marina, there are over a dozen dive sites mere minutes away. So it could not be easier for you to start exploring these pristine Caribbean reefs and the creatures that thrive here.
River Taw
This is a 144 ft (44m) freighter sunk in a hurricane in 1981 which has become the best known wreck around St Kitts. Sitting perfectly upright at a maximum depth of 50 ft (15m) it is great for experienced divers and novices alike. Turtles, stingrays, octopus, moray eels and porcupine fish are all commonly sighted. Broken in 2 parts by Hurricane Huge in 1989 the structure has become encrusted in coral and sponges. Other likely fish include large schools of yellow-tail snappers, glass-eyed snappers and angelfish. Photographers using macro lenses will be on the look out for subjects such as seahorses. Near the wreck, amid the sea grass, lies construction rubble and what is left of of a bulldozer and a van.
M.V. Corinthian
The Tug is both a wreck and a reef dive. The wreck part takes place on this still intact tugboat that rests on the sandy floor at a depth of 65 ft (20m). Not much is known about this boat's history other than it met its fate in 1995. Black coral trees grow from the structure while many reef fish swim in and around the wreck. Looks out for garden eels, clams and stingrays in the sand. Next to the wreck is a reef with a depth of less than 40 ft (12m) with a small wall bedecked in small sponges and corals.
Anchors Aweigh
A misspelled but much-loved St Kitts dive site. The sea bed is peppered with anchors abandoned by ships that had to make a hasty exit under cannon fire from the fortress on nearby Brimstone Hill. The fortress is a UNESCO World Heritage Site known as the Gibraltar of the Caribbean. On the sea floor here there are a series of coral fingers and sandy channels. Some of the anchors are embedded in the reef and have been so colonized by encrusting sponges, tube sponges and corals that they are not easy to identify. Among the creatures to spot are frogfish, pike blennies, pufferfish, mackerel and jacks.
Paradise Reef
This is a site in Old Road Bay, a little up the coast from the town of Basseterre. The excellent visibility and healthy corals on this reef and mini wall make it a great site for divers of all levels, although the maximum depth of 40m is explored only by those with a little more experience. As with other sites there are anchors on the sea bed since many battles were fought here, particularly between the French and English. Turtles, lobsters, include great barracuda, angelfish and pike blennies are among the creatures to spot.
Camps Reef
This place takes its name from the nearby Camps parish and is a colorful, creviced volcanic reef with sandy channels. This shallow reef is between the depths of 40 and 70 ft (12 and 21m). The most memorable part of this dive may the the hydrothermal vent where you can warm your hands, like an underwater camp fire. You can poke around the recesses and ledges of the reef on the hunt for lobsters, crabs, and porcupinefish. The sandy channels can be occupied by resting stingrays and nurse sharks.
There are a number of other great dive sites around St Kitts. M.V. Talata is a broken up wreck of a freighter that sits in pieces along a shallow 60 ft (15m) reef. Speckled morays abound as do creole fish, trumpetfish and sergeant majors. Brimstone Shallows is one of the furthest dive sites from shore you may dive and features a wall with occasional grey reef sharks but common barracuda and turtles. You access the wall by finning along a sandy channel with little coral walls either side. Coconut Tree Rocks features a proliferation of small groupers, grunts and snapper. The dive begins on the flat and then slopes away to greater depths. Horse-eye jacks, blue runners, creole wrasse, nurse sharks and schooling barracuda are among the marine life commonly visible. Monkey Shoals is en route to the island of Nevis and can be visited when the seas are calm. This coral atoll has multiple dive sites which promise excellent visibility and some large numbers of fish. As a shallow reef you can clock up the minute here monkeying around.
How to Dive St Kitts
The diving spots around the island can easily be visited tiogether with the impressive dive sites of nearby Saba as part of a 7-night Caribbean liveaboard expedition.
The St. Kitts Diving Season
You can dive here all year round but the most popular time is during the winter and spring from December to May. The maximum water temperature is 84F/29°C in September and October and the minimum is 79F/26°C from January to March . 3 mm shorties are advised, or a 3 or 5 mm full length for those that feel cold easily. Visibility is pretty consistent at 60-100 ft/18-30m. Currents are gentle but there are some exposed sites with mild to moderate currents.
The weather is very consistent throughout the whole year. The summer months of June to October are the warmest with average temperatures of 88F/31°C; while January and February are coolest at 82F/28°C. It does rain throughout the year but the winter is dry and the summer relatively wet, especially around September. Hurricane season is from June to November. Although 2 hurricanes hit the island in 2017, there have only been 8 during the past 30 years. The "Christmas Winds" of November and December have very little effect in the Leeward Islands. For more details on the climate in St Kitts, visit the Weather Atlas

.

Where is Saint Kitts and How Do I Get There?
Review our map below showing St Kitts' location in the world.
St. Kitts is a small island in the Leeward Islands chain. It is just 30 km/18 miles long and is one half of the Federation of Saint Kitts and Nevis. The Virgin Islands lie to the northwest, Montserrat, Antigua and Barbados to the southeast; the Atlantic Ocean runs along the eastern shores and the Caribbean Sea laps the west coast. Our liveaboard safaris that visit here operate a weekly cruise between Sint Maarten and Saint Kitts (and then returns the following week).
If your scuba diving trip begins in St Kitts, you will need to fly in to Robert Llewellyn Bradshaw International Airport (SKB), Basseterre. There are direct flights from USA, Canada, UK, continental Europe, and several Caribbean nations with American Airlines, Delta, United, Air Canada, British Airways, Virgin Atlantic, Air France, Condor, Liat, Seaborne, and Trans Anguilla. Your trip will terminate in St Maarten so you will need to fly out of Princess Juliana International Airport (SXM), Philipsburg. There are scheduled flights to Paris and Amsterdam with Air France and KLM, and to the USA with American Airlines, Delta, and Jet Blue. If your cruise begins in St Maarten, you will need to arrange your flights in reverse.
Saint Maarten is a constituent country of the Kingdom of the Netherlands. You will need to comply with the entry requirements for both St Kitts and Nevis

and St Maarten

to join these trips.
Reef Summary
Depth: 16 - >130 ft (5 - 40m)
Visibility: 60 - 100 ft (18 - 30m)
Currents: Gentle
Surface conditions: Generally calm
Water temperature: 79 - 84°F (26 - 29°C)
Experience level: Beginners to intermediate
Number of dive sites: ˜30
Recommended length of stay: 7 days
Useful References


---
CUSTOMER TESTIMONIALS OF DIVE THE WORLD
... Reservation and payments to Dive The World was smooth and quick. Feedback and confirmation on my reservation received on time. The web site provides good variety of available boats, so everybody can select something for their budget. ... -- Krzysztof Czekalowski, Poland. [More customer reviews]