>
Dive Destinations
>
Mexico
Your Guide to Scuba Diving in Mexico
The Pacific Coast and Caribbean Sea
...Highlights: whale sharks, hammerhead sharks, great white sharks, shark action, dolphins, whales, manta rays, schooling fish & big pelagics, non diving activities...
...Mexico's diving environment: walls, drift dives, cage diving, advanced divers, off the beaten track...
Long considered a fascinating tourist haven, in recent years Mexico has become increasingly recognized as a world-class dive destination. When you consider the breathtaking waters of the Pacific coast and the delightful beaches, islands and bays of the Caribbean Sea, one can only wonder at the underwater riches that lie beneath.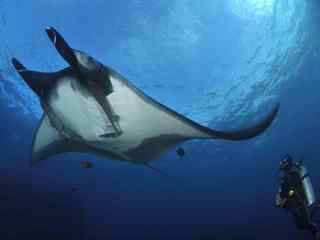 Mexico offers all manner of scuba diving, from entry-level dives off sandy beaches, the awe-inspiring caves of the Cenotes, to great white shark and whale encounters in the Pacific. This popular vacation country really does have an embarrassment of riches.
With the USA to the north and Guatemala and Belize to the southeast, Mexico spans a huge area with many diverse land and seascapes. South of the U.S. state of California, stretches the long finger of Baja California from where scuba divers can access the Sea of Cortez and the Socorro Islands. It is this part of Mexico where you will find all the liveaboard operators. The east coast is lapped by the azure waters of the Gulf of Mexico and the Caribbean Sea, where the Yucatan Peninsula and islands such as Cozumel and Isla Mujeres create a celebratory holiday atmosphere, both above and below the surface. Here the diving is resort-based.
Mexico is also a country rich in history and culture and you can immerse yourself in the historical world of the great Mayan culture by visiting Mayan ruins and visiting some of the wonderful museum displays from this era. Trekking, kayaking and beach bar-hopping are among the other popular pursuits among visitors to this exceptional destination.
The Highlights
The choice is clear: If you are interested in the exciting open ocean dives then a liveaboard cruise in the Pacific is the choice for you. For land-based diving and those with an eye on other tourist activities, look to the Caribbean Sea.
Mexico's Pacific Coast
So where do you want to go? Read more on these top Mexican dive spots:
The 'Revillagigedos' comprise an archipelago some 250 miles (400 km) from Cabo San Lucas, at the tip of the Baja peninsula. Socorro is famed for experiences with huge manta rays, sharks and humpback whales. With such breathtaking encounters with big animals in impressive numbers, it is understandable why Socorro has been called "The Galapagos of Mexico".
Show more
Socorro Island itself is home to some excellent dive sites including Cabo Pearce, a site particularly known for its dolphin activity. Unlike elsewhere in this area where you may hear dolphins and get a fleeting glance of them swimming past, here they hang around! Amazingly, playful pods of curious dolphins are not the highlight of this dive - hammerheads are as they hove into view in huge numbers while you perch in the rocky slope. Silky sharks, manta rays and humpback whales are seen here with some regularity.

Punta Tosca on the island's west coast is another dive site which delivers much of what makes Socorro the best scuba diving in Mexico. Dolphins, Galapagos sharks silvertips and humpback whales are not uncommon here, but this is also a good place to spot tiger sharks, and to keep your eye on them lest they get too close!

Roca O'Neal is among the very best places to dive with hammerheads in all of Mexico, hence the alternative name "Hammerhead Central". They gather here in phenomenal numbers and it is a great place to see them up close. When you have had your fill of these magnificent sharks, you can enjoy some less imposing marine life on the plateau including schools of smaller colorful reef fish and lobsters lurking in quiet crevices.
This is a volcanic island 165 miles (260 km) west of Baja California and is a mecca for great white shark cage diving. Guadalupe's shark population is said to be one of the most prolific on earth. From August through October you can join liveaboard trips here and fulfill all your great white dreams.
Show more
There are no specific, named dive sites around Guadalupe since the underwater encounters here are all about the great whites, viewed from the safety of your cage. Guadalupe is generally believed to offer just about the best great white cage diving experience on earth. Here at this breeding site for Guadalupe fur seals, the water is clear, there is a large and thriving population and experienced boat operators. Surface cages use air hoses while scuba tanks are used on the submersible cages. Imagine your friends' faces when you show them the pictures you took when cage diving Mexico!
This is the thin stretch of water lying between the Baja California peninsula to the west and the Mexican mainland to the east, and it is bursting with biological riches. Vast schools of hammerhead sharks, colonies of sea lions and even gray whales are common here in this aquarium-like marine haven.
Show more
Cabo Pulmo, Angel Island and El Lavadero are among the dive sites you can visit when diving the Sea of Cortez. In addition to the varied, big-name shark species and cetaceans, this stretch of water also promises creatures as diverse as the giant jawfish, horn sharks, jewel moray eels and Pacific seahorses. Furthermore, it is here you can experience unbelievably huge schools of mobula rays between May and July.
This remote region on the Pacific coast of Baja California Sur is gaining a reputation as the best place in the world for watching California gray whales. But this natural wonderland is also home to the Mexican Sardine Run, the second larget such event in the world. The vast aggregations of sardines are corralled and preyed upon by striped marlin, mako sharks, sea lions, dolphins, orcas, and a whole host of different whale species. The icing on the cake of this awesome extravaganza are the thousands of sea birds that dive bomb in to the ocean to pick off the stunned fish.
Mexico's Caribbean Sea
Cozumel
The 'Island of Swallows' is blessed with a diversity of reefs, caves, caverns and tunnels. The reef forms part of the Great Maya Barrier Reef, the world's second largest reef system. The diving here is characterized by gin-clear water and innumerable tropical fish species as well as sea turtles, nurse sharks and eagle rays.
The Yucatan Peninsula
This is a popular section of the Mexican mainland which is home to the turtle playground that is Playa del Carmen, sitting just across the water from Cozumel. From here or from the nearby, and very lively, Cancun you can dive the other delights of Mexico's Caribbean Sea. Cancun has some notable wrecks to explore, bull shark diving, spectacular visibility and some extraordinary night dives. Isla Mujeres lies just to the north of the peninsula and boasts a number of great shallow sites.
The Cenotes
These structures are known the world over and are in many ways the unique jewel in the Mexico diving crown. The Yucatan Peninsula is in fact a plateau beneath which runs a system of underwater caves, some of which collapsed into sinkholes. You can now experience the wonder of descending into a cenote hole in the jungle floor and drifting past huge eerie columns and silent, ancient stalactites.
How to Dive Mexico
Choosing where to dive here is like coming to a fork in the road. One sign is for people for whom diving is the sole focus. If you want to go on a Mexico liveaboard safari and experience awe-inspiring encounters with mega-fauna and "dive, eat, sleep" then turn right and head to the Pacific Coast. For more information on the cruise options and all the travel information you might need to visit, see our Mexican liveaboard section.
It is fair to say that the Pacific Coast tends to attract more experienced scuba divers for whom the open sea, currents and choppy conditions, cooler water and rocky outcrops, are all part of the fun. Liveaboard spaces are limited so we recommend you book many months in advance of your travel dates to avoid disappointment: Guadalupe, Sea of Cortez, Socorro.
If you are a less devoted diver and other activities are also important to you, then the other sign might be meant for you. Turn left for the Mexican Caribbean where there is an incredible diversity of dive sites, great visibility and lot of Caribbean island charm. The diving is awesome here too, but a different kind of awesome. Expect dive resorts, crystal clear water, colorful reefs, steep wall, caves and caverns. Outdoor activities abound here too, including historical sites and some lively apres-dive beach bars.
If you feel like you want to turn both left and right, then simply extend your vacation and make Mexico the diving trip of a lifetime!
The Mexican Diving Season
Mexico is a year round vacation destination although different seasons apply to different locations within the country. For more details on the climate, visit the Wikipedia website

.
Socorro's peak time is mostly between November and May when calm seas determine the liveaboard season. Socorro water temperatures range from 82°F (28°C) in November, to as low as 69°F (21°C) in February, and then back to 77°F (25°C) by May. Whale sharks are most commonly sighted in the first month or two of the season. The winter months bring over a thousand humpback whales to the area to breed and calve. Manta rays can be seen all year round. Visibility variation is less seasonal and more associated with plankton blooms which occur frequently, especially around full moon, and bring in the big fish.
The Guadalupe dive season is from August through October and colder temperatures of 66 to 72°F (19-22°C) are to be expected. The Sea of Cortez liveaboard season runs from August through November which is the warmest period. Conditions can vary a great deal here throughout the year, but during liveaboard season the water temperatures hover around the 81°F (27°C) mark. September and October are the best times for sighting hammerhead sharks in the Sea of Cortez. The Mexican Sardine Run is most likely to occur in October and November at Magdalena Bay, and the best time to see gray whales there is January to April.
The air and water temperatures of the Caribbean Sea make this region of Mexico "year round". Visibility, always good in Cozumel and the Yucatan Peninsula, is at its best in August or September. Temperatures of 77 to 84°F (25-29°C) and underwater encounters are also consistent throughout the year. December through March is considered peak season for scuba diving. The Cenotes are also year round with the best light effects visible from May through September.

Where is Mexico and How Do I Get There?
Review our map below of Mexico and its location in the world. Here, you will find information on how to get to Mexico.
Reef Summary
Depth: 16 - >130ft (5 - >40m)
Visibility: 82 - 197ft (25 - 60m)
Currents: Can be strong in the Pacific, usually mild in the Caribbean
Surface conditions: Mostly calm but can be choppy further from shore
Water temperature: 66 - 84°F (19 - 29°C)
Experience level: Intermediate - advanced (Pacific), beginner - advanced (Caribbean)
Number of dive sites: >120
Recommended length of stay: 2 - 3 weeks
Useful References


---
CUSTOMER TESTIMONIALS OF DIVE THE WORLD
... The booking with Dive The World have been OK in general, and surely I will repeat with you for future trips. I have recommended you to my diver friends (almost every one of them) ... -- Miguel Alberto Elorza Pardo, Spain. [More customer reviews]