Now is the time to dive into the PADI Open Water Diver course, the most popular scuba programme in the world! This is your ticket to a lifetime of intense adventure with PADI, the training association that sets the standards in the global diving community.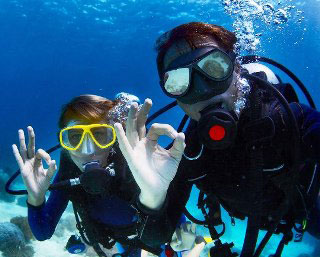 You will earn the PADI Open Water Diver certification that is recognised worldwide. You earn this license by completing 5 sessions in a diving pool or confined water, 5 knowledge development sessions, and by making 4 open water dives.
Throughout this dive certification programme, you'll learn the fundamentals of scuba diving, including equipment and techniques. Virtually anyone who's in good health, reasonably fit, and comfortable in the water can earn the Open Water Diver qualification. At some point during your course, your PADI Instructor will ask you to demonstrate the ability to swim 200 metres.
The PADI Open Water Diver license is a permanent scuba qualification, and as a certified diver you have the freedom to dive with a buddy independent of a professional. However, if you do not dive for over 12 months and you are a relatively an inexperienced diver, then we recommend you complete a refresher programme, such as the PADI Scuba Review. This can take as little as 1 hour of your time in the dive pool and gives you the chance to refresh those skills you may have forgotten. That way, when you do dive again you can relax and enjoy your dives, and be sure that you won't have any nasty surprises in store.
If you already tried a PADI Discover Scuba Diving experience programme or are Scuba Diver certified, you may get credit from these courses to the Open Water programme. Your underwater adventure can begin as soon as today with the new PADI Open Water Diver Video! You can view this at your own pace and then meet with one of our instructors for further assistance. Learning options include group or private instruction.
So what are you waiting for? Your only regret is likely to be that you didn't learn to dive even earlier!
Course Details
Number of Dives: 4 or 5
Duration: 3 or 4 days
Price: Courses price list
Note: as part of the training, you will learn that you need to allow 18 hours to pass before flying after diving!
Location: This programme is available at our 5 Star Dive Centre in Phuket; as well as Phi Phi Islands, Krabi, Koh Tao and Koh Samui in Thailand; Cairns' Great Barrier Reef in Australia; Ambergris Caye in Belize; Hurghada, Sharm El Sheikh and Marsa Alam in Egypt; and Taveuni and Viti Levu in Fiji; Bali, Manado and Raja Ampat in Indonesia; Mabul and Kota Kinabalu in Malaysia; and North Male and Raa Atoll in the Maldives .


CUSTOMER TESTIMONIALS OF DIVE THE WORLD
... Great! Our instructor was very helpful and to the point. He took the time for repetition I needed help and didn't linger on the sections I already understood ... Yes, extremely friendly and helpful ... The service was great ... -- Katrina Hamel, Norway. [More customer reviews]