>
Dive Destinations
>
Saba
Your Guide to Scuba Diving in Saba
Dive the Unspoiled Queen of the Caribbean
...Highlights: shark action, whales, turtles, great macro life/ marine diversity, schooling fish & big pelagics...
...Saba's diving environment: healthy reefs, beginner and advanced divers, off the beaten track...
Saba is a tiny Caribbean island, essentially the top of a volcano named Mount Scenery. At 2,910 ft (887m) it is the highest point of the Kingdom of the Netherlands! Part of the West Indies, Saba lies to the south-east of Puerto Rico and the Virgin Islands. With a mere 5 square miles (13 sq km) and a population of less than 2000, it is the least populated territory in the Americas. There is much more going on in the water than on land and you can explore it all on a liveaboard tour.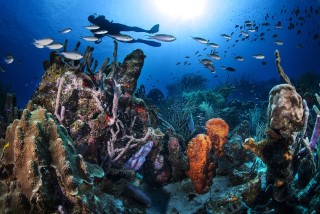 The island's volcanic nature gives rise to an interesting and diverse structural topography. There are deep water pinnacles, drop-offs, sloping reefs, shallow coral nurseries, lava labyrinths and excellent muck dive sites. Coral-encrusted boulders abound, as do chimney and barrel sponges, and gorgonian fans. There are also areas of pristine elkhorn coral. The Saba Marine Park was created in 1987 to protect and preserve this unique range of habitats. There are restrictions on fishing and anchorage plus extensive rules and regulations to which divers must adhere. There are some 30 Saba dive sites, all of which are near to shore so there are no long boat rides necessary.
As for the marine life, there is excellent fish variety, with some 400 species having been recorded. First mention should go to the large number of ubiquitous Nassau grouper. Larger fish include great barracuda, tarpon and wahoo, plus common species like snapper, angelfish and parrotfish, plus green and hawksbill turtles. Smaller schooling fish include surgeonfish, blue tangs and chromis. Smaller bottom dwellers include garden eels, flying gurnards, Saba lobster, frogfish, conch and lizardfish. If your luck is in, the big creatures that could appear include whale sharks, manta rays, eagle rays and hammerhead sharks! Humpback whales are present during the winter months. You may observe them from the liveaboard as they breach, or hear their song during your dives!
Dive Site Descriptions
The Pinnacles
Saba is renowned to scuba divers for its pinnacles and seamounts located close to shore around which marine life abounds. Rising dramatically from the abyss to within around 85 feet (26m) of the surface, these pillars are covered in sponges and gorgonians and encircled by pelagics and dense schools of fish.
Show more
Third Encounter is the best known pinnacle and with good reason. Whether your dive plan concentrates only on the plateau or you fin out to "The Eye of the Needle" you can expect to dive with multiple shark species: Caribbean reef sharks, black tips and nurse sharks are the most frequently sighted, but hammerheads, bull sharks, tiger sharks and whale sharks have all be reported by some lucky divers. Manta rays and even humpback whales have been known to put in a rare appearance. More reliable presences are yellowtail snapper, creolefish, creole wrasse and Nassau grouper. Since the pinnacles top out around 90 feet (28m), this is a relatively deep dive with a short bottom time but one that lives long in the memory.

Twilight Zone is another quite deep dive which features a number of shallow peaks at around 80 ft (24m) where you can look out for Caribbean reef sharks, tiger and yellowfin groupers. This is a site that is often dived at night. There are sandy patches here where you can often find nurse sharks resting on the floor. Look around the nooks and crannies for myriad crustaceans, as well as nudibranchs and sea slugs.

Shark Shoals is one of the leading dive spots in Saba and another pretty deep dive. There is 1 pinnacle at 90 feet (27m) and some outcrops at around 120 ft (37m). The color here is provided by the sessile life such as large barrel sponges and many tube sponges creating splashes of yellow and pink. Mahi-mahi, trevally, triggerfish and turtles are common sightings. Sharks include Caribbean reef sharks, nurse sharks and whitetips, with also the promise of a passing hammerhead.

Green Island, Man O' War Shoals and Diamond Rock are additional Saba sites that can be classed as pinnacles. They are shallower than the bigger names, so at least here you can extend your bottom time. Since there is no clock ticking, you can explore all around the reef and sandy sea bed which is as shallow as 70 ft (21m). The dark volcanic sand is where you can hunt around for the kind of crazy critters you may have only seen in fish ID books, but never in real life, including sand tilefish and flying gurnards.
Ladder Bay
Named after the original steps by which people used to step ashore, this is an area where the flow of lava has created a labyrinthine topography. There is a rocky shoreline, giving way to a sea bed of spur and groove formations, and an area of seagrass beds where turtles and an array of small and juvenile creatures shelter. This combination makes Ladder Bay a great place to dive, both during the day and a night.
Show more
Babylon is a shallow site ranging from around 45 ft (14m) to 100 ft (30m). 'Overhanging gardens' may have been in the mind of whoever bestowed this site its name. This will become clear as you inspect the many overhangs sheltering glassy sweeper and fan corals. Sharks, turtles, trevally and moray eels are common creatures to encounter. An unforgettable feature of Saba is the volcanic sand that is warm to the touch. Babylon is a great place to experience it. Feeling the earth's heat while diving is quite the sensation!

Customs House is named after the abandoned structure that sits on the cliff edge overlooking Ladder Bay. Evidence of old trading vessels is present in the form of coral encrusted anchors littering the sea floor. However, roughtail stingrays are more likely to be the focus of your dive here. In fact this site is home to a cleaning station for them so several individuals may be present and being tended to. Fields of garden eels will rise and fall as you retreat and advance towards them. As the sloping reef gets deeper the benthic life increase in size and frequency with sponges, gorgonians and black coral trees in the foreground and passing sharks in the background.

Ladder Labyrinth is home to innumerable crustacea for whom the ridges, nooks and channels of this lava flow provide an idea habitat. All manner of lobsters, crabs and shrimp scuttle around the recesses of this section of the sea floor. There is also a lot of sandy channels here which are equally peppered with life forms, including yellowhead jawfish in their burrows and lancer dragonets, while filefish and schoolmasters flit around in the water column. While this may be a site for photographers to dive with their macro lenses, larger fish like tarpon and trevally may also come into view.

Hot Springs is a bizarre site that actually features warm water vents bearing testimony to Saba's volcanic nature. It is a popular night dive, featuring octopus, sharks, shrimp, crabs, flying gurnards. Another crazy highlight is the minuscule crustaceans whose explosive mating creates bio-luminescence in the water to the thrill of any onlookers! Such comical naughty activity is no surprise around Saba whose capital is named "The Bottom". Porites Point features barrel sponges, tube sponges and various dorms of hard corrals, and gets its name from the proliferation of porites coral on the reef. Burrfish, peacock flounders and tigertail sea cucumbers are among the less usual species present. Rays 'n' Anchors is the name of a dive site where you can see rays... and anchors.
Fort Bay Harbor
There are a couple of fantastic dive sites close to Fort Bay, Saba's only real harbor: Tent Reef Deep and Muck Dive.
Show more
Tent Reef Deep is a popular site to dive in the daytime or as a night dive and spans only a relatively small area. The site features a swim-though decorated with yellow cup corals and where you should look out for spiny lobsters. At night keep an eye out for octopus and manytoothed conger (Conger triporiceps). You may notice you are being flanked by resident dog snappers (Lutjanus jocu) using your flashlight beam to snap up some tasty evening treats. This site can also be dived as a drift dive when conditions are right. Cruising over the sandy reef top, you may see stingrays, garden eels and little schools of razorfish.

Muck Dive is a site very close to the harbor and lying in a depth range of 40 ft (12m) to 70 ft (21m). All manner or weird a wonderful creatures can be found on this shallow site. The cast list includes 'A-listers' like the shortnose batfish (Ogcocephalus nasutus) walking along the sandy floor. This is always a favorite among the photographers in the group. Also be alert for sightings of razorfish, squat lobsters, flounders, queen conches, and the characterful pike blenny.
South and East Coast
These windward dive sites are less frequently visited since they are more exposed to adverse Atlantic conditions. However, when suitable to dive here they promise excellent visibility, resilient hard corals, and different marine species from the more visited leeward sites.
Show more
These coastlines include Big Rock Market, Giles Quarter, Greer Gut, David's Dropoff and Hole in the Corner. Typically, dive sites in this area feature coral-encrusted boulders, hardy patches of elkhorn corals, and reefs dotted with mushroom-shaped star corals, their bases eroding by boring clams and sponges. Around the big rocks of the shallows you may be able to spot the quite uncommon but distinctive high hat (Equetus acuminatus). Other creatures worthy of note on this side of the island are mahogany snappers, scaly-tailed mantis shrimp, and wire (whip) coral playing host to delightful little wire coral shrimp.
How to Dive Saba
The spots here can easily be explored tiogether with the equally impressive and nearby St. Kitts dive sites as part of a one week Caribbean liveaboard safari.
The Saba Diving Season
You can dive here all year round but the most popular time to visit is during the dry period of December through May. Sea temperatures peak at 84F/29°C in September and October and a low of 79F/26°C from January to March . A 3 mm full length wetsuit is the preferred exposure suit Visibility is best during the winter months at 80-150 ft/25-45m, and can drop to 80-150 ft/18-30m in the summer. Currents are usually gentle but there can be moderate currents at the sea mounts along the west coast. There can be swells around Saba during rains but they usually pass pretty quickly and leave a calm sea. The "Christmas Winds" of November and December can cause some swells, but the island is less effected by the phenomena than other Caribbean islands. Whales can often be heard underwater and seen breaching during the winter.
The Caribbean climate is remarkably consistent year-round. The summer months of June to October are the warmest with average temperatures of 88F/31°C; while the winter months of December to March are only slightly cooler at 84F/29°C. It does rain throughout the year but the winter is relatively dry and the summer wet. Humidity can be high in the summer too, but trade winds help to cool the island. Hurricane season runs from June to November. Although there were 2 hurricanes in 2107, there have only been 8 in the past 30 years. For more details on the climate in Saba, visit the Weather2Travel website

.
All dives in this part of the Caribbean are made from the liveaboard (not a tender). Currents are generally mild and you can expect very good visibility in both locations.

Where is Saba and How Do I Get There?
Review our map below showing Saba's location in the world.
At just 13 sq km and with a population of just 2,000, Saba is a very small Caribbean island and a special municipality of the Netherlands. The island is in the northern Leeward Islands and lies to the southeast of the Virgin Islands and quite close to Bonaire. Our liveaboard tours that visit here operate a weekly cruise between St Maarten and St. Kitts and Nevis (and then returns the following week).
If your trip begins in St Maarten, you will need to fly in to Princess Juliana International Airport (SXM), Philipsburg. There are direct flights with Air France and KLM from Paris and Amsterdam, and with Delta, Jet Blue and American Airlines from the USA. Your trip will terminate in St. Kitts so you will need to fly out of Robert Llewellyn Bradshaw International Airport (SKB), Basseterre. There are scheduled flights to the USA, Canada, UK, continental Europe, and several Caribbean nations with American Airlines, Delta, United, Air Canada, British Airways, Virgin Atlantic, Condor, Air France, Liat, Trans Anguilla, and Seaborne. If your trip begins in St. Kitts, you will need to arrange your flights in reverse.
Sint Maarten is a constituent country of the Kingdom of the Netherlands; St. Kitts is one half of the Federation of Saint Kitts and Nevis. You will need to meet the entry requirements for both St Maarten

and St Kitts and Nevis

.
Reef Summary
Depth: 16 - >130 ft (5 - >40m)
Visibility: 60 - 150 ft (18 - 45m)
Currents: Gentle to moderate
Surface conditions: Generally calm but can be swells in rainy season
Water temperature: 79 - 84°F (26 - 29°C)
Experience level: Beginners to intermediate
Number of dive sites: 30
Recommended length of stay: 7 days
Useful References


---
CUSTOMER TESTIMONIALS OF DIVE THE WORLD
... Staff were very professional, well organized and informative. The operation is smoothly run with very few glitches and the staff were extremely friendly. ... -- Alicia Wilkinson, Canada. [More customer reviews]