>
Liveaboards
>
Bahamas
Bahamas Liveaboards
Best Dive Tour Options and Travel Information
A picturesque archipelago, bathed in some of the clearest water on the planet and located just off the coast of Florida, the Bahamas is an ideal liveaboard diving getaway that offers a mix of international service and Caribbean charm.
The country has earned itself a reputation as the shark capital of the Caribbean, where sites such as Tiger Beach and at Bimini can bring you as close as possible to some of the largest predators in the sea – tiger sharks and great hammerhead sharks. But to think that the Bahamas is all about sharks would be to miss out on some of the most stunning scuba diving in the area. The Exuma Cays Land and Sea Park and Eleuthera have some of the richest reefs in the Caribbean that are home to large schools of jacks and barracuda, as well as a many smaller species such as jawfish and gobies. The area is one of incredible beauty, with a seemingly endless chain of white or pink powder beaches and alluring turquoise waters that are ideal for liveaboard cruises. You will find blue holes, wrecks, walls … it's a veritable underwater playground for lucky divers that visit.
The Bahamas is also well known as a center for adventure. Almost every warm water-based activity imaginable is here, plus some eco-tourism opportunities. You can base yourself at a first class hotel or all-inclusive resort in Freeport or Nassau, or choose for a remote island getaway on one of the hundreds of outer cays.
Liveaboard Diving Cruise Options in the Bahamas
The Bahamas is comprised of 700 islands with the best dive sites spread over 100,000 square miles of ocean. This means that a liveaboard cruise is the best option to explore this mesmerizing country:
This route in the central region of the Bahamas is the most popular option. The Exuma Cays Land and Sea Park is one of the world's most successful marine parks. The crystal-clear tropical Atlantic pours over the deep cuts between the cays and constantly shifting sand bars. Waters are thick with coral reefs that are alive with every ocean creature imaginable, from angelfish and butterflyfish, to the charismatic food-chain toppers like grouper and barracuda, right down to the tiniest living invertebrates.
Highlights include the Lost Blue Hole, with resident nurse sharks, blacknose sharks, and its lobster-filled crevices, the Austin Smith Wreck and Blacktip Wall at Exumas, where blacktip reef sharks are sighted. Longer expeditions also visit Cave Rock at Eleuthera for the chance to dive with Caribbean reef sharks. [More details on these dive sites: Eleuthera, • Exuma Cays, Nassau].
Liveaboard trips are 6 or 7 nights in duration, with longer 10 night trips visiting Eleuthera. This route is suitable to certified divers of all experience levels and cruises run all year round.
This route in the north of the Bahamas is the place to be for the ultimate liveaboard shark action. The world famous Tiger Beach is located in Grand Bahama, and this is where you can encounter its eponymous tiger sharks, as well as great hammerheads, lemon sharks and Caribbean reef sharks. At Bahama Banks, you can get in the water with pods of Atlantic spotted and bottlenose dolphins. [More details on these dive sites: Grand Bahama , Tiger Beach].
Some liveaboard safaris take in the less visited sites of Bimini, located on the edge of an oceanic trench, where you can dive on wrecks with sting rays and turtles, as well as a spot to meet bull sharks and great hammerheads. [More details on these dive sites: Bimini].
Tours of Grand Bahama are 7 or 10 nights long. Liveaboard cruises to Grand Bahama and Bimini are also for 7 or 10 nights. There are also some 14 night charters that include the Exumas and the Berry Islands where you might see whales. This route is open all year round and is best suited for experienced divers who are not going to get spooked by large predators.

Key Bahamian Travel Facts
The Climate and Best Time to Visit
The warmest months in the Bahamas are the summer months of July and August at 90°F/32°C. The cooler winter months of January and February can drop to 78°F/25.5°C. June to October are the wettest months, with the north experiencing twice as much rain as the south. The hurricane season is June to November.
The seas are warm throughout the year. The warmest water temperatures (85°F/30°C) occur from June to September. This is also the period with the calmest seas and the best visibility, although the visibility is good year round. The winter water temperatures are comfortable but can drop to 77°F/25°C in November.
Although a year round destination for divers, there are some seasonal marine creatures in the Bahamas. May to July is the best time to see tiger sharks at Tiger Beach. March to June is best for oceanic whitetip sharks. May is the most reliable month for fish action and coral spawning.
Liveaboard Ports of Departure in Bahamas and How to Get There
The Commonwealth of The Bahamas comprises around 2,500 cays and 700 islands (30 of which are uninhabited). The closest point of the islands to the USA lies around 56 miles (90 km) off the coast of Florida. New Providence Island is home to the capital, Nassau, connected by bridge to Paradise Island.
There are 3 ports used for liveaboard dive cruises in the Bahamas, depending on which boat and which route you choose:
Elizabeth on Bay Marina in downtown Nassau and Nassau Harbour Club Marina on East Bay Street are a short fixed-fare taxi ride from Nassau's Lynden Pindling International Airport (NAS). Airports such as Miami, Fort Lauderdale and Atlanta are the principal US gateways. There are many direct flights from other US and international cities. Airlines that fly to Nassau include American Airlines, Air Tran, Bahamas Air, British Airways, Delta, Jet Blue, Spirit, United, US Airways. Return flights from Nassau to the USA are considered domestic flights, making the onward journey easier as you can make "domestic" not "international" connections.
Old Bahama Bay Resort, Old Bahama Bay and Lighthouse Pointe Hotel, Grand Lucayan Resort are a 30-45 minute taxi ride from Grand Bahama International Airport (FPO) in Freeport, Bahamas' second largest city. There are direct flights from Atlanta (Delta), Ft. Lauderdale (Bahamas Air), and Miami (American Airlines).
Due to local airport transport regulations, the liveaboard operators do not provide boat transfers. We recommend you take out insurance to cover diving and travel activities, including trip cancellation. See our insurance programme for a competitive quotation:
Tourist Visas
USA citizens are generally required to present a valid USA passport when traveling to The Bahamas, as well as proof of anticipated departure. Canadians can stay for up to 8 months without a visa. Latin Americans can stay for up to 3 months without a visa provided that thy have an onward travel ticket and proof of hotel reservation. There is also a visa waiver program in place for citizens of the Schengen community and the UK that allow stays of up to 90 days. You can check all the latest entry requirements on the Official Site of the Bahamas

.
Places to Stay
If you plan on staying in the Bahamas before or after your liveaboard diving safari, you can find a huge range of accommodation options at hotelscombined.com, our affiliated hotel reservation specialists. Browse their website then use your credit card to make a booking:
All reservations carry a 'Lowest Price Guarantee' to ensure you get the value for money.
Visitor Health
In an emergency dial 911 or 919 and ask for an ambulance. Medical treatment is of a very good standard in the Bahamas but can be expensive. Emergency medical facilities are limited on all the Family Islands and serious cases are transferred to Nassau or Freeport. Make sure you take out adequate health insurance and accessible funds to cover the cost of any medical treatment.
Bahamas is a relatively safe place to visit for tourists in terms of the risks associated with diseases. The major health risk here is not tropical disease, but rather the risk of food poisoning or diarrhoea form ingesting a bad piece of shellfish, exotic fruit, or too many rum punches. Tap water is treated and safe to drink. It is however, a risk area for zika virus and dengue fever (throughout the whole year). The rate of HIV is also high among Bahamians. Health concerns that you can obtain vaccines for include: rabies (in bats), typhoid, hepatitis A and B, measles.
You should check the latest health advice at least 8 weeks before travel.
Tourist Security and Safety
Nassau is the capital city of the Bahamas and where 70% of the population live. It does have a relatively high crime rate. There are pickpockets in downtown Nassau and ATM scams. At night you should be particularly cautious in the suburb of Over The Hill. Avoid unlicensed taxis. Outside of New Providence and Nassau, there is little to be concerned about - unofficial jetski operators and a few underhand tricks from tour guides are the worst you are likely to experience.
The Bahamas experienced its worst hurricane in recorded history in 2019. Officially the hurricane season is from June and November, and you might want to avoid August to October, if possible. Mosquito-borne illnesses such as dengue fever and chikungunya virus are more prevalent in wet weather too.
The Bahamas is a relatively conservative country so act modestly to avoid difficult situation and unwanted attention.
Useful Tips for Tourists
Sightseeing, Activities and Adventure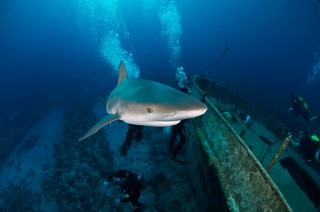 The Bahamas is a popular island nation and a popular vacation destination, especially for North Americans. Much of what the country offers in terms of tourism has been developed with this in mind.
Since the country has a sizeable wealthy expat population it should come as no surprise that boating is extremely popular. Whether you're planning a quick getaway to Bimini, or a cruise along the island chains of the Abacos or the Exumas, the luxury yachting options in the Bahamas will not disappoint. But there is a plethora of other water based activities such as kayaking, surfing, snorkeling, paddle boarding, kite boarding, parasailing and water skiing
If you prefer to enjoy the sea at a more sedate pace, there is a range of fantastic beaches… truly the Bahamas have more than their fair share of gorgeous beaches. Cabbage Beach in the nation's capital is one of the most famous. Here you can enjoy many water sports or attend one of the private beach clubs. Treasure Cay Beach in the Abacos is said to be one of the very best in the whole of the Caribbean. Eleuthera is home to several gorgeous pink sand beaches, including the appropriately-named Pink Sands Beach. The Exumas is a great place to go beach hopping, with Stocking Island having many picture-perfect stretches of sand. Cat Island, Great Harbour Cay… the list is a long one.
There are national parks and areas of aesthetic beauty which include a sea turtle research facility and a 250-acre wetland area that is home to more than 100 birds species. There are several 'blue holes' at Long Island and at Andros, and the Lucayan National Park in Grand Bahama has one of the world's longest underwater cave systems.
There are golf courses, spas, casinos; all the usual facilities you would expect of a popular tourist destination. For details on what to do and see, visit the: The Islands of the Bahamas

website.
Bahamian Time Zones
The Bahamas lie in the Eastern Standard Time (EST): -5 hrs GMT. However, like most states in the USA, daylight-saving is observed between March and November, where the time is shifted forward by 1 hour to -4 hrs GMT.
Electricity
The standard voltage in the country is 120V / 60 Hz AC. Electrical sockets are normally 2 flat prongs, as in North America, or 2 flat prongs with an extra round grounding prong. This is the type that the liveaboard boats have too. There are power outages, especially in the remote islands. It's a good idea to bring your an adapter if required.
Communications
The internet has improved in service and cost in recent years and is now widely available. You will generally find a bar or restaurant that has free password-protected wifi. You can buy a BTC, Aliv or MyIslandWifi SIM card. Some of these have unlimited usage package plans. Note that there will be no coverage on mobile plans in the more remote regions of the islands.
To make an international telephone call, the international dialing exit code (to make a call from Bahamas) is 011, and the country code is 242 (to make a call to Bahamas).
There are post office branches located throughout the country. They are open Monday through Friday from 9 am to 5 pm. and Saturday from 9 am to 12:30 pm. The post office also offers Express Mail Service (EMS).
Codes of Behaviour
The total population of the Bahamas is around 400,000 and most live on the island of New Providence. The culture is a mixture of African, combined with some British and USA influences. The country is deeply religious – Christian – yet the locals manage to remain easy-going and hospitable. English is the official language, the literacy rate exceeds 90%, and there has been a rapid growth in post-graduates and the professional class.
Tipping and bargaining in Bahamas
Tips are not mandatory in Bahamas but they are expected. Bellboys and porters usually receive $1 per luggage bag, while most other servers (waiters, taxis, etc.) receive 15%. Note that many upmarket hotels and restaurants will include a 15% gratuity automatically (whatever happened to "pay what you thought of the service"?).
Bargaining is not typical in the Bahamas, however price negotiation is the norm in Nassau's Straw Market and when shopping on Grand Bahama.
Best Clothing to Wear
The Bahamas is just 45 miles off the coast of Florida, and the weather and clothing style are very similar. There are a considerable number retired expats in the islands that prefer to wear tennis shoes, polo shirts and cargo pants, but for the majority of the locals, brightly colored flip-flops, cut-off jeans and T-shirts are de rigueur. Topless sunbathing is illegal, although skimpy bikinis are no problem. Go figure.
Officialdom
Bahamas ranks very low in the world corruption rankings. This means that there is little corruption when compared to other countries, although its rank has worsened in recent years. The police have been earning a growing reputation for abuse and misconduct, but only among locals, not towards tourists.
Useful References for Liveaboard Charters in Bahamas


---
CUSTOMER TESTIMONIALS OF DIVE THE WORLD
... The Dive The World website is very convenient. All the process was very suitable and comfortable (thank you, Vic!) The best part was the discount 10% and the full description of liveaboard ... -- Vladimir Krasnobaev, Russia. [More customer reviews]