>
Dive Destinations
>
Bahamas
>
Nassau
Your Guide to Diving in Nassau
Wrecks, Walls and Blue Holes of New Providence
...Highlights: shark action, dolphins, turtles, schooling fish & big pelagics...
...Nassau's diving environment: wrecks, wall dives, healthy reefs, caverns, beginner & advanced divers, very popular...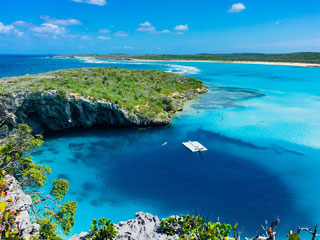 Nassau, the capital of the Bahamas on the island of New Providence, is among the world's most popular diving destinations, and not only because it is easily accessible from the USA. It also has many world class dive sites dotted all around the island but the majority are located all along the west and southwest coastlines.
There are dramatic walls and healthy coral reefs with abundant marine life such as turtles (loggerhead and green) and stingrays. Of course you will see plenty of the eponymous and native Nassau grouper, as well as other larger species such as black grouper. There is an ever-growing number of wrecks, including historical ships, boats that were deliberately sunk as artificial reefs, and vessels and aeroplanes that were used in the sets of various Hollywood movies such as James Bond, Jaws, 20,000 Leagues Under the Sea, Into The Blue. The clear and warm waters of the Bahamas make this a popular choice for film crews. In fact Nassau has earned itself the title of "Underwater Film Capital" of the world.
Then there is a gorgeous blue hole, and thrilling shark dives, with Caribbean reef sharks and silky sharks being common visitors. Near-endangered blacknose sharks can also be seen in large numbers at the right time of year. Little wonder then, that thousands of liveaboard divers visit here every year and have now made Nassau the dive destination for divers from the USA.
Dive Site Descriptions
Bahama Mama
This wreck has been one of the most popular wreck dives in Nassau for many years. Bahama Mama operated in Nassau as 95 ft (29m) long party cruise boat. It was sunk in January 1995 in order to create an artificial reef and as a scuba attraction, and lies on sand at a depth of 50 ft (15m). The easily accessible wheelhouse is often used for fun photo shots of posing divers. Over the years, the hull as gradually become a part of the underwater terrain and is now inhabited by many juvenile fish and moray eels. The nearby reef is full of life and a large number of reef sharks frequently pass by.
Cessna Wreck
Also known as Nari-Nari, this site is the location of the Cessna plane which was purposefully crash landed for the movie Jaws IV (The Revenge). The airplane was a small Cessna 310 that crashed into the sea close to shore by a stunt pilot. She is now marked by a buoy and sitting close to Clifton Wall in 60 ft (18m) of water, making it a popular site for less experienced divers.
Advanced divers can head out to sea for 30 metres (100 ft) or so to find the top of the wall at 65 ft (20m). Drop down on to the wall to find lots of grey reef sharks cruising past, and schooling fish such as jacks and snappers. Beware of the currents on the wall as they can run up and down, as well as left and right, making it potentially hazardous for unwary divers that could get caught out in a "low on air" or decompression emergency situation.
James Bond Wrecks
Off the southwestern coast of the island are the wreck sites that were used in the filming of several James Bond movies. The oldest wreck used was the RAF Vulcan bomber in the Thunderball movie of 1965 starring Sean Connery. Then there is the Tears of Allah shipwreck from the 1983 film Never Say Never Again. This was the 100 ft (30m) freighter that Connery used to escape from a tiger shark attack in his final Bond movie. If you're a Bond fan, then diving here will take you right back to the time when you watched the movies on screen. The wrecks lie next to each other in a depth of 40 ft (12m), ideal lighting conditions for film and photography. Both wrecks now have coral coverage, sponges, plume worms, an impressive amount of fish life, and can be enjoyed by divers of all levels.
The Lost Blue Hole
It's hard to imagine a more beautiful setting than at this signature dive site of the Bahamas. This distinctive sapphire blue crater is located close to shore at the foot of some cliffs. It is 100 ft (30m) wide and 200 ft (60m) deep, with the perimeter rim, packed with hard corals, starting at a depth of 40 ft (12m). Unlike most other blue holes, this marvel attracts all manner of sea life. Show more
The coral structures in the shallows are home to jawfish, gobies, blennies, and tobacco fish. Schooling fish present here include goatfish, snappers and sweetlips. You can also find nurse sharks and rays resting here, and often turtles swim by, or feed and rest here. As you descend inside the hole you will find marine species that use the crevices in the wall for shelter, such as lobsters and soldierfish. Then as you descend even further during the spring and summer months, you can spot blacknose sharks that congregate to mate here in large schools at the bottom.

Although the deeper sections of the Lost Blue Hole are only suitable for advanced divers, the shallows are great to explore for more novice divers too. This spot is often the favourite of all divers that visit Nassau.
Periwinkle Reef
This Nassau dive site, off the east coast of New Providence Island, is a kaleidoscope of color at shallow depth (maximum of 25 ft / 8m) with great visibility reaching up to 80 ft (25m), and mild current, making it the perfect beginners dive or last dive of the day. Here you will find a beautiful underwater garden, thickly covered with violet corals, sea fans and sponges, creating homes for a variety of fish. Along with many juveniles and moral eels taking shelter in the corals, you can also expect to have the opportunity to dive with parrotfish, sting rays, amberjacks, sergeant majors and reef sharks, while large schools of yellow goatfish and angelfish swim by.
The reef attracts fish of all sizes and varieties that gather here to eat. Some adhere to the food chain while others have taken a liking to the food offered by the Nassau boat operators.
Ray of Hope
This 200 ft (60m) long ship was a cargo ship that was built in Germany but operating in nearby Haiti. It was acquired under partnership of the Bahamas government and Stuart's Cove for the express purpose of creating a new artificial reef to replace the aging Bahama Mama wreck. The boat was sunk upright on 7 July 2003 directly behind Bahama Mama with its stern at 60 ft (18m) and its bow resting at 40 ft (12m). Its cargo holds, cabins and passageways can all be explored by qualified divers. It is the 16th wreck within recreational depths in Nassau.
The site is a sandy area on the edge of the wall of the Tongue-of-the-Ocean, a huge deep water trench. This makes the location attractive to sharks and pelagic fish, and the wreck makes a superb backdrop for wide angle photography. It is also quite close to shore and therefore sheltered from the worst of any inclement weather conditions.
Runway Wall
Also known as Stuart's Cove Sharks Arena is famous for one thing only – Caribbean reef sharks. Runway Wall is the most popular shark feed dive in the Bahamas and this shark species is very common in these waters. At a depth of just 40 ft (12m) scuba divers of all levels can enjoy this spectacular Nassau diving adventure.
It's quite exhilarating to witness dozens of good-sized reef sharks in an excited feeding frenzy. This awesome experience is usually a 2-tank affair. The first dive is to watch as the sharks gather in increasing numbers. Their expectation of food is shown in their increased speed at which they buzz around the area. The second dive is the actual baited dive, when divers sit or kneel on the sand and watch the amazing spectacle.
How to Dive Nassau
Nassau is the capital city of the Bahamas and is located on the northeast coast of New Providence Island. 270,000 people live there which equates to roughly 70% of the entire population of the country. New Providence's central location and Nassau's good international flight connections make it the starting point for many liveaboard cruises in the southern, central and eastern regions of the Bahamas.
Cruise routes that include Nassau in their itinerary are 6-10 nights 'Nassau, Exumas & Eleuthera' trips, 7-10 nights 'Grand Bahama and Nassau' safaris, and 14 night 'The Bahamas' expeditions that visit many of the top dive destinations of the country – Grand Bahama, Bimini, Berry Islands, Andros, Cat Island, Abaco, the Exumas, Eleuthera, and Nassau. All of these tours depart from Nassau. The airport code for Nassau International Airport is NAS, and there are direct flights from London (UK), Panama, several Caribbean countries, as well as from a large number of cities in the USA and southern Canada.
For more information on all the travel information you might need to visit Nassau and New Providence, check out our Bahamas liveaboard section.
The Nassau Diving Season
The water temperature peaks at 85°F / 29°C in August and a low of 75°F / 24°C in February in March. Visibility is great throughout the year at 70-100 ft / 20-30m, but it can be much higher. Surface conditions are usually calm but there can be swell in the rainy season and especially during hurricanes. Nassau is a popular diving destination all year round.
The air temperature is highest at New Providence in July and August at 90°F / 32°C, and lowest in January and February at 77°F / 25°C. The summer months from June to September can be extremely humid. The rainy season coincides with summer and is from to October, with September being the wettest. For more details on the climate, visit the The Weather Spark website

.
If you want to see the blacknose sharks at the Lost Blue Hole then you should plan your visit between May and early August.

Where is Nassau and How Do I Get There?
Review our map below showing the location of Bahamas in the world. Here, you will find information on how to get to Nassau in New Providence,to embark on your liveaboard.
Reef Summary
Depth: 5 - >40m
Visibility: 20 - 30m
Currents: Gentle - strong
Surface conditions: Usually calm, some swells in rainy season
Water temperature: 75 - 85°F (24 - 29°C)
Experience level: Beginner - advanced
Number of dive sites: >40
Access: Liveaboard only
Recommended length of stay: 1 - 2 weeks
Useful References