>
Dive Resorts
>
Indonesia
>
Sulawesi
Lembeh Strait and Bunaken Diving Packages
Best Dive Manado Resort and Travel Information
The sprawling fingers of Sulawesi give this island over 6,000 km of coastline, against which laps warm water rich in marine life. The dramatic topography continues offshore, with abyssal trenches and sheer drop-offs right up against the shoreline. Once you've dived here - usually at a dive resort on Bunaken Island or in the Lembeh Strait - you will understand the enthusiasm of frequent visitors, many of who claim that there is nowhere else on earth that offers such diverse and exciting underwater experiences.
Given the enormous number and variety of dive sites so near to the shore, Sulawesi is quite possibly one of the best resort diving destinations in the world. There is a huge choice of highly affordable accommodations to stay in and only a few liveaboards.
Just to the east of Manado is the magical muck dive wonderland of the Lembeh Strait, with its seemingly endless promises of discovery of rare and unusual critters. If you've ever watched a National Geographic documentary on some strange underwater creature and wondered where it was filmed, well the chances are high that it was filmed here!
The world-famous island of Bunaken, off the north east tip of Sulawesi, is often quoted among the world's top 10 dive destinations and is a mecca for scuba divers of all levels. Here, strong currents bring nutrient-rich water from the ocean depths close to shore, creating one of the most beautiful coral environments in the world. Very few places in the world offer such biodiversity and that means there is something for everyone; it is the stuff of photographers' dreams.
Indonesia is a volcanic country and this area seems to sport more than its fair share. The nutrient-rich land that volcanoes produce is evidenced by the lush verdant hillsides and the stunning quantities of fresh fruit and vegetables in the local cuisine. Most tourists come to Lembeh and Manado for the scuba diving packages, but for those who fancy a few days off or something a little different during their vacation, there is plenty to do to experience this intriguing part of the country.
Where to Stay in North Sulawesi
With 2 quite distinct world-class resort destinations sitting on its doorstep, North Sulawesi will keep most ardent scuba divers happy. You can explore the waters around this celebrated island from the comfort of one of our selected dive resorts. The highlights depend on what you're interested in. Bunaken offers schools of fish and healthy coral walls:
Whereas the Lembeh Strait is the world's capital for muck diving par excellence and there is literally nowhere better for bizarre critters:
To dive in the Bunaken National Marine Park means being surrounded by marine bio-diversity that is the envy of the world - with more varieties of coral than anywhere else. There are 50 or so dive sites in the park, mostly offering healthy walls, schools of reef fish and pelagics, plus there are also some very good macro sites, making the area a unique destination. [More information on these dive sites: Bunaken Island].
You can either stay in Manado on the mainland, or on Bunaken island itself. Dive resorts around Manado have more land to use and access to infrastucture and therefore tend to be larger and more luxurious than those on Bunaken. From the mainland you may have longer boat journeys but normally better facilities and a professionally run resort. Accommodations on the island have less space and therefore tend to be smaller and either more simple in the flashpacker sense, or boutique and with a family atmosphere.
Few places are really the best in the world for anything but Lembeh really is the planet's best spot for muck diving. No more than a few breaths go by between one bizarre and exhilarating sight and the next. If you've tired of night dives, then try one in the Lembeh Strait - they are simply fantastic. Forget great visibility, healthy reefs and a brightly coloured seabed, this place is for those who want to marvel at innumerable, incredible critters against a dark, volcanic sand background. [More information on these dive sites: Lembeh Strait].
The dive resorts are located along the mainland coastline (near the port town of Bitung) and the island of Lembeh on the opposite side of the strait. You can chose from a range of diving packages - from small and simple, to more glamorous luxury where some of the accommodations can be quite large and feature facilities such as swimming pools. It is such a small area that the 50+ dive sites are likely to be no more than 10 minutes boat ride from your chosen place to stay.
Of course you can opt to visit either of these destinations, but the ultimate North Sulawesi scuba diving resort holiday would involve a combination of these 2 very distinct experiences since the beautiful coral walls of Bunaken complement the amazing muck diving in Lembeh. Stays of 5+ days are ideal for one location or 8-10 days to visit both destinations. Sulawesi dive packages normally include full board accommodation, diving and airport transfers.
Choose Your Own Accommodation
For those that prefer to find their own accommodation, we also offer daily diving trips from Manado to Lembeh, Bunaken and Bangka. It's also possible to visit these destinations on a liveaboard tour, if you prefer.
If you plan on staying in Sulawesi either before or after your Manado resort diving vacation, you can find a variety of diver-friendly accommodations at hotelscombined.com, our affiliated hotel reservation specialists:
Whatever option you go for, it will be backed up with their 'Low Price Guarantee' to ensure you get top-dollar value for money.

The Climate and Best Time to Visit
North Sulawesi enjoys an equatorial climate, which means it's sunny all year round. There are only 2 seasons - the wet season and the dry season.
The wet season usually falls between November and February and is characterised by intermittent downpours during largely sunny periods. Often the rain does not last long and dries up seemingly instantly. During this period, the Celebes Sea's surface becomes choppier. The usual temperature range is from 23°C to 31°C, on very hot days it may rise up to 33°C. It is cooler in the mountainous regions. The weather is more changeable from December to March but very rarely would the time of year interfere with the Manado diving schedule.
You should be aware that during the peak season months of July and August, Bunaken Island gets very busy. Many dive resorts will not be able to accept walk-ins during high season since they are fully booked and you must try to book several months in advance. It is also worth noting that although the diving is good during peak season, at this time warm water brings more plankton and reduces visibility.
We recommend March to early November for the best conditions for scuba diving packages in Bunaken, avoiding the busy peak season if possible. Furthermore your chances of cetacean (whales and dolphins) spotting are best around July and August. Visibility and ater temperatures don't vary much from month to month, at 27-30°C.
The Lembeh Strait is good for visit all year round. Water temperatures hit a high of 29°C at year end, and a low of 25°C in July; visibility variations are not such an issue here. Many say July has the greatest number of critters, but a keen-eyed scuba diver will find all the main critter attractions here at any time of the year.
How to Get There
Manado is in the far north east of the island and is the main city of the North Sulawesi. It is the point of entry for most visitors, particularly those who are resort diving in Bunaken and the Lembeh Strait. The backdrop to this small city is row upon row of rising green peaks and it sits facing the volcanic island of Manado Tua, Bunaken and Siladen islands.
Sam Ratulangi International Airport in Manado has a regular international flight service to/from Singapore with Silk Air

. The flight schedule is:
Monday, Wednesday, Friday and Saturday - SIN-MDC MI274 Dep 09.25 - Arr 13.05, MDC-SIN MI273 Dep 13.50 - Arr 17.15
There are also flights from Jakarta and Bali with domestic airlines, including Lion Air/Wings Air

, Garuda

and Air Asia

. You should be able to book direct online with them and pay with your debit/credit card. If you experience problems, please ask us for help.
To dive at Bunaken you will stay in a diving resort around Manado (land transfer of up to 30 minutes) or on the island of Bunaken itself, a 45 minute boat ride from the city. The Lembeh dive resorts located on the mainland are around 1 hour by road from Manado. Those based on Lembeh island itself involve an additional short boat transfer of between 5 and 15 minutes.
We recommend you consider insurance to cover diving and travel, including trip cancellation. See our insurance programme for a competitive quote:
Sightseeing and Things to Do in Sulawesi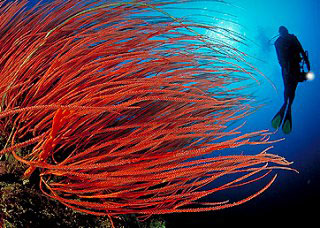 Manado's Provincial Museum includes an interesting display of traditional costumes and modes of transport like the bendi (a small horse trap) which is still in use in many places. There are ceramics from China, Japan and Europe, as well as an impressive display of weaponry.
There are several inland tours available including those to volcanic peaks, local markets and natural hot springs. One interesting spot is Bukit Kasih or the "Mountain of Love". It has been likened to a miniature version of the Great Wall of China. At the top of the climb you can fall to your knees and beseech your god in any of the several places of worship you can find there: a Catholic and a Protestant church, a Mosque, a Buddhist temple and a Hindu temple.
One of the many reasons to visit the Tangkoko National Park forest is to seek out the delightful sight of a tarsier clinging to a branch in a wide-eyed glare. The 12 cm species is endemic to Sulawesi and make great photographic subjects. The Tangkoko park is located very close to the Lembeh Strait.
If you can see past the blandness of the new retail blocks being erected on the reclaimed land on the seafront of Manado city centre, the city does harbour a few buildings of interest. There is some interesting Chinese architecture to be found with temples and traditional shops dotted in and around the markets area, most notably the 19th century Ban Hin Kiong temple. This is the oldest temple in east Indonesia and is the worship place of Buddhist believers and can be found on Jalan Panjaitan in the city centre.
Manado itself is not famed for its beaches. There are some pleasant quiet spots on the shore for those who wish to seek them out but as the regional capital, the shores of the city itself are not really meant for tourists. The Manado dive resorts, a short drive from the city centre, are built on the shoreline of black volcanic sand where, whether by the pool or on the beach, you will be able to relax, swim and enjoy your latest read.
Additionally, there are a number of sightseeing options available in other parts of the island. Here's a list of things to do in Sulawesi.
Restaurants and Entertainment
If you have only a few days in the city of Manado, you are unlikely to find too much by way of entertainment. Your best bet is to tag along with any locals you may have met who work in the resorts and who know where to go. Otherwise you may have a great old time crooning in one of the many karaoke bars or drinking dens where the locals let down their hair.
The waterfront has seafood restaurants and stalls galore, offering intrepid visitors a taste of Minahasan cuisine. Some like it hot and, if you are one of them, check out the Ikan Tude, a traditional fish recipe which will blow you away. Hot dogs here mean just that. Barbecued pooches are not uncommon fare in the market. Bats, rats and various other stomach churners are neatly laid out for your perusal. You're on vacation, just help yourself!
The main stores in Manado offer plenty of well priced original brand name products such as Calvin Klein, Ralph Lauren, Polo and Pierre Cardin. Interestingly, many tourists pick up a few items of eye care products in some of the many shops selling a wide range of contact lenses, lens care products, and a great range of frames, including all the major brands.
Throughout the city you can find natural wood carvings and weavings in Minahasan style including savage-looking men replete with a shock of horse hair. Traditional tribal penis gourds could make an interesting present for the folks back home. They are elongated cone shapes, sharpened to a fine point so you need to be handled carefully or you might just feel a bit of a prick.
Local Transport Options
Mikrolets abound here and are cheap as chips but can be fumy, uncomfortable and loud. Several of them throb to tha' latest gangsta trip at several decibels above pleasant. Many tourists prefer to jump in a standard cab where you should be sure to insist on the meter running from the off, otherwise they will triple the price in their heads.
Useful References for North Sulawesi Dive Packages


---
CUSTOMER TESTIMONIALS OF DIVE THE WORLD
... We had a great time diving in both Bunaken and Lembeh. Thank you so much for making our holiday wonderful! Pip [Dive The World sales staff] was very responsive in getting us the information we requested and booking our entire trip for us. Communication was very clear and came quickly, allowing us to make informed decisions regarding our trip ... -- Nancy Nehring, USA. [More customer reviews]