>
Dive Trip Reports
>
Living Colours Resort
Scuba Diving Trip in Bunaken
Living Colours - a Divers Resort
Click on an image to enlarge

The steep walls of Bunaken Island are home to such a wide array of sea creatures that sometimes you wish you had eyes in the back of your head. And so it was that on a recent trip to Living Colours Diving Resort I struck upon the perfect solution for diving at Bunaken.
First of all, locate a buddy with good eyesight. Then decide which one of you is going to be on macro duty and which one on pelagic duty. Once each dive begins, one of you will fix their face to the wall, scouring the colourful ledges and overhangs of corals and sponges for such creatures as pontohi pygmy seahorses, elegant squat lobsters, whip coral shrimps, slipper lobsters, decorator crabs, fantail pipefish and yellow leaffish.
The other buddy turns their back to the wall and peers out into the blue or down into the deep channels for dogtooth tuna, jacks, reef sharks, eagle rays, Napoleon wrasse, schools of bumphead parrotfish and mangrove snappers. Make sure you've both got tank bangers or some other signalling device to alert your partner of a good sighting. This is about the only chance you'll have of being able to see all that Bunaken scuba diving has to offer.
Not many places in the world are able offer up such spectacular marine encounters with all creatures great and small, but Bunaken is one such place that can …
Diving around Bunaken Island
Living Colours has a comprehensive dive centre located down at the water's edge. There is an equipment and drying room with camera table, compressor room, classroom, and maintenance room. The resort runs 3 dive boats, and so with a maximum of only 22 resort guests, they can easily handle all levels of diver experience.
As is standard for most resorts in the area, Living Colours runs a 2-tank morning dive trip after breakfast (08:30 hrs), and a further 1-tank boat trip after lunch (15:00 hrs). What's not standard is that they regularly visit all of the islands within the Bunaken National Park and no surcharge is necessary. Daily night dives can also be arranged on arrival. These are very good since the house reef is Bunaken Timur - known as one of the best dive sites at Bunaken for shallow reef health. They also visit the muck sites across at the mainland near Manado, included in the package prices. They will also arrange boat tours to Bangka Island too, though this one does incur an additional cost due its extra distance.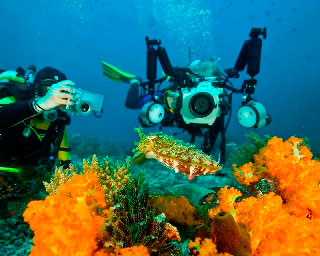 During my visit (September) we dived all around Bunaken Island and visited Montehage Island and the Manado mainland too. One of the best Bunaken dive sites that we visited was Sachiko's Point, where we saw tuna, 3 types of trevally (giant, bigeye and bluefin), 2 great barracuda stalking their prey, a couple of sharks, some huge Napoleon wrasse, and thousands upon thousands of redtooth triggerfish. Celah Celah was also a memorable dive with the depths patrolled by black tip and white tip reef sharks and the ledges attracting nudibranchs, crocodilefish and some big green turtles, one of which had decided to sprawl itself out on top of a large table coral as if it were sunbathing.
Dugongs, those "sirens of the sea" are resident in the area though less frequently seen. However, if you are keen to see a dugong for yourself then Living Colours might be your ideal choice. The mangrove forest in front of the resort is one of the favourite feeding grounds for these large herbivorous and distant cousins of the elephant. Full Moon and New Moon at high tide are supposed to be the best times to catch sight of them, so bring a mask & snorkel, an underwater camera and some waterproof sun cream, and spend some time searching in the shallows.
Visibility was good at 15-30 metres, water temperatures were 28-30°C, and air temperatures in the shade hovered between 30-34°C, day and night. For the most part, blue skies and calm seas provided superb dive conditions. This is the norm at Bunaken - only the months of January to March see rains and choppy seas.
• Watch our Bunaken diving video
The boats are simple 12 metre local wooden boats, used by most of the dive resorts in the area. The boats are powered by Suzuki 40 HP triple engines and equipped with a tank racks, egress ladder, 2 boat crew, a toilet, a first aid kit, drinking water and fruit. Some have an onboard toilet. Emergency oxygen kits are always carried onboard, which is good to see considering that most other resorts here do not carry them.
The local guides are expert at finding creatures and one is provided for every 4 scuba divers. They also do a great job of taking care of your dive gear too. Once you've checked your equipment in or sorted out your rental needs, that's really the last time you need worry about it - loading, unloading and rinsing is all taken care of in a very proficient manner.
One last point to note, Bunaken is plagued by a litter problem, with rubbish being washed ashore from the city of Manado. The severity of the problem varies upon the season and the winds. Living Colours suffers from this eyesore just like most of the other resorts do here. Litter is easily trapped by the mangrove forests and you are bound to notice this as you make the 5-10 minutes walk to the boats each morning. The local diving association is doing all it can to rectify and improve matters.
The Resort
Living Colours Diving Resort was opened in 2002 by a couple of Finnish divers who fell in love with Bunaken whilst on vacation and decided to stay. It is a small laid back resort, situated in the mangrove forests and on a hillside on the east coast of Bunaken Island. There is no beach here but the hillside does offer great seaviews from the bungalows and the dive sites are all handily only a few minutes away.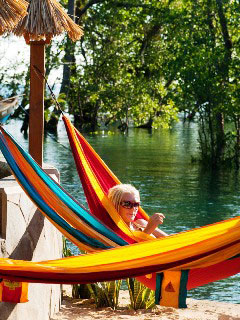 The resort enjoys an excellent reputation among the popular online travel forums and travel guides. Confirmation of this can be found by the resort's occupancy rate at about 90% all year round. Living Colours is popular with western and northern Europeans in particular, and also with guests that appreciate a resort that is owned and run by divers that are passionate about their destination.
With a maximum of only 22 guests, the resort management has a flexible attitude to accommodating guest needs and service levels are good, whether it's in the restaurant or in the scuba centre.
After your diving day is complete, you can indulge in a massage, manicure or pedicure, whilst lounging in the gazebo atop the hillside, absorbing the splendid views. A free 15 minute 'Jetlag Massage' is offered to all guests on arrival (even if you only arrived from a resort next door as I did :)). If liquid refreshment is more your thing then you can enjoy a drink or two down at the Safety Stop Bar at the water's edge. The Indonesian staff are known for their frequent impromptu live music sessions after dark.
The Rooms
The resort has just 10 stand-alone bungalows made from local materials, set in a lawn area on top of a small hillside, overlooking the sea on the eastern mangrove shores of Bunaken Island.
Each bungalow has a large deck, equipped with power sockets, a hammock, sun lounger and chairs, for lazing away your rest time. The bungalows have pleasant views over the sea, so this is a great chance to get stuck into an interesting novel or log-on to the resort wi-fi internet (only 10 Euros per stay).
The interiors of the bungalows themselves are basic. You can expect a double bed or twin beds, hot water shower, a small plain wardrobe, a stand-mounted fan, mosquito net, mirror, a few windows ... that's it; nothing glamorous. I preferred to spend my vacation time relaxing outside on the deck.
The family room is, however, of a much higher quality. It is much brighter and more spacious, and has 2 bedrooms - one with a double bed and the other with 2 twin beds. It has a indoor reception area, with dressing table, all the windows have mosquito nets, and the property is made from polished wood throughout.
The Food
Dining is definitely one of the major plusses at the Living Colours Diving Resort. The chef was recruited from one of the top hotels in Manado and his culinary expertise clearly shows - you can taste the difference. Having stayed in many dive resorts in my time as a scuba travel writer, I can attest that the food served at Living Colours is one of the best I've experienced.
Breakfast is served between 7-9:00 am. Lunch takes place after the second dive of the day at around 1:00 pm, and dinner is served at 7:15 pm.
Breakfast is Continental - ham, eggs, cheese slices, omelettes, pancakes or waffles, hot cereals, toast, fruit, juice, and tea & coffee. Lunch and dinner are usually 5 or 6 varied dishes of fish, meat, vegetables, tempeh, rice, and Dabu Dabu (a local dish of diced salad with chilli), followed by fresh fruit. Meals are Indonesian, Asian or European cuisine. Some guest favourites include Labu Santan (a local Manadonese pumpkin curry), Tuna Asap Dengan Mayonnaise Pedas (smoked tuna with chilli mayonaise) and Ayam Santan (chicken curry).
Drinking water, tea & coffee are available throughout the day. Vegetarians and vegans are well catered for by way of tofu and tempeh dishes with an Indonesian twist.
Manado - Getting There
Indonesian airlines now offer online reservations for domestic flights so now you can book and pay for your connecting flights to Manado from Jakarta or Bali on the internet. Carry some US dollars or local Indonesian currency to pay for the airport departure taxes. Silk Air (Singapore Airlines) also operates flights to Manado from Singapore.
Once you arrive in Manado, Living Colours will do the rest, with a pick up from the airport and transfer over to the resort (~1¼ hours). This will be included in your package price. There was a mix up with our dive equipment at check out - one of the resort staff had erronously put some of it onto one of the dive boats. however, the resort did manage to ensure that we got all our equipment back by the time we got across to the Manado mainland.
The Final Verdict
Living Colours Dive Resort is a well run operation located on Bunaken Island. It's location and reputation built on years of reliable high quality service are what make this resort so popular with guests. A dive trip to Northern Sulawesi will be a memorable one, and a combination stay of Bunaken (corals, big and small fish and other marine life) and Lembeh Strait (muck diving) rivals, and I would say surpasses, that of the more illustrious but comparable Sipadan Island and Mabul (big fish and macro) in neighbouring Malaysia.
Written by Sheldon Hey, September 2010


---
CUSTOMER TESTIMONIALS OF DIVE THE WORLD
... The website was easy to use - no improvements needed, the website worked great (even on my tablet while traveling!) Communication was great! Quick response! ... -- Stacy Kim, USA. [More customer reviews]