>
Liveaboards
>
Turks & Caicos
Turks and Caicos Liveaboards
Best Dive Tour Options and Travel Information
The Turks and Caicos is a picturesque group of 40 islands, fringed by white sand beaches and washed by turquoise waters. It is a beautiful by nature and Caribbean by charm, but has an air of sophistication that you would expect as a centre of offshore finance. Lying on the edge of the Gulf Stream, to the southeast of Bahamas and north of the Dominican Republic, the Turks and Caicos Islands are ideally situated for liveaboard cruises with plenty of underwater action.
The main attraction of diving here is the superb shark action - the Turks & Caicos (known locally as "TCI") are right up there with the Bahamas as the best Caribbean destination for encounters with large predators. Hammerhead sharks are found here, tiger sharks, nurse and Caribbean reef sharks. The reefs are healthy and vibrant, and the walls are amongst the deepest and most dramatic in the Caribbean. Thousands of humpback whales also pass by the islands on their way to gather at Silver Bank, off the Dominican Republic. Perhaps surprisingly, the scuba diving in the Turks and Caicos is not that challenging, and so this is a liveaboard destination suitable for all levels of diver.
The islands themselves, only 9 of which are inhabited, are quite diverse, from the main tourist center of Providenciales, the historic Capital of Grand Turk, to the uninhabitated West Caicos Island, and cays such as Parrot, Pine and French Cay. There are plenty of watersports and nature tours, as well as fine golf courses and spas.
Liveaboard Diving Cruise Options in the Turks & Caicos
Quite a bit of island hopping is required to see all the top dive spots here so a liveaboard is definitely the best option to explore the Turks and Caicos Islands:
This route focuses on the western region of the country, where most of the big marine life is encountered. Northwest Point Marine Park in Providenciales is home to turtles, large schools of snapper, grunts and goatfish. Caribbean reef sharks roam the reefs and walls, and dolphins, whale sharks, eagle and manta rays, and whales visit, especially during the winter months. West Caicos is where most of the dives take place. The wall that runs the length of this small island is the most breathtaking in the country and creatures both large and small can be found here. French Cay is a wildlife sanctuary and the liveaboards visit here for the chance to see the spectacular, such as hammerheads, bull and tiger sharks, lemon sharks, and mating nurse sharks. [More details on these dive sites: • Turks and Caicos].
Turks and Caicos liveaboard cruises are usually 7 nights in duration, with occasional longer 10 night trips. These safaris is suitable to certified scuba divers of all experience levels and tours run all year round apart from February and March (when the boats relocate in the Dominican Republic to snorkel with humpback whales).

Key TCI Travel Facts
The Climate and Best Time to Visit
The summer months of July to September are the warmest in the Turks and Caicos Islands at 90°F/32°C. The winter months of January and February are the coolest at 81°F/27°C. The rainy season is September to December, and the hurricane season is June to November (1 in 7 years chance). TCI experiences 350 days of sunshine in an average year.
The warmest sea temperatures occur from August to October at 84°F/29°C. The coolest water temperatures occur from January to April at 79°F/26°C. Visibility is usually excellent throughout the year. Currents are gentle, surface conditions are calm, apart from a few swells from November through March
December through May is the most popular time to visit (apart from February and March). January through March is the best time to see humpback whales, and July through September is the time to watch mating nurse sharks.
Liveaboard Ports of Departure in Turks & Caicos and How to Get There
The Turks and Caicos Islands are a British Overseas Territory, located southeast of the Bahamas, east of Cuba, and north of the Dominican Republic. It is in the Atlantic Ocean although still considered part of the Caribbean. There are 8 inhabited islands and a total of 40 small islands and cays. There are 2 international airports - on Providenciales and on Grand Turk. Our liveaboard dive cruises depart from Providenciales.
There are direct flights to Providenciales International Airport (PLS) from the USA, Canada (Toronto and Montreal), several Caribbean territories, and from Grand Turk (30 minutes flight). There are many airports to choose from in the USA but the shortest distance is from Miami, which is a 1½ flight. Airlines include Delta, American Airlines, United, Air Canada, Westjet, Southwest Airlines and Jet Blue.
We recommend you take out insurance to cover scuba diving and travel activities, including trip cancellation. See our insurance programme for a competitive quotation:
Tourist Visas
Most visitors (from more than 90 countries) are granted a stay of 90 days upon arrival. You will need a valid passport (with an expiry date at least 3 months validity prior to expiry), proof of an approved COVID vaccination, a travel authorization, and a round trip ticket. You can check the latest entry requirements on the Turks and Caicos Tourism Official Website

.
Places to Stay
If you plan on staying in the Turks and Caicos Islands before or after your liveaboard diving tour, you can find a huge range of accommodations at hotelscombined.com, our affiliated hotel reservation specialists. Browse tthe options on heir website then use your credit card to make a booking:
All reservations are backed by a 'Lowest Price Guarantee' to ensure you get the value for money.
Visitor Health
There are no endemic diseases or health risks in the Turks and Caicos Islands, and vaccinations are not required (apart from the COVID entry requirement). There is no industrial pollution, meaning the water is clean - both the sea and drinking water. The most common health issue experienced by visitors is sun burn.
Providenciales and Grand Turk both have hospitals. Local medical facilities should be able to handle most situations that arise. In case of emergency that cannot be handled locally, patients are flown by air ambulance to Miami or Nassau. Please dial 911 for emergency.
Tourist Security and Safety
Statistically, TCI is one of the safest countries for visitors in the Caribbean. Outside of Providenciales, there is very little crime to speak of. Muggings are the most likely crime to occur – usually after dark in the Bight and the western Grace Bay areas, or along remote and little used walking trails. There are some vehicle and villa break-ins and theft too.
The general, sensible advice is to avoid the beach at night, don't walk along remote trails alone, don't leave valuables in your car – keep them in a safe, stay in a hotel or guarded private villa. The telephone number for calling the police is 999 or 911.
Note, there is no public transport system in the Turks and Caicos. Vehicle hire is recommended for tourists that plan to stay on land for some time. Taxis sometimes inflate prices for tourists, so make sure to agree a price beforehand. Most locals use unregistered minibuses or jitneys as their mode of transport, but these are not recommended as they are often uninsured, badly conditioned and poorly driven.
Useful Tips for Tourists
Sightseeing, Activities and Adventure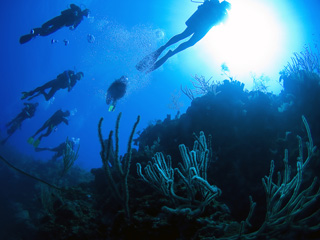 Being an island chain within the tropics, much of attractions of the Turks and Caicos are related to the beach and ocean. The country has some fantastic beaches, the most famous being the award-winning Grace Bay Beach on Providenciales. Other popular beaches here are Leeward Beach, Taylor Bay, Sapodilla Bay, Long Bay, Malcolm's Road Beach and Bight Beach. Governor's Beach is the best on Grand Turk, Hollywood Beach and Horsestable Beach on North Caicos are great spots. On Middle Caicos Bambarra Beach, and Cedar Point are both incredible, and for beautiful scenic landscapes, Mudjin Harbour is worth a visit for its cliff and beach coastline, together with Conch Bar Caves and the blue hole. South Caicos has East Bay and Long Beach. Whereas the eastern coast of East Caicos is famous for its pink and peach sand beaches. Nearly all the sand in the Turks & Caicos Islands is of coral origin.
Apart from the magnificent wall and barrier reef diving which we have detailed elsewhere, there is a wide range of water sports, including flyboarding, kiteboarding, wakeboarding, parasailing, windsurfing, Hobiecat, as well as kayaking and paddle boarding ecotours in the nature reserves, such as at Chalk Sound, to catch a glimpse of the amazing sea life and birds found there. Sport fishing in Providenciales is also popular, and the bonefishing in the flats of Middle Caicos, South Caicos, East Caicos and the Ambergris Cays is world-class.
On Providenciales, the Provo Golf Club is recognized as one of the top 10 golf courses in the Caribbean. There is horseback riding on the beach at Long Bay, and tennis is often available at hotels and resorts. There is also a tour available at Turk's Head Brewery, to sample some local craft beers.
On Grand Turk, you can take a step back in time to discover the old colonial architecture of Cockburn Town, and the ruins from the sea salt industry days of yesteryear. The Turks and Caicos National Museum is also located on Grand Turk. Exhibits include 1,000 year-old Lucayan artifacts, and the Molasses Reef Wreck collection, the oldest European shipwreck excavated in the Western Hemisphere.
Thousands of humpback whales pass through the Turks Island Passage in late winter every year, and Little Water Cay is the best place to see the endemic Turks and Caicos rock iguanas. Birds such as flamingos, egrets, herons, ospreys, and pelicans can be seen in the nature reserves and parks across the country.
It's possible to travel between the islands by passenger ferry or flight. Only North Caicos and Middle Caicos are connected by road.
For more information on what to do and see, visit the: Turks And Caicos Tourist Board website

.
Turks and Caicos Time Zones
TCI uses Eastern Standard Time (EST): -5 hrs UTC (the same time zone as New York City), but switches to daylight saving -4 hrs UTC between March and November.
Electricity
The standard voltage in the country is 120V / 60 Hz AC. Electrical plugs and wall sockets are for 2 flat prongs (as used in North America) or 2 flat prongs with an extra round prong for grounding. This is the type that the liveaboard yachts have too. It's a recommended to bring your own adapter if required.
Communications
Providenciales, Grand Turk, and some other areas have high-speed 4G mobile coverage; elsewhere it's a slow EDGE 2.5G. You can roam from home or opt to buy a local SIM card (Digicel offers free data for limited Facebook use). Most hotels, villas, and some cafes and restaurants provide free wifi.
The international dialing code is +1 649. To make an international telephone call from Turks & Caicos the international dialing exit code is 011 (or "+").
All of the main islands have a public post office to send mail and sell stamps. They are also able to hold mail for pick up but there is delivery service. Courier services such as FedEx and DHL are also available.
Codes of Behaviour
The Turks and Caicos Islands were originally populated by the Taino and Lucayan Indians prior to the arrival of Christopher Columbus in 1492. The culture now is a legacy of Taino, French, Spanish and African slave influences. The population is about 50,000 and around 75% live on Providenciales. The majority of the local population are Christian, friendly and easy-going. The national language is English, but most people also speak Creole. The economy is the fastest growing in the Caribbean and the government uses strict measures in order to try to control development to protect the islands for the future benefits of residents and tourists.
Tipping and bargaining in TCI
Tips follow USA norms and you can expect a 10-15% service charge added to your bill for hotels and restaurants. Haggling or bargaining is not the norm in the Turks and Caicos.
Best Clothing to Wear
Daytime essentials include swimwear, t-shirts, camisoles, sarong and shorts, since most people spend their time on the beach. Rash guards are a great idea because they protect against sunburn and prevent chaffing. A mosquito repellent will also be useful. Generally speaking, jackets and sweaters will never be required.
Officialdom
The Turks & Caicos ranks very low in terms of corruption, although the country has been identified for money-laundering and other types of financial crime. The police force management is the responsibility of the United Kingdom government and they have a professional reputation.
Useful References