>
Dive Destinations
>
Philippines
Your Guide to Diving in Philippines
Adventures in the Heart of the Coral Triangle
...Highlights: whale sharks, hammerhead sharks, shark action, manta rays, dolphins, turtles, dugongs, schooling fish & big pelagics, great macro life/ marine diversity...
...Philippines' diving environment: healthy reefs, walls, drift diving, wrecks, caverns, beginner & advanced divers, off the beaten track...
The Philippines is a South-east Asian nation comprising more than 7,100 islands. Being in the Coral Triangle of marine biodiversity and with so much coastline, it is little wonder that it is home to such a wide range of fabulous scuba diving opportunities. There are almost 9% of the world's coral reefs here and over 2,200 species of fish!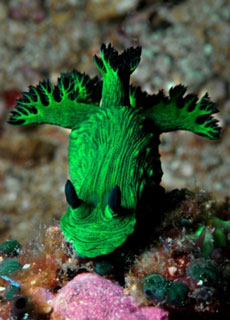 There are many distinct destinations within the country and there is some dispute as to where the best diving is. Everyone has their favourite! ...
The central islands of Cebu, Malapascua and Bohol are often the first names mentioned when it comes to the best diving in the Philippines. These islands and their surrounding islets and submerged reefs have some of the most diverse and colourful diving anywhere. This central area, which also include places like Apo Island, Siquijor and Oslob, is one of the favourite regions for Philippines liveaboards. With thresher sharks and hammerheads in Cebu, whale sharks in Oslob and the tiniest pygmy seahorses in Bohol, no wonder it a popular liveaboard route.
Tubbataha Reefs Natural Park is another world-class liveaboard destination, and is the leading area in the country in terms of marine biodiversity. These remote unspoiled reefs in the Sulu Sea are populated by large numbers of sharks and rays, plus turtles, barracuda, tuna and many schools of fish. For many divers the main reason to visit the Philippines is for the extraordinary array of Japanese WWII wrecks in Coron. Here the aerial bombardment of these supply ships in September 1944 comes alive before your very eyes.
We highly recommend liveaboards as the best way to experience diving in the Philippines. The dispersed nature of this island country and the difficulty of getting around (planes, ferries, jeepneys) make land-based diving quite an effort. A liveaboard that simply cruises from one amazing diving area to another makes it a breeze.
The Highlights
Further details on each of the best destinations for diving the Philippines:
Sulu Sea
Far from land in the Sulu Sea in the western region of the country, lies the fabulous reef system of the Tubbataha Reefs Natural Park; the premier liveaboard destination in the Philippines. These volcanic oceanic atolls attract marine life from far and wide, resulting in a fantastic bio-diversity and some unforgettable diving experiences. The park covers North Atoll, South Atoll and the nearby Jessie Beazley Reef and is accessed on diving cruises operating in and out of Puerto Princesa in Palawan. In the excellent visibility you can enjoy some fabulous encounters with vast schools of fish, sharks, rays and pelagic species. The shark species count is high at Tubbataha with common sightings of blacktips, whitetips, and hammerheads. Less frequently thresher sharks, silvertips, whale sharks, guitar sharks and tiger sharks can appear. It is not all about the sharks, and any cruise to Tubbataha promises a varied range of experiences in this remote UNESCO World Heritage Site.
Central Visayas
Malapascua is a small island with a big reputation, and for good reason. Lying just off the north of Cebu island, Malapascua, with its sandy beaches and lush interior, is like a tropical postcard. Divers come here often with one creature in mind…the shy and elusive thresher shark. It has become one of the best places to encounter pelagic thresher sharks. You will rest on the seafloor in the early morning light awaiting their exciting approach. The destination offers a whole lot more beside this headliner, with wrecks, caves, some great macro, and other shark species too. Visitors often come for the sharks and leave having surprisingly completed a series of distinct and wonderful dives.
The central island of Cebu is right in the heart of some of the Philippines' best diving. It has several places dotted around its coast which are destinations in their own right. In addition to Malapascua there are big names like Moalboal, Oslob and Sumilon and Mactan. Each has their own distinctive character, offering something a little bit different from the rest. Liveaboard cruises in this region often visit several of these destinations' best dive sites just by cruising along the coast (no hair-raising jeepney rides necessary). Highlights include manta rays, whale sharks and vast schools of sardines being preyed on by thresher sharks. Cebu is also home to some of the best macro life you can hope to see with pipefish, frogfish blue-ringed octopus, pygmy seahorses and many more.
The island of Bohol neighbours Cebu and is often dived in combination with it by liveaboards operating cruises in the Visayas region. Tourists flock to Bohol for the sight of the famous 'Chocolate Hills', an expanse of little hills that turn brown in dry season, appearing like chocolate drops. The diving around Bohol's coastline, featuring 75 little islets, is another drawcard, luring scuba divers with its excellent healthy reefs, crawling with macro life. However, there are sharks and pelagic species here too, in numbers and variety to rival anywhere in the Philippines.
While there is some diving near Dumaguete itself, it acts as a base for a number of excellent destinations in the area. These include Dauin, Siquijor and Apo Island, all of which may be on your Visayan liveaboard itinerary. Considered together, this region boasts an impressive diversity both in terms of creatures and the nature of the dive sites. The diving is a fantastic blend of marvellous macro, rainbow reefs and prowling pelagics. The region boasts everything from manta rays to leaffish; from vast schools of fish to blue-ringed octopus. It is little wonder that underwater photographers flock to this region to capture the marine magnificence.
Eastern Visayas
The diverse diving in Southern Leyte is famed both for whale sharks and for fabulous muck and macro diving. There are many beautiful, colourful reefs in the area covered in soft corals and sea fans. Every year zooplankton blooms bring whale sharks to Sogod Bay, particularly around the coast of Panaon Island. This happens between November and May and, unusually, some of the whale sharks are known to stay in the area for several months, before moving on. Outside of this period, manta rays, dolphins and whales visit the area already populated by many marine species. There are also several amazing macro sites, particularly around Limasawa Island where the critter population includes nudibranchs, pygmy seahorses, frogfish and more. Protected zones like the Napantao Fish Sanctuary and Santa Paz Sanctuary aim to ensure this diversity remains for future generations.
Mimaropa
This region of the archipelago comprises Mindoro, Marinduque, Romblon and Palawan. The Apo Reef system is found between the islands of Mindoro and Coron in the Mindoro Strait. Protected as the Apo Reef Natural Park, this isolated spot is home to a considerable biomass of marine life and over 285 coral species. From the surface there are only 3 visible islands in the vast expanse of the sea, however below the surface there is much more going on. When diving here you will enjoy sheer walls heavily decorated with hard and soft corals and with all manner of schools and meaty pelagics in the blue. Among the throng are sharks, most notably blacktips, white tips, grey reef sharks, and even hammerheads and thresher sharks.
For wreck diving enthusiasts, Coron is the absolute pinnacle of Philippines diving. While the country has a number of great wreck dives peppered around the islands, nowhere can rival Coron. Here there are just so many excellent and historically fascinating wrecks within a small area. Resulting from US bombing raids sinking many supply vessels of the Japanese fleet in 1944, Coron is now a playground for divers who can explore around and inside these historic relics, now claimed by the sea. Some are deep, some are shallow. Most are penetrable with possibilities to swim through some of them from bow to stern. Quite a few of these wrecks are so big that on any single dive you can only really explore a portion of it. The wrecks also support a lot of fish life and Coron also promises lake diving, caves and dugongs.
A mere 3 hours drive south from Manila is the province of Batangas. There are 2 places here included in Philippines liveaboard safaris of the area: Anilao and Verde Island. Anilao is a muck diving mecca. Photographers from all over the world come here to dive and compete in macro photography contests. All manner of weird and wonderful critters can be seen often in shallow sites near to the shore. These include stargazers, mimic octopus, flamboyant cuttlefish, snake eels, pegasus sea moths and innumerable nudibranch species. Verde Island sits in the channel between Luzon and Mindoro and enjoys the sweep of currents that rush through, meaning adrenalin-filled dives with big schools of fish and impressive pelagics.
Romblon is an area known for the diversity of its seascapes and for being home to myriad macro species including some of the more rare critters. In terms of topography you can expect rich reef flats, dramatic walls, caves, canyons and overhangs. It even has its own Blue Hole! The shrimp species diversity is noteworthy. As Bubba Gump might say: marble shrimp, skeleton shrimp, tiger shrimp, hairy shrimp, algae shrimp and sawblade shrimp. As you can imagine the night diving can be positively fantastic. Further A-list critters include blue-ringed octopus, white ornate ghost pipefish, wonderpus, mimic octopus, Lembeh sea dragons, bobbit worms and a dizzying array of nudibranch species. Other highlights include the gorge-ous canyons at Agpanabat and a number of marine sanctuaries where these bizarre species and larger pelagics thrive.
Bicol
The Bicol region covers the southern part of Luzon Island and nearby island provinces and includes both Masbate and Donsol. Ticao Island in Masbate holds the promise of big stuff! Oceanic manta rays are present from March to June, and there is a spot called "Big Boys' Alley" where hammerheads, threshers, tiger sharks and whale sharks are known to appear. Nearby, San Miguel Island is often visited to find more of the incredible Filipino macro life. Donsol is all about the whale sharks and is the place to go if you want to 100% guarantee an encounter, ...or 6. November to May is the best period for snorkelling and diving with these, the biggest fish in the sea.
Northern Mindanao
Occasionally liveaboards cover the waters to the north of Mindanao, in the south of the Philippines, where the diving is concentrated on the black sand around the little-visited Camiguin Island. Its volcanic origin is hard to avoid, especially on sites like Old Volcano. All manner of crazy critters crawl over the dark sea bed here on sites where you are likely to encounter no other divers. The sandy flats are peppered with coral patches and some areas are characterised by large volcanic blocks and boulders. While seahorses, mandarinfish, wonderpus and more populate the muck sites, other sites offer whitetip reef sharks, stingrays and barracuda.
How to Dive the Philippine Archipelago
Being a nation of so many islands, it's easy to understand why we recommend liveaboard safaris as the best way to experience the diving in the Philippines. The boat operators schedule trips in different regions of the country, depending on the best time to go to each area..
You will find cruises to Tubbataha, to the best of the Visayas (Malapascua, Bohol, Apo Island, Dauin), to Apo Reef and Coron (near Mindoro), and from Batangas to Bicol (Anilao, Verde Island, Romblon and Masbate). Trips can be as short of 3 nights and as long as 2 weeks, depending on the chosen route.
To find a trip that's the best macth for you, and for more details on all the travel information you might need to visit the Philippines, see our Philippines liveaboards section.
The Philippine Diving Season
You can dive in the Philippines all year round, and the liveaboards operate in different regions of the country in order to offer divers the best experience at each time of year. Generally speaking, the dry season is from late-October to May, with the hottest month being May and the coolest month January. The rainy season runs from June to early-October. It should be noted though that the dry season and rains begin earlier in the western regions, the dry season and rains extend later in the eastern regions. The typhoon season runs from July through October, but their effect are not felt evenly throughout the country as they usually blow in from the east - eastern Luzon, and the Bicol and Eastern Visayas regions usually take the brunt of the storms. Visit Wikipedia

for more details on the climate of the Philippines.
Tubbataha can only be dived between March and June. Outside of this period the seas can be too rough. The Visayas regions of Cebu, Malapascua, Dumaguete and Bohol can be dived all year round, but their peak season is January to May, when there is less chance of rain. Dolphins are more frequently seen from March to June, and December to June is for hammerhead sharks at Cabilao and Malapascua. The Mimaropa region of Palawan, Mindoro, Romblon, and Anilao is also a year round destination, but best conditions are found between December and April. Consult our detailed dive site pages for more details on the diving season of each Philippine destination.

Where are the Philippines and How Do I Get There?
Review our maps below of the Philippines' location in the world. Here, you will find information on how to get to the Philippines.
Reef Summary
Depth: 5 - >40m
Visibility: 5 - 40m
Currents: Can be very strong
Surface conditions: Calm
Water temperature: 25 - 30°C
Experience level: Beginner - advanced
Number of dive sites: ~500
Recommended length of stay: 1 - 3 weeks
Useful References


---
CUSTOMER TESTIMONIALS OF DIVE THE WORLD
... I really appreciated your quick and comprehensive information, it was an outstanding experience. I am sure that in future (with a bit better planning on our side) we will ask for your services again! ... -- Michael, Nepal. [More customer reviews]