>
Dive Destinations
>
Philippines
>
Apo Reef
Your Guide to Diving in Apo Reef
Adventures at Philippines' Largest Reef
...Highlights: hammerhead sharks, shark action, manta rays, dolphins, turtles, great macro life/ marine diversity, schooling fish & big pelagics...
...Apo's diving environment: healthy reefs, walls, drift diving, advanced divers, off-the-beaten-track...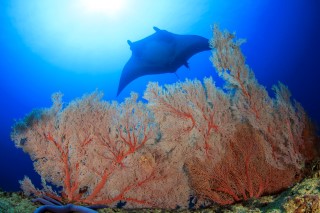 Located in the Mindoro Strait between the islands of Mindoro and Coron is the fantastic reef system known as Apo Reef, the second largest contiguous reef in the world, and a popular destination for Philippines liveaboards.
Here you will find 2 isolated coral reefs separated by a 30m deep channel. Such is the abundance of marine life that they are now protected as Apo Reef Natural Park. Often featuring excellent visibility, Apo Reef is home to some 285 species of coral.
There are only 3 little uninhabited islands that break the surface: Apo Island, Apo Menor and Cayos del Bajo. Throughout the reef system you can expect to find steep coral-studded walls full of life, thronged with schools and passing pelagics. Apo Reef is one of the best places in the Philippines for sharks, and species include whitetips, blacktips, threshers, grey reef sharks and the much sought-after hammerheads.
Dive Site Descriptions
Apo Island
This is not to be confused with the other Apo Island, south of Dumaguete in southern Negros. This Apo Island is identifiable by its lighthouse and is the largest in Apo Reef. A deep, and glorious channel separates the island from the reef.
Show more
Southeast Point
Descending down a mooring line you will reach the drop-off where currents collide. This often means there is a swirling mass of food for the many fish that gather here. Normally this includes schools of surgeonfish and jacks, plus some sizeable groupers and tuna. Morning dives tend to be the best as there are highern umbers of fish then. After taking in the fish-rich scene for a while, the dive normally proceeds with a nice relaxed drift. The lip of the wall is about 16m deep so you can follow it along taking in the sights like turtles, sweetlips, plus whitetip and grey reef sharks. If your luck is in there may be some ray action, as manta rays and mobula rays are encountered with reasonable regularity.

North Wall
As your dive boat approaches this site it will come to a stop near where the reef is almost breaking the surface and the surge causes a white water disturbance. After rolling in you will sink to the end of the reef which drops into the abyss. In shallower areas many reef fish are present including damselfish, butterflyfish and batfish as well as a variety of surgeonfish species. Schools of fusiliers often dash around near the top of the wall. If you wish to go deep this is a good site for it. You will increase your chances of seeing sharks that tend not to visit the shallows, such as threshers and hammerheads. The latter are are more likely to be seen in the November to March period, when water temperatures are lower.

Aladdin
If your wish is to see distinct schools of fish swirling all around you then this site will grant it! Aladdin is a fantastic wall in the northern side of Apo Island. You will normally begin this dive at the section of the wall that is the most sheer, being met by a marauding school of bumphead parrotfish, crunching and munching the coral to a fine sand. Schools of fish enter stage left and right here and spin above your head. Jacks, barracuda, snapper, big-eye trevally and blue-dash fusiliers can all be seen, sometimes in dizzying numbers. As with much of the diving in Apo Reef, it is worth finning out into the blue in an effort to spot a few adrenalin-spiking pelagics. Although Apo Reef is not famed for its macro, the shallow reef top is also worth exploring, as you run down your tanks for nudibranchs, morays and more.

East Side
This is a more relaxed dive than some of those around Apo Island. Being on the east coast of the island, currents are mild, if present at all, and there is less obvious marine life action going on. The big aggregations of fish stay where the current feeds them, so on this site you are more likely to chance upon individual creatures. As you gently make your way along this sloping reef you will spot a few interesting inhabitants. You may spy a lobster lurking in a hole, giving away its presence with its long, white antennae protruding. Sandy patches intersperse the coral here and can be home to fire dartfish, damsels, goatfish and shrimp-goby partnerships. Occasionally you might encounter a turtle or some whitetips at rest on the sandy floor.
APO 29
Otherwise known as Barracuda Hill, this is a pinnacle which promises some of the most exciting and challenging diving at Apo Reef. Diving here is not for beginners and normally only for those on liveaboard trips since it involves timing the current. Underwater, when the currents run, is a riot of activity. You drop down to the shallowest section of the pinnacle which is already more than 25m depth and then move into position a little deeper.
You don't have to cover much ground diving here and the dive plan will normally involve descending, watching and ascending! Ideally you can stay in one place which is a little sheltered, or perhaps hook on to the reef if the current direction is constant. The shark count can be high, especially at greater depths, with hammerheads and threshers possibly joining the more regular reef sharks. Large numbers of barracuda are often seen as well as manta rays, tuna, groupers and many more. When time is up you will ascend in the blue looking down at the scene of marine mayhem below.
Apo Menor
The vegetation is sparse on this little limestone island in the west of Apo Reef. It is home to a reef plateau that drops away as a wall and is suitable for all levels of diver. Although current may be present to some extent, it is not like some of the other strong current sites of Apo. There is also a spot where manta rays are frequently seen, which you may dive if the manta count has not been high on previous dives.
Otherwise this is a site where marble rays are often spotted; sometimes several of them resting on the sea floor. If you approach too closely they will spring into action and swim off scattering the sand from their blotchy dark skin. Sharks are common here too, mostly whitetips, but blacktips can be seen and occasionally grey reef sharks.
How to Dive Apo
The only way to visit Apo Reef is by joining one of the liveaboard safaris that visit there. There are some short 3 night trips dedicated entirely to exploring the dive sites of Apo, and there are some 5-7 night trips that combine the reef with diving on the wrecks of Coron.
The Apo Reef Diving Season
You can dive at Apo Reef the whole year round, but it is recommended to go during the dry season from January to April. The rainy season begins in May and ends in December, with the rains getting steadily worse towards the middle of the season. The typhoon season is July-October, although being in the western region of the Philippines, the area is less at risk. Air temperatures hover between 28-30°C/82-86F, with April being slightly warmer and January slightly cooler. Visit Weather Atlas

for more details on the climate of nearby Puerto Galera.
The water temperature is 26-30°C/79-86F, warmest in May/June, coolest in January-March. The visibility can be amazing at 40m during the dry season but drops to 20m in the rainy season. There can be strong and interchangeable currents at Apo Reef and this factor, together with the depth of some of the best sites, makes the diving more suited to experienced divers.

Where is Apo Reef and How Do I Get There?
Review our maps below showing Apo Reef's host country Philippines' location in the world. Here, you will find information on how to get to Coron or Puerto Galera, and then on to Apo Reef.
Reef Summary
Depth: 5 - >40m
Visibility: 15 - 40m
Currents: Can be strong
Surface conditions: Calm but choppy in rainy season
Water temperature: 26 - 29°C
Experience level: Intermediate - advanced
Number of dive sites: ˜10
Distance: ~125 km southwest of Puerto Galera (10 hours)
Recommended length of stay: 3 - 7 days as part of a Philippine liveaboard safari
Useful References


---
CUSTOMER TESTIMONIALS OF DIVE THE WORLD
... Thank you for all your correspondence. Would sincerely recommend the Dive The World website as responses have continually been extremely informative and non-intrusive. I could offer no suggestion of improvement for this site - very informative and easy to use ... -- Dawn Fletcher, London, UK. [More customer reviews]