>
Liveaboards
>
Malaysia
Malaysia Liveaboards
Best Dive Tour Options and Travel Information
There are a wealth of world-class diving opportunities in Malaysia, including destinations teeming with huge schools of fish, spectacular coral reefs and amazing macro-life. There are areas famed for encounters with hammerhead sharks for the priviliged few, and places that are home to dozens of turtles and other big marine creatures such as bumphead parrotfish.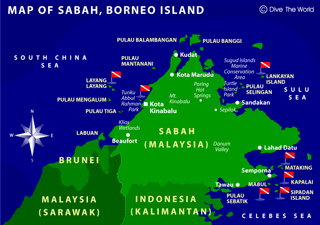 Liveaboard safaris in Malaysia offer you a different perspective from a resort stay. In Sabah, Malaysian Borneo you can join a cruise around the world-famous Sipadan Island or visit the finest sites of the South China Sea at Layang Layang. The premier dive sites of Peninsular Malaysia are located on the east coast and you can join a short cruise to dive here on tours operating out of Singapore.
In addition to its underwater marvels, Malaysia can boast a range of other tourist attractions that will transform your liveaboard trip into the vacation of a lifetime: jungle wildlife tours, mountain climbing and trekking, bird watching, river rafting, kayaking, and numerous islands blessed with white sandy beaches and clear blue water.
Liveaboard Diving Cruise Options in Malaysia
Malaysia is not a country with an over-abundance of liveaboard options. However, those that do operate in this country all offer something unique. Additionally, you will not have to tolerate too many other boats around the same dive site, as can happen in the more popular destinations in Asia. Check out your Malaysian liveaboard options here for:
Entry permits restrict resort divers near this location to just occasional visits to Sipadan during their stay. Those who choose a liveaboard however, get to dive there most days of their cruise. A liveaboard tour here is therefore a popular choice for advanced divers who want to maximise their time at the most famous sites like Barracuda Point, The Drop-Off and South Point. [More details on these dive sites: Mabul, Sipadan].
On a Sipadan liveaboard you may also get the chance to dive at some of the interesting and uncrowded sites around Semporna. While choosing a liveaboard over a resort here means sacrificing some comfort and luxury, for many scuba divers the benefits are definitely worth it.
Tours of 7 nights are recommended for you to get a full taste of the area. Sipadan liveaboards appeal to divers who are no longer beginners (new park rules state all divers must hold at least an advanced license) and who are determined to maximise their time diving at Pulau Sipadan.
If time or travel plans do not permit travelling to Sabah, there are some great short dive trip options on the Malaysian peninsula which still allow you to get your liveaboard diving 'fix'. In fact these cruises normally operate out of Singapore and venture into Malaysian or Indonesian waters. The Malaysian trips usually focus on the dive sites around the popular resort island of Pulau Tioman. These safaris occasionally operate routes off the east coast that venture to other nearby locations in the South China Sea.
These trips are aimed mostly, but not exclusively, at scuba divers based in Kuala Lumpur and Singapore and usually operate at weekends, although occassionally longer too. They are among the least expensive in the world.
Click to view product.
Special discounted trips highlighted in yellow

Key Malaysian Travel Facts
The Climate and Best Time to Visit
The Malaysian climate is equatorial, meaning it is often hot and humid and regularly experiences impressive rainfall. You can expect temperatures around 26 to 30°C except in the highland regions when it can drop down to 18°C. Sudden thunderstorms and torrential rain are commonplace but often disappear and dry up as quickly as they arrived. Annual rainfall is around 250 cm.
November to February is generally the rainy season on the east coast of Peninsular Malaysia and Sabah and Sarawak. The west coast of the peninsula is wetter from May to October. The Malaysia diving season is year round, meaning there are options in the country every month of the year. For more details, check out our Malaysia dive sites page.
Liveaboard Ports of Departure in Malaysia and How to Get There
Malaysia is among South East Asia's best connected destinations. Kuala Lumpur International Airport (KLIA) is directly accessible from most countries in Asia, Australasia, the Middle East and Europe. Kota Kinabalu airport is the 2nd busiest in Malaysia and has direct flights from many Asian countries. Neighbouring countries like Singapore and Thailand also allow for convenient flight routes from outside Asia.
You can check which ports the various Malaysian liveaboard boats use in the 'Departures & Prices' section of each boat webpage. You will also receive full details from us during the booking process.
We recommend you take out insurance to cover scuba and travel activities, including trip cancellation. See our insurance programme for a competitive quotation:
Tourist Visas
Malaysia grants at least a 1 month visa on arrival to citizens of almost every country. Citizens of many countries including EU members receive a 3 month visa on entry. A visa is required for nationals of Israel who need permission from the Ministry of Home Affairs.
You should contact a local Malaysian embassy/consulate or the Immigration Department of Malaysia website

for details.
Places to Stay
If you plan on staying in Malaysia or Singapore before or after your liveaboard diving safari, you can find a large range of accommodation options at hotelscombined.com, our affiliated hotel reservation specialists. Browse their website, use their on-line chat to ask questions, then simply use your credit card to make your booking:
All bookings carry a 'Low Price Guarantee' to ensure you get top-dollar value for money.
It's also possible to dive in Layang Layang and Sipadan by staying at a resort, if you prefer: Sipadan resorts, Layang Layang resort.
Visitor Health
Malaysia's standard of health and cleanliness is relatively good, relative to other parts of South East Asia. However, there are a number of tips for avoiding health issues in an equatorial climate:
Wear light, loose clothes, wash often and dry your body well. Fungal infections lie in wait to attack at the slightest opportunity. Avoid sunburn and keep well hydrated. The hospitals, private health centres and pharmacies in Malaysia are quite good. Many of the medical staff will speak English, and in private clinics many of the doctors will have studied in English-speaking countries.
If you have come from an African or South American country where yellow fever is present, you may be asked to produce your vaccination certificates on entry. Travellers are advised to buy travel and health insurance before visiting. International SOS, the world's largest emergency assistance company, provides 24-hour emergency assistance services in Malaysia.
Tourist Security and Safety
Malaysia is generally a very safe place to visit for liveaboard divers. Generations of it being a multi-ethnic, multi-racial country have resulted in an overall tolerant atmosphere and the locals have a tendency to be very friendly to tourists visiting their country.
Since 2000 there have been a number of unfortunate incidents in Sabah on the news. Very rarely would a tourist ever be involved in any way. There have been some kidnapping incidents recently involving people working at remote aquaculture sites, and fishermen or sailors far out at sea near the Philippines border. If you are not a Malaysian or Indonesian working in the seafood industry, nor are you sailing near the Philippines sea border, then the risk of kidnapping is not great. The Malaysian Navy is upgrading their security presence all the time along the east coast of Sabah. This is particularly true in areas popular for tourism.
Dive The World's representatives have travelled to all the places we promote in Malaysia and have never experienced any security concerns, nor had any reported to us from customers over many, many years. Unfortunately some people base their travel decisions on government warnings which are often a deliberately overstated sense of risk, rather than a reflection of the actual risk. If we followed every government travel advisory, we would probably never visit any of the world's best diving spots.
Having said that your visit to Sipadan, as with any destination, is at your own risk. For more information we encourage you to read your country's travel advisory, for example UK travel advisory

and the USA travel advisory

.
When you book and make your payment you are confirming to us that you have been fully informed and are agreeing to our cancellation terms. If you subsequently change your mind because of security reasons, that will not entitle you to cancel your reservation. If in doubt, ask us for an alternative destination. However if you base the risk on incidents involving divers, then you are much more likely to become one of the thousands of divers who visit Sipadan and have a great time, as evidenced by the resorts being almost entirely full all year round.
Useful Tips for Tourists
Sightseeing, Activities and Adventure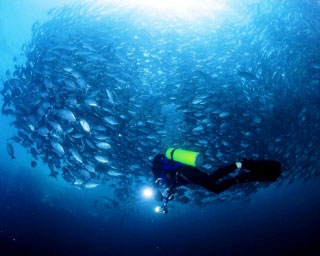 Malaysia is a very diverse and interesting tourist destination. Some of the most popular things to do in Peninsular Malaysia include Kuala Lumpur city tours, Melaka cultural tours, The Cameron Highlands and Penang Island - the country's gastronomic capital.
In Sabah natural wonders are the order of the day. Highlights include trekking up Mount Kinabalu and the Crocker Range, island hopping, river rafting and jungle tours. You can see orangutans in the wild or in a rehabilitation centre, proboscis monkeys, pygmy elephants, sun bears, hornbills and many more exotic species. Here's a more comprehensive list of fun tourist activities in Sabah.
For more ideas visit: Tourism Malaysia

.
Malaysian Time Zone
Malaysia operates under 1 national time zone: +8 hrs GMT, or +13 hrs EST.
Electricity
Voltage is 220-240 volts AC at 50 cycles per second. Most major hotels provide 110-120 volt adaptors. Electrical sockets are usually the 3 pin/13 amp UK type. Liveaboard boats will have either the 2-pin European or 3-pin British-style sockets.
Communications
Malaysia has reasonable internet connectivity and urban areas will have numerous wifi hotspots and internet cafes. Connection speeds are average and can be slow in more remote regions. Most of the liveaboard cruises in Malaysia provide a wi-fi service.
Telephone network coverage is good. For international calls dial 00; 103 gives international help; 108 for the operator. You can pick up phone cards and SIM cards throughout the country. There are also quite a few public payphones in urban areas.
The postal system is reasonably good and post restante is provided at most post offices. Opening hours are 08:30 to 17:00 Monday to Saturday, closing Sundays and public holidays. The post office provides an express courier service 'Post Laju', although private couriers such as DHL and UPS have a reputation for greater reliability.
Codes of Behaviour
Tourists are normally forgiven for cultural faux-pas but there are some sensitivities that are best not to offend. You should take your shoes off and dress modestly if visiting a local home or place of worship.
Shaking hands between men is usually no problem. With a woman, a polite smile will suffice and definitely resist the urge to lean in for a 'mwah mwah' social kiss; public displays of affection are often frowned upon. If eating with your hands, only use your right since the left is considered for more basic purposes.
Malaysians point with their thumb with the fingers closed like a fist, and sometimes by pointing their lips, but don't try to reproduce this or you may be misunderstood. They also motion come here by flapping their hand, palm downwards, rather than with the beckoning finger which they consider rude.
Tipping and bargaining in Malaysia
Tips are not necessary, or expected, but it is certainly appreciated. All hotels and restaurants will have already included a 6% government tax and 10% service charge.
Useful References for Liveaboard Charters in Malaysia

---
CUSTOMER TESTIMONIALS OF DIVE THE WORLD
... [Your sales staff] were patient as I met some difficulties due to my late booking. They were really fast, helpful and flexible ... -- Natalia Semko, Russia. [More customer reviews]