>
Dive Destinations
>
Philippines
>
Tubbataha Reefs
Your Guide to Diving in Tubbataha
Adventures in the Sulu Sea
...Highlights: whale sharks, shark action, manta rays, dolphins, turtles, great macro life/ marine diversity, schooling fish & big pelagics...
...Tubbataha's diving environment: walls, drift diving, advanced divers, off-the-beaten-track...
Tubbataha Reefs Natural Park is a remote, liveaboards-only scuba diving wonderland in the Sulu Sea, western Philippines. The remote location, far from human impact and the quality of dive sites make it, for many, the best Philippines liveaboard destination. Arising from the depths, these volcanic atolls act as a magnet for oceanic life, resulting in dizzying marine bio-diversity.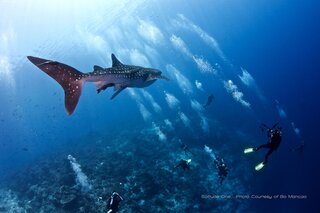 Consisting of the North Atoll, the South Atoll and Jessie Beazley Reef, Tubbataha has been designated by UNESCO as a World Heritage Site. The statistics are impressive: over 370 types of coral, 600 species of fish, 12 species of cetacean and 14 species of sharks. There are also 71 types of plankton, although they are pretty difficult to distinguish for the lay person.
Tubbataha enjoys excellent diving conditions and the visibility is normally toward the higher end of the 20 to 40m range. The park lies 150 km from Puerto Princesa in Palawan, the liveaboards' starting point. As atolls rising from the depths, it is unsurprising that most of the dive sites are wall dives.
The blue is where you can see meaty tuna, large trevally, barracuda, and hefty groupers. Shark species are numerous: whitetips, blacktips, hammerheads, silvertips, thresher sharks, whale sharks and even, although more rare, guitar sharks and tiger sharks. Rays most commonly seen are marble rays and stingrays; while mantas and eagle rays are less frequently sighted. In shallower sections the reefs plateau and play home to schools of sweetlips and jacks, moorish idols, turtles and butterflyfish among many others.
Dive Site Descriptions
North Atoll
Shark Airport
Its name comes from the common sight of multiple white tip sharks lying at rest on a healthy shallow plateau; reminiscent of the aerial view of an airport with all the planes lined up, side by side. Normally there is some current present here so you will dive this as a drift. Other sharks you may see are grey reef sharks, nurse sharks, silky sharks and maybe even whale sharks and guitar sharks. Turtles, dog-toothed tuna, moray eels and eagle rays are also regularly seen. There are many triggerfish that may be protecting their nests so divers should keep an eye on them and avoid moving directly over them into the funnel of their 'strikezone'.
Show more
Washing Machine
As the name suggests, this site can be quite a roller-coaster experience. Located at the north-east corner of the atoll, this is where currents meet and you can feel them changing direction during your dive. You will drift over a heavily fissured reef covered by purple and orange anthias. In the large crevices you can see stingrays, turtles, nurse sharks and white tips sheltering from the current. When you make your way on to the wall there are barrel sponges, soft corals and enormous gorgonian fans benefitting from the movement of nutrient-rich water. This site has a reputation for reliably excellent visibility, so you can spot creatures in the blue even at a distance. These may include manta rays, eagle rays and even whale sharks.

Amos Rock
The famous Amos Rock, sometimes called Southwest Rock is one of the first-mentioned sites in any discussion of Tubbataha. There is a fabulous section of wall here covered in sessile life and populated by a large number of jumbo-sized fish. Expect to see big examples of grouper, snapper, dog-toothed tuna, bluefin and giant trevally and Napoleon wrasse. If diving at dusk, you can watch these big bully boys hunting smaller prey around the lip of the wall. The site is also often teeming with mackerel and sharks, mostly grey reef and whitetips, as well as both pickhandle and great barracuda. If diving here at night, the shallows bustle with sea cucumbers, flatworms, nudibranchs, lobsters, crabs and crinoids. It is also always worth checking gorgonian fans for one or more delightful pygmy seahorses.

Malayan Wreck
The wreck itself is quite unremarkable and is only one of many features of this dive. Long before the wreck comes into view, you will spend time drifting along a wall looking out for sharks, Grey reef sharks and whitetips are common, while nurse sharks and and hammerheads are not unheard of. Gorgonian fans here can support pygmy seahorses so there is always someone doing an up-close inspection. Other fish to watch out for are african pompano, leaf scorpionfish and rainbow runners. The dive ends at the eponymous wreck where bumphead parrotfish and marble rays are often around. The wreck also makes a great night dive.

Other popular North Atoll dive sites
Seafan Alley showcases the impressive gorgonian sea fans, often home to pygmy seahorses, that are a feature of diving in Tubbataha. This deep wall boasts seafan coverage that stretches on seemingly forever. Wall Street is a sheer wall where fat groupers and Napoleon wrasse are common. Whale sharks may also put in an appearance. Malayan Wall promises the chance to see schooling hammerheads. From the Malayan wreck you simply swim out far into the blue, scanning in front and below you for the thrilling telltale shapes of swimming hammerheads.
South Atoll
Delsan Wreck
This is another site that sounds like a wreck dive but really is not. There are the remains of a small vessel near the south east of the atoll. This gives the site its name but little else. The site could be more appropriately be called Predator Parade since the line-up includes dog-toothed tuna, great barracuda, giant trevally, white tip sharks and even hardcore players like hammerheads and tiger sharks. There is a large crack on the reef called 'The Cut' within which gangs of marauding grey reef sharks can often be seen hunting big schools of fish swimming for their lives.
Show more
Black Rock
You will start this dive like many at Tubbataha drifting along a sloping plateau and then a healthy wall ticking species of shark off your list: whitetip, grey reef and possibly hammerheads and tigers. Spanish mackerel, blue-fin trevally and barracuda are also likely. This area is notable for the number of green and hawksbill turtles, however the key feature is the manta ray cleaning station. Here you can find a vantage point to watch as one or several manta rays circle around before moving into position to be groomed by the obliging team of cleaner wrasse. The mantas sometimes spend hours at this spa; longer than you can.

Other Tubbataha South Atoll dive sites
Lighthouse Islet is another popular site on this atoll. Here a large and life-filled shallow plateau drops to a sheer wall. The shallows are an amazing example of a pristine reef with magnificent hard and soft corals, covered in thousands of purple anthias plus myriad anemones with their clownfish residents. SouthWest Wall is home to some wonderfully healthy fields of staghorn coral. This sloping reef drops away where rainbow runners dash past and meaty coral groupers will impress you with their size. Triggerfish City is a drift dive with an unusual seabed given that it is sand and not a coral garden. There are patches of coral here and there and plenty of triggerfish so be on guard not to annoy them by your proximity to their nesting sites.
Jessie Beazley Reef
You may do a few dives at this emergent coral cay which is located 20 km north of the 2 main atolls and more or less en route to Puerto Princesa. The reef appears to be named after the Jessie Beazley, a Liverpool built ship that sank in 1872. When conditions are calm you may dive one of a few sites here, most commonly North End and South End. This mushroom shaped reef starts at as shallow as 7m from the surface and drops to more than 50m. Barracuda, Spanish mackerel, Napoleon wrasses and impressive schools of unicornfish and surgeonfish are common. Sharks can be numerous too, particularly grey reef sharks.
Cagayancillo Islands
These remote and sparsely populated islands are located halfway between Tubbataha and Negros in the Visayas. For this reason, they are only ever dived on the occasional transit trips that run between Tubbataha and the Visayas. The sites of Cagayan, as it is known colloquially, are mostly deep walls covered in fans, sponges and soft corals, and very nice plateaus between 10-20m. They are very similar to those at Tubbataha, but the corals can be even more beautiful. You can see sharks - white tips, hammerheads, whale sharks - and rays - eagle, devil and some manta and marble rays.
How to Dive Tubbataha National Park
Due to its isolation, Tubbataha is only accessible by liveaboard cruise. Most trips are 7 nights and are dedicated to diving at Tubbataha alone, however there are some 10 or 12 night transit trips that include dives at the Cagayancillo Islands and the Central Visayas region of Bohol, Cebu and Dumaguete.
The Tubbataha Reefs Diving Season
You can only dive at Tubbataha National Park from March to June. This is the time of year when the Sulu Sea is calmest, the visibility is excellent at 20-40m, and the water temperature warm at 27-30°C/81-86F (warmest later in the season). A 3 mm wetsuit is sufficient for most divers. The visibility is 15-30m during the dry season and drops to 10-20m in rainy season. There can be strong currents since most of the sites are wall drift dives.
The weather should be great too. It is the dry season with air temperatures around 32°C/90F. Visit the Weather Atlas website

for more information on nearby Puerto Princesa's climate.

Where is Tubbataha and How Do I Get There?
Review our map below showing the location of Philippines in the world, Tubbataha's host country. Here, you will find information on how to get to Puerto Princesa, and then on to Tubbataha.
Reef Summary
Depth: 5 - 40m
Visibility: 20 - 40m
Currents: Can be strong
Surface conditions: Usually calm
Water temperature: 27 - 30°C
Experience level: Intermediate - advanced
Number of dive sites: ˜20
Distance: ~150 km southeast of Puerto Princesa (10-12 hours)
Recommended length of stay: 7 - 12 days as part of a Philippine liveaboard expedition
Useful References

---
CUSTOMER TESTIMONIALS OF DIVE THE WORLD
... I have used Dive The World many times, the website and very user friendly. Excellent service from Vic, thank you. Vic answered all my questions and the booing process was very easy. I like having several different payment options - paying into the Australian Dollar account is very convenient ... -- Catherine Delahunty, Australia. [More customer reviews]