Dive The World Scuba Diving Trips
Creature Features...
At Dive The World, we all have our own favourite marine creatures and we know you have too! For some, diving with sharks and huge schools of fish is the ultimate; others long to dive with manta rays; underwater photographers go on macro diving trips to seek out seahorses, flamboyant cuttlefish and other incredible macro wonders.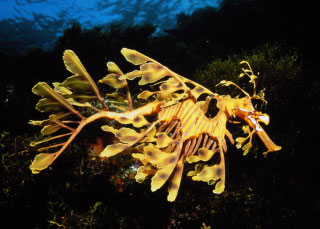 Whatever your dream underwater encounter, one thing is certain: a little prior knowledge can improve your enjoyment of a scuba diving trip immensely. Dive The World is the No. 1 authority on scuba diving vacations. It is also the best online resource for fascinating information on your favourite marine creatures and where you can dive with them.
Why do hammerheads swim the way they do? Why do the chromatophores on a cuttlefish pulsate? What is the result of parrotfish crunching through coral? Which marine creature's mouth inspired the movie character 'Alien'? Which is the heaviest bony fish in the ocean? Which is the smallest 'great whale' in the ocean? Which fish has the fastest 'gape and suck' action in the sea for swallowing prey? Find out this and more. Knowledge is power and we give it to you…for free!.
We dive all over the world and gather information from our trips. So have a look at our selection of creature features below. From whale sharks to wobbegongs, manta rays to mandarinfish, sea lions to seahorses, , read on for more information about the real stars of our underwater scuba world:
Here are some popular land creatures that you may be interested to learn more about, and that you can encounter at some of our most popular diving destinations:
If you have any suggestions for marine animals that you'd like to see covered in this section, or if you have any articles that you'd care to submit for publication, send us an email to: ask@dive-the-world.com
Got a question?
Have a look through our Frequently asked dive trip questions

Have time to browse? Discover our easy-to-use website - Click on a link above ...
---
CUSTOMER TESTIMONIALS OF DIVE THE WORLD
... The assistance provided via email prior to the trip set the stage for excellent preparation. The team there was prepared as well for my arrival and gave friendly, happy, and thorough support ... -- Ken Long, United States. [More customer reviews]