>
Dive Resorts
>
Indonesia
Indonesia Diving Packages
Best Dive Resort and Travel Information
The vast archipelago of Indonesia, spanning a huge area within the Coral Triangle, is home to some of the planet's most impressive dive destinations. The variety on offer is so impressive that if you had to choose only one country in which to dive for the rest of your life, it would have to be Indonesia. Whether your interests are in marine diversity, healthy reefs, unusual critters or remote locations, there is something for everyone, with dedicated dive resorts being present in many of Indonesia's best regions.
We offer you some of the very best land-based scuba trips available in Indonesia, in locations where the dive sites are close at hand, allowing you to spend less time on travel and more time at leisure. Whether you are looking for somewhere simple and inexpensive, or prefer a luxurious resort with all the pampering you would expect of Indonesian hospitality, we can offer a dive package suitable to your requirements.
The diving is so good that many people visit to experience only its underwater treasures, but there is much more to an Indonesian vacation than just scuba diving. Fantastic beaches, volcanoes, lakes, jungles and rice paddies make for stunning landscapes from which to explore the wildlife, such as orang-utans, tarsiers and the great Komodo dragons. And there are some fascinating cultural attractions that are equally as impressive, such as traditional dance and art, theatre and temples.
Indonesia is not a country with a single cultural identity, it has many diverse peoples, ethnicities and traditions. Comparing people from the east of the country with those of the west or the north, it is clear to see that this vast land consists of many different cultures. Such diversity makes it an exceptional place to visit for culture vultures, nature-lovers and adventurous travellers.
Where to Stay in Indonesia
Take your pick of dive resorts here from the popular holiday island of Bali, or the more off-the-beaten-track destinations of the Lembeh Strait and Bunaken Island in Sulawesi, and Raja Ampat in Indonesian Papua:
Bali has long been recognised as a top holiday destination with beautiful scenery, fascinating, modern and traditional architecture, and high levels of service. It is now widely recognised as a destination with a lot to offer to scuba divers of all levels of experience too. With beautiful corals, mola mola, mantas and a world-class wreck, you may be surprised by the high quality that a week of resort diving in Bali could provide. [More information on these dive sites: Bali].
There is a good selection of accommodations at most of the best dive spots along the coastline and on the neighbouring island of Lembongan. Alternatively you might prefer to stay in the vibrant suburbs of southern Bali and make daily dive trips around the island. Choices cover all budget options, from backpacker style rooms and guesthouses to luxurious spa beach resorts.
Raja Ampat lies at the epicentre of the world's marine bio-diversity and this, coupled with the spectacular health of the reefs and fish life, means that many experienced divers believe it to represent the best scuba diving destination in the world. Stunning reefscapes with huge schools of fish abound in Raja Ampat, as well as macro life so varied that you will chalk up some "first-time" encounters. Schools of manta rays, reef sharks and wobbegongs may grab the limelight, but the real beauty lies in the variety of colourful smaller creatures that you can see, such as nudibranchs, shrimps, crabs and other crustaceans, pipefish and seahorses. [More information on these dive sites: Raja Ampat].
It is a remote and largely untouched area with stunning topside scenery dominated by verdant vaulting islands peppering the turquoise seas. The Indonesian dive resorts that we offer here complement the natural environment beautifully.
Sulawesi is another of Indonesia's destinations which has become a mecca for dedicated divers in-the-know. Given that the island includes such a fabulous diversity of sites, underwater environments and marine creatures as can be found in the Bunaken Marine Park, the amazing Lembeh Strait and Bangka Island, it is no surprise that it is a popular destination with those looking for a diving trip to somewhere new and exciting. [More information on these dive sites: Bangka, Bunaken, Lembeh Strait].
All accommodation options are dedicated to scuba diving packages and they range from dive resorts with swimming pool and spa facilities to those catering to the more price-conscious.
Choose Your Own Accommodation
For those that prefer to find their own accommodation in Indonesia, we also offer daily dive trips throughout Bali, Lembongan Island (near Bali), to Komodo Island, and from Manado (Sulawesi).
If you plan on staying in Indonesia either before or after your resort diving vacation, you can get the best value rooms with hotelscombined.com, our affiliated resort reservation specialists:
All reservations come with a 'Low Price Guarantee' to ensure you get best value for money.

Key Travel Facts
The Climate and Best Time to Go
Straddling the equator, Indonesia tends to have a very even climate, with average temperatures in the coastal regions being 28°C. High rainfall and tropical heat lend a high humidity and mean that most of the country is covered in tropical rainforest - an area second largest only to Brazil. The wet season runs from October to April, with rain falling in short and sudden downpours interrupted with sunshine. The dry season is from May to September.
However, the country is spread over such a vast area that excellent resort diving is to be found in one Indonesian destination or another all year round. Bali and Lembeh both have great conditions all year round; Bunaken has a higher possibility of rains and high seas from November to February, Raja Ampat similarly in July and August. Check our dive site descriptions for more details on the seasons for each location.
For weather data and forecasts for many cities in Indonesia and other areas of SE Asia see the Hong Kong Observatory

web site.
How to Get There
The majority of people travelling to Indonesia for a diving trip arrive on flights into Jakarta, Denpasar in Bali, or Manado in Sulawesi. Jakarta is well connected with most of Asia's large cities and Europe. Bali has direct flights from Singapore, Kuala Lumpur, Tokyo, Hong Kong, Bangkok and Phuket, Taiwan, Hawaii and Guam. Singapore also has direct flights to Manado.
We recommend you consider insurance to cover diving packages and travel activities, including trip cancellation. Arrange a competitive quote from our insurance programme:
There are several domestic airlines within the country that fly from the main international airport hubs; these include: Lion Air/Wings Air

, Garuda

, Air Asia

, Xpress Air

and Sriwijaya Air

.
Tourist Visas
Indonesian visa requirements were amended in March 2016. There are 5 different tourist visa types:
Free Tourist Visa on Arrival

: This visa is available for citizens from 169 countries. It is issued for free at designated entry points and borders and is valid for 30 days and cannot be extended. If you are intending on visiting Indonesia for more than 30 days then you should apply for a Visa on Arrival, a Visit Visa or a Multiple Visa.
Visa on Arrival

: Citizens from 68 countries may apply for a Visa on Arrival. The visa is available at designated entry ports and borders and costs approximately US$ 35. The visa is valid for 30 days and may be extended for another 30 days at Immigration Offices in Indonesia.
Visit Visa: If you are intending on having an extended dive trip in Indonesia, then apply for a Visit Visa from your nearest Indonesian Consulate or Embassy (approx US$ 35). This visa will allow you to remain in the country for up to 60 days and can be extended at an Indonesian Immigration office up to 5 times (each extensions is for an additional 30 days).
Multiple Visa: If your vacation itinerary will include visiting other countries and returning to Indonesia numerous times then consider a Multiple Visa. You will need to apply for this visa from your nearest Indonesian Embassy or Consulate. The cost is approximately US$ 110.
Indonesian Calling Visa

: 9 countries fall under the Indonesian Calling Visa policy. Their citizens require approval from an Indonesian Immigration Office.
You will need a return ticket. Your passport must be valid for 6 months from the entry date (18 months for a Multiple Visa) and have at least 2 blank pages. If you are crossing at an unrecognised entry post, you must apply for your required visa from an Indonesian Consulate or Embassy in advance.
You should confirm the specific entry requirements for the passport on which you are travelling. Visit the UK Indonesian Embassy

website for current requirements.
Indonesia Visitor Health
Common but avoidable health concerns while on vacation here are contaminated food, water and ice that can lead to diarrhoea, dehydration and hepatitis A or E. Make sure you drink only bottled drinking water. Fungal infections are also very common. Wear loose clothes, wash frequently, and dry yourself after diving or showering carefully.
This is a malarial area in general, but some areas such as Bali are mainly malaria-free. Self-diagnosis and treatment of any medical problem can be risky, so you should always seek medical help. It's recommended that you seek medical advice about immunisations at least 6 weeks before your trip.
Tourist Security and Safety
We have to admit to having a vested interest in encouraging you to take a scuba diving trip in Indonesia but that does not extend to recklessly advising you to go to a place of danger. We consider it a safe place for dive travel. All qualified scuba divers will know from their training that the best way to deal with a potentially risky situation is (stop, breathe, think, act) to make an informed and rational evaluation before taking action. We think that once you've weighed up the risks you'll agree that the country poses no greater concerns to responsible and aware travellers than most places, and certainly no more than, say, New York, Florida, London, Paris or Madrid.
Indonesia is a massive developing country, full of contrasts and, like all such places exposed to social diversity, has some huge problems. This means there are high risk areas for any tourist to visit. Aceh Province on the northern tip of Sumatra, for example, and downtown Jakarta at night, are places to keep clear of. Beyond these we feel there is little cause for excessive concern.
Indonesia does not have a track record of security concerns for holiday makers, though you might be mistaken for thinking otherwise. The bombings in Bali and Jakarta in 2002, 2003 and 2005 made such big news partly because they were so unusual. Since these events, and given the importance of tourism to Bali, the heightened level of security present in tourist areas means that it has never been safer to travel here.
Dive The World has travelled to all the diving areas described in this section and never experienced threats of any kind, and indeed have never had any customers report safety or security concerns (so far!). The negative headlines are borne of the actions of a tiny minority. The general sense that resort divers get from travelling in Indonesia is one of warmth, hospitality and cultural richness. Blindly following all warnings issued by governments these days, we sometimes wonder how people ever leave their homes!
Useful Tips for Indonesia Tourists
Sightseeing, Activities and Adventure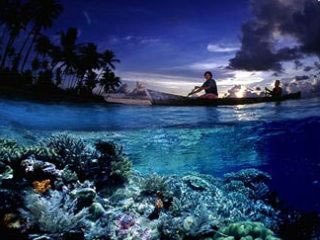 Indonesia is enormous. It is the world's most expansive archipelago, stretching east to west almost 5,000 km from Sumatra to Indonesian Papua, and north to south almost 1,800 km from the Sabah - Kalimantan border to Roti Island off Timor. To give an idea of the scale of the country, the distance from east to west is similar to the distance between England and Iran. So, as you can imagine, there are quite a few things to do!
Culture lovers will often visit the city of Yogyakarta to marvel at the UNESCO World Heritage-listed Borobudur Temple and the other 9th-century Hindu temples at Candi Prambanan. Those staying in Bali can seek out the 'Mother Temple of Bali', the Besakih Temple built over a thousand years ago on the slopes of Mount Agung.
As you can imagine, the nation's capital holds many cultural treasures such as the National Museum and National Gallery, as well as the large local market, Pasar Baru. Also in Jakarta is the Taman Mini Indonesia Indah, a park that celebrates the cultural diversity of the country. Set in over 100 hectares of land, this park includes representations of Indonesia's 27 provinces and their outstanding cultural and architectural characteristics.
Tana Toraja in Sulawesi has become a popular place for travellers to visit to witness the unusual celebrations of life that characterise their funerals. Fascinating features of this culture include cave graves, hanging graves and baby tree graves.
National parks worthy of note include the Ujung Kulon National Park in Java which is another UNESCO world heritage site. It is an area of abundant plant and animal life which arose as a result of the 1883 eruption of Mt Krakatau. Tanjung Putting National Park in Kalimantan is famed for its 4 research centres for the study and rehabilitation of primates including the iconic orang-utan. Another iconic creature of Indonesia is the Komodo dragon, found only on the islands of Komodo and Rinca, which you can visit to see and learn all about these fabled dragons. There is such a wealth of choices of holiday locations and activities that many tourists return to take multiple dive packages in this vast and diverse country.
For some great ideas on what to see and things to do in Indonesia, apart from scuba diving, visit: The Ministry of Tourism website

.
Time Zones
There are 3 time zones in Indonesia - +7 hrs GMT (+12 hrs EST) for Java, Sumatra and west and central Kalimantan, +8 hrs GMT (+13 hrs EST) for Bali, Sulawesi, Nusa Tenggara and south and east Kalimantan, and +9 hrs GMT (+14 hrs EST) for Maluku and Indonesian Papua.
Business Hours in Indonesia
Banks are open Monday to Friday from 08:00 hrs to 16:00 hrs and in some places on Saturdays until around 11:00 hrs.
Electricity
Electricity is 220v / 50 Hz AC. Sockets accommodate 2 round prongs, the same as in most European countries. It's advisable to bring your own plug adaptor kit if required. Power is usually reliable but there are occasional blackouts.
Communications
Internet cafes are popular in the main cities and tourist areas but connection speeds are slow. Most of the dive resorts in Indonesia do offer free internet access.
Kantor Telkom, the government-run telecommunications company, has offices in many cities and towns. Most of these are open 24 hours and are the cheapest places to make international and long distance calls. For international direct dialling use 001 + country code + area code + phone number. The country code for Indonesia is 62.
Post offices are open Monday to Friday from 08:00 hrs to 15:00 hrs, and Saturday until around 13:00 hrs. In the larger cities main post offices are often open extended hours. Indonesian postal services are unreliable. Important items can be sent by express mail service (EMS). This is faster and safer but the cost is higher.
Codes of Behaviour
Indonesians make allowances for western ways, especially in the main tourist vacation areas, but there are a few things to bear in mind when dealing with people. The left hand is considered unclean as it is used to wash after visiting the toilet, so never hand over or receive things with this hand as it will be viewed as offensive. Shake hands, right handed of course, when introduced to anyone when both arriving and leaving.
A person's head is regarded as the seat of the soul and therefore sacred, so patting your dive guide on their head will also cause offence. Similarly, talking to someone with your hands on hips is considered a sign of contempt, anger or aggression. It's rude to point with your fingers so rather beckon someone with your palm down - a bit like waving your dog to heel!
When eating with Indonesians, do wait until you are asked to begin by your host, and it is also considered impolite to refuse a drink.
Tipping and bargaining
Tipping is not normal practice but is expected for special service. Generally if someone goes to extra trouble for you a tip is welcome.
Bargaining is common game in Indonesia, with the exception of diving (of course!), restaurant meals, transport and sometimes accommodation, where the fee is generally fixed.
When bargaining, unless you're sure about the price you want to pay, it's probably best to ask the seller their asking price. Your response could be anything from ? to ?s of this price. Don't show too much interest and keep it friendly. Be prepared to walk away and quite often you will be called back and offered the price you previously suggested.
Clothing
Indonesia is hot and humid so light, loose cotton clothing is most recommended. When exploring the night-life, tight dresses, shorts, and miniskirts are no problem. However, naked sunbathing or topless appearance in public places is considered offensive, especially when you are outside the main tourist resort areas. You must wear conservative clothing when in temples or mosques.
Criminality in Indonesia
The vast majority of Indonesians are honest people with a strong sense of right and wrong. Tourism however, does attract pickpockets and thieves the world over so to ensure an enjoyable stay, use some common sense. Be aware and don't leave valuables unattended.
Officials
Police corruption is widespread, however the chances are you will not have any dealings with them unless you are "guilty" of a traffic offence. You have 2 options - either pay the fine that goes and stays in the policeman's back pocket, or tough it out and run the risk of a very prolonged and arduous session at the local station. Show respect for the police and don't take an aggressive approach as it will only make matters worse.
Useful References for Indonesian Dive Packages


---
CUSTOMER TESTIMONIALS OF DIVE THE WORLD
... Prompt reply: I liked the fact that you were able to reply to our request and questions within the day or latest the next day ... -- Jackson, Indonesia. [More customer reviews]