>
Dive Destinations
>
Indonesia
>
Bangka Island
Your Guide to Diving in Bangka Island
Manado's Third Wonder
...Highlights: great macro life/ marine diversity...
...Bangka's diving environment: healthy reefs, beginner and advanced divers, off the beaten track...
Variety is the spice of life and the island of Bangka is certainly spicy! Situated in the diver's paradise of North Sulawesi, it is surrounded by the Pacific Ocean, the Celebes Sea and the Moluccas Sea. Bangka is part of an island group together with Kinabohutan, Gangga, Talisei and Tindila.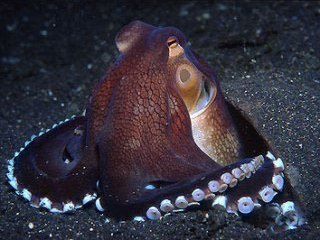 With over 25 dive sites, Pulau Bangka lies in the epicentre of the Coral Triangle, which is synonymous with marine abundance and variety. This small island's drawcard is its underwater topography with walls, pinnacles, gorges and swim-throughs. They are often visited on scuba diving daytrips by the resorts of North Sulawesi - from both Manado/Bunaken and the Lembeh Strait - or as part of Manado liveaboard dive cruises.
Pelagics, reef fish, critters, large species and colourful corals festoon the sloping reefs and spectacular pinnacles of Bangka. The healthy reef life here includes soft corals, sea fans, sponges, table corals and tree corals. Rock pinnacles are patrolled by reef sharks, tuna, fusiliers and mackerel. Keep your camera on hand to snap the variety of pygmy seahorses, harlequin and tiger shrimps.
Take a moment to marvel at the dexterity and beauty of the numerous octopuses that call the island home, including the blue ring, mimic and wonderpus. The resident dugongs may even come out to welcome you if you are lucky. If the planets align at Bangka, divers might also get to swim with dolphins and pilot whales!
Dive Site Descriptions
Batu Gosok
Also known as Batu Goso and Batu Gasoh, this is a memorable site that divers of all experience levels will enjoy. A group of steep volcanic pinnacles majestically rise up from the ocean floor on the eastern shore of Pulau Bangka. Depending on the direction of the current, your divemaster will choose which side of the site to begin your dive. As you descend to the sandy base of the pinnacles at 40m you will get a glimpse of the vibrant yellow, green and red soft corals that carpet the pinnacles that you will explore in more detail as your dive progresses. You should be prepared for moderate to strong currents during your dive while enjoying fantastic visibility of 20-30m.
Show more
The topography of the site alone is interesting with the vertical cracks and caves within the pinnacles. Here there are many sheltered spots where you can escape the current and inspect the corals for hidden critters. This site is known for a wide variety of gastropod molluscs, a highlight being Spanish dancers as well as morays and scorpionfish.

Other residents of the dive site are schooling bannerfish, sweetlips, red-tooth triggerfish and platax batfish. When you have explored the pinnacles and are ready to go with the flow, allow the current to take you on a ride between the structures while you look out into the blue for whitetip and blacktip reef sharks, turtles, groupers, mackerel and dog-tooth tuna. The apex of the pinnacles is covered with about 5m of water, allowing for the perfect safety stop where you will be entertained by the numerous smaller fish against the backdrop of a kaleidoscope of soft corals.
Batu Mandi
Just off the Sulawesi mainland, opposite Bangka you will find this diving spot, which consists of a large rock jutting out of the surface, forming a steep slope. As you work your way along the wall here you will see no shortage of pretty macro life including ornate ghost pipefish, lots of nudibranchs and if you are lucky some gorgeous mantis shrimps.
Show more
In addition to the abundant macro life, another major feature here are the colossal sea fans at around 20m and on top of the reef a series of sea fans in hues of pink and red. At Batu Mandi there is no great variation in depth so diving here normally takes the form of a nice and easy shallow dive.
Batu Pendeta
A dive site that is marked by a solitary pinnacle rising above the surface and surrounded by numerous, substantial rocks. This Bangka site falls into the category for advanced divers. Being a deeper dive (up to 40m) with a drop-off and stronger currents, it is advisable to have sufficient experience to safely enjoy this dive.
Show more
The best time to dive Batu Pendeta is from April to November, however it is possible to experience this amazing site year round. Creatures to encounter here include angelfish, triggerfish, butterflyfish, fusiliers and unicornfish. Your senses will be heightened by the spectacular deep blue backdrop, creating contrast to the explosion of colour of the corals decorating the pinnacle. As you move into the blue, you will appreciate the visibility of 20-30m and the opportunity to see dogtooth tuna, jacks and a variety of sharks. There is a drop-off with canyons at the plateau, at about 15m, where you can avoid the current and enjoy the daily happenings of the resident marine life.
Busa Bora
This is a coral slope site with an average depth of 17m and minimal-to-no current, making it the perfect place for a night dive. As you descend to the reef, the resident blue striped snappers form a welcome party. Your dive time will fly by as you are mesmerised by the marine pantomime taking place on the other side of your mask. As you will have come to expect, this is another opportunity to marvel at the prolific, healthy coral. Here large gorgonian sea fans and tree corals take centre stage.
Show more
If you are astute at spotting them, you won't get to see just one pygmy seahorse. There are different species present here and this is your opportunity to be able to include many in your log book for future bragging! You will hardly notice that you are on your safety stop as you will be distracted by nudibranchs within the corals and the plentiful giant basketstars. The maximum depth is 25m and the visibility is much less than the other Bangka sites, at 5-10m, making it more suitable for advanced divers. Locals also refer to this site as 'Sabora'.
Peter Sponge
This is the spot to hang out at if you have dugongs on your must see wish list! Peter Sponge lies on the east coast of Bangka, just north of Tiga Batu and is primarily a muck dive site. Your dive profile will be pretty linear at Peter Sponge.
Show more
You will descend to approximately 20m to the sandy bottom that you will explore for the duration of your dive, before ascending for your mandatory safety stop at the end of the dive. The topography is bland in comparison to the other more visually spectacular dive sites of Bangka, with the seabed only peppered with small coral bommies and large anemones. It makes up for its desert-like appearance with its unusual residents. These include both the large and the minute!

Macro enthusiasts will appreciate the opportunities to capture photos of a variety of critters, including the deadly blue-ringed octopus, and will have to quickly adjust their camera settings as a gentle dugong swims into view.
Sahaung
Located on the east coast this a highly prized Bangka scuba diving spot and for very good reason. The row of underwater boulder pinnacles that just break the surface here form giant steps underwater. This is a drift dive that requires a negatively buoyant entry, as waves can be present at the surface at drop off and pick up points.
Show more
As you descend down the pinnacles you will marvel at the proliferation of green and golden brown soft corals, huge elephant ear sponges, dense thickets of branching green cup coral and table corals. There are carpets of frilled leather corals and pink, brown, cream and lilac soft coral trees swaying in the shallow surge. At the same time swarming all around you are redtooth triggerfish, midnight snappers, blue-striped snappers and long-fin bannerfish. Fish soup! If you are not sufficiently enthralled by this, then the site may also throw in teira batfish, pygmy seahorses, frogfish, harlequin sweetlips, palette surgeonfish and perhaps a whitetip reef shark or two might put in a guest appearance. "Breathtaking" and "awesome" are oft-used words on the boat after this Bangka dive.
How to Dive Bangka
Some of the resorts in North Sulawesi will take you to the dive sites of Bangka Island for an additional fee to cover fuel expenses. The resorts are based in the Lembeh Strait and Bunaken Island. You can also visit from on dive day trips Manado.
But a single day trip here will not give you the full picture. The best way to experience all that Bangka has to offer is to join a Manado liveaboard dive safari, which would also likely visit such places as Lembeh, Bunaken, and possibly the Sangihe Archipelago, Gorontalo and the Togian Islands.
For more information on your options, and all the other travel information you might need to visit Indonesia, review our North Sulawesi dive resort section.
The Bangka Island Diving Season
You can dive here in Bangka all year round but the conditions do vary. May to October is dry season. November to April is generally wet and wavy, and July to September is windy. The water is cooler from October to December, and the visibility is at its best.
The liveaboard season in the Bangka area runs year round.

Where is Bangka and How Do I Get There?
Review our maps below of Sulawesi, showing the location of Bangka Island, and its host country Indonesia. Here, you will find information on how to get to Manado, and then on to Bangka.
Reef Summary
Depth: 5 - >40m
Visibility: 10 - 35m
Currents: Can be strong
Surface conditions: Can be rough
Water temperature: 27 - 30°C
Experience level: Intermediate - advanced
Number of dive sites: >25
Distance: ~80 km north of Manado Bay (2¾ hours)
Recommended length of stay: 2 - 3 days
Useful References


---
CUSTOMER TESTIMONIALS OF DIVE THE WORLD
... Fast response time, booking process rather efficient. Contact person (Beef) was very responsive and efficient ... -- Paul van Issum, UK. [More customer reviews]