>
FAQs
>
Indonesia
Indonesia Scuba Diving
Frequently Asked Questions
General Diving FAQs
Liveaboard Diving FAQs
Diving in Indonesia FAQs
This country is enormous. It stretches the equivalent distance as from Ireland to Iraq so simple, general answers cannot be given. Have a browse around our Indonesian diving site descriptions for the location you are interested in and you will find all you need to know there.
Where are the best places for beginners?
This is important to know because the dive conditions can range from flat calm seas with great visibility to rip-roaring currents. Although Bali is a well established tourist destination, not all the Bali sites are for the less experienced, although there are some great ones. Check out our Bali dive site descriptions to see what might, or might not suit you.
Indonesian liveaboards are not really suitable for beginner divers as some of the Komodo sites can require a cool and experienced head (although the good liveaboard safari operators will keep everyone informed as to the skill levels required on any day). Manado is okay for beginners as the visibility is normally good and conditions suitable for the less assured scuba diver.
Since it is on the equator I presumably only need a 3mm shortie - right?
Not necessarily! Be sure to check out what exposure suits we recommend for the destination you are interested in. We have known of people making that assumption on a Komodo liveaboard safari only to find themselves aborting dives due to cold upwellings giving them an instant ice-cream headache. Not nice when all your friends are enjoying diving with playful mantas from the warmth of their thick suits!
Is Indonesia really dangerous?
Few places in the world can be said to be truly safe these days and we are not going to claim that Indonesia is the safest country on earth. Having said that we are not going to try to sell you an Indonesian scuba diving vacation in any known trouble spots such as Aceh either. Remember we check our locations out personally and we also don't want any drama! In our experience and the experience of the overwhelming majority who visit Sulawesi, Bali or take a vacation elsewhere in Indonesia, they have found nothing but warmth and kindness from the people and wonder and awe from the natural beauty of the country.
What about the passport and visa requirements?
This is a good question. For citizens of 45 countries you do not need a visa to visit Indonesia for up to 30 days. For others, you may need a visa on arrival for the same 30 day stay. Your passport must be valid for at least 6 months at the start of your trip. There are more details in our tourist information section, but as the situation may change, we always recommend you contact an embassy to confirm the latest position relevant to you.
As a single diving traveller, will there be a single supplement at my resort?
The majority of dive resorts in Indonesia, particularly in Bali, treat single travellers as hotels do, i.e. there will be a single supplement to pay and you will stay alone in your room. We can clarify the amount of any single supplements that apply.
Can you arrange accommodation for me in Indonesia?
Our affiliated hotel reservation agents hotelscombined.com have a wide variety of accommodations throughout Indonesia

, but particularly in Bali and Jakarta. Browse their website choices, use their live chat to ask your questions, and simply use your credit card to make your reservation.
From top-of-the range international beach resorts to budget guesthouses, there's something to suit everyone's taste and pocket. And you can be sure that whatever option you go for, it will be backed up with their 'Low Price Guarantee' so you will always get top-dollar value for money.
Where is the best scuba diving in Indonesia?
We recommend liveaboards as the best way to experience the diving destinations of Indonesia. There are various routes including the Komodo National Park where the clear, cool water promises some excellent scuba with an abundance of colour and life. These trips also take you ashore to see the Komodo dragons.
Going further east means really getting the feeling of frontier diving in Raja Ampat where aficionados believe the best diving in Indonesia is really to be found. Part of the attraction here is the lack of other divers. There is also a great spread of sites, from dives with the small and bizarre in the caves system of Misool Island to the big pelagics in the Banda Sea. In recent years areas, less famous but very exciting places such as Cenderawasih Bay (whale shark encounters) and Triton Bay are more regularly featured in West Papua liveaboard itineraries.
In terms of bio-diversity (numbers of different types of fish and coral etc) Bunaken Marine Park, near Manado in Sulawesi, is of world renown. Nearby is the Lembeh Strait which is widely believed to be the best place in the world for macro life - here you can see all manner of bizarre critters.
So it is hard to say where is best as everywhere offers something different and everybody has their own idea as to what's great. What is certain is that the marine bio-diversity and topside scenery make Indonesia one of the very finest diving destinations in the world.
What about diving in Bali, is it any good?
Most definitely. If Bali was located in any country other than Indonesia, then it would be championed as one of the best places in the world! Arguably the best scuba diving in Bali is in Lembongan Island where there are fields of pristine coral and at the right time of year, Mola Mola, manta rays and sharks. Currents at some of the sites can be very strong, so the operator we recommend here is a very professional and safety conscious outfit. Diving with them takes away many of the concerns and helps you to experience some wonderful sites.
Tulamben, in the north east of the mainland, is the most famous Bali dive destination, with the Liberty Wreck lying in shallow, still water.Off the east coast near Candi Dasa there are a selection of sites varying in difficulty from easy open water dives to tricky current. This is a good place for healthy coral and big fish.
So, there are some areas that are very easy and good for inexperienced divers but also plenty of places with swells and currents where it pays to dive with a responsible operator.
Do people speak English there?
English is very widely spoken particularly in the tourist destinations and you can enjoy a great holiday here without knowing a word of the local language. Although English and Bahasa Indonesian are both spoken, Bali has its own language and quirks, e.g. all males seem to be called the Balinese equivalent of 1, 2, 3 or 4 depending whether they are the first born etc. Bahasa Indonesian, spoken throughout the country, is written in the Romanic alphabet and is often very easy to translate to English if you simply pronounce what you see.For example: 'Teksi Kaunter' is where you can arrange your cab.
Where should I do my Open Water Course in Bali?
Diving in Bali is not all for beginners as you might think. There are some sites that are very easy but also plenty of places with swells and currents where it pays to be diving with a professional centre. Since there is so much competition for business in Bali some operators tend to take inexperienced divers to places where they might find it difficult, so it is important to know the facts before you go.
Tulamben and Pemuteran have good easy conditions for learning to dive or doing your advanced course. These are probably the best places on the main island of Bali. Inexperienced scuba divers often are surprised and upset by conditions off the east coast where the swell and current can be upsetting.
Where are the best macro sites?
Muck diving is increasing in popularity and it seems that everywhere in Indonesia lays claim to having great macro dive sites.
If you are thinking of a period of sustained critter hunting, then there can be nowhere better on Earth than the Lembeh Strait in Sulawesi. This is a sheltered stretch of water almost like a lake where the range of bizarre and rare creatures is quite breathtaking. Here is a short list of some of the marine life you will almost certainly encounter: gurnards / flounders / mandarinfish / spectacular nudibranchs / decorator crabs / flamboyant cuttlefish / starry night octopus / coconut octopus / stargazers / frogfish / giant frogfish / hairy frogfish / pygmy seahorses / seahorses / snake eels / spiny devilfish / pegasus.
The diving here is special and if anyone wanted to plan a trip here then they would be in for a real treat. For those who love muck dives or think they might then nothing short of several days in Lembeh will be enough.
If you are in Bali and you are fond of critters then there are 2 places you should check out. One is Secret Bay in Gilimanuk and the other is Seraya's Secrets in Tulamben. Other areas where muck diving is worth a mention or where critters abound include Ambon and Cenderawasih Bay.
There are various places where you might see big pelagics, sharks and mantas in Indonesia. Many liveaboard trips to Komodo, Alor and West Papua have several encounters with large marine life. If you prefer land-based resort diving options then the time of year may be important. For example Mola Mola are often seen in Nusa Lembongan around August to October time. Cenderawasih Bay promises incredible whale shark encounters (where you can dive with several sharks at the same time) all year round, although most liveaboards visit between April and October.
What about the tsunami? Indonesia was the worst hit country - will we see any evidence of it?
Not unless you decide to fly several hours away from 1 of the destinations we are recommending you to visit on your scuba diving vacation. Have a look at our map of Indonesia

. The quake struck the west coast of Sumatra toward the north, Aceh Province being particularly badly affected. Now look at where Sulawesi is, and Bali. And the liveaboard charters that we offer mostly run to the east of Bali. So you can see that there will be absolutely no evidence of the tsunami if you book your diving adventure with us. What we can assure you of is a whole new chapter of superb diving memories.
Do you offer anything in Lombok like the Gili Islands?
The Gilis have suffered badly in recent years and the coral has been extensively damaged. Diving there is not what it was. Many agents have been ceasing to offer the Gilis due to disappointed customers. We at Dive The World don't want our customers to be disappointed so we don't go there. While it is said that the Gilis are a great place to learn, divers with a decent level of experience are not likely to be impressed.
Bali is generally free of malaria. Outbreaks occur occasionally in rainy season in the far north west. Nusa Tenggara, Sulawesi and Raja Ampat, West Papua are malarial areas, and if you spend time in the rural areas here, you will need to consider anti-malarial medication. Please consult your doctor before travelling, however, it is highly unlikely you will contract malaria if you are visiting these areas only by liveaboard boat or staying in a dive resort in one of our recommended areas.
Tipping in Indonesia is entirely a matter of choice. If your cruise met or exceeded your expectations, you may wish to leave a tip of up to 10% of your trip price. Smaller tips are welcome too!

Indonesia Liveaboard FAQs
What is a liveaboard diving cruise?
They are boat tours that provide scuba facilities and onboard living accommodations for divers. The boat becomes your home, where you "liveaboard"; and you eat, sleep and dive on it! Liveaboards stay at sea for the duration of the cruise and therefore can explore more remote sites. This type of diving opens up a whole world of top class opportunities that would simply not be available on regular scuba day trip boats in Indonesia, specifically the best sites of Raja Ampat, Komodo, Banda and North Sulawesi.
How many dives will I make per day?
Generally you can make 4 dives a day. A typical Indonesian liveaboard charter day starts at 07:00 hrs with the first dive, and the last being either a sunset or night dive. You have about 3 hours between dives, at your leisure.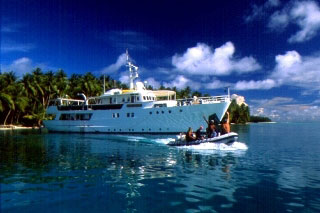 Are there any strong currents?
Most of the dive sites visited in Flores and Komodo can have strong currents. This area of the world is renowned for the strongest oceanic currents in the world. Current strengths depend on the site, time of month and time of day. Your divemaster will advise you in your dive briefings. Generally, there is never an occasion when you need to swim against a strong current.
The Banda Islands, Alor, Sulawesi and Raja Ampat do not have particularly strong currents.
Can I dive on my own from my Indonesia liveaboard?
All our trips are on recreational diving boats, and as such follow recreational scuba guidelines. This means you'll be expected to dive with a buddy to a maximum depth of 40m and observe safe time limits. If you prefer diving without a guide, then this is not a problem provided you have all the equipment necessary to conduct dives unassisted i.e. dive computer or timing device, safety balloon, compass and knife.
Can I recharge my strobes and batteries on board?
Usually this is not a problem on board Indonesia liveaboard charters. Please review the "Specs" section for details of the power sources provided on each boat.
What type of tanks and valves are on the boats?
All boats carry 12 litre aluminium tanks with yoke or A-clamp international valves as standard. If you have a DIN regulator, you should bring an adaptor, or you can rent one. 10 or 15 litre tanks are available for rent in advance, and enriched air nitrox is available on some boats. See the "Facilities" of each boat for more details.
Can I rent an underwater camera?
Some liveaboards have cameras available for rent. See the "Facilities" section of each tour boat for more details. Please request these in advance to ensure availability.
Please review the "Food" information for details of food served on each of the cruises. Generally, the standard of cuisine is good throughout the industry here.
Can I request vegetarian food?
Please review the "Food" section for details of dietary requirements that can be met on each liveaboard safari. Please do tell us your requirements at the time you make your booking, so that we can meet your request.
Where can you pick me up from?
We can arrange transfers to your dive boat from your hotel, or from the airport if you arrive just before your boat departure time. Please advise us of your preferred transfer point 2 weeks before you arrive.
All your personal diving equipment (except tanks, weights and weight belts), a bathing suit, towel, toiletries, T-shirts, shorts, and sun cream. You may also want to bring something a little warmer for the evenings.
Where can I leave my excess baggage when I go on a cruise?
If your hotel cannot help you store your baggage, then bring it on board. Our trips are on large boats with plenty of space. They can accommodate most eventualities!
Seasickness can be a problem, particularly when travelling over the larger deep water channels between the islands, such as between Bali and Lombok. However, most of your tour time is spent close to the islands, sheltered away from any open sea swells. If you are particularly susceptible to motion sickness, then you should consider joining a Bali liveaboard cruise in June or October, when the seas are calm, or a dive safari further east in Papua Province and Raja Ampat.
Is dive insurance for customers included in the price?
Some Indonesia diving charters provide insurance, others insist that you have your own. For details please review the "Safety" information for each boat. Bali, Java and Manado (Sulawesi) have (expensive) re-compression chambers. We recommend you have your own personal dive insurance, for your own peace of mind.
Can a non-diver go on a liveaboard?
Non-divers and snorkellers are welcome on all liveaboard trips throughout Indonesia. Most of the dive sites visited offer good snorkelling too. Do bear in mind though that the cruises are designed for scuba diving, not snorkelling. Prices for non-divers are usually discounted 10%, sometimes more, but please ask for exact details. Although this sounds like quite a small discount, liveaboard operators will tell you that if you are not diving, then you will be on the boat eating all the food! Anyway, you are taking a space that would otherwise be available to a diver.
As space is the ultimate premium on liveaboards in Bali and Indonesia, single cabins are extremely rare and expensive. Unless we manage to book you a single cabin, you will be expected to share. It may be, if the boat is not full and there are an odd number of passengers, that you can have your own cabin, but this situation cannot be guaranteed. Please review the main "Cabins" information of each boat for more details on the types of cabin available.
The only way to guarantee a cabin for yourself is to pay for 2 beds. You can expect to pay a single supplement, ranging from 42% to 100% (with 60% being about average) of the published price.
Can I explore the beaches at the islands?
You have 3 hours surface interval between dives, so as long as your liveaboard charter is not travelling between sites, you are free to do want you want. Please do advise the tour leader beforehand and each time you disembark from the boat.
We certainly hope so! White-tip reef sharks are the most common and seen on all liveaboards trips, and hammerheads often too. Sunfish, whale shark and manta ray sightings are possible too, but not frequent - keep your fingers crossed!

---
CUSTOMER TESTIMONIALS OF DIVE THE WORLD
... Fast e-mail response to our questions and inquiries. We had 2 trips booked to 2 different operators and you planned the best one for the end and not for the beginning and that was clever ... -- P. Leibzig, Switzerland. [More customer reviews]