>
Dive Destinations
>
Indonesia
>
Bali
>
Tulamben
Your Guide to Tulamben
Dive the USS Liberty Wreck
...Highlights: schooling fish & big pelagics, great macro life/ marine diversity...
...Tulamben's diving environment: wreck diving, beginner and advanced divers, very popular...
There are many exciting attractions to diving in the popular resort village of Tulamben, northeast Bali:
Just 30 metres from shore lies the broken 120 metre long wreckage of the the USS Liberty Wreck, a World War II cargo ship. The Liberty was torpedoed by a Japanese submarine out in the Lombok Strait, 11 January 1942, but was able to limp back to shore. Unable to quite make port, its captain steered the ship onto the beach at Tulamben.
Here the boat remained until 1963, when laval flow from Bali's last great volcanic eruption from nearby Mount Gunung Agung pushed the vessel back into the water. The wreck now lies parallel to shore on its side, with its deck facing furthest from shore.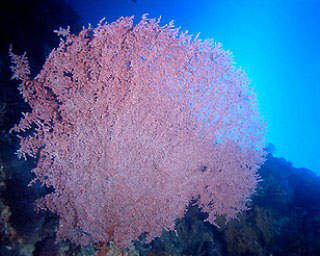 The most famous of Bali scuba diving spots and the most popular of the Tulamben dive sites, the wreck is now completely covered in healthy coral growth, and the numerous structural holes provide endless opportunities for exploration. Soft corals dominate here, with crinoids, featherstars and hydroids.
Large fish species that frequent the wreck include sunfish, great barracuda, Napoleon fish and scribbled filefish. Reef fish here common to Bali are peacock grouper and coral trout, regal angelfish and surgeonfish. Heading back towards shore on your dive you'll see a colony of spotted garden eels, heads swaying as if in a breeze, and goatfish nuzzling through the sandy rubble.
Night diving on the Liberty Wreck is particularly memorable and popular, being so close to shore. There are spectacular colourful beams of marigold cup corals, and hundreds of shrimp greet you at every corner. Common lionfish stalk their prey as well as the rare and nocturnal oscellate dwarf lionfish. Cocooned and sleeping parrotfish are quite common, and you may even see the rather strange sight of free-swimming crinoids, in search of a new hold.
At the east end of the beach is the famous Bali dive site of Tulamben Wall. The wall drops off to 60 metres, has large barrel sponges, and is characterised by 3 main spurs and an overhang at 18 metres. There is 1 magical, purple gorgonian fan at 27 metres. This gargantuan is over 3½ metres tall and in perfect health.
Here you can see small families of bumphead parrotfish, growing close to 2 metres! More commonly you'll see fairy basslets, pufferfish, hawkfish and damselfish. The shallow black ash sand here plays host to ornate ghost pipefish and even cometfish.
Batu Kelebit, or "Kelebit Rocks", is located south east of Tulamben Wall, and is generally known as the location with the best visibility in the local area. The rocks are offshore and exposed and therefore the scuba diving conditions can be quite challenging. However, this in turn can lead to some of the most exciting diving on offer in the Tulamben village area.
The 3 steep banked ridges hold 2 protected channels that provide a home to a rich plethora of vibrant and healthy corals and sponges, including green cup corals and black fire corals. Following the ridges down to deeper waters, is when you have the best chances of finding large prowling pelagics such as barracuda, tuna, trevally, as well as white-tip reef sharks, silky sharks and even great hammerhead sharks, attracted to Tulamben from the nearby deep water Lombok Strait, and manta rays.
Tulamben House Reef, located in front of the scuba resorts, is an ideal student learning ground. With shallow areas at 5 metres and a maximum depth of 25 metres, this reef hosts many of the common fish such as wrasses, snappers, parrotfish, butterflyfish, as well as more unusual frogfish, scorpionfish and nudibranchs.
Overall, the small village of Tulamben remains the most popular destination for scuba diving in Bali.

Reef Summary: Wall dives, wreck and reefs
Depth: 5 - >40m
Visibility: 10 - 30m
Currents: Easy
Surface conditions: Can be rough
Water temperature: 22 - 26°C
Experience level: Beginner - advanced
Number of dive sites: 6
Diving season: All year round, but can be difficult December to March
Distance: ~80 km northeast of Kuta (3 hours)
Access: Tulamben dive resorts
Useful References

---
CUSTOMER TESTIMONIALS OF DIVE THE WORLD
... Dive The World has a great website where we can find most of the information we need for the trip, which greatly shortened my time on preparing ... -- Guiling Cheng, China. [More customer reviews]