>
Dive Destinations
>
Honduras
Your Guide to Diving in Honduras
Dive the Bay Islands of Roatan and Utila
...Highlights: whale sharks, shark action, dolphins, turtles, great macro life/marine diversity...
...Honduras' diving environment: healthy reefs, wrecks, walls, drift dives, caverns, beginner and advanced divers...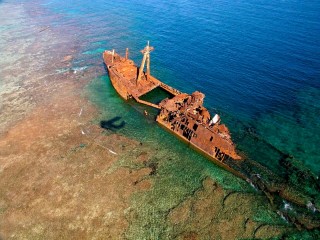 Honduras is a central American country bordered by Guatemala, El Salvador and Nicaragua. The country has a Pacific coast to the south and a Caribbean coast to the north. The Bay Islands of Honduras are home to the country's best scuba diving (mainly Utila, Roatan, Guanaja and Cayos Cochinos), and they are located at most 48 kms off the Caribbean coast. You can see the best of them all on a 1 week liveaboard diving cruise.
The region is part of the MesoAmerican Barrier Reef, the world's second largest barrier reef. The Bay Islands encompass 8 islands and 53 small cays with countless white sand beaches and have the perfect laid-back tropical vacation vibe.
Roatan and Utila in particular are beloved by scuba divers thanks to impressive wall diving, spectacular wrecks, rich shallow reefs and fascinating macro diving. Larger creatures to encounter include whale sharks, bottlenose dolphins and Caribbean reef sharks. Unusual smaller creatures abound such as stargazers, longsnout seahorses, jawfish and spoon-nose eels.
Dive Site Descriptions
Roatan
Roatan's seascape includes sheer coral-covered walls, fascinating wrecks, and caves and caverns galore. You will see giant sponges, sharks, turtles and innumerable smaller creatures when diving here. Even mighty whale sharks can be seen at various times throughout the year.
Show more
Mary's Place, formerly known as Mary's Crack, is one of the best known Roatan dive sites. It features a lush reef with volcanic crevasses and channels to fin through; the deepest drops to over 100 ft (30m). You can marvel at the sea fans, and bushy and feather black coral that line the channels where fish life includes creole wrasse, spotted drums, schools of chub, large bearded fireworms and a variety of crustaceans. You will also see azure vase sponges and large barrel sponges at various spots on the reef. Where the channels open up to the sea, and the natural light fills the vista, look out for sting rays and turtles.

Wreck of the Aguila ís a 200 ft (60m) cargo ship lying on its starboard side in around 110 ft (33m) of water near the base of a reef wall. The puropse-fully sunk wreck is now in 3 sections thanks to disintegration caused by Hurricane Mitch. The silver-lining of such damage is that you can now see and explore more of the interior of the ship. Some 15 to 20 large groupers are often seen lurking inside 'The Eagle', alongside blue parrotfish and moray eels. The outer sections is now cloaked in corals and sponges that have been colonizing the structure since it began life as an artificial reef in 1997.

The Odyssey Wreck, at 300 ft (90m), is the largest wreck dive in Roatan. Sunk in November 2002, it sits at 40-110 ft (12-33m) on a sandy floor and is easily penetrable by those with suitable experience. There is a good photo opportunity where a table and chairs remain intact and you can fin up and through the stairwells. There are many grouper and snapper lurking around although there is a limited amount of life here. The charm of this wreck is less about the life it supports and more about physically moving in and around the structure.

Hole in the Wall is a unique dive you should experience in Roatan. You begin here by descending down a long tunnel to the exit at 110 ft (33m) where you will emerge into the blue, literally from the hole in the wall. Slowly you can then ascend the wall to where you see a maze of canyons and also a large cave. The cave is illuminated by sunlight streaming through a small crack in the roof which can reveal a huge ball of glassy sweepers.

Cara a Cara is among the more memorable of your dives in Honduras. Here you come ''face-to-face'' with as many as 20 or more Caribbean reef sharks. Some of these individuals may be up to 10 ft (3m) in length. Food brings them in so you might want to keep your fingers close to your body! Alongside the sharks, you can expect to see some meaty gropers, moray eels and yellowfin tuna.

Other sites of note include Taviana's Wall where turtles are the star of the show, but there are also octopus, lobsters and crabs. Bear's Den is a site with a large cave and tunnel filled with black corals, sea whips and giant sponges. Half Moon Bay Wall is a site crowded with marine life, with juvenile nurseries in the shallows where you can see tiny filefish and spotted drums, plus big barracuda in the blue. The deeper part of the sloping reef features large sea fans and sea rods, as well as huge orange elephant ear sponges.
Utila
The smallest of the main Bay Islands, Utila is one of its most popular scuba diving spots, mostly because it has a little bit of everything; from charismatic megafauna like whale sharks, marlin and dolphins, amazing macro-photography opportunities and a range of distinct types of dive site. You can expect excellent visibility, many dive sites with minimal currents and year-round warm water making it suitable for all experience levels
Show more
Black Hills is an incredible sea mount at a depth between 35 ft (10m) and 130 ft (40m) that is often a riot of activity. Marine life is attracted here especially when the current are flowing. You can expect to see schools of barracuda, jacks, Atlantic spade fish, creole wrasses and more. Turtles, free-swimming moray eels, scorpionfish and frogfish are also often sighted. However, always keep an eye on the blue for the unmistakable shape of the largest fish in the ocean, the whale shark.

Duppy Waters is an oddly-named dive site. Duppy means ghost in the local lingo and is given to this site because of the eerie sparkling of the water here at night. The sloping coral garden below the waves is a great place to spot eagle rays and sting rays. Blue tangs and creole wrasse appear all over the reef and it is common to see octopus hunting crustaceans around the cracks and crevices of the reef.

CJ's Drop-off is a wall that drops deep down to over 140 ft (42m). Barracuda, jacks and turtles are common sights here. At the top of the reef there is a range of sandy channels leading up into shallower sections. Here you can fin around inspecting the cracks and crevices where spiny Caribbean lobsters and goldentail moray eels are among the creatures you will see.

Raggedy Cay is named after a nearby uninhabited island which is a sanctuary for birds. The main section of the reef is at around 25 ft (7.5m) from which a wall drops down to 130 ft (40m). In the shallows look out for morays gaping from their holes, octopus and triggerfish lurking among the colorful corals and turtles and nurse sharks resting in sandy patches. In the blue there could be for eagle rays flying by, as well as grouper and snapper.

Jack Neil Point & Jack Neil Beach are 2 fabulous shallow dives where you can clock up some serious underwater minutes enjoying the myriad tongue and groove formations of the reef. Potter around the sandy patches, coral heads and little walls for flying gurnards, seahorses, toadfish and moray eels. Fish diversity is great at this site and you can expect to see damselfish, grunts, trunkfish and damselfish, as well as larger creatures like turtles and eagle rays.

There are many other wonderful sites you are likely to visit when diving Utila. Old Bank is a lovely shallow dive over pristine elkhorn coral sheltering little squid and filefish. Keep an eye out when passing over sandy flats for the unmistakable burrow of the wide-eyed and cute yellowhead jawfish. Halliburton Wreck is an artificial reef created in 1998. It is quite a deep dive that promises bearded fire worms, yellowline arrow crabs, channel clinging crabs, porcupine fish and pipefish. Hawksbill Bank is not really as overrun with turtles as the name might suggest, but you will likely see one or two around this sea mount that is bejewelled by innumerable bluebell tunicates.
Cayos Cochinos
This is considered the most pristine of all the 3 main diving areas of the Bay Islands of Honduras. It is a protected marine park that contains the 2 small islands of Cayo Menor and Cayo Grande, plus a number of small cays. This park is closer to the mainland than Utila or Roatan. These protected reefs, sitting atop underwater mountains, come in the form of fringing reefs, deep walls, and spur and groove formations. Ranked among the most bio-diverse regions of the Caribbean Sea, there are more marine species here than anywhere else in Honduras.
Show more
Cocos Sea Mount (aka Roatan Banks) is probably the best known dive site here owing to the stunning amount of marine life to witness. Vast schools of jacks, snapper and barracuda can block out the light around this pinnacle which rises from the deep ocean floor to only 40 ft (12m) from the surface. Mostly only liveaboard guests get to dive this area and see the turtles, spotted eagle rays and groupers that join the fishy throng. This is a site where the currents that sweep through can be present with considerable strength. There are magical turquoise swarms of blue-green chromis over the reef and considerable numbers of invasive lionfish species whose numbers local operators try to contain. Lionfish ceviche could be served on board in the evening!

Toon Town is a site full of delightfully colorful smaller creatures going about their business like some sort of cartoon village. However, the name is more likely a play on the impressive backdrop of bluebell tunicates. You can catch a glimpse of small hermit crabs, frogfish, flamingo tongue cowries, seahorses, octopus and moray eels. This is often chosen as a night dive and, as you can imagine, even covering only a small area there is a plethora of macro critters to catch your eye.

Pelican Point is a site at the northwest point of Cayos Mayor. It takes the form of a terraced wall with multiple caverns and overhangs with healthy coral coverage including elkhorn, brain and staghorn. Out in the blue you may see sharks, barracuda and eagle rays passing by. Other reef fish here include French and queen angelfish, tangs and parrotfish.
How to Dive Honduras
The only way to access the diving of Utila, Roatan and Cayos Concheros, all with a week, is onboard a 7 night liveaboard safari. No relocating necessary, let the experienced dive crew take you to all the best places.
Honduras is a popular scuba diving spot with a very low number of liveaboard operators, availability can be an issue. We recommend you book 12 months in advance to avoid disappointment.
The Honduran Diving Season
The very best time to dive the Bay Islands is April and May when the weather is warm and dry, but you can dive here all year round. The water temperature is 78-84F/25-29°C during the summer months of June to October, and 75–80F/24-27°C from January to April (with a possible drop to 72F/22°C in January). A 3-5 mm wetsuit recommended. Visibility is very consistent and averages 100 ft/30m. There are some wall dives for drift diving but generally the currents are mild. Surface conditions for scuba diving around Roatan and Utila are calm, but there can be surface swells on the open sea passage to Cayos Cochinos during rainy season. You might see whale sharks at any time of the year but mid-February to April are the peak months.
The rainy season runs from October to January, with December being the wettest month. This is a different climate pattern to the Honduras mainland. The summer months can be very dry. The average annual temperature is 85F/29°C, with the warmest time being the summer months (high 80s/32°C) and the coolest period being the winter months (low 80s/27°C). Humidity is high for most of the year, but is most noticeable May through to September. The Bay Islands lie outside the Atlantic hurricane belt and are only affected once every 26 years. For more details on the climate at Utlia in the Bay Islands, visit Weather Atlas

.

Where is Honduras and How Do I Get There?
Review our map below showing Honduras' location in the world.
Honduras is the second largest country in Central America. It is bordered by Guatemala, Nicaragua and El Salvador. The Bay Islands of Honduras consist of 8 islands and 53 small cays, located in the Caribbean Sea, off the northern coast of the country. Roatan is the most developed and our liveaboard diving cruises depart from French Harbor, along the south coast of the island.
Several airlines fly direct to Juan Manuel Gálvez International Airport, Roatan (RTB), including United, Delta, and American Airlines, from Miami, Atlanta, Dallas and Houston. It's also possible to fly in to Honduras' other international airports - Toncontin (TGU) in Tegucigalpa; Ramon Villeda Morales (SAP) in San Pedro Sula; and Goloson (LCE) in La Ceiba - and then connect to Roatan. These flights are operated by Air Europa, Aeromexico, Copa, Spirit Air and Avianca.
Visitors from most countries are granted a 30 day entry stamp on arrival; all that is needed is a passport valid for your length of stay. You can check all the latest entry requirements on the Institute of National Immigration website

.
Reef Summary
Depth: 16 - >130ft (5 - >40m)
Visibility: 50 - 98ft (15 - 30m)
Currents: Gentle to moderate
Surface conditions: Generally calm
Water temperature: 79 - 84°F (26 - 29°C)r
Experience level: Beginners to intermediate
Number of dive sites: ~200
Recommended length of stay: 7 days
Useful References


---
CUSTOMER TESTIMONIALS OF DIVE THE WORLD
... I did my booking last minute via email and the responses were prompt, allowing me to feel good that I had secured my dive trip just less than one day before I flew out ... -- Dan Mulleary, United States. [More customer reviews]